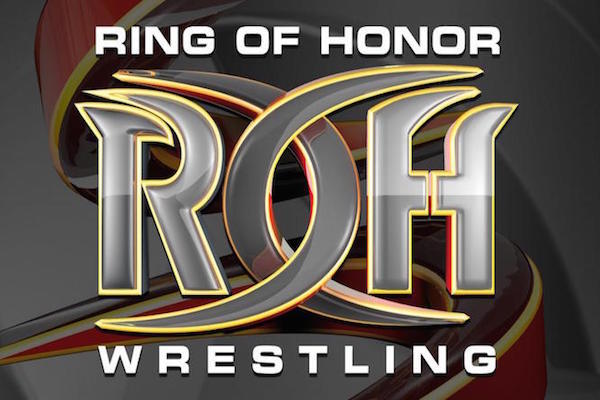 ---
SPOTLIGHTED PODCAST ALERT (YOUR ARTICLE BEGINS A FEW INCHES DOWN)...
---
HITS
Silas Young & Beer City Bruiser vs. Cheeseburger & Will Ferrara: First, any ROH episode that has Beer City Bruiser and Silas Young on it, I am going to be a fan of. Bruiser and Young are two throwback old-school wrestlers in an organization that has more of a fast paced/lots of spots wrestling style. As I watched this match I started thinking to myself that I am curious to see what is happening with the 6-man titles. As we know, they have been building on the recent TV that Young and Bruiser will have a third man with them. Unfortunately for The Kingdom and TK O'Ryan, O'Ryan broke his leg last week. Unless I have missed something, this leaves the future of the 6-man titles in doubt as far as how ROH is planning on moving forward. Meanwhile, on this week's episode we are still being presented with Bruiser and Young seeking out a third man to team with them to win the titles at Supercard of Honor coming up in a couple of weeks. While I liked the match with Bruiser and Young getting the win as we build to Supercard of Honor, I'm left wondering how the 6-man tag title situation will play out due to O'Ryan's injury.
Lio Rush vs. Kenny King from The Rebellion: I liked the quick recap before this match of Lio Rush and Kenny King's promo from last week. This was a solid match. Rush does many of his traditional moves throughout including a couple of dives through the bottom two ropes on to King on the outside. Rush hits an inverted Hurricanrana followed by a frog splash off the top that only gets a two count on King. King gets the upper hand on Rush but when King goes into the corner and tries to hit Rush with double knees, Rush moves. King is down on the mat as Rush attempts another frog splash that he rolls through on. Rush then charges King but King catches him in a fireman's carry and then hits him with his finisher. King gets the victory over Rush. We're not finished though. Caprice Coleman, who's been at ringside the entire match, enters the ring after King wins and proceeds to taunting Rush. It looks like Coleman and King are about to gang up on Rush and beat him down. "Notorious" Shane Taylor hits the ring though and appears to have Rush's back. However, out of nowhere Taylor turns on Rush and plants him in the middle of the ring with a modified chokeslam type powerbomb of sorts. Taylor appears to have joined The Rebellion.
Ian Riccaboni: I believe we are four weeks into Riccaboni being on commentary. Riccaboni continues to excel in the booth. He's been paired with numerous people throughout the four weeks and yet no matter who Riccaboni is with, he continues to do a solid job. This episode saw him paired with Mark Briscoe, Brutal Bob Evans, and Silas Young to name a few and no matter who Riccaboni was in there with he has good chemistry with them all. This will come off as a shot or dig at some of the other popular wrestling organizations but the other national promotions should take note of Riccaboni's skills and attempt to model Riccaboni's calling of matches after him. I realize some will say that Riccaboni is not quite as "seasoned" as the other organizations' commentators, but, for my money I'd rather have him in the booth than most others doing commentary in the major wrestling promotions today.
Jay Briscoe vs. Jay White: Give ROH credit with this match. They have built it up for a few weeks with promos from both Jay Briscoe and White. See some of the previous ROH Hits and Misses to see how well these promos have been with these two. The crowd is into this hard-hitting match from the start. White is on offense in the early going before Jay Briscoe takes over and hits a dive through the top and second rope on to White that gets a great reaction from the crowd. After this we settle into the match where Jay Briscoe controls the match for a while before it goes back and forth. And then, out of nowhere is a table spot that the crowd goes crazy for. As White was going to the top rope, Jay Briscoe pushes White off the ropes and White goes through the table on the floor. Soon after White and Jay Briscoe are trading punches and blows in the ring. Eventually Jay Briscoe gets the best of White when he hits White with a massive clothesline and it's lights out for White in a hard fought and good main event.
MISSES
Six-Man Tag Titles: ROH airs their TV out of sequence related to their PPVs sometimes. For example, the Hardy's are the current ROH World Tag Team Champions but they show a Supercard of Honor graphic of The Young Bucks with the titles. I understand that this is how ROH presents their TV sometimes, but it can be confusing to some viewers. I bring the ROH Tag Titles up in this section of the column because of what I mentioned about the six-man titles earlier with The Kingdom and Bruiser & Young. As many ROH fans know, T.K. O'Ryan suffered a broken leg last week. But we are still building the Bruiser, Young, and a mystery team member possibly winning the titles at Supercard of Honor April 1, 2017. I realize that ROH's TV is produced a few weeks in advance but in fairness I had to bring this up.
Josh Woods vs. Chris Lerusso: Josh Woods has a really good look. First impression of him is that he's believable and he looks like he means business. Lerusso got a nice reaction when he came out for the match being that he was in his hometown. I felt like the crowd was dead for the most part except for Lerusso getting a lot of hometown chants. Of the four opening round matchups in the Top Prospect Tournament, I feel like this was my least favorite. Woods get the win and advances to wrestle The Kingpin Brian Milonas in the Top Prospect semifinals.
FINAL THOUGHTS
Good episode overall of ROH TV. I made mention of the things above that I thought were a miss during this hour of ROH TV, but there were some good moments throughout as well. With Keith Lee's departure of ROH, we now see Shane Taylor aligning himself with The Rebellion. White and Jay Briscoe had a solid match in the main event and as mentioned Riccaboni continues to excel on commentary. Overall, good show from ROH.
(Mike Mills is the PWTorch.com ROH TV Hits and Misses Specialist, providing his point of view on ROH TV weekly. You can follow Mike at @BTT_Podcast and @Mike504Saints on Twitter and e-mail him at BookingTheTerritory@gmail.com.)
---
NOW CHECK OUT LAST WEEK'S ARTICLE: ROH HITS & MISSES 3/11: Top Prospect Tournament continues, Coast to Coast, Young Bucks mock Hardys, Cody, Castle, War Machine, Martinez, Whitmer