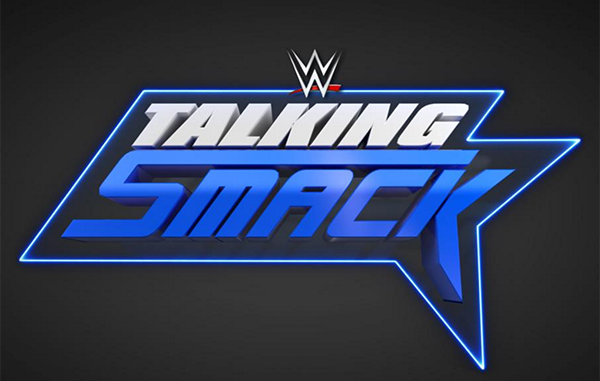 ---
SPOTLIGHTED PODCAST ALERT (YOUR ARTICLE BEGINS A FEW INCHES DOWN)...
---
WWE TALKING SMACK REVIEW
MARCH 21, 2017
AIRED LIVE ON WWE NETWORK
BY CRAIG ELBE, PWTORCH CONTRIBUTOR
Renee Young, alongside Daniel Bryan, welcomed viewers to the show. Bryan gave viewers a "Hey Yo!" before getting into how he tried warning A.J. Styles of the two sides of Shane McMahon, recounting Shane's attack on Styles and his overall craziness when one migrates to his bad side.  Bryan kept his credibility when he said Shane is aware he isn't the wrestler Styles is, but he is down to fight.  Footage of Shane's beatdown of Styles and table dive were shown, eliciting a "Whammo!" from Bryan.  Bryan was slightly bothered he couldn't have jumped as far as Shane did while Renee said her hamstrings have grasshopper abilities.
First Guest: Dean Ambrose
Dean Ambrose got right to the point and gave us the continuation of his Smackdown promo.  He clarified to Baron Corbin he accepts his challenge to a match at WrestleMania for his Intercontinental Title in case he had scrambled brains from Dirty Deeds.  Ambrose warned Corbin to be ready, take his shot, and be prepared to get his dirt under his fingernails when you're in a fight with him.  He said we're going to see what that big, miserable bastard is all about at WrestleMania.  He did an about face and complimented Renee and Bryan on the job they do on his favorite show and left the desk to their gratitude.
Renee wanted that praise published but gave the Ambrose vs. Corbin match a plug.  Bryan said this is his favorite version of Ambrose, especially at WrestleMania, the one that bloodied him up six years ago.  Bryan and Renee noted Corbin is also very tough, but untested in this situation while using the Intercontinental Title as elevated stakes for both men.  They recalled Corbin's past of begging for chances, and now he has his biggest opportunity with the potential to capitalize on it.  Bryan remained excited to see this Dean Ambrose at WrestleMania as Renee spoke of the nastiness that awaits Corbin.
Footage was shown of Randy Orton pinning Corbin from earlier in the night.  Renee brought up her backstage interview with Orton that resulted in viewers bearing witness to a different and stronger Bray Wyatt.  Bryan talked about Luke Harper's brief interview from tonight where he said that even non-Wyatt family member Harper believes Wyatt is stronger.  Harper will face Wyatt next week.  Bryan sees that Wyatt is now more dangerous now that Sister Abigail has given him her powers or whatever we're supposed to believe.
Bryan shifted back to Harper, how he has recently raised his stature by having great matches with Orton and Styles, winning the no. 1 contender's battle royal in Bryan's opinion, and looks to be in even better condition.  Renee and Bryan are both looking forward to that match next week!
Renee welcomed the new Smackdown Tag Team Champions to the show
Second Guests: The Usos
Jimmy and Jey Uso chant their way to the desk, asking Bryan what he has in store for them at WrestleMania.  They feel their titles are hallpasses in a way for them to be in a WrestleMania match. Renee wanted a picture of the heels with their new titles while Bryan thanked them for the great match that saw them win those titles.  He then asked them who they want to face at WrestleMania, to which they said they wanted the best.  Jimmy slipped up by saying they want the Bullet Club, meaning Raw Tag Champs Gallows and Anderson, of course.  He said they want bring the Raw Tag Titles to Smackdown and combine the red and purple, uh blue.  Jey and Bryan jumped on it despite Jimmy correcting himself, saying the purple one is for cruiserweights.  Jimmy tried to save face by saying he could be the 305 Live Champ!
A tweet of congratulations from cousin Roman Reigns to the Usos was shown.  That seemed to solve how they all of a sudden got more Twitter followers, instead of it being that they're the new champions!  To cash in on tonight's luck, the Usos are going to a nearby casino and asked Bryan if he'd like to join. Bryan thought his cool-meter would be elevated by just being around them!  That comment earned Bryan a new Uso cap, rap, and group clap.  A new group name was brainstormed before the Usos left the desk.
Bryan brought the attention back to the Usos's wish to be on WrestleMania, urging the WWE Universe to use social media to have their voice heard!  #UsosWrestleMania is the way to do it, said Renee!
Renee pivoted to the Women's Division and the squirrely-ness on display from them all tonight that saw Alexa Bilss standing tall in the end.  Bryan used Bliss's love of Disney and compared her to the Evil Queen from Snow White.  Footage from the women's melee was shown; Bryan and Renee popped for the Hog sighting that saw James Ellsworth take a missile dropkick from Becky Lynch.  They promoted the WrestleMania match for the Smackdown Women's Championship, making sure they use they key phrase of "any woman who is available and wants to be in the match."
Renee brought up Tyler Breeze's Nikki Bella impression and welcomed John Cena and Nikki Bella to the show.
Third Guests:  John Cena and Nikki Bella
Nikki said she speared her look alike without taking off her cap, and got a small cut above her eye from the combination of her cap and Breeze's bustline.  Bryan said Nikki got blood by booby while Cena quipped she got to second base with Breeze.
Nikki said she laughed at the segments Miz and Maryse created to poke fun at her and Cena.  She said she was flattered by their impersonations and attempts to rile her up, and that she must be doing something right to motivate them to go that far!  Nikki understood those possibilities going into the reality TV genre and being John Cena's girlfriend. She said this was not the first or last time they will face that criticism.
Renee shifted to last week's verbal assault Nikki and Cena got from Miz and Maryse.  Nikki said it got real!  She claimed sorrow, as a woman, when women don't want other women to succeed by manipulating facts.  Nikki said there is enough success for all women and wants to empower them all to succeed.  She said she's all about proving herself in the WWE ring and is with the man of her dreams and doesn't need a ring on her finger to prove it.  Nikki said she got to where she did because of hard work over ten-plus years, not Cena, and she understands the easy targets that follow her.  She said she's happy for her successful reality show and subsequent spin-off and for her family members' success.
Cena was also entertained by the Miz and Maryse segments, but he was right about Miz.  Now calling him by his shoot name, Cena told Mike he is at his best when he is someone else, repeating the examples he gave him the first week they confronted each other.  Cena decided to oppose Nikki's politeness and live up the name of the show they're on.  He congratulated Maryse for finally working, and saying they have one more week to give him more of what he's gotten from everybody else.  Cena said he looks forward to another week of laughing at them, but then after that Mike will have to go back to being Mike.  He said Mike is softer than a shoe full of baby crap, that he couldn't crush a grape in a fruit fight.  Cena went on about how Mike has to yell about everything he wants people to think about him, from being must-see and the it-couple.
He said Mike has got seven more days to come up with more jokes that will be easy to come by, as Cena knows he has been low hanging fruit for over a decade.  He says he is still there happy to do what he does and keeping moving forward.  Cena says he has no catchphrases, that everything he wears means something to him and those that also choose to wear them.  Cena said that greatness is appointed to you by others, not the other way around.  Tonight was proof of his and Nikki's greatness, and that Miz and Maryse are the shhhh……it couple.  He finished by quoting Tex Ferguson, that Mike will "be counting the lights cowboy!"
Renee gave one last plug  the Miz & Maryse vs. John Cena & Nikki Bella at WrestleMania.  Bryan said he cannot wait for that face-punching extravaganza!  Bryan wished they could have ended the show with Cena's always great stuff before putting a dig on the "interesting" Hold Harmless Agreement segment from last night's Raw.
Renee gave a final plug to next week's match of Luke Harper vs Bray Wyatt.  Bryan signed off by yelling "Sweet Beets!" and encouraging us to use #Usoswrestlemania for the Usos to be on WrestleMania.
---
NOW CHECK OUT LAST WEEK'S REPORT: 3/14 WWE Talking Smack Review: Bryan addresses saying Styles was fired and reacts to Shane issuing WM match challenge, women crash show