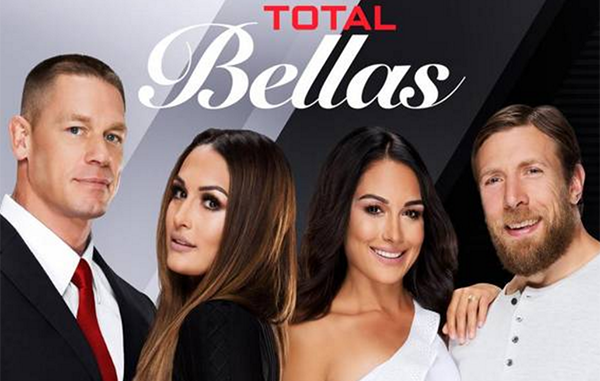 ---
SPOTLIGHTED PODCAST ALERT (YOUR ARTICLE BEGINS A FEW INCHES DOWN)...
---
SMACKDOWN HITS
American Alpha vs. The Usos:  This was a good Tag Team Championship match.  American Alpha and The Usos are the two best tag teams on the main roster in WWE today.  They are better than any team on Raw.  They had a better tag match here than I remember on the main roster in several months.  It wasn't even great, but it was good and went back and forth nicely.  It didn't feel as formulaic as say the Raw Tag Title match from Fastlane with Enzo & Cass vs. Gallows & Anderson.  I would not have been disappointed if this had been on a PPV.  I have mixed feelings about the Title change, but I am going to wait and see what they actually do with The Usos as the new Champs before I judge.
My issue with this match is that it should have been the main event of the show.  They did a total disservice to these two great teams last week in how their non-title match was presented.  And they did it again with the title match this week.  Have this be the final match (and then follow with the final segment) and spend some time earlier in the show hyping it.  Show the replays of what happened last week.  Give interview time to both teams.  Make it feel like a big deal and have the main event go 14 minutes instead of 1 minute which is what happened with the main event that Daniel Bryan scheduled, Becky Lynch vs. Carmella.  Seriously, that's what he scheduled as the main event of his show, without knowing that the show would end with the confrontation between Shane McMahon and AJ Styles?
Total Bellas Spoof:  This was hilarious.  The first one was great.  The second one was not as great, but it was still good.  The impressions were funny.  I have to admit that I do watch "Total Divas" and "Total Bellas".  This was spot on.  Miz was not doing a very good John Cena impersonation, but it was a great spoof making fun of Cena being robotic, his relationship with Nikki being fake and his stupid house rules.  My wife still talks about how ridiculous Cena came across in that show with his rules and how after their weekly family dinner, the men would retire to the smoking room while the women would go somewhere else.  Maryse was pretty good in her impersonations of both Bellas.  Again, the scripting was spot on.  I laughed out loud when she got confused as to whether she was Nikki or Brie.  I loved how "Cena" was reading off a cue card about how he loves Nikki.  The line about not showing his servants because it isn't relatable was great.  Of course, the problem with these videos was that they made me agree with the heel than the babyface.  What WWE did with Cena and Nikki and Breezango wasn't nearly as entertaining as this was, but it was ok, I guess.
Corbin vs. Orton:  This was a good match.  I figured that either Bray Wyatt or Dean Ambrose would get involved and make this a short match.  So, I was surprised when Baron Corbin and Randy Orton were given 14 minutes to work before the Ambrose distraction.  They worked well together and had a good match.  Corbin has improved a lot over his year in WWE.  He was brought up too early and probably would have been better off if he had spent the last year in NXT and debuted this year instead.  However, I could be wrong.  Sometimes a baseball team will let a young player learn at the big league level and expect him to struggle as a rookie but end up better for that year than another year at AAA.  Maybe learning on the main roster for this year will end up being better for Corbin in the long run?  Getting back to the match, Orton obviously needed to win, but it made sense to keep Corbin strong so the ending with the distraction from Ambrose was the way to go.  It is just a shame that whatever happened with him entering the arena with the forklift seemed to take forever to get in place so Corbin and Orton had to lay on the mat for far too long selling, waiting while the audience was reaction to what they were seeing off screen.  Otherwise, this was a good match and I even liked the little salute that Orton gave Ambrose as he was going for the pin.
SMACKDOWN MISSES
Build to Shane vs. Styles:  I didn't want to see Shane McMahon against The Undertaker at last year's WrestleMania and the match wasn't good.  I didn't want to see him as part of Team Smackdown at Survivor Series and he got knocked out.  I hated the possibility that he might face Brock Lesnar at this year's WM and was glad when it became apparent that WWE was going away from that match.  However, we ended up with him against AJ Styles instead which stinks.  It is a high profile match for Styles, but it will not be good and is a waste of Styles' great talent.  And we are being led to believe that Styles is in some way the underdog in this match.  It started out at the beginning of Smackdown when Daniel Bryan told Styles that he has no idea what he's in for at WM like he should be scared of Shane.
Then it continued at the end when Styles was suddenly cowering from Shane and apologizing to him.  I think the idea was to get him heel heat which worked.  But, it also made him look weak for going from so much bravado at the thought of attacking Shane in the parking lot to being afraid of facing Shane face-to-face in the ring.  That works for a typical heel vs. face dynamic, but not when the face is a middle aged non wrestler.  Then he was easily overtaken by Shane's signature weak ass looking punches.  I guess it was good that Styles got the better of Shane once the fight fell to the floor, but of course Shane was the one who got the better of Styles in the end.  And it didn't seem like Shane had done enough to Styles to knock him out for so long.  I was sure he was going to move when Shane leaped off the top turnbuckle.  It wasn't believable that he would still be down at that point.  And, the only draw to watching a Shane McMahon match is to see his big stunt bump.  But, he hit the big stunt bump here on Smackdown two weeks before WM.  So why do I need to see the match now?  I've already seen the highlight.  If he had missed, that would have at least teased it for what might happen at WM if he actually hits that move.
Orton – Wyatt:  I continue to be disinterested in the WWE Title match for WrestleMania.  WWE has not done anything to get me excited for Orton vs. Wyatt and the WWE Title which is the most historic and important Title in WWE feels like a total after thought.  Of course, the same can be said about the Universal Title on Raw.  This week we got more hocus pocus.  I guess it makes sense to tease the fact that Bray Wyatt has more followers than just the WWE members of the Wyatt Family.  But hearing Wyatt spewing more gobbledygook about Sister Abigail and her powers and whatever else he was talking about just doesn't do it for me.
NOW CHECK OUT LAST WEEK'S ARTICLE: WWE SMACKDOWN HITS & MISSES 3/14: Orton-Wyatt, Car Camera, Women's Title Picture, Miz TV, Styles makes his case, Styles beats up Shane
OR CHECK OUT JASON POWELL'S HITLIST ARTICLES HERE.
---
Jon Mezzera is PWTorch.com's WWE Hits & Misses Specialist, providing his point of view for Raw and Smackdown each week. Email him at jmezz_torch@yahoo.com. Act now and become my 68th Twitter follower@JonMezzera (pretty clever handle right?). Just be aware that I don't live tweet Raw, I don't tweet much about wrestling, and I don't tweet much at all.