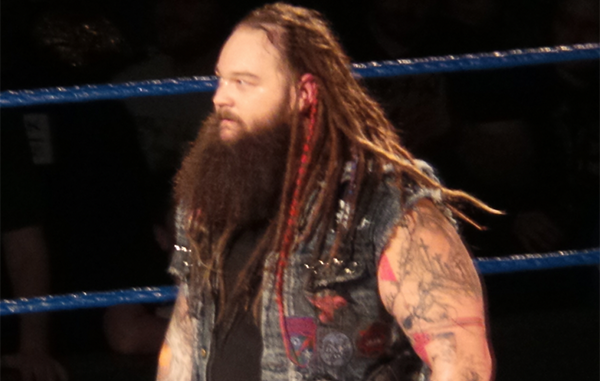 ---
SPOTLIGHTED PODCAST ALERT (YOUR ARTICLE BEGINS A FEW INCHES DOWN)...
---
There was a time, during the original brand split, where Smackdown were dominating proceedings. That was during the early times of the Smackdown 6. Kurt Angle, Edge, Chris Benoit, Eddie Guerrero, Chavo Guerrero, and Rey Mysterio. They effectively had the strongest mid-card that it is possible to have. Meanwhile, Brock Lesnar was at the top taking on Big Show and The Undertaker while future Superstars like John Cena were coming up at a calm pace.
Then, successive brand splits and swaps slowly started to result in major talent rapidly moving over to the red brand. The real way to know that Raw was more important was when the WWE Title was moved off of Smackdown in a champion for champion trade. As time moved on, Smackdown was increasing left in the dust.
This changed with the arrival of one A.J. Styles. Upon his arrival, Styles made Smackdown his show and he has pushed the ratings ever since. The new brand split has seen Smackdown earn major plaudits. Meanwhile, Raw endured a slow build before catching up at major pace in the build up to WrestleMania.
Rumors abound now that a new brand draft is coming, at least a trade that would see A.J. Styles going to Raw. And it begins.
These are what I consider the best possible combinations of banks and trades to keep both brands fresh and revitalise feuds. I'm Tom Colohue and this is Colohue Dogma.
Follow Tom Colohue on Facebook and @Colohue for updates.
---
RAW BANKS
1. Roman Reigns
Like him or not, Roman Reigns is a big name with a big future in the business. He's also a big man who belongs in feuds with other big men. This is, of course, why he needs to be on Raw. Feuds with Samoa Joe, Brock Lesnar and unfinished business with the likes of Finn Balor and Braun Strowman are waiting. Then there are developing talents like Rusev to get involved with and you can see why Reigns really shouldn't move.
There's also no guarantee that WrestleMania will be the end of his feud with The Undertaker. If he moves over to Smackdown he has a long done feud with the Wyatts, yet another go at Dean Ambrose or another match with Styles. There's nothing for him there and the further away he stays from John Cena the better.
2. The Club
Gallows and Anderson have had an odd run on the main roster so far. They were building a head of steam in support of A.J. Styles and a combination with Finn Balor seems to be waiting to happen. However, the fact that they're in a holding pattern right now has not been a positive thing for their development.
Smackdown is already full of underdeveloped tag teams. Having another one there doesn't help, and A.J. Styles works just fine as a solo act. Smackdowns lack of midcard also wouldn't give Gallows or Anderson many options for a singles run, whereas a Karl Anderson vs. Sami Zayn or Luke Gallows vs. Rusev feud definitely has legs for the future.
3. Sasha Banks
The Boss heel turn is still coming slowly and is much needed given her lack of character so far. Having a new top level heel in Banks will open feuding options with Bayley and women such as Summer Rae, Emma, and Paige are (yes, they are) still expected to come back to offer attacking options.
Smackdown already has a heel surplus, and a lot of Sasha Banks promos come off as Alexa Bliss if she was more childish. If Banks came over she would be doing so to replace the champ. That's not something anybody wants to see.
SMACKDOWN BANKS
1. A.J. Styles
Seriously, don't do it. The A.J. Styles high flying, fast paced wrestling and promo style is what Smackdown has been built around. Sure, he's fought with most people already but there is still room to have great matches with Dolph Ziggler, The Miz, Bray Wyatt, and Baron Corbin. A.J. Styles is too good to be either face or heel so he can literally go up against everyone and anyone.
We're also owed a conclusive finish to his feud with Dean Ambrose – a great feud with great matches thus far. His honest anti-authority character can go for miles and the fans are far from bored. A.J. Styles is the jewel of the crown right now, let him work.
2. The Usos
The Usos are the old hand in the Smackdown tag division. It's a very inexperienced division that desperately needs to have a solidifying force around. In addition, a top heel is important in any division, as shown by Neville. Any tag team chasing The Usos will be granted credibility because of having a legitimate threat to compete with.
It's also important to keep the current heel heat away from the actual X-Pac heat they were getting when working alongside Roman Reigns. The Smackdown tag belts are brand new and The Usos are the best representatives to lend them credibility.
3. Bray Wyatt
Bray Wyatt has not wrestled all that much this year. Since the brand split, Wyatt has feuded with Randy Orton and a brief run against American Alpha. That's essentially it in terms of feud.
This means that he still has room to feud against practically everyone. John Cena, A.J. Styles, Dean Ambrose, Baron Corbin, The Miz, everyone. In addition, his particular cult leader style will not work on Raw – the land of the big men. Wrestlers on Raw rarely show any kind of fear and though a Kevin Owens-Bray Wyatt feud is as pure money as Brock Lesnar-Bray Wyatt, now is not the time when Wyatt is still in a tenuous position. Wyatt is an unknown quantity and it has genuinely taken nine months to take him to a position near the top of the card. A move to Raw would push him straight back down again.
BRAND SWAPS
Seth Rollins (Raw) for Randy Orton (Smackdown)
Starting with Randy Orton, he's already fought with everyone at this point. He's just been around too long. He's fought Cena endlessly, he's had matches with The Miz, Styles, Harper and now Corbin. When it comes to actual feuds, there's not many left as a face. With this in mind, I'm hoping for an Orton loss at WrestleMania and a brand swap.
On Raw, there are a lot of younger talents near the top of the card. Orton could revitalise Rusev's career with ease before going up against Owens, Roman Reigns, and Samoa Joe. There's also unfinished business with Brock Lesnar.
Regarding Seth Rollins, the need is even greater. Seth's face turn should be cemented after WrestleMania, but he's already faced most of the top guys. Owens, Jericho, Reigns – it's all been done to death. He fought Finn Balor at Summerslam and was due to take on Samoa Joe already at Fast Lane.
Take him to Smackdown and you've got several instant long- and short-term feuds. Long term? Try to get Ambrose to trust Rollins again. That won't happen overnight. Rollins/Styles/Nakamura is my favoured main event for next year's WrestleMania. Styles vs. Rollins might genuinely be the best WWE match in years.
Short term feuds to solidify his face status are easy. Rollins vs. The Miz, given that The Miz is the Smackdown Starmaker. Rollins vs. Ziggler. Rollins vs. Ambrose can easily happen several times as they tease dissension. Rollins vs. Wyatt. Rollins vs. Corbin. Rollins vs. Nakamura.
My mouth is seriously wet right now.
Cesaro & Sheamus (Raw) for American Alpha (Smackdown)
Starting with Cesaro & Sheamus, the Smackdown tag team division needs a shot in the arm and it should get this in the form of popular, clearly defined top faces to fight a losing battle against The Usos. With a low number of tag teams on Raw, these two have already faced all of them and both won and lost to all of them so they have nowhere to go on Raw but to separate. It's already been proven that alone they can't break that glass ceiling on Raw.
Elevating talent like the Usos, Breezango, and The Ascension for a couple of months could easily be written into an amicable break up. We then have a good six months of solid mid-card talent there to go up against lower main event talent like Ambrose and Corbin. An IC Title reign for Cesaro would go a long way in continuing a push for that belt. Cesaro would also be a worthy challenger for Bray Wyatt or A.J. Styles.
Sheamus then has a dilemma. He always has the option to be a heel while Cesaro, essentially, works to change his mind. Sheamus vs. Ambrose is new ground ready to be exploited. Sheamus and Cena has admittedly been done to death though, so Sheamus vs. Wyatt would likely be the best long run option. Cesaro losing to Wyatt could prompt Sheamus to try, but even with cheating he would likely be unsuccessful.
Regarding American Alpha, they need to be given underdog status in proper and they were never going to get that as champions. Put them in a division with The Club, The New Day, and Enzo & Big Cass and suddenly a story of two guys who come over from the other side looking for a chance to break into the big leagues is a credible story. Going against The Club would be a perfect way to show off the talent of all four men. Meanwhile, The New Day can work both face and heel, all leading to that big moment where American Alpha become two-time tag champions down the line.
Charlotte (Raw) for Nikki Bella (Smackdown)
This is likely the one people are going to argue with the most.
Starting with Charlotte, losing Dana Brooke suggests an impending face turn, especially with Sasha Banks due to become the top heel of the brand. Keeping Charlotte away from both Bayley and Banks, as well as away from a title for a little while, is now absolutely essentially. Instead, they should be focussing all of their energy into building on that sweet Charlotte star power that oozes out of every pore.
The Smackdown crowd will pop initially purely for the sight of Charlotte on their show. She is the biggest name in women's wrestling since Trish Stratus and fully deserves that distinction. Ultimately, her current heel persona will come through, but there are ways around that. Put Charlotte's first promo against Alexa Bliss and you'll have face vs. heel established in no time.
Have her first feud against Carmella, with Ellsworth trying desperately to cheat a victory and you'll generate sympathy. After the win, she can call out Alexa again for a title shot only to be attacked from behind by Natalya, because Bret Hart vs. Ric Flair. Another cheating heel, another clean win. Paint her as face and people will cheer. Keep throwing people in the way of her title ambitions and she'll be a face.
After Natalya, maybe Asuka, because yes.
Regarding Nikki Bella, she is fast running out of opponents on Smackdown. Bella vs. Lynch is a non-starter. It would hurt the standing of both women because I suspect Nikki would realise that she isn't the top female star on Smackdown that so many seem to think that she is. Nikki vs. Alexa is bad booking in general. The future Mrs. Cena vs. escape artist Bliss? What's the point? We know how that ends.
A trip to Raw instantly gives a perfect long-term opponent for a heel Sasha Banks, with a potentially great run of matches to come out of it. Emma and Nia Jax would then be waiting in the wings. It would also separate Bella from Cena, thus giving her a chance to stand on her own two feet again.
LOWER CARD TRADES
1. Zayn for Ziggler
Ziggler and Zayn occupy similar positions on the card but fight in different ways. With the size of the heels at the top of Raw, Zayn is never going to get a win. Ziggler vs. Jericho/Balor though? A bit of cheating and he might get a win. Go No DQ and he's in a great position.
Meanwhile, Zayn then goes up against very different heels on Smackdown. The Miz, Smackdown Starmaker again. A.J. Styles. We can of course still have Corbin vs. Zayn, but a win for Zayn would be much more believable.
2. Bo Dallas for Kalisto
Kalisto on Smackdown was a bad idea. Like, a really terrible idea. I don't know who thought of it, but I sincerely wish that they hadn't. Kalisto should move to Raw and fight in the Cruiserweight Division.
I have nothing more to say on the subject. I am stunned to find that it even needs saying in the first place.
Meanwhile, Bo Dallas is apparently on Raw. This is largely news to me because, you know, where is he? Get him over to Smackdown where he can enjoy a position trying to get on to the good side of a monster heel Bray Wyatt. Feuds with Harper, The Miz (wow, he can fight with everyone), and Ambrose beckon, but he can also work primarily on promos and work with Bray. Some of the Wyatt power will eventually rub off on Dallas, meaning that Dallas vs. Apollo Crews could actually mean something.
It's certainly better than what they're doing with him right now.
So what does everybody think? Drop comments below, or message me on Facebook or @Colohue on Twitter and I'll see you soon for more Colohue Dogma.
---
NOW CHECK OUT COLOHUE'S PREVIOUS ARTICLE: TALKING POINTS FROM TALKING SMACK 3/21: Rise of Smackdown Tag Division, Ambrose Finds his Groove, Shane continues to get pushed, Cena-Miz