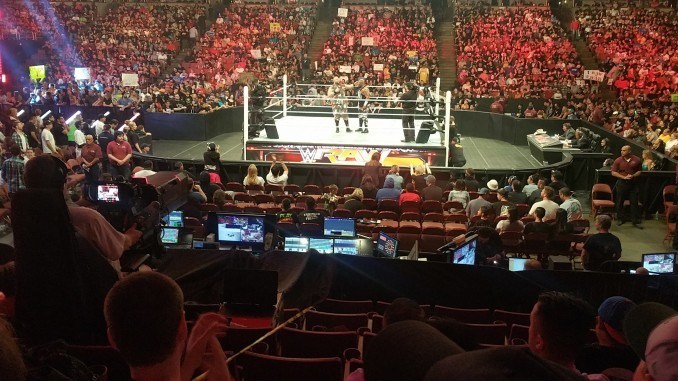 ---
SPOTLIGHTED PODCAST ALERT (YOUR ARTICLE BEGINS A FEW INCHES DOWN)...
---
WWE RAW HOLT REPORT
MARCH 20, 2017
BROOKLYN, N.Y.
REPORT BY DAVID KEMPSTER, PWTORCH CORRESPONDENT
The following are some notes regarding my experience with Monday Night Raw in Brooklyn, N.Y. I will focus on what may not have been as obvious on television.
•The biggest reactions of the night was for Chris Jericho and Undertaker. They were clearly the biggest stars in the eyes of my fellow Brooklynites. Secondary big reactions came for Jack Gallagher  in the main event taping and Samoa Joe. People didn't seem to care about Seth Rollins when Triple H talked about him.
•The pop for Austin Aries ended up messed up because they hadn't even set up the ring when he came out and so there were 40 people setting up in the ring as he was trying to come out.
•People really crapped all over the Bayley vs. Nia Jax match, including WWE. At one point Paul Heymen walked across the area floor towards the back – and everyone shouted "asshole" – at least that is what people in my section said was who it was – and it did look like him. They then started a wave. And after the wave ended – changed "We are awesome." On TV you couldn't tell who people were shouting asshole about or why the crowded chanted "We are awesome."
•So little wrestling occurred considering how long we were there.
•I don't believe for a minute that New Day were in the building. That came across as a canned segment and they never came out at all. I see in the write-ups people call that a "backstage segment." But I didn't see any evidence that that was done in Barclay Center.
•After the live Raw went off the air, they had Brock and Heyman come out to a huge reaction. Heyman challenged anyone to come out and face Brock and Big Show came out. It was a squash match and they did a gimmick at the end that they couldn't get Big Show to get up until one of the refs covered him and they counted to two and he kicked out. Another fan told me before this happened that this is what they had done in the past – and sure enough it happened.
•The crowd reacted the way WWE has it booked in almost every case. Baby faces were cheered and heels were booed. The main exception was Roman Reigns who was heavily booed. People also booed Undertaker slamming Braun Stowman. But mostly it is not a contrary crowd that just always cheers heels and boos faces. They mostly did not – except this strange outlier.
•The show is way too long. I never would have watched this episode without serious fast-forward action – and the extra part of being in the arena was not worth it for me.
---
NOW CHECK OUT ANOTHER HOLT REPORT ON LAST WEEK'S RAW: 3/21 WWE Raw HOLT REPORT: On site details from Brooklyn regarding Happenings Off Live TV including Goldberg, Triple H, Crowd