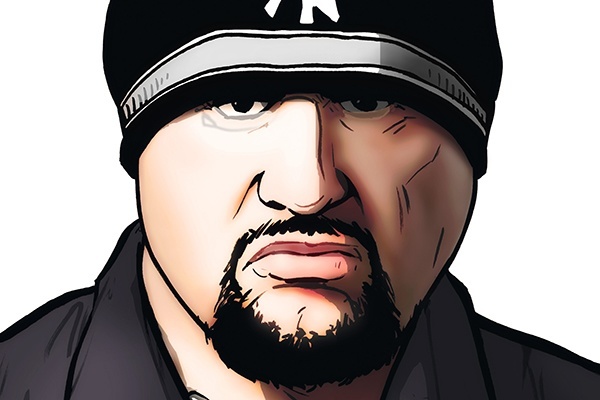 ---
SPOTLIGHTED PODCAST ALERT (YOUR ARTICLE BEGINS A FEW INCHES DOWN)...
---
The following are interview highlights from Brian Fritz's interview with Bully Ray, as featured in today's Sporting News article: Bully Ray is ready to make his mark in Ring of Honor, wrestling world's future
---
•On being a fan of ROH: "I've always been a fan of Ring of Honor from day one when they were created 15 years ago. Ring of Honor has always reminded me of ECW and the one word that comes to mind is passion. The passion of the performers and the passion of the fans. Ring of Honor is someplace that I've always felt that I could fit into. It worked out perfectly."
•On his negotiations and the timing of his ROH surprise debut: "We started talking and I said to Ring of Honor it would be one hell of a surprise if I showed up in New York City at a live event at the Hammerstein and we caught some lightning in a bottle. They loved the idea, we went with it. I put Adam Cole through a table, shocked everybody, and we're off and running. The Bully Ray-Ring of Honor relationship is off to one hell of a great start."
•On Impact Wrestling's last-second pitch to re-sign him: "Impact came after me very hard, very heavy with a significant amount of money and I was considering both deals for different reason. I do think that if Impact had would have communicated a little better, they might have given themselves a better opportunity of having me back there. My heart was in Ring of Honor and at the last moment, I made my decision."
•On how the Bully Ray character was almost part of WWE: "When you have something called the 'Be a STAR' program, it's not easy to have a character named Bully. That was one of the reasons. We came really, really close and I know the WWE Universe would have loved to have seen Bully Ray in a WWE ring."
•On his goal to be to ROH in 2017 what Terry Funk was to ECW in its early years: "What I'm looking to do here is what Terry Funk did for ECW in '94 and '95 and that's add name credibility to the product," said Bully. "In no way, shape, or form am I saying that I'm nearly as great as Terry Funk or the performer that Terry Funk is because, to me, Terry Funk is the be-all and end-all when it comes to professional wrestlers. I'm just hoping that Bully Ray can put more eyes on the product of Ring of Honor and what I'm really hoping for is that Bully Ray can bring the art of storytelling to Ring of Honor. We already know Ring of Honor has the best wrestlers in the world. We all know that those guys can go out there and tear the house down and have phenomenal wrestling matches."
•On the influence having Terry Funk around in ECW had on him: "I'll try to tell you a story that puts in perspective just how much respect and admiration I have for Terry Funk. When they were filming the movie 'Beyond the Mat', I was asked to wrestle on that show. I was in Amarillo for Terry Funk's retirement match against Bret Hart and I think I was the second or third match on the show. I remember after the night was over I was called into a room where Terry Funk was sitting there with his wife and I got handed a check. The check was signed by Terry Funk and it was from Terry and Vicki Funk's account. I looked at that check and I thanked them and to this day. I have never cashed that check. It was such an honor for me to wrestle on that show and be a part of that experience. The money did not mean anything. My pay for that night was the fact that I got to say I got to be on that card that night. I took that check and I've saved it forever. It sits in my collection. I have it in my Terry Funk autobiography that he signed to me and I once told him the story about how I never cashed his check and he told me 'dam nit, that's how come I haven't been able to balance my checkbook for the past twenty years'."
•On his role in ROH as the veteran of the locker room: "In-ring or out of ring, I'm a total, open book. The guys there know that they can come to me, ask me advice. If they want me to watch their matches, if they want me to critique, if they need help with promos, anything and everything that I can do to help out Ring of Honor as a company and help out the wrestlers to be better performers, I will do."
Keller's Analysis: Bully Ray is a potentially great fit for ROH. He gives them something different in terms of in-ring style and interview style that ROH really could use. Every younger wrestler in ROH can benefit from working with Ray, who has been everywhere and succeeded to some degree and always contributed. I'd have liked to have seen the Bully Ray character in modern day WWE. The idea that "Be A Star" should stand in the way of that is ludicrous. First of all, Stephanie McMahon and Triple H are absolutely playing bullies on TV, not to mention JBL and his berating of various people including James Ellsworth based on his looks more than nothing else. Besides that, if WWE wants to project an anti-bullying message, what better way than to feature a character who is a bully who ultimately gets shown up by a babyface? 
What wrestler did Impact Wrestling offer Bully Ray to take the place of in a storyline? Read the entire story by Brian Fritz HERE and read Bully Ray's reaction to that proposal.
---
NOW CHECK OUT THE PREVIOUS INTEVIEW HIGHLIGHTS ARTICLE: Charlotte discusses End of PPV streak, Ronda Rousey, Sasha chemistry, Becky insults, Robe expenses