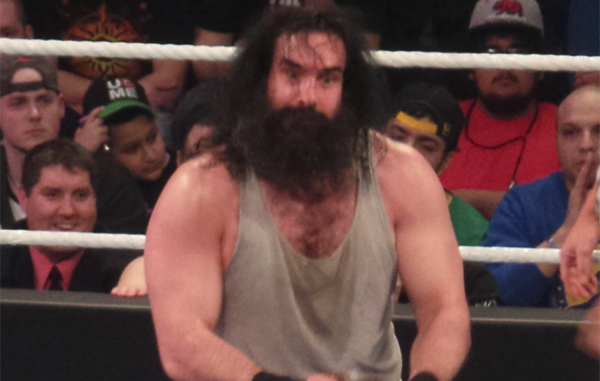 ---
SPOTLIGHTED PODCAST ALERT (YOUR ARTICLE BEGINS A FEW INCHES DOWN)...
---
SMACKDOWN PREVIEW
MARCH 28, 2017
RICHMOND, VA. AT THE COLISEUM
By Joey Galizia (@RamJam89), PWTORCH SPECIALIST
"FALLEN BROTHER. BROKEN TRUST. REDEMPTION SERVED COLD."
I am going to open SD's preview with a massive opinion, one that some may share with me, but those who do share may not feel as strongly about it as I do. Luke Harper should have been added to the title match at WrestleMania. The story between Bray Wyatt and Randy Orton has certainly been refreshingly original, and I'm certain those two will deliver a main event quality affair, but the backbone of why that story worked so well was the immense commitment from Mr. Yeah Yeah YEAH himself. Tonight in Richmond, Harper will get a one-on-one matchup against his former leader, and in doing so perhaps finally break-away from the Eater of World's masterful control. My fear is that unless he's treated correctly, he may unfortunately fade into the background. That would be a loss.
In the meantime the WWE Champion has embraced his newly conceived powers thanks to the ashes of Sister Abagail. (Wow, that felt weird just writing.) Orton has been getting the better of Bray, but none of it matters if he fails to capture the gold from him. Catch all of the flies in all of the mouths.
"EVERYTHING THAT HAS A BEGINNING…. HAS AN END."
-For the last several episodes of SD Live, Jimmy & Jey Uso have been a constant thorn in the side of American Alpha. Last week the two teams delivered a Mania-esque match (maybe it's because they won't get a chance to appear on the card) where those dastardly Superkicking-Samoans bested Jason Gable & Chad Jordan and taking their tag team championships to boot. Perhaps Alpha gets their rematch tonight, but hopefully they're able to rebuild themselves as worthy contenders.
-The Lunatic Fringe and The Lone Wolf finally agreed to a match at WrestleMania for the Intercontinental Championship. While I am a big fan of both Baron Corbin and Dean Ambrose, this match sits next to the Raw Tag Team Championship match as one that I'm least looking forward too. The reality of the situation is that the IC Title has not felt important and hasn't even been defended for quite some time. (Ambrose was in the Elimination Chamber.) Expect a segment tonight and, with it, hopefully some added OOMPH other than two guys who just don't like each other.
-Alexa Bliss better be kissing her Women's Championship, because the odds are stacked against her at the Show of Shows. Even her former partner in mischief Mickie James wants to Mick Kick that stupid grin right off her witch-like face. Not to mention, a slew of mystery opponents. Will any of those mystery opponents appear tonight?
-Miz and Maryse had got their jollies poking fun at John Cena and bae Nikki Bella by mocking them in a VERY entertaining Total Bellas segment. However, if you haven't watched Talking Smack yet, Cena delivered yet another promo of the year contender, referring to the Miz as Mike, and cutting deep with this statement: "When we're done, I continue to break grounds and be John Cena… and you… you go back to being Mike." To quote the Lass Kicker… HOT… FIRE.
-And to cap off this review, let's address the elephant in the room. Shane McMahon has competed in the WWE in many matches (even with his year's away from the company) and in those said matches has delivered more breathtaking moments than one can count. But the dude CANNOT throw a worked wrestling punch and it makes it hard to accept him as an actual threat ever. A.J. Styles has proven that he can create a five-star quality bout with literally anyone (looking at you James Ellsworth), but man he deserves so much more than this. I'm sure the match will deliver, and I'm sure I will eat my words, but after watching how the show closed last week, I've lost some wonder in this feud. Perhaps they will win it back tonight, as I'm sure these two will have one last war of words before they destroy their bodies.
Excluding 205 and this is the final main roster show before WrestleMania. I can't believe we have already arrived. You watching?
---
NOW CHECK OUT LAST WEEK'S ARTICLE: SMACKDOWN PRIMER: Styles-Shane follow-up, Bray vs. Orton hype, Miz & Maryse vs. Cena & Nikki, Ziggler, Alpha