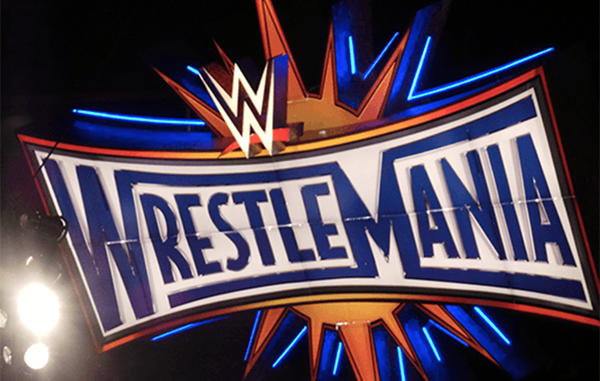 ---
SPOTLIGHTED PODCAST ALERT (YOUR ARTICLE BEGINS A FEW INCHES DOWN)...
---
With less than a week to go before WrestleMania, the excitement level feels off. It's hard to put a finger on why. Unlike last year, the roster is mostly healthy and ready to go. All hands are on deck for the card. It's a solid card overall. Perhaps it feels like it's too predictable, with no big surprises in store for fans. I have taken a look at what the WWE has in store for next week, and have given a rundown on what will happen and what should happen.
For giggles, I've added a potential swerve for most of the matches as well. One thing I do know, however. Whatever number Vegas puts on the announce team calling WrestleMania the "world's greatest thrill ride" TAKE THE OVER. Seriously, you'll be able to put a down payment on a pretty nice home with your winnings. Good god, that's the worst tagline ever.
Austin Aries vs. Neville
What Will Happen:  Whelp. This got moved to the pre-show. This one had all the potential to steal the show, and vince can't have the "tiny guys that do the flippy shit" get over so he moved it. It's a shame because Neville has done great work reinventing himself as a heel and Aires has put on a clinic on terms of getting over as a babyface with a bit of an edge to him. Given an opportunity Aries could be an absolute megastar in the WWE. The RAW segment tonight with Neville sitting in on commentary and Aries calling him out before applying his submission? That was perfection. Who should win? I'd be happy with either result but I think it's going to be Aries.
What Should Happen: Honestly, neither of these guys should be fighting strictly cruiserweights. Their both too good for a niche brand. Allow them to compete for the Cruiserweight title but let them fight, and beat, the bigger competitors on Raw as well.
A Potential Swerve: I could totally see Vince getting bored with this match and sending out Braun on the fly to powerbomb them both straight to hell just so he could get his jollies in Gorilla. You and I both know it's true.
Gallows & Anderson vs. Sheamus & Cesaro vs. Enzo & Big Cass
What Will Happen: When Enzo is nine minutes into a twelve minute long promo you can blame him for Aries and Neville being moved to the pre-show for "time considerations." I have a sinking feeling that he and Cass are going to win. It's the same kind of bad feeling I get when I leave for work and think I might have left the backdoor open and the cats might escape. In a better world The Club would retain after an absolute barnburner with Cesaro and Seamus but this is the WWE and we can't have nice things because Vince McScrooge hates the fans and hates "wrestling."
What Should Happen: They should add a loser leaves town stipulation that only applies to Enzo. Good God I hate Enzo. I'll tell you what they SHOULD NOT do: Have a ladder match right after one of the performers gets busted up and stapled back together after taking one of the noggin this past week on Raw.
A Potential Swerve: It would be a shame if this match were to be "BROKEN" up by outside interference and the participants found the results "DELETED."
The Andre the Giant Memorial Battle Royal
Jesus who cares? Ok, fine. Strowman wins. How about this for some intrigue? Getting eliminated at certain spots has an added stipulation. The third person eliminated has to wrestle the next six months as the Gobbledy Gooker. The seventh person eliminated has to serve as John Cena's oft-mentioned but never seen butler for a year. The ninth and tenth person eliminated have to swap gimmicks (this would be great if that ends up being Ellsworth and Big Show). The twelfth person eliminated has to be the brunt of all of JBL's bullying for three weeks. The seventeenth person  eliminated can only eat hot dogs for two months.
Baron Corbin vs. Dean Ambrose
What Will Happen: Baron Corbin has been a revelation since the brand split. Corbin seems to get that being a heel means being a bad guy, and he seems like one of the few guys on the roster not playing to the crowd in order to endear himself to them.  His work on the mic has been solid and he's more than held up his end of the bargain in the ring against the likes of Cena, Orton and Styles over the past few months. On top of all that, his End of Days remains one of the best looking moves right now. Dean Ambrose remains the most over former member of the Shield and a loss won't hurt him here at all. To be honest, Ambrose is a modern day Roddy Piper-the sort of loose cannon that does t need a title belt to elevate him.
What Should Happen: Ambrose should put Corbin over clean. The IC strap might be the first step on the journey to Corbin one day holding the world title.
A Potential Swerve: Not so much a swerve but I have a feeling this might be a clunker. Ambrose had a flat match with Lesnar at last year's Wrestlemania and his Summerslam match with Ziggler was no great shakes. Granted, Brock seemed less than committed to the program, but I can't shake the feeling that Ambrose is one of those guys who comes up small on the big stage.
John Cena & Nikki Bella vs. The Miz & Maryse
What Will Happen: This is going to end the way everyone believes it's going to end, right? Cena will pin Miz clean in the ring, then get down on one knee so he and Nikki can have their moment of 'Mania VII Randy Savage/Miss Elizabeth cosplay. The WWE can then market the bejesus out of future installments of Total Bellas including a season finale very special wedding episode.
What Should Happen: With Cena signing on for two more starring roles in upcoming films that shoot soon after Wrestlemania, look for him to return to part time status. Meanwhile, The Miz and Maryse have been golden in the build up to this match. Their skits lampooning Cena for his robotic, market driven personality have been laugh out loud funny, and the highlight of recent Smackdown shows. Why not give the guy who is going to be on your show every week a signature win and keep building him up as a heel for your A level babyface?
A Potential Swerve: What if Cena pops the question and Nikki, tired of being treated like an afterthought, says "no."? Nikki finding her way as a single lady while her twin sis settles into motherhood might make for, well not compelling television but at least something semi-watchable for certain demographics, right?
Triple H vs. Seth Rollins in an unsanctioned bout
What Will Happen: If the match goes on, it should be a grudge match between two heated rivals that can't wait to tear one another apart. Triple H matches never play out that way though as the Game does his best Harley Race cosplay once a year with a methodical back and forth match. This will probably be a 50/50 match with too much time in between spots that wears in the audience's patience and good will. I predict Rollins goes over but not in a string fashion and not in any way that generates momentum for him going forward.
What Should Happen:  If Rollins was 100% then this match should be a donnybrook that lasted ten minutes and saw Seth get 90% of the offense as a way to blow off the feud. Rollins knee being the X-factor her, I have no idea what this match, if it happens, will look like.
A Potential Swerve: Samoa Joe doesn't have anything on his dance card for Wrestlemania. If an area exists for him to get involved, it would be here. If concerns exist-as well they damn should-about Rollins suffering any long term damage to his twice repaired knee by rushing back too early then get Joe involved. Have him attack and choke Seth out before he can even hit the ring. It would allow Seth more time to recover, build nuclear heat for Joe and allow more time for the audience to invest in an ice cold Rollins/Hunter feud.
Chris Jericho vs. Kevin Owens
What Will Happen: Before we talk about the match itself, can we just take a moment to bask in the glory that was Kevin Owens' homemade KO Mania 2 tee shirt tonight? He duct taped KO on that bad boy, like a damn boss. The man can do no wrong. I would buy that shirt if the WWE put it on their online store tomorrow. Yes, I have problems. Moving on. Along with Aires/Neville, this has the best chance of stealing the show at Wrestlemania. The build up for this match has been superb. Jericho is a natural babyface, and he's been masterful at rallying the crowd behind him while KO has come off as more of the money drawing badass instead of a comic figure. Both guys can go in the ring and both are experts at in ring psychology. Look for his to be an old fashioned grudge match.
What Should Happen: Jericho will be back before long but he does have a tour with his band Fozzy on tap right after 'Mania. Whoever wins the Universal title will be a part time attraction at best. Look for Owens to take the US title and be RAW's fighting champion on Monday nights.
A Potential Swerve: What if in the heat of battle the two former best friends develop a new, begrudging respect for one another and embrace in the middle of the ring following the match. This would give us the Kevin Owens babyface turn that fans want, and give the WWE  the opportunity to see if KO can draw money as a top face. I wouldn't bet against KO.
Bray Wyatt vs. Randy Orton
What Will Happen: I don't care. The build up to this match has been all over the map levels of awful with Orton declining then accepting the match only serving to kick the Shane vs. AJ story into gear. Way to take a steaming crap all overyour title WWE. I suppose at some point an RKO out of nowhere will happen and Orton will hoist the belt while JBL screams incoherent gibberish. Yawn. This is the head to the concession stand match as far as I'm concerned.
What Should Happen: Jesus I can't stand Randy Orton. He puts in serviceable matches but rarely stands out, he never seems invested in his storylines or elevating his opponent, he gives off a disinterested vibe and worst of all, I would bet a thousand dollars Nickelback is his favorite band. Please let Bray win and go on to feud with a worthy, heat generating adversary.
A Potential Swerve: I'll be honest. I don't care enough to even think of one for this match. I'm more interested in discovering why Randy Orton was dressed like an erotic hypnotist at the end of Smackdown this week.
Shane McMahon vs. A.J. Styles
What Will Happen: Shane and AJ will wrestle an acceptable match because Styles is that damn good. Shane will perform a risky high spot that gets the crowd to "ooh" and "ahh" and break out into "This is awesome" chants. Said spot will overshadow what the full time roster does on a nightly basis without the luxury of a year to recover in between stunt matches. AJ will go over and we will love on and hope he either gets moved to RAW or Nakamura gets called up to feud with him.
What Should Happen: This should be a repeat of the blowoff match with James Ellsworth. Styles is at the top of any discussion for the title of "Best Wrestler in the World." Shane is a 40-something year old executive that happens to be the boss' son.
A Potential Swerve:  If Shane wins we riot.
Bayley vs. Sasha Banks vs. Nia Jax vs. Charlotte
What Will Happen: At some point Vince and creative have to come to their senses and realize all the hot potato title changes they have booked with the Women's Championship diminishes the title. While Bayley's main roster run to date suggests creative lacks a grasp on what makes her character connect to fans, Vince still seems high on her.
What Should Happen: Right now Charlotte is a notch above every other female competitor on the main roster. She's the rare modern heel that generates genuine heat from the live crowd and she can back up her dismissive snack talk towards her competition by putting on a show stealing match every time she walks through the curtain. A better story would find her walking into Orlando as champion with the scrappy Bayley nipping at her heels and chasing her first title on the grandest stage of all. Failing that, put the title on Charlotte for a long run that finds her ducking then eventually succumbing to a newly called up Asuka.
A Potential Swerve: Nia Jax is the greenest of the four woman booked in this match. She's the least over with the crowd. She hasn't cut a promo that has made anyone sit up, take notice and demand to see what she's going to do or say next. Backstage reports say Ms. Jax is a terrific human being and she has struggled getting across the mannerisms that define a solid heel. Given all those shortcomings, don't be shocked if Vince puts the title on her on a whim. It's classic Vince booking.
Alexa Bliss vs. whoever is available on the Smackdown Women's roster
What Will Happen: Bliss continues to develop as a top flight personality despite still being green in the ring. She's like one of the characters from Mean Girls if they could deliver a duplex instead of just verbal take downs. The All Against One format of the match stacks the odds against the champion which will make the smug, self congratulatory promo all the better to watch.
What Should Happen: The women of Smackdown deserve better than this "everybody gets a trophy" participation match. Bliss should be involved in a one in one match that showcases her work on the mic. There should be room on the card for another one on one match between two women feuding over who gets the next crack at the title. It's hard to get excited for a multi perks. Match with almost zero story build up.
A Potential Swerve: Since Naomi has recovered in time from her knee injury she could return and reclaim the title in her home town. If that happens look for her to break her collarbone in the following Smackdown. That would be in line with the run of luck she has when it comes to injury.
Roman Reigns vs. The Undertaker
What Will Happen: Vince is going to feed Undertaker to Reigns in the latest in a long line of attempts to get Roman over as the company's top babyface. It's not working, and it won't work here. Reigns is going to get booed out of the building and Vince will grind his teeth and resort to the 100th Plan B instead of admitting defeat.
What Should Happen: It's a disappointing thought to consider we never got the Undertaker & Cena Wrestlemania program that made all the sense in the world. However, if Mark Calaway is being honest with himself and looking out for the future best interests of his health, this Wrestlemania 33 should be the last time he steps in the ring. Also, I have no problem with Reigns going over. He's two decades younger, he's stronger and he's faster than the Undertaker. This is going to be an unpopular opinion but his match should last five minutes with reigns getting 90% of the offense in during a dominant performance. If the crowd didn't hate Reigns so much, this would be a true passing of the torch moment.
A Potential Swerve: If Vince believes that the crowd may be worn too worn out to care about the Goldberg/Lesnar main event after six and a half hours of wrestling, this match could get moved to the main event. Any appearance by the Undertaker remains a special attraction and he transcends titles. Since Vince remains steadfast in his pursuit of getting Reigns over as a main event top babyface he may see this as a show closing, feel good moment to send the fans home happy. Here's a reminder folks: Vince is both stubborn and delusional.
Goldberg vs. Brock Lesnar
What Will Happen: While Vince seems amenable to Him signing on for more dates and sticking around for a while, at the moment Wrestlemania marks Goldberg's last contracted appearance. Given how hesitant creativity be had been to have Goldberg work longer than a 30 second spot all signs point to a blink and you'll miss it main event. Look for Goldberg to hit a quick spear and Jack Hammer only for Lesnar to quick out at two. After a quick detour to Suplex City en route to an F-5 Lesnar should close the show as your new Universal Champion. That is, until Vince feeds him to Roman Reigns in the near future.
What Should Happen: A two minute squash match is a lousy way to close the biggest show of the year. If the above is what they go with for a finish, Vince should call an audible and make this the semi-main event and move Undertaker & Reigns to the show closer. Otherwise, one hopes Goldberg is working on his cardio while he and Lesnar put together. Plan for a solid 7-9 minute match that finds two bulls pounding the snot out of one another before Lesnar gains that elusive win over his nemesis.
A Potential Swerve: If the crowds haven't tired of Goldberg's act yet, and he still pulls in ratings, don't be shocked if Vince opens up the checkbook to keep Goldberg on as a special attraction champion through Summerslam. If the money is right and Goldberg still enjoys playing the role of superhero for his son on live television, he may go 3-0 on Brock.
There you go folks, my WrestleMania preview. Many words later and I'm totally spent, so feel free to use any blank space below, or the comments section to let me know how I did, or come up with your own snappy Wrestlemania tagline. In fact, we should run a contest her on the Torch. Whoever comes up with the best new motto for WrestleMania should win a tee shirt or a pair of Bruce Mitchell's socks.
---
NOW CHECK OUT THE PREVIOUS COLUMN: THE CREATIVE CORNER: A two minute loss on Sunday to Goldberg would be massive setback to Owen's progress last two weeks