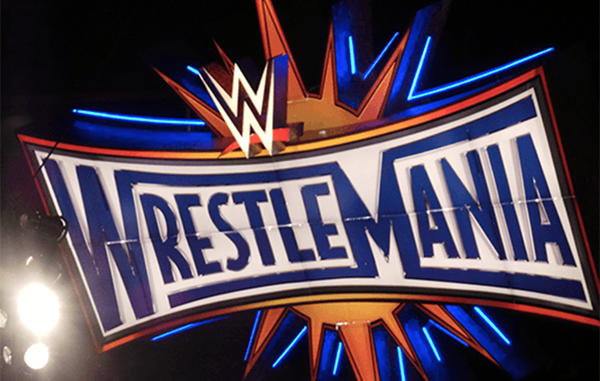 ---
SPOTLIGHTED PODCAST ALERT (YOUR ARTICLE BEGINS A FEW INCHES DOWN)...
---
U.S. Championship Match: Chris Jericho (C) vs. Kevin Owens
All good things must come to an end, but luckily for wrestling fans the end of the Chris Jericho and Kevin Owens friendship will culminate in a match that could possibly steal the show at WrestleMania. The entire build to this match, the friendship angle between the two, and the break up that followed has been absolutely tremendous to watch and is by far one of the most entertaining stories of 2017.
Heading into this match all signs point to Kevin Owens winning  and becoming the new United States Champion. The question is, what will Owens do with the championship to make sure his stock continues to rise? The last time the United States Championship truly meant something was when John Cena was feuding with Owens, having classic matches that put KO on the map. Now with either Brock Lesnar or Goldberg carrying the Universal Championship after WrestleMania, and challengers such as Finn Balor, Seth Rollins, and Roman Reigns lined up for a title shot, it could be in Owens' best interest to sustain a strong and lengthy U.S. Title run. This would establish the much more serious and focussed character he has been portraying following his break up with Jericho. Owens does have a contractually obligated rematch for the Universal Championship, however it wouldn't help Owens in the least if he were to lose that rematch and get knocked back down the totem pole. It would not only hurt his character but also the U.S. Title that could be brought back to prominence with Owens carrying it.
It could be argued that this is the best run Chris Jericho has had in his entire wrestling career, even trumping the program he had with Shawn Michaels years ago. If we take a look back, the matches Y2J had with Michaels played just as much a part in how we view that run as the build up to those encounters. So far, the build to this match alongside Kevin Owens has been just as good as what Jericho did with Shawn, and the blow-off match with Owens this Sunday could be the final part to this masterpiece. With Fozzy going on tour shortly after WrestleMania, the performance in this match is significantly more important than the outcome. We all know that Jericho can recover from any defeat in any circumstance, but if he is able to have a classic match which elevates both he and KO, Jericho could further cement himself as one of the greatest wrestlers of all time. While a Jericho victory seems far from possible, you never know what WWE might do. Everyone complained last year when Jericho "buried" A.J. Styles at WrestleMania, yet that win not only proves that Y2J can still win a big match, but also makes it mean more if Owens wins this year. Oh by the way, I think A.J. did just fine after he was "buried" last year, no?
A.J. Styles vs. Shane McMahon
While many fans would like to see the Phenomenal One square off against someone of his caliber at WrestleMania, we are getting AJ Styles and Shane McMahon whether we like it or not. The build to this match has been a strange one, with AJ playing the heel yet being overwhelmed by cheers every time he steps into the ring. Things got more complicated when he garnered a much more positive reaction when opposite Shane in the ring during the go-home episode of Smackdown this week.
There is really no upside to a Shane McMahon victory here considering he is barely even a part time wrestler with no active wrestling storyline moving forward after WrestleMania. Shane will no doubt give everything he has in this match and rather focussing on the outcome, McMahon will do everything he can to further prove to his father and his detractors that he is still more than capable of having a quality WrestleMania match, even at his age. The key here is Shane's ability to sell, and the only plausible way this match shakes out is A.J. getting in about 80 percent of offense with Shane doing something insane to pop the crowd. In defeat, Shane will have nothing to hang his head about. It will just give more fuel to a heel A.J. to let the world know that he, a life long outsider, just beat a McMahon at WrestleMania.
A.J. Styles is in a tricky situation here with not much to gain in victory and so much to lose in defeat. With this match taking place with no stipulations, Styles made sure to point out that there will be no gimmicks here for Shane to rely upon to pick up a win. Given A.J.'s popularity, wrestling ability, and track record of five-star matches, a loss here would put a screeching halt to much of the momentum Styles has built. Aside from a kayfabe injury he could pick up during this match, there will be nowhere for A.J. to hide if he comes up short against the Smackdown Commissioner. The most likely scenario here would be for A.J. to go over setting up so many different scenarios. A.J. could take a babyface approach, complimenting Shane for how hard he competed. He could further his heel persona and tout the victory as much as Paul Heyman talks about his client's victory over The Undertaker a few years back and demand his much deserved one on one rematch against whomever is the WWE Champion. Styles could also get under Shane's skin so badly that the Commissioner has no choice but to ship him to Raw in exchange for someone like Roman Reigns. The possibilities are endless here, just so long as A.J. wins.
WWE Championship Match: Bray Wyatt (C) vs. Randy Orton
While on paper these two look like they could have a championship quality match at WrestleMania, I personally cannot wait for this program to be over. The way WWE has handled the portrayal of each wrestler, mixed with the spooky hocus pocus tactics, Bray Wyatt has relied upon really muddied this whole storyline and has taken many fans completely out of it. In theory, I have enjoyed some of the ideas WWE has tried with these two, but in 2017 I am not sure fans are interested in seeing teleportation and a wrestler bathing himself in his deceased sisters ashes. Further, this match is not about the Championship whatsoever which is unacceptable for a WrestleMania encounter.
Since Bray Wyatt's WWE Title win, it hasn't seemed like he has been champion at all. Instead, both he and his opponent are far more concerned with outsmarting and infuriating one another to the point of insanity. Given that this is Bray's first title defense in just his first championship run, a win here is much needed. Aside from the segment with multiple Erick Rowan lookalikes and the demon-esque staff Wyatt was carrying, Randy has gotten the better of Bray. Between burning down the Wyatt Compound and destroying the soul of Sister Abigail, Bray has been on the defensive since Randy turned his back on him weeks ago. If Bray does win and move on from Randy, it sets up an opportunity for Bray to get away from the community theatre skits and transform himself into something much stronger and darker with fresh matchups to look forward to. He would have beaten a certain Hall of Fame inductee in Orton while also overcoming so much personal adversity. A loss, however, may actually not be the worst thing for Wyatt. We have seen the way he has reacted to Randy tormenting him, and if he loses the one thing he has left, the WWE Championship, it could produce a completely new side of Bray that we have never seen before.
For Randy, and I mean this in all honesty, does it really matter whether he wins or loses here? There may be different variations of Randy's personality, but it is really all the same at the end of the day. In victory or defeat, Randy will cut a mediocre promo the following night with the same cadence and facial expressions regardless of how the match plays out. He will wrestle the same style he always has, keep the exact same gear and look, and simply move onto the next one. In this Wyatt family transformation, even if it was a short period of time, Orton had a golden opportunity to add some new wrinkles to his ring attire, attitude, and move set to solidify that he is a changed man capable of creativity. Instead, we just got the exact same Randy Orton standing next to Bray with nothing changed. If anyone truly believes a win or a loss here truly matters for Randy I would love to know, because I just don't see it at this stage in his career.
Seth Rollins vs. Triple H
There were certainly bumps in the road on the way to making this match official. I am sure WWE had much different plans on how the build to this match would be booked, but the injury to Rollins' knee threw much of that into a whirlwind and we ended up with a non-sanctioned match between The Architect and The Game. The intensity and realism these two brought in the weeks leading up to WrestleMania was spot on and both men were able to adjust perfectly to the hand they were dealt. The question now is – Will Triple H put over a younger talent for the second year in a row.
It is no secret the Triple H is a big fan of Seth Rollins, crowning him the first ever NXT Champion and singing his praises all the way up to his main roster promotion. His admiration for Rollins then played out in storyline, as we saw Rollins as the cornerstone of The Authority until his unfortunate injury oversees. Since then we have seen such a dissension play out, sometimes to the detriment of Seth's character, but it has all come full circle as Triple H wants to destroy what he has created. If Hunter goes over, it could create a situation where he has more of dominating presence on TV, especially with Mick Foley leaving his role as General Manager. A victory over Seth, especially in vicious fashion (maybe with the help of Joe), could be used as an example of what happens if you cross the authority figures on Raw. If the outcome does not go in Triple H's favor however, it could be a huge blow to his ego and on-air character. He will have the opportunity to claim that the match result does not matter because it was unsanctioned, leading to the storyline continuing beyond Wrestlemania.
The good news for Seth here is he has an out – the knee injury is legitimate and has been played up quite a bit on television. If he were to lose, he would be protected not only by further selling the injury, but with the possible involvement of Samoa Joe. From a storyline perspective, no one should actually expect a crippled Rollins to overcome such a strong force in Hunter after being attacked two weeks in a row leading up to the match. A victory, however, would be massive for Rollins and such vindication for him after being on the sidelines last year. Rollins will provide the blueprint on how to finally stand up to the authority figures on Raw and prove that  Triple H could be vulnerable in his old age. There would no doubt be backlash coming Seth's way in the weeks that followed, and we could see a similar narrative play out as we saw with Daniel Bryan a few years ago. The WWE could go in a completely different direction too, sending Seth to Smackdown to fill the empty top babyface void with John Cena taking some time off.
Roman Reigns vs. The Undertaker
Whose yard is it anyway? Joking aside, both men competing in this match have done a great job building towards this match which started at Royal Rumble. In a classic case of the old guard versus the younger star, this match has all of the makings to be one of the most entertaining of the evening, regardless of your feelings towards Roman Reigns.
It is weird to think that this may be The Undertaker's last WrestleMania. Understanding that rumors like this fly about each year, given Taker's health status and the way he has been moving around the ring lately, I cannot see any way he musters up the strength to come back next year, nor should he have to. The Undertaker has done everything possible in WWE, and it seems like his final act with be paying a massive favor to Roman Reigns. If the Undertaker does fall to Reigns, the loss won't be as monumental because the streak was ended years ago and it is absoluteely believable that the dead man can no longer hang with younger, strong wrestlers like Roman Reigns. A loss may finally humanize The Undertaker, setting up a heartfelt speech which will send him riding off into the sunset. On the flip side, a victory for The Undertaker could tell a completely different story. His health may be in a much better place than we think, and a victory could set up a longer term story between he a Reigns that could propel Roman back to the Universal Championship. Regardless of the outcome, I just hope Taker comes out of this match without any serious injuries.
Triple H said in a recent interview that Roman Reigns must be a heel since 70 percent of the crowd boos him each week, but are we really buying that? With the way Roman has been booked, he is still acting as if he is the good guy fighting an evil dead man for the rights to his yard. Bottom line is – The WWE has a MASSIVE opportunity to turn Roman heel this Sunday at The Undertaker's expense. Reigns showed such fire when speaking candidly to the Philadelphia crowd on Monday, bragging about his Royal Rumble win in that arena which he knew would incite the fans in attendance. After a hard fought match, if Roman simply hits Undertaker with a low blow followed by a spear and a couple of middle fingers for either his opponent or the fans, Camping World Stadium would erupt in anger… and the biggest heel in the company would be born. Nevertheless, this match looks to be a means to an end, propping up Roman high enough to get him ready to take on either Brock Lesnar or Bill Goldberg in the months that follow. This, even more so than his WrestleMania matches with Lesnar and Triple H in years past, is Roman's most important match to date. If booked properly, this could be the last real opportunity to sway the crowd one way or another on the wrester that is the most miscast in the company.
WWE Universal Championship Match: Goldberg (c) vs. Brock Lesnar
Before saying anything regarding the biggest match of the evening I need to make something very clear: I am not, nor was I ever a fan of anything Bill Goldberg did in the ring for WCW or WWE. I respect his contributions to the business but shutter at the thought that he is now in the main event of WrestleMania when it could have been so many other current wrestlers, if they were booked and positioned correctly of course. The story being told here has little to do with the Championship at stake, and more about Brock Lesnar getting his revenge on a man he just cannot beat.
Goldberg has gotten great reactions from live crowds all over the country since he has returned, and taking the Universal Title from Kevin Owens was a product of just that. What was once just a one match deal turned into a run culminating at WrestleMania for Goldberg, a spot he has been in before. With how limited Goldberg is in the ring, it does not seem likely that the WWE would keep the belt on him any longer than this. In defeat, Goldberg would have nothing to be ashamed of, nor would he even have to explain himself. He holds two victories and a Royal Rumble elimination over Brock, so losing to one of the most dangerous men in the world once does not completely kill your credibility or legacy. If Goldberg does come up short, it will be interesting to see what role he plays on TV moving forward, and if he would even get a rematch for the title. On the flip side, Goldberg is still getting pops everywhere he goes, and the WWE doesn't seem to mind his two moves and quick victories. If he were to conquer the beast for a 3rd time, it would speak volumes about how WWE sees him, as no other wrestler will have gotten the better of Lesnar like Goldberg.
Lets face it, aside from maybe John Cena, Brock Lesnar is the #1 box office attraction in the WWE and he needs to get back to his winning ways. It has been unbelievable to see WWE allow him to get beaten so decisively both at Survivor Series and in the Royal Rumble match, and all signs have to point to Lesnar getting a win back here at WrestleMania. To make up for how silly Brock was made to look in his previous encounter with Goldberg, this needs to be a clean and decisive win for Lesnar this time around. If Brock is victorious, it would set up so many new and intriguing matchups moving forward towards Summerslam. You would have wrestlers like Finn Balor and Kevin Owens (who are both still owed a rematch), Seth Rollins, Roman Reigns, maybe even Braun Strowman, Samoa Joe, or a newly promoted Shinsuke Nakamura. The possibilities are endless, and aside from Roman and partially Seth (we all know what happened) we have not seen any of the other possible challengers take on Brock 1 on 1. A defeat, however, could really start to hurt the mystique that Brock still carries. With Paul Heyman as his mouth piece Lesnar will be able to save face, but then every challenger he faces from here on out has ammunition to shoot at Brock if they really want to anger him and throw him off his game. Either way, while we are not in for a five-star classic, the match will no doubt be a spectacle that everyone will be watching.
NOW CHECK OUT THIS WM33 PREVIEW: THE CREATIVE CORNER: WrestleMania 33 – What should happen? What will likely happen? And a potential swerve for each match!
---
(Michael Souza is a new PWTorch Specialist who will contribute "Outcomes & Implications" before WWE PPV events looking at the pros and cons of each potential outcome.)