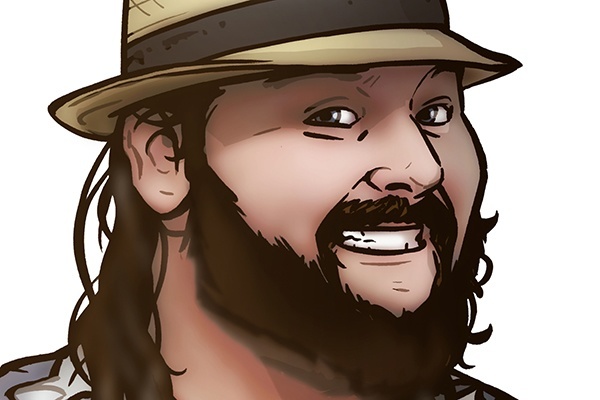 ---
SPOTLIGHTED PODCAST ALERT (YOUR ARTICLE BEGINS A FEW INCHES DOWN)...
---
by Pat McNeill, PWTorch Columnist
We are LIVE at the McNeill Command Center for WrestleMania 33. I can't guarantee this will be the best show of 2017, but I CAN guarantee it will be the longest.
We have a match on the preshow. The WWE Cruiserweight Title is on the line. Adrian Neville & Austin Aries are jerking the curtain in Orlando.
"Austin Aries is soaking in the WrestleMania glow". We miss you, Mauro. And let's go to commercial.
Devastating German suplex by Neville. Discus fivearm by Aries knocks the champ out of the ring. Aries hits the 450 and Neville kicks out. Aries grabs the Last Chancery, but Neville breaks by raking the eyes. Neville finishes it with the Red Arrow. That was good.
Shawn Michaels waxes ecstatic about the soft pretzel he just ate. Fast forward.
Cole, Saxton & JBL are here to call the Andre The Giant battle royal. Rob Gronkowski is here to root on Mojo Rawley. Good plan. Gronk can be back at the hotel by 7:30.
The jobbers whose name were removed from the Battle Royal list are in there. But not for long. Big Show and Braun Strowman are tossing dudes left and right.
Everyone else teams up on Strowman and Big Show. Strowman gets free first and eliminates Big Show. Time to abandon ship. Fifteen guys join forces to eliminate Braun. Well, then.
Mark Henry is still in there, circling and asking guys if they're ready to be thrown out yet. Ziggler eliminates R-Truth. Dolph looks bored.
Luke Harper and Sami Zayn are still in. Mark Henry is gone. Ziggler eliminates Tian Bing. Mojo gets his big moment by eliminating Bo Dallas. And Dolph Ziggler. Damn, yo. Five guys left. One of them is Killian Dane.
Sami eliminates Titus. Dane eliminates Sami. It's Mojo, Dane and Jinder Mahal. Really. Jinder and Mojo brawl out of the ring and over by Rob Gronkowski. You see this coming, don't you? Jinder throws a drink at Gronk. Gronk hops the barricade. Security doesn't care.
Gronk with the running shoulderblock to Jinder Mahal. Not bad.
Mojo gets hyped and eliminates Dane. Rawley finally eliminates Jinder to win the Battle Royal. So, it really IS about who you know.
Let's go to Carrot Top, who is standing by in the crowd to tell us how popular Mojo Rawley is. Paul Heyman is in the social media lounge, berating Maria Menounos for screwing up his intro. Give her a break, Paul. She's new.
Break time. For me, that is.
ANOTHER match on the preshow? You're killin' me, WWE. Dean Ambrose defends the Intercontinental Title against Baron Corbin.
Corbin dominates early. He almost finishes Ambrose with the Deep Six. Almost. A chokeslam by Corbin gets two. I've missed on the first two projections, and now I'm going to miss a third. It's a good thing I don't bet on these.
Ambrose reverses out of End of Days, hits Dirty Deeds. "You've gotta be kidding me"! JBL should know better than to bet on these too.
If WWE does the opposite of all my picks, this crowd's going to get ugly.
Subscribe to the WWE Network. Listening to "Wayback Playback" makes more sense when you do.
Let's fill the next five minutes with some jibber jabber from the panel. Only ten matches left to go!
Did you know that beating The Undertaker is a bigger deal than beating Triple H in the main event of WrestleMania 32? I wonder who signed off on that line.
Roman Reigns vs. Undertaker video package. I like it, especially if it means I don't have to watch it again in three hours.
It's just as well I'm not in Orlando. If I were, by 10 PM I'd be looking to hit Pitbull with a lug wrench for that song.
And now, to sing "America The Beautiful"…Well, I know it's not Flo Rida.
The good part of having an outdoor show? You get the flyover.
So WrestleMania 34 is New Orleans. For WrestleMania 35 I'm thinking…Clemson? Axxess at the Esso Club. Think about it.
We're coming in like a champion, which means it's time for the main show. Dean Ambrose and Austin Aries aren't good enough to appear on the main show, but we get 4.5 hours of The New Day. I'm questioning the existence of God.
New Day's gear reminds me I could be playing DC Universe Online right now. Or WWE 2K17.
For the record, I can handle one New Day segment. I draw the line at five or six on the same show.
"Are you ready for the ultimate thrill ride"? Go (fornicate) yourself, Tom Phillips.
Shane McMahon vs. AJ Styles is next. If Shane jumps off a high place and misses his mark, I think that might affect our enjoyment of the show.
Let's start with the positive. The WrestleMania set is pretty swank, don't you think?
I'll give this match an extra half-star just for AJ's ring gear.
Sure hope Shane can carry this kid to a decent match.
"Shane O Mac is built like an NFL linebacker". Yeah. Dick Butkus. The crowd is behind the evil villain.
Otunga's talking about Shane's background in MMA and Muay Thai. Please shoot me. It'd be less painful.
Styles tosses Shane McMahon over the Romulan announce table. Styles goes for the springboard forearm, and Shane pushes him off the top rope. Overhead throw by Shane.
Calf crusher, but Shane McMahon refuses to tap, and reverses it into a rear naked choke. Fujiwara armbar by Shane? Not the finish. Rings of Saturn by Shane? Not the finish. Double clothesline and the crowd applauds.
Springboard 450 by Styles, which Shane counters into a triangle. Not the worst job ever of doing that. Styles picks Shane up and turns it into a Styles Clash.
And Shane kicks out. Thank goodness he remembered not to tuck his chin. Styles accidentally knocks out the ref, then hits the Pele kick. Let's get some weapons!
Styles goes for the Van Terminator. Shane blocks it. Shane's turn. He hits the Van Terminator. See? That's how you do it. AJ kicks out.
Shane's had enough. He clears off the English announce table so he can throw himself through it. Yep. Sure 'nuff.
AJ goes for the Phenomenal Phorearm, which Shane counters into a DDT. Shane goes up for a Shooting Star Press. And misses. And lives.
AJ hits the Phenomenal Phorearm this time for the win. "Shane McMahon did what Shane McMahon does" exclaims JBL. See, JBL really does have tact.
Bryon Saxton can't find his notes. But it doesn't matter, because Chris Jericho is about to defend the United States Title against Kevin Owens.
OMG, a YouTube star is in the audience. Quick, how do I look?
It must be warm in Orlando. Chris Jericho's not wearing a scarf.
Jericho and Owens are off to a fast start, almost as if they'd just had their match time cut. New gear for Big Kev? I like it.
Good match. Physical match. Owens gets his knees up and blocks the lionsault. Rana by Jericho. Jericho hits the lionsault again (on the third try) but Owens kicks out.
Owens puts the Walls Of KO on Jericho. Love it. Owens goes for another cannonball, and Jericho catches the legs to turn it into the Walls of Jericho. But Owens makes the ropes.
Pop-up powerbomb by Owens. Jericho kicks out. Owens tries it again. Jericho hits the codebreaker. Owens makes the ropes.
Owens finally hits the powerbomb on the ring apron, and we have a new United States champion. Friendship ain't what it used to be.
That sure looks like Brock Lesnar on the ad for Payback. Interesting.
Bayley vs. Charlotte vs. Nia vs. Sasha for the WWE Women's Title in a fatal four-way elimination match. Bayley comes out first, because…she's the champ.
Charlotte comes out dressed as a peacock, in honor of Dalton Castle. There's the bell. The other three women join forces to go after Nia Jax. It doesn't work.
The Three Horsewomen hit a triple powerbomb on Nia and pin her. Watching those Shield matches came in handy.
Charlotte hits the Asai moonsault from the top turnbuckle onto Sasha and Bayley. Second year in a row. Double knees to chesty by Sasha. Charlotte kicks out. Charlotte face plants Sasha into an exposed turnbuckle and pins Sasha. We're down to Bayley and Charlotte.
Bayley comes off the top rope. Charlotte spears her and applies the figure-eight. Bayley's knee is hurt and now…we go to school.
Bayley gets tied to the Tree of Woe. Charlotte charges, Bayley sits up, and Charlotte hits the exposed turnbuckle. Macho King elbow by Bayley finishes it. Bayley wins!
Michael Cole thanks the City Of Orlando for dropping all charg…I mean, for being a great host city for WrestleMania.
Highlights from the Hall of Fame, where Beth Phoenix told us not to be bullies and JBL…was a bully.
Here's our 2017 WWE Hall of Fame class. They save the big entrance for Kurt Angle, who's the favorite to show up on Raw tomorrow as the new General…oh, I've said far too much already.
Time for Enzo Amore's promo. If there's any time left over, we'll have a tag match. Sheamus & Cesaro come out in matching outfits.
Gallows & Anderson vs. Sheamus & Cesaro vs. Enzo & Cass in a ladder match for the Raw tag team titles. Big guys in a ladder match. What could possibly go wrong?
The New Day announces there's a fourth team in this match. (Yay!) And that team is…The Hardy Boys. Holy crap.
You DO realize the Hardys appeared on a show for another promotion THIS AFTERNOON?
The Broken Universe is nowhere to be seen for this crazy match. Matt hits Anderson with a Twist of Fate from the ladder. Jeff jumps off a ladder and puts Cesaro through another ladder. Matt Hardy grabs the belts. The Hardys are the champions of time. 3 hours, 15 minutes of it. Every Monday.
How do you follow that? Cena & Nikki vs. Miz & Maryse. That's how. "I need to see some sign of commitment". A prenuptial agreement IS a sign of commitment. Just ask the President.
WWE brought in a marriage expert as guest commentator for this match. Please welcome Jerry "The King" Lawler! And Al Roker is guest ring announcer.
We go to the foreign announce teams, still scratching their heads over this Al Roker guy.
In lieu of a ring entrance, John Cena asks that you please not use the finger towels in his guest bathroom. They're decorative.
For some reason, Miz is incredibly popular with the Orlando fans.
If I'm booking this, Brie Bella's water breaks backstage, John Cena runs off to get her to a hospital, and they get stuck in the stadium elevator with Roman Reigns.
Did You Know? Miz's wife is Canadian. Some people call her Maryse (wheet-whoo!) 'cause she speaks of the pompitous of love.
Double five knuckle shuffles by the Cenas. The crowd goes mild. Attitude Adjustment. Rack Attack. John & Nikki are your winners.
Cena starts to propose. The crowd waves off John, yelling "No! No! No!"
Seriously, was Cena carrying the engagement ring in his jorts the WHOLE time?
Actually, Cena WAS carrying the ring in his jorts the whole match. But Nikki just thought he was happy to see her.
Nikki may be very nice, but she's not a good enough actress to pull off "surprised".
Now that we've brought the crowd down, it's time for Seth Rollins vs. Triple H. But first, let's have a stirring montage of every single Triple H promo in the past three months.
Triple H gets a motorcycle police escort to the ring. Screw that other guy's gimmick.
Don't forget, Greg Parks and I will be hosting the postgame show on PWTorchLivecast.com once WrestleMania ends, many hours from now.
Seth Rollins has a torch, and he lights the ramp on fire. He's Johnny Storm. Rollins calls himself the Kingslayer. He does know that's not a babyface gimmick, right?
"Rollins' knee looks to be okay". Sure. The match started twenty whole seconds ago. He's golden.
It was nice of Hunter to roll into the ring so Seth could hit that frog splash. Rollins with a top-rope superplex into a Falcon Arrow. And I've heard livelier crowds at flea markets.
Okay, it sounds like WWE turned the crowd mic back on. Hunter gets the sledgehammer, and walks into an enziguiri.
Steph interferes and Hunter hits the pedigree. But darned if Rollins doesn't kick out. Rollins hits the Phoenix splash. Hunter kicks out.
We still have four matches left. This WrestleMania is going to end on Tuesday.
Hunter accidentally knocks Stephanie off the apron, through a table. Hey, there's the crowd noise! Seth hits the pedigree and finally gets the win.
Musical interlude.
Video package. Babyface entrance for Wyatt. Babyface entrance for Orton. Here's your WWE title match, fourth from the top.
Did You Know? Bray Wyatt got the nickname "Eater Of Worlds" on a Tuesday night at Golden Corral.
And Bray somehow gets the A/V crew to project the image of a group of maggots onto the canvas. That was creepy. See? The crowd agrees with me.
Our second projection? Earthworms digging in the dirt. Somebody call the Mystery Machine! Suddenly, Orton's plan to win by boring Bray Wyatt to death doesn't look so good.
Orton with an RKO on the floor! Now all Randy has to do is pick up Bray and…Oh. Well played.
"Orton doesn't know what to do". I do. Take it home, brother! Nope. Sister Abigail. Orton kicks out.
Tonight's third projection? Cockroaches! If you had "cockroaches", you can pick up your prize on Concourse B next to the Dippin' Dots stand.
Yeah, Randy won with the RKO. New WWE Champion. In all the excitement, I almost forgot.
Bill Goldberg vs. Brock Lesnar, for the Raw Universal Title, is next. Uh oh. That doesn't bode well. Will the video package for this match last longer than the actual match? (Probably.)
Listen, when WWE Network debuts "Paul Heyman's Fractured Fairy Tales", I'm putting it on Season Pass.
The bell rings. Suplex City. A second. A third. But Goldberg with a takedown. A spear. Brock goes to the floor and Goldberg spears him through a barricade.
We go back to the ring. Second spear. Jackhammer. Brock kicks out. Well, damn. Goldberg tries another spear, and Brock leapfrogs him! Suplex #4. Suplex #5. Suplex #6. Suplex #7. Suplex #8. Suplex #9. Now they're blown up.
Suplex #10. Sumbitch. F5. Brock Lesnar wins the WWE Universal Title.
That was a surprisingly good main event. Thank you for joining us. Now get ready for the postgame show on…Wait. There's more matches? Really?
Alexa Bliss defending the Smackdown Women's Title against Naomi, Becky Lynch, Carmella, Mickie James & Natalya. Okay. Simple enough. The ladies are in the ring and we're ready to go. (Surprise entrants cut due to time constraints.)
Alexa with an STO on Carmella and a crucifix DDT on Natalya. I was ready to give her the win right there. Naomi tries a springboard something and Bliss punches her right in the face. But Naomi grabs a submission, and we have another title change! Naomi wins the title. Jimmy Uso wins at life.
We have a new Citrus Bowl attendance record! Who'd have thunk it?
Roman Reigns vs. Undertaker is your main event. Whose yard is it? Is there any crabgrass? Let's find out.
No, wait. There's one piece left to the puzzle. Welcome back, Jim Ross. This is YOUR yard.
Roman Reigns enters first. No DQ, no countout, no holds barred. Reigns is introduced first. He has a quizzical look on his face that says "Shouldn't there be more noise?"
"Roman Reigns is his own man". So was Joseph Stalin. What's your point?
The Undertaker walks down the ramp like he has all night. Granted, he DOES have all night. JR, Cole & JBL have the call.
Reigns hits the Samoan Drop, and the sound techs have their hands full trying to mute the "Roman Sucks" chants. Gran Torino Undertaker is making his last stand. If this is his last match, I'll miss him.
Taker teases the chokeslam. Roman rolls out to the floor. The Big Dog goes for the Drive-By, and runs into a soupbone. Ouch. Chokeslam onto the German announce table, which doesn't break.
Reigns spears Taker through the Spanish announce table.
The best thing WWE can do here is have Roman take a crapload of punishment and at least earn some respect. It almost worked two years ago against Brock.
The Slow (Last) Ride from Undertaker. Reigns kicks out. Chairshots from Taker. Reigns rolls out of the ring. Superman punch by Reigns. Another. Then Taker chokeslams Reigns onto a chair.
Tombstone. Reigns gets his shoulder up. The crowd is antsy. Superman punch. Taker kicks out. Reigns tried to Tombstone the Dead Man, couldn't get him up. Spear by Reigns. He tries to cover, but Undertaker locks in Hell's Gate.
Reigns gets free. Reigns has the chair. The crowd chants for Undertaker. Another spear. Taker kicks out. Another spear. Another kickout. If only Reigns had a fourth move!
Superman punch. Zombie situp. Almost.
This is the world's slowest snuff film. Superman punch. Spear to the heart. Reigns wins. Listen to that crowd! Um…crowd?
There are people applauding Roman Reigns, but more people are waiting for Taker to get up so they can cheer for him.
Let's see the highlights. What's the rush? It's only Monday. JR & Cole are trying to get Reigns over. The Dead Man gets his mucis, and the chance to take his bow.
Livecast now. VIP Roundtable up soon. Good night.