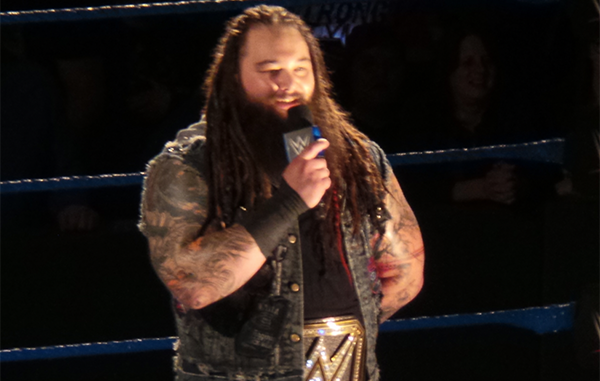 ---
SPOTLIGHTED PODCAST ALERT (YOUR ARTICLE BEGINS A FEW INCHES DOWN)...
---
SMACKDOWN PREVIEW
APRIL 4, 2017
ORLANDO, FLA. AT AMWAY CENTER
By Joey Galizia (@RamJam89), PWTORCH SPECIALIST
"SNAKE IN THE GRASS… MAGGOTS IN THE MOUTH"
WWE.com and Twitter are indicating that the feud between new WWE Champion Randy Orton and his former "brother in arms" Bray Wyatt is far from over. After a lackluster Mania match that involved projections of insects, critters, and worms, the Apex Predator and The Eater of Worlds may be looking to clash at least one more time. (Bray may be a madman, but I'm sure even he will invoke a rematch clause.) However, as seen on Sunday the glue for this feud has come undone (it was in the battle royal) and it's time for both men to aim their talents away from one another. With the duel brand shake-up coming next week this chapter of their lives needs to be closed and dispersed because there is no guarantee that Bray Wyatt will stay on the blue brand.
"THEY WANT ME TO FAIL, BUT I GLOW IN THEIR PRESENCE."
What a feel good moment for Naomi at WrestleMania. Her injury angle did strike an emotional chord considering how epic her victory over Alexa Bliss was at Elimination Chamber. Like a true babyface she surrendered her title and rode off into the sun wondering if she would ever get another opportunity. An opportunity that she had worked and bled nearly 8 years for. Lucky for us her knee healed up just in time to enter the multi-woman match for the division's top prize, and once again would triumph by forcing that tiny little witch Alexa Bliss to tap out. The match itself was placed in a very odd spot, but good for them for being added to the main show. As for tonight, I would assume that Alexa may also cash-in her rematch clause stipulation (God that thing is such a pain in the ass) because again there is no guarantee that the shake-up won't severely alter the rosters.
"WE THE TAG TEAMS TAKE BACK OUR DOMINANCE"
There must be a chip on the shoulders of SD Live's Tag Team Division, especially American Alpha and The Usos. With no room on the card in Orlando they were all sentenced to death in the "legendary" Andre The Giant Battle Royal which was won by Mojo Rawley (kill me) and had a Rob Gronkowski cameo. (The Patriots should have to surrender a draft pick and be fined because SHUT UP that's why.) Now that the show of shows is over Alpha can continue their pursuit of those Superkicking Samoans and start their climb back to the top. Meanwhile with the Revival going to Raw I wonder if the blue brand will receive an NXT Tag call-up.
"THE PHENOMENON IS COMING. HIS STYLE IS STRONG."
-A.J. Styles is the G.O.A.T. He and Shane delivered an extremely entertaining opening bout for Mania that the right man came out on top of. Now that Styles has effectively pissed off everyone and now punk'd the bosses son, what is next for the Phenomenal one? (Monday Night Raw, that's what.)
-John Cena proposed to Nikki Bella after the Cenation crushed Miz & Maryse as if they weren't even an afterthought. I had no idea that he was even considering proposing! (SARCASM.) Seriously, it came out of nowhere! (It seriously didn't.) Anyway I'm happy for them both and hope they enjoy their time off. (That part I do mean. <3 )
-The Lone Wolf couldn't defeat the Lunatic Fringe for the Intercontinental Championship. Corbin's the type of guy who doesn't go away after a loss soooooooooooooooooooo rematch?
-Listen, whatever direction SD decides to take tonight I'm sure I'll be okay with. Since the brand split they have delivered a top-notch wrestling program on a week-to-week basis so even when I'm not surprised by most of their angles tonight I'll still be happy. The big hope is that they handle their NXT call-ups correctly, specificly Shinsuke Nakamura. I will be very surprised if we don't see the King of Strong Style make his debut tonight popping the Orlando Crowd one more time after an efficiently wild weekend. SD is the right home for Shinsuke, and if the Gods are good to us. Maybe he and A.J. can have one clash tonight before we lose the Phenomenal One to Monday Nights. FINGERS. EFFING. CROSSED.
205 Live after! Until then, have a nice day.
---
NOW CHECK OUT LAST WEEK'S ARTICLE: SMACKDOWN PRIMER: Final WrestleMania 33 pitch, Luke Harper snub, Cena-Miz, Corbin-Ambrose, Shane's punches, Alexa's odds