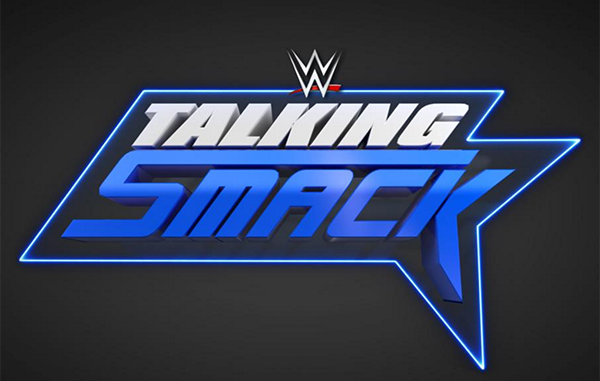 ---
SPOTLIGHTED PODCAST ALERT (YOUR ARTICLE BEGINS A FEW INCHES DOWN)...
---
WWE TALKING SMACK REVIEW
APRIL 4, 2017
AIRED LIVE ON WWE NETWORK
BY CRAIG ELBE, PWTORCH CONTRIBUTOR
Usos are Bored with Not Defending Titles and Confused with Superstar Shake-Up Ramifications, Dillinger is Ready to Keep Momentum Going, Naomi Needs Rest Instead of Partying, plus Talk of Miz and Maryse, Styles, Nakamura, Orton/Bray
Shane McMahon joined Renee Young in Daniel Bryan's stead as Renee opened the show, excited for the Smackdown debuts of Tye Dillinger and Shinsuke Nakamura. Renee was in the audience for Nakamura's entrance to relive the goosebumps she always gets. Shane said he was happy for both men to be on Smackdown. Renee said Dillinger will be on the show later.
Shane was impressed by the dedication of the fans for how they showed up for the Hall of Fame ceremony through Smackdown and gave big props to everybody for attending and watching. Renee said it was one of her favorite WrestleMania sets and marveled from her pre-show seat of the full stadium.
Shane said he is okay from his match with A.J. Styles at WrestleMania, and needed the hot tub yesterday to loosen up. He said their interaction tonight indicated mutual respect was earned after the battle they had. Shane said Styles was classy with his handshake gesture and truly is phenomenal and would love to do it again with a guy like him. He also said it was nice to have that moment and it meant a lot to him. Renee tried to bring up Undertaker's retirement, but the handshake with Shane and Styles was shown instead. Shane watched it with a smile and said the mutual respect feeling is hard to put into words and was happy they had the honor and privilege to perform in front of the 75,000, plus WrestleMania audience and was humbled.
Renee introduced the new SmackDown Women's Champion to the show.
First Guest: Naomi
Limping while receiving double congratulations, Naomi said having the support of her fans and friends the past year to give her the push and confidence was surreal. Renee was curious about the booty-shaking part of her WrestleMania entrance; Naomi was just in the moment but got heat from her husband. She said the 80-yard entrance ramp didn't seem as long in the moment till she got to the ring.
Regarding next week's Superstar Shake-Up, Naomi said she wants to stay on Smackdown because it's where she got her first opportunity and is home. Of all women on both rosters, she said Charlotte Flair would be a top match-up challenge because she's also very athletic and tough and would have great matches with to find out who is the best.
Renee and Shane put over Naomi's athleticism and teased a potential Talking Smack exclusive vertical leap test for Naomi. Renee thanked her for being on the show, and Naomi said she will rest up her knee and visit with friends and family instead of partying.
Renee pumped Shane about the Superstar Shake-Up. He said everything must go through the Chairman so he won't be talking to new Raw General Manager Kurt Angle. He hopes will get the first pick as "Dad's little girl" got the first pick for the previous draft. Initially reluctant to tip his hand, Shane said he'd love to have Brock Lesnar on Smackdown, and Roman Reigns is a hot commodity.
Shane will focus on who is coming and doesn't want to lose anybody, and is proud of the atmosphere of opportunity he and Daniel Bryan have fostered. He hopes that those that come to Smackdown will embrace the opportunities they will get and those who go to Raw will maintain their edge and spirit from Smackdown. He went as far as teasing some secret double agent spy stuff and Renee thought she could be good at that!
Renee then brought out their next guest.
Second guest: Tye Dillinger
Tye said this debut was 15 years in the making and may get emotional, and thanked Shane for the opportunity while congratulated him on his WrestleMania match. Footage was shown from his debut earlier in the night and Tye got goosebumps all over again and was grateful for the fans' response.
Tye said he feels at home on Smackdown and wants to keep that momentum going, but if the Superstar Shake-Up puts him on Raw, with a Shane thumbs-down, he will try to keep his momentum going on Monday nights as well. Renee thanked him for being on the show and congratulated him, exchanging air 10's and hoped to see him next week but lamented Superstar Shake-Up is tripping her out!
Renee said this Smackdown after WrestleMania felt huge, that everybody stepped up their game, Eric Rowan returned, Luke Harper looked great, and Dean Ambrose and Baron Corbin destroyed each other in a hard to watch match. Shane said they saw an opportunity, took it, and had a great match.
With Randy Orton as new WWE Champion, it was clear after tonight's interaction with Bray Wyatt their issues are not resolved.
Shane said Shinsuke Nakamura is a charismatic rock star as Renee recalled Nakamura's NXT Takeover-Brooklyn entrance. Renee also felt he is a rock star and wants to be more like him. Shane said Nakamura is ready for SmackDown and will work very hard to keep him on SmackDown during next week's draft.
Shane hinted Vince McMahon made the Superstar Shake-Up decision in haste. Renee pondered if the discussion of the shake-up was started as Smackdown was getting neck and neck and surpassing Raw. Shane nodded and moaned his agreement without saying the words.
Shane said John Cena and Nikki Bella being engaged at WrestleMania is great while Renee wondered what they said to each other in their post ring-on-the-finger embrace.
Surprise Guests: SmackDown Tag Team Champions The Usos
Jimmy and Jey Uso each shook Shane's hand and told him he's a hard guy to get a hold of. They expressed frustration for being the only champions to not defend their titles at WrestleMania. Shane insisted there wasn't any disrespect, the card was just full. Jimmy and Jey accept Shane's reasoning but said they're getting bored not defending their titles. They wondered about what's going on with the Superstar Shake-Up and said they're still going to be the champions and will take out anybody who comes to Smackdown from Raw. Shane said if The Usos and American Alpha are still on Smackdown next week, they will have a tag team championship match next week's show. The Usos laughed and said they aren't scared because they go to church, but wondered about their Smackdown titles if they go to Raw. Shane said the Chairman has said nothing is off limits and they're all getting info as it comes along. The Usos left the show with "all love" and a barbeque party invitation along with promises of late night phone calls to Shane.
Shane said he and the Usos share a long lineage and go way back with each other's families, and said the Usos weren't the only ones that didn't get to be on WrestleMania.
Shane and Renee said Miz and Maryse were very funny spoofing John Cena and are obviously committed to it. Renee said she'd heard through her media appearances for WrestleMania that Miz had one of his best years. Shane agreed and said Miz earned the everyone's' respect. Renee followed by offering the "no offense" statement of who would have thought! Shane said Miz never turns anything down and works very hard and is phenomenal (A.J. Styles anyone????) in the ring. They both credit Maryse for pulling off a great Nikki Bella impression as they watch what Miz and Maryse did tonight. Renee pointed out they were rudely interrupted by Shinsuke Nakamura but he is also on Smackdown to make a point.
Renee thanked Shane for joining her and said they will be back next week, Shane said with an all new roster.
---
NOW CHECK OUT THIS RECENT ARTICLE: 4/3 Raw Talk Review: Goldberg addresses family and fans after Raw goes off the air, plus Hardys, Bayley