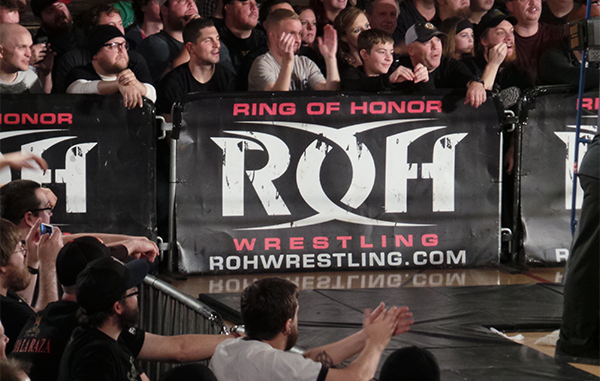 ---
SPOTLIGHTED PODCAST ALERT (YOUR ARTICLE BEGINS A FEW INCHES DOWN)...
---
HITS
Davey Boy Smith Jr. vs. Ray Rowe: Good job giving us a recap before the match of the bad blood between these two that happened recently. Also, Ian Riccaboni reminded us of the heated history between War Machine and The Killer Elite Squad that they've had in the past. As we get into the match, this is a hard-hitting slug fest. We're not too far into the match when Smith Jr. drops Rowe by the knee on to a table. I fully expected the table to break but that did not happen. Rowe's knee hits the table and if it didn't really hurt him, he did a great job of selling it. Also, credit Smith Jr. for finding several creative ways to work over Rowe's left knee throughout the match. Essentially, Smith Jr. grounded Rowe most of the match. After being on offense most of the match, Smith Jr. takes a big knee from Rowe. Rowe is then able to hit Smith Jr. with his Death Rowe finisher. Solid match to start this week's ROH TV.
Kenny King and Marty Scurll Promos: Solid promos from both guys promoting their match coming up later in the show. King has been a really good promo guy as long as I can remember and he showed that again here with this quick promo leading up to the match later in the hour. I don't know if there are future plans to put the ROH TV Title on King but I would not be opposed to it. I believe King would be a very good person to get a run with the ROH TV Title.
Josh "The Goods" Woods vs. "The Kingpin" Brian Milonas: This is another first round match in the Top Prospect tournament. There's something subtle but nice at the start of the match. Milonas and Woods lock up in a collar and elbow. Milonas throws Woods face first into the mat from the lock up position. They are then about to lock up again when Woods shoots for a take down on Milonas when he goes after Milonas left leg. I liked that simple start just for the fact that it plays to Milonas size and power and Woods' MMA strength going into the match. This also was just a preview. These two continue to play into the strengths of each other as Milonas used his power and size to get the upper hand on Woods and Woods would use his shoot fighting MMA skills to go after Milonas. (Side note: Brutal Bob and Ian Riccaboni are fantastic on commentary together again.) Woods at one point looks to lock in an arm bar from his back but Milonas impressively powers up Woods and slams him. Woods makes a few small comebacks but for the most part Milonas controls the match. Milonas even hits Woods with his spinning senton bomb that Woods is able to kick out on when Milonas goes for the pin. Shortly after, Woods is able to get back on offense. He hits Milonas with a miraculous German suplex on the very large nearly 400 lb. Milonas. Milonas kicks out when Woods goes for the pin but then Woods locks in an ankle lock of sorts and Woods gets the win by submission to advance in the tournament. This was a good match by two guys you may not know much about. Milonas is a very good wrestler with a lot of experience from many years on the independents. You can see that he knows what he is doing in there. Woods is younger but looks to have a very bright future in wrestling. If I had to make a pick right now to win the tournament based on who is left. My pick is Woods to win this year's Top Prospect tournament.
Recaps Throughout: In general, there were a bunch of recaps throughout the show. One was of Bully Ray when he invaded at Manhattan Mayhem to help out the Briscoes. Another was when Frankie Kazarian helped out Christopher Daniels at the 15th Anniversary PPV where Daniels won the ROH World Title. I thought it was just a good way to show the fans what they may have missed had they not attended Manhattan Mayhem or seen the 15th anniversary PPV.
Marty Scurrl vs. Kenny King (ROH TV Title Match): Lots of technical wrestling to start out this match. I don't have a ton of notes for this match because my notes probably wouldn't do it much justice. These are two very talented wrestlers and they put on a great match for the ROH TV Title. There was a lot of back and forth. Towards the end of the match, King hits an impressive back flip on to his hands and then feet from the second rope when Scurll pushes him off. King then comes back with a running kick to the head with Scurll sitting on the top rope. Scurll then almost gets his chicken wing submission locked in but King gets out as he grabs the ropes. King appears to be about to finish off Scurll when Scurll is able to get back on offense, "breaks" King's fingers, and then Scurll locks in the chicken wing finisher for the win.
Six-Man Tag Titles: As they're going off the air, Riccaboni addressed the issue with the 6-man titles that I mentioned in a previous Hits and Misses. It sounds like they will settle this on next week's ROH TV. I wanted them to address this last week but credit them for bringing it up on today's episode and mentioning that they will settle this next week.
MISSES
ROH TV Title: The match with King and Scurll was great. But I didn't think for a second that King would win considering that scheduled for Supercard of Honor XI is a match with Marty Scurll vs. Adam Cole. Keep in mind, this column was written prior to Supercard of Honor XI airing on iPPV.
Final Thoughts
This was not a perfect hour of TV but it served its purpose. This is an ROH PPV weekend. I didn't come in expecting much and I honestly thought the episode was better than I thought it would be. Scurll and King put on a great ROH TV Title match even though little was in doubt over the outcome in my opinion. I also felt this was the best ROH Top Prospect tournament match in this year's tournament. Milonas and Woods put on a very good match that played to each of their strengths.
NOW CHECK OUT LAST WEEK'S ROH HITLIST: ROH HITS & MISSES 3/25: Champ Christopher Daniels, The Hardys, The Briscoes, Adam Cole, The Young Bucks, Kazarian
---
Mike Mills is the PWTorch.com ROH TV Hits and Misses Specialist, providing his point of view on ROH TV weekly. You can follow Mike at @BTT_Podcast and @Mike504Saints on Twitter.