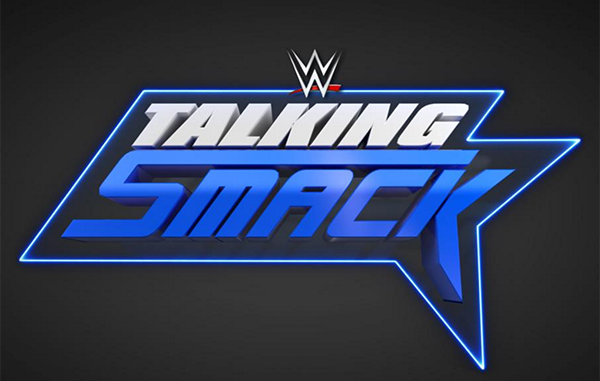 ---
SPOTLIGHTED PODCAST ALERT (YOUR ARTICLE BEGINS A FEW INCHES DOWN)...
---
WWE TALKING SMACK REVIEW
APRIL 11, 2017
AIRED LIVE ON WWE NETWORK
BY CRAIG ELBE, PWTORCH CONTRIBUTOR
Renee Young is finally joined by the more fun Daniel Bryan, but somehow the commish Shane McMahon found his way to the desk to bore us. Thankfully Meatloaf educated us on two-out-of-three not being so bad.
The three Blue Branders celebrated their gains of Superstars from the Superstar Shake-Up while hoping those departing to Raw will, as Shane said, matriculate the beautiful Smackdown magic to Raw as Raw needs it! Renee was scolded by Shane for using the word "lost" regarding the Raw-bound folks, but Bryan wasn't concerned for tact and said they got rid of Miz & Maryse.
Renee wasn't happy about Dean Ambrose going to Raw and wanted to assign proper blame. Shane pointed fingers at Bryan, but Bryan, with his tongue firmly in cheek, blamed Mr. McMahon.
As Renee gave us the full list of arrivals and departures, Shane made sure she didn't forget Charlotte Flair; Renee agreed as we should all hail the Queen.
Renee introduced the first "fourth person" to the show.
First Guest: Dolph Ziggler
Mostly eaten apple in tow, Dolph joined the show and announced he made the request to rid Smackdown of Dean Ambrose. He, A HEEL, said he also loves to hate Miz & Maryse and his excited to see the Shining Stars on the Smackdown and on live events.
Dolph said he only watches Smackdown so he can find ways to make the show better and who to weed out and beat to make it to the top. So, he doesn't know Shinsuke Nakamura but referenced their dark main event from last week and got a chuckle from Bryan. He thinks it's cool to have a guy like Nakamura on the show, as he has a following and the fans are behind him and can't wait to beat him in front of said fans. Despite that, he's sure people want to see Dolph lose to Nakamura. Can't say he's not self-aware anymore! He said he knows where money is and a main event or pay-per-view match with Nakamura is where the money is.
Shane said Nakamura is a Smackdown rookie and would love to see him compete with a veteran like Dolph. Dolph agreed and used the old territory term of New York about Nakamura now being in WWE. It unfortunately went over Renee's head. Dolph said Nakamura is a new fish in the pond and wants to make a name for himself in WWE, and he is willing to face him.
Dolph said the morale is at a very high level right now and largely credits himself for it. He threw the scraps of credit to Bryan and Shane, but said they are "dad cool." He tried to make it up to Shane by admiring his kicks, prompting Shane to limber his foot to the desk and Bryan to follow up with his recycled tire shoes. Dolph demonstrated his line of discretion and said he won't pick on Bryan for his vegan shoes.
Dolph said he's looking forward to getting in the ring with Nakamura and volunteered himself to fill in for the soon-to-be on maternity leave Bryan. He took the microphone with him for a future callback and to ensure guest hosting. What a comedian! Well, sort of.
Bryan said he roomed with Nakamura circa 2002-2003 along with Lyoto Machida. Bryan has always been impressed with Nakamura's dedication to his craft. He also admired his risk-taking by being willing to test himself in NXT and WWE after his previous megastar success in Japan.
Bryan told a story of a cheat day donut store visit with Nakamura. Shinsuke took a bite of a donut and said "too sweet." Bryan thought it was time to raise his hand for the old NWO sign, but the wrestling nerd was wrong as Nakamura wasn't used to sugary America.
Renee brought up the now even stronger Smackdown Women's Division with the addition of Charlotte Flair and Tamina Snuka. Shane tried to give all the credit for all acquisitions to Bryan, but Bryan was too smart for it, knowing he'd get any blame as well. Bryan was sad to see the blossomed Alexa Bliss and veteran Mickie James go to Raw, but was exited for the addition of Charlotte's main event and championship experience. He fantasized aloud for all the fresh new match-ups her presence brings. Shane said he had fun teasing the audience by announcing Tamina before Charlotte. Yeah, I'm sure Tamina was hysterical from her deflated reaction. Great job, Shane!
Next guest please!
Second Guest: Jinder Mahal
Renee thought Jinder should be waist up naked for the show to display his recent work in the gym. He agreed, and said he has the best physique in WWE and is also the most improved wrestler.
Jinder blamed New England Patriots star tight end Rob "Gronk" Gronkowski for costing him the Andre the Giant Memorial Battle Royal at WrestleMania and his debut match on Smackdown tonight. He plead Shane's ear about why Gronk isn't banned. Shane said he provoked Gronk on both occasions. With footage of the WrestleMania confrontation, Jinder said he thought he was drinking some water. As a non-alcohol consumer, he realized it was a beer and angrily threw it at Gronk while spitting out the beer.
Jinder moved on to tonight's altercation with Gronk, how he cost him his victory against Gronk pal Mojo Rawley. Jinder said he came to SmackDown to redefine himself, win championships, and for everybody to forget about the Jinder Mahal they though they knew. He said Gronk cost him winning his first Smackdown match. Shane corporately said the Gronk ban request will be taken under advisement, then wondered why Jinder left the ring again to provoke Gronk. While he's happy to have a hungry Jinder with a new attitude on the show, it's those little things that will cost him. Renee wondered about banning someone from ringside; Shane said Bryan can, but not if they buy a ticket. Jinder suggested nosebleed seats for Gronk instead to Bryan's liking but shy of approval.
Shane commended Jinder's work in the gym. Jinder said nobody in WWE is outworking or out-dieting him, that he doesn't know what cheat days or meals are. Bryan took himself from under the bus even though he indulged in some vegan sweets today. Jinder then forgave Bryan for his indulgences.
Jinder said he wants to live up to the potential that's been discussed since his 2009 WWE signing. Championships have eluded him and he's not happy with that so he decided to put in the extra work in the gym and on his diet to realize his potential. How about putting more time in a wrestling ring to go along with those weights and nutrition? Shane liked his fire and Renee thanked him for being on the show.
I may have been a little hard on Jinder, but I think more appearances will quell his nerves and grow his confidence. I feel that his genuine passion was on display and I liked it.
Bryan showed his Seahawks fandom by brushing off Gronk and siding with Jinder to put Gronk in the cheap seats. Yes, he's still mad about his Seahawks losing to the Patriots in Super Bowl 49.
Shane said again that he likes Jinder's fire and hunger. Bryan agreed and said he appreciates how Jinder has improved in the ring upon his WWE return along with a chip on his shoulder.
Renee brought how impressive Mojo has been post Zack Ryder injury. Shane remembered when Mojo claimed he would do so on the show. Bryan recalled Mojo's unbelievable 60-inch box jump while training with him before WrestleMania. Shane said he talked with Gronk and his friends who didn't expect big sweaty hog Mojo to jump at them after his match. Bryan called for copyright infringement on the term "big sweaty hog" as James Ellsworth is the only Big Hog on Smackdown. Bryan was happy to retain Ellsworth in the Shake-Up as he would be lost without the Big Hog locker room dance.
Renee said the match of The Usos vs. American Alpha was a clinic while Bryan lamented not giving the Smackdown tag team roster a WrestleMania opportunity to showcase itself. With Smackdown being only two hours, it's been hard for tag teams to show personality. With the arrival of The New Day, Bryan is hopeful their ability to take those opportunities to show personality will be contagious with the rest of the tag teams.
Bryan was then interrupted by the next guest.
Third Guest: Kevin Owens
As he sat down, Kevin Owens threw his shoes on the desk to join the shoe comparing game. Bryan noted the leather material and said a cow died for his shoes; Owens just cared that they were cheap. Following brief grief from Renee, Bryan asked her about her jacket. Renee was rather quick to point out that it was in fact Brie's jacket and was vegan friendly.
"Riveted," Owens tried to offer congratulations to someone at the desk on a subject Shane shut down but made Renee the most uncomfortable. I'm lost myself.
Shane pivoted to asking a heel how he felt coming out to fan adulation. True to form, Owens doesn't care about fan cheers but was happy to be on Smackdown as he enjoys the show and Talking Smack as well. He had a problem with Sami Zayn showing up, though, and wondered who to blame for that. Shane passed the buck to Bryan but agreed with the Zayn transaction. Bryan said Zayn was underutilized on Raw. Owens said he never heard Bryan make a case for wanting him on Smackdown. Bryan said he couldn't because Owens was the Universal Champion. Owens referred to not being drafted to Smackdown; Bryan played coy, but Shane said Owens's attitude wasn't great. Owens wondered what's changed, and if being the new face of America as the United States Championship was a deciding factor. Shane said it may have had something to do with it.
Now that he's on Smackdown, Owens persisted further about his attitude; if he needs to shape up or just do well on the show. Shane said he looks great with his trimmed beard and haircut and that Smackdown is the land of opportunity, and asked Owens what he's going to do with the opportunity. Owens said he doesn't believe in that vernacular; they all need to get off on the right foot, but not necessarily get along, as they are all different people. Owens wants everyone to know where they stand. He said he doesn't like the fact that they didn't draft him to Smackdown in the first place and Raw drafted him so late, but now he's good enough to be on Smackdown. Sami Zayn being there pisses him off. The land of opportunity stuff is crap; they give oppotunities to people they like. Being the United States Champion already makes him better than everybody else and he doesn't need their opportunities and will make his own. Owens said he will make Smackdown his place and improvised KO Country as the title but could do better with more thought. He feels this will be an interesting ride; Shane isn't impressed.
Renee brought up Owens vs. Chris Jericho for the United States Championship at Payback, with the winner going to Smackdown. Owens was confident he would win as he beat Jericho at WrestleMania but isn't stupid enough to look past Jericho. He said he will then beat the number 1 contender, A.J. Styles, like he's done before the draft and will continue to be the best in WWE, and the Face of America. He did the Bryan "Yes!" chant and had to hold Bryan's hand to prompt his mild cooperation.
Renee said it's great to have Owens on Smackdown; Owens said she didn't mean it, but he doesn't care about her opinion. Owens asked Shane for his shoe. Shane echoed Renee's sentiments and said he's very talented. Owens said he appreciated that, "kind of."
Owens shared a cool dad moment with Bryan and wished him luck with his girl on the way and said he also has a daughter who is about to turn three along with a nine-year-old son. Owens said they knew that already, but didn't draft him to SmackDown so he could provide for them and left the show.
Awesome stuff from Owens. A great Talking Smack presence and upgrade from Miz, who was great as well; Owens is just better. I am definitely looking forward to more of Kevin Owens on Talking Smack, provided he beats Jericho at Payback, of course.
Renee said the hostility continues on Smackdown Live and Talking Smack and they are looking forward to all the new goings on from the new moves from the Superstar Shake-Up. Bryan asked Shane if he could take his spot during his maternity leave; Shane inaudibly mumbled something probably Owens related.
---
NOW CHECK OUT LAST WEEK'S ARTICLE: 4/4 WWE Talking Smack Review: Shane has forgiven Styles for brutally attacking him in parking garage because mutual respect earned at WM32, plus Naomi, Tye, Usos