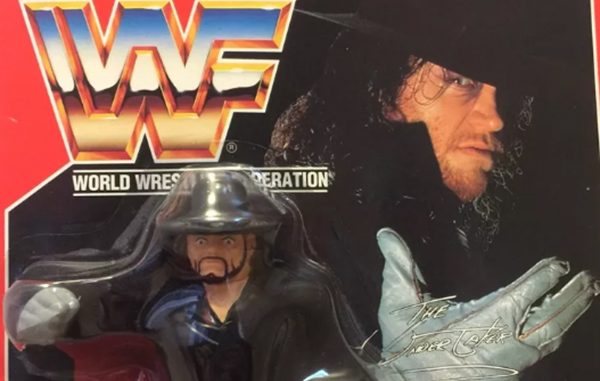 ---
SPOTLIGHTED PODCAST ALERT (YOUR ARTICLE BEGINS A FEW INCHES DOWN)...
---
The Undertaker's first action figure was released in 1992. Ever since then, companies like Hasbro, Jakks Pacific and Mattel have produced nearly 300 different figures of the Deadman. In addition to all of his regular figures, Undertaker has been a biker, a zombie, a special forces soldier and a guy who sweats a lot, among other things.
Here is a list of 10 figures of the Undertaker that are truly memorable, either for their awesomeness or for all the wrong reasons. 
The Best
1. Hasbro WWF Series 8. Undertaker's first action figure was released in Hasbro's fourth series
of figures in 1992. A couple years later, Hasbro touched up the figure's paint job, tweaked his hair color and added a cloth trench coat for the company's eighth series of WWF action figures, the popular "red card" series. The coolness of the figure, combined with the scarcity of the red cards, makes this a favorite with collectors to this day. Loose figures regularly sell for right around $100, and a carded figure recently sold on eBay for $200.
2. Jakks Pacific WWF SummerSlam 99. For this figure, Jakks followed much the same formula as Hasbro several years earlier. They took an older Undertaker figure, painted it up a little bit differently, and fitted it with a cool black and red robe in order to create a Ministry of Darkness Undertaker. It's a very basic figure with a cool accessory, but sometimes the simplest figures are the best.
3. Jakks Pacific WWE Unmatched Fury Series 12. Some of the most detailed wrestling toys ever made, the Unmatched Fury figures weren't so much toys as collectible figurines. Undertaker had two great figures in this line, but the Series 12 figure was especially cool. It features Undertaker kneeling down in his famous pose, right hand outstretched, with detailed tattoos on his forearms and purple gloves and boots against his black ring gear. This is a favorite item for many diehard collectors to get signed.
4. Jakks Pacific WWE Classic Superstars Series 13. Undertaker arrived in the WWF just about a year after LJN discontinued its popular line of WWF Wrestling Superstars. In 2007, Jakks decided to pen a love letter of sorts to LJN, and began releasing one figure in each Classic Superstars series as a throwback LJN-style figure. Undertaker was the very first figure of this retro line, and Jakks did a great job. The figure was released in a blue package designed to look like an LJN card, complete with "Wrestling Superstars" in the same red font. The Undertaker figure looked exactly how most collectors imagined a late-80s toy of his would have looked.
5. Mattel WWE Entrance Greats. Just a few months removed from wrestling as "Mean" Mark on WCW TV, the Undertaker appeared in the WWF at Survivor Series 1990 in arguably the greatest debut in pro wrestling history. In 2011, Mattel captured that moment with this deluxe Undertaker action figure, which comes with a removable coat, hat, shirt and tie, along with a stand that plays Taker's original entrance music. Mattel did an amazing job with this figure, and the head sculpt bears an uncanny resemblance
to Undertaker in his first appearance.
6. Mattel WWE Elite Series 23. Way back in 1995, King Mabel dropped a leg on the Undertaker and caused serious damage to his face. When Taker returned, he was sporting a Phantom of the Opera style protective mask, which he would wear for several months. This figure recreates Undertaker's look from that period, complete with a removable coat, hat, tie and mask. Mattel recently rereleased this figure as part of its "lost legends" series. Jakks Pacific also included a cool figure of this version of this version of the Undertaker in a special "Three Faces of the Undertaker" three-pack from the Classic Superstars line.
The Worst
7. Jakks WWF Pacific Maximum Sweat Series 4. There is perhaps no more reviled WWF/WWE toy line than
Maximum Sweat from Jakks. The figures in this series were so jacked up, vascular and veiny that they would make Jinder Mahal jealous. Figures had distorted, grotesque faces, and came with a small bottle that kids could fill with water and pump into the figure. Once the water was inside, kids could press a button and the figures would, well … sweat. Undertaker had three different Maximum Sweat figures and while it's hard to say which
one is the worst, this Ministry of Darkness era Undertaker is just plain awful. Oh, and he also came with a small plastic push broom. The Undertaker: Phenom, Deadman, American Badass … janitor?
8. Jakks WWF Pacific STOMP Series 3. From the action figure line that brought you Ahmed Johnson in overalls, Owen Hart as an underwater assassin and Sable as a space age stripper comes this dreadful Undertaker toy. The premise behind the STOMP line was that WWF wrestlers also moonlighted as special forces operatives, complete with guns, knives, bulletproof vests, whips and other weapons. Somehow Jakks made three series of these awful toys, with the third wave titled "Space Domination." Undertaker was dressed all in purple and had snap on armor, including a space helmet and claw for a hand.
The Weirdest
9. Jakks WWF Bone Crunching Action Series 2. Jakks released its first WWF action figures in 1996, and it took the company a few years to put together quality products. Undertaker's Series 2 figure was just a repaint of his Series 1 figure, but this time the packaging announced that
Taker had "glow in the dark flesh!" You know, because he's … a dead guy?
10. Mattel WWE Zombies Series 1. Released in 2016, Mattel's Zombie line of WWF figures hasn't exactly been well received. Collectors regularly crack jokes about them, and if you check your local Walmart you'll probably still find dozens of them sitting on the shelves. The figures are actually well made and look pretty cool. But really, what is anyone going to do with a WWE zombie action figure?
---
If you picked up any unique items during WrestleMania weekend that you'd like to share with other PWTorch.com readers, contact PWTorch Collectibles Specialist Michael Moore atmichaelmoorewriter@gmail.com or @MMooreWriter on Twitter.
NOW READ OUR PREVIOUS COLLECTIBLES COLUMN: COLLECTIBLES COLUMN: News on Styles Figure, Mania Pins, Mandy Leon