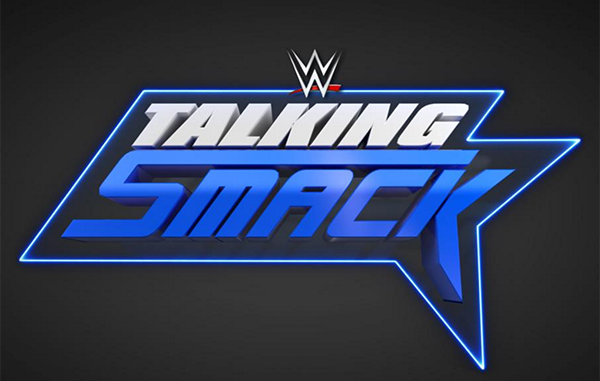 ---
SPOTLIGHTED PODCAST ALERT (YOUR ARTICLE BEGINS A FEW INCHES DOWN)...
---
WWE TALKING SMACK REVIEW
MAY 9,, 2017
AIRED LIVE ON WWE NETWORK
BY CRAIG ELBE, PWTORCH CONTRIBUTOR
Renee Young was joined by JBL this week, and they talked about their great friendship and common trait of authentic looking fake follicles.  JBL loves the city of London but didn't do anything cool today.  However, being a London tourist for 25 years he has been to Churchill's war rooms, one time getting tour of Buckingham Palace.  It was set up by William Regal who knew an old wrestling promoter that worked security there.  He even got to serve beer at the Queen of England's bar!  Renee said JBL was a former travel buddy and nobody had cooler stories than him.  She also learned a lot about life from him.  Last time they were in London together they recorded a horrible rap video.
Onto something fantastic, Renee brought up tonight's main event that saw Jinder Mahal pin Randy Orton in the six-man tag team match.  JBL said it's possible to see that again at Backlash and have Jinder become WWE Champion.  It's not a best of seven or nine series, this is about getting on a roll for one match and anything can happen.  Jinder has that opportunity and can make that happen.  Renee has noticed Jinder's tighter focus as his tenure surely indicates this could be his only chance and must seize the moment.  JBL mentioned Vince McMahon's grabbing the brass ring rhetoric, and Jinder has done just that while being in the best shape of his life.  Renee can't wrap her head around Jinder's physique and had a schoolgirl chuckle about it!
Renee wondered why Sami Zayn comes across like a neurotic maniac.  JBL said he and many others love giving Zayn a hard time for overthinking everything, that he's accustomed to being that way.  Renee added he spins his wheels makes himself nuts but she loves him.  JBL loves him too and thinks that is what made Zayn's backstage segment with Orton and A.J. Styles great.
Renee gave a quick plug to Orton vs Jinder at Backlash for the WWE Championship.
Also at Backlash will be Kevin Owens vs A.J. Styles for Owen's Unites States Championship.  JBL predicts Owens will retain and stay the new Face of America, though he never imagined the Face of America would also speak French.  He asked Renee, a Canadian like Owens, if she can speak French.  She mumbled a few French words but said she can get by a little but isn't fluent like Owens.
Renee transitioned to the Fashion Files and brought up JBL's citation from the pair.  His violation was wearing a kilt to a Smackdown in Scotland.  He comes from a McGregor heritage and was coming from a Rob Roy type dinner that night those weirdos ticketed him.  JBL had to educate Renee on the Rob Roy movie but may have embellished Roy being an ancestor of his.  He went on how golf was invented in Scotland and credits his good golf game to his heritage.  Showing his old school wrestler tendencies, he bragged about how much money he drew….in a golf game….for $21…..from his 71 year-old friend.  His friend, Mr. Keith, was a former Bermuda champion so it wasn't quite robbery.
Renee loved the Fashion Files segment and the Sherlock Holmes and Watson outfits Breezango donned.  JBL said they are one of the most entertaining team he's known and wants to see what they could do if they had carte blanche, though he's not sure what it will be.  They are incredibly talented weirdos who are fun to watch.  Renee said they are also number 1 contenders to the Smackdown Tag Team Championships.  She threw to a video of tag team champions the Usos responding to what they said on Smackdown.
Dasha Fuentes was backstage but not live to interview the Usos.  The streak of being unnamed continued, even by fellow interviewer Renee.  Dasha asked them to elaborate on the warning they seemed to issue to Breezango earlier tonight.  Jimmy said all they were saying is they aren't afraid of rental cops.  Jey chose to use the more "respectful" term of crossing guards.  Jimmy got more serious, saying Breezango has some momentum as they beat the Ascension tonight.  Jimmy said they also beat the Ascension, and in 12 days at Backlash the tag titles will be on the line but will be coming back home where they belong, with them.  As far as tonight goes, Jimmy said they heard the London club scene is crackin' and they are about to check out some club.  Jey finger danced in excitement but then said no, Jimmy agreed, and they both walked off and left poor Dasha professional suspense.
In the spirit of the Usos, Renee gave another 12 days from now plug for Backlash and said it will be the Usos vs Breezango for the Smackdown Tag Team Championships.
JBL said Breezango is just a Bobcat Goldthwait shy of having a Police Academy movie cast, getting Renee to belly laugh. He said the Usos are just great and had one of their best promos tonight to an electrified crowd.  He added the Usos talent level is exceptional, going back to their pre-show match days where they always got the crowd's loud attention at the end of those matches.   JBL said their amazing promos have brought them to another level.  Renee said the Usos are just cool people that you'd want to hang out with, but maybe it's Breezango's time like it could be Jinder's.  JBL said, and always has thought, Breezango will be tag team champions at some point and are very talented and entertaining.  But the Usos are on a different level than most of all rosters.
Renee talked about familiar talent falling into the pocket of where they belong over time, and offered Charlotte as another example.  Regarding Charlotte's difficulty adjusting to a new locker room, JBL said it happened all the time on the territories.  Making new friends and alliances in each new town all over again was a must, as well as introducing yourself to a new audience. He said Charlotte was in a comfort zone as the premier female, perhaps overall person, on Raw and was the greatest acquisition in the Superstar Shake-Up and is happy she's on Smackdown.  He said there will be a bit of a phase for Charlotte before she's beck in her comfort zone.
Still in her comfort zone, Renee gave Naomi as someone else who has found her pocket with her confidence being evident that she knows it.  JBL and Renee "glow" about Naomi's dance club/nightlife ring entrance, especially seeing it live.  Renee couldn't wait to see her entrance at WrestleMania on that very long ramp and loved it.
Mojo Rawley, giving back to the community, talked with some kids today about Andre the Giant.  JBL wondered who that little brat was that kicked Mojo, and you can't just go around kicking people!  Renee said the size discrepancy probably favored Mojo's shin but kicking people isn't okay even if Mojo is an easy target.  Renee said Mojo had more to say.
We saw Mojo staring more awkwardly than a person should at the Andre the Giant Battle Royal trophy he won at WrestleMania.  Dasha Fuentes appeared on screen again and asked Mojo what the trophy means to him because he brought it with him from the United States.  Mojo said he brings the trophy everywhere with him, even training and preparing with it.  He added it was a long time coming, and it signifies the greatest triumph in his life and it means the world to him.  There is nothing bigger than winning it at WrestleMania by eliminating 32 other people.  More importantly, as he continued from what he told the kids earlier, Andre was different.  He took what was different about him and made it special, and the trophy is a reminder to utilize what people may perceive as weaknesses and turn them into strengths.  Being different by being loud and wearing Zubaz in public, Mojo gets haters and doubters.  It's easy to let those people shape who you are, and the trophy is a constant reminder to stay the course, stay yourself and believe in yourself.  Eventually you'll get what you want. More important than the WrestleMania win, the trophy makes him feel invincible.
Renee wondered how a person travels with that trophy, then JBL was reminded of when Owen Hart always had his two Slammys with him and Davey Boy Smith had to carry a dog with him as a rib.  Renee would travel with a dog any day over a huge trophy! JBL said there's something awesome about Mojo.  He really is the upbeat and positive, good kind a guy with an infectious personality you want to be around.  Renee remembered first seeing Mojo in NXT and he was the same way, loud and boisterous, but it's not an act.
JBL said Houdini died from internal injuries by an invited punch to the stomach from a stranger.  Seeing that little girl kick Mojo reminded him of that as it could have been bad, quickly clarifying it would be bad for Mojo, not the girl.  He didn't want to say anything controversial, but is good at stirring it up,   although Ryan Ward told him he could say whatever he wanted.   He fined himself $2 for mentioning Ward's name, then said it's now $4 for saying it again.
With a constant chip on his shoulder, Renee wondered exactly what Dolph Ziggler will expose of Shinsuke Nakamura.  JBL said Dolph, as a former two-time world champion and Kent State hall of Famer, wants to prove he's the better show-stealer than what Nakamura has become known for.  JBL is quite sure that match will steal the show at Backlash.  Renee wondered if Dolph could also steal a win.  JBL said of course he could, and Chicago is the right place for it.  JBL used to love performing in front of the Chicago fans.  The Allstate Arena, formerly the Rosemont Horizon, will be fire or Nakamura.  Renee agreed, especially if he has the violin player with him.  JBL said if you're a heel, you'd love that crowd and Dolph will.  He reiterated the match will steal the show.  Renee agreed, adding there is a lot of anticipation for the match after weeks of Dolph and Nakamura only talking.
Renee said Dolph had more to say after what happened in the ring tonight.
We get another non-live backstage interview with Dasha, this time with Dolph.  She said to him Nakamura seems to have his number heading to Backlash.  Dolph said he's been there long enough for her to call him Dolph Ziggler, his proper name, instead of just Dolph.  He said he's also earned the respect of the WWE Universe and the locker room but they choose not to show it, and that's fine.  He's gotten where he is because of what's he's done in this business, in the ring, and for himself.  He's done it without any help from relatives paying the way or anybody holding his hand to the boss's office.  Everything he's done is because of how good he is, and if he says he can back it up, it's because he can.  No catch phrases, t-shirts, or even smiling to tell someone something fun.  Every once in a while, he loses his way and forgets how damn good he is at this, and he has to readjust.  Nakamura hasn't even had one match on Smackdown Live.  If anyone can figure him out, it's him.  He's spent eight years that feels like twelve in WWE picking apart every opponent he's had because he can.   He also has a pretty sweet background as a collegiate wrestler who broke records because he was so good.  Just in case everyone forgets how good he is, at Backlash he'll figure out Nakamura and introduce him to the WWE Universe and his foot.  He'll show him and the world what he's always known, just how damn good he is.  Dolph said it's too bad for Nakamura, it's too bad, and walked away from Dasha for more Stephanie staring into space practice.
Renee said it's finally going down at Backlash between Dolph Ziggler and The Artist Known As (ugh) Shinsuke Nakamura.  She's a big fan of both but can't wait to see what Nakamura brings to the table (Hey, that crappy show was on last night, and I reviewed it for those who don't want to watch it!).  JBL said Nakamura was the youngest IWGP Heavyweight Champion and former NXT Champion and is used to big stages.  HE said Nakamura will have the home field advantage in Chicago that he's probably never experienced.  He said Dolph will cherish it, and there won't be anything greater than beating Nakamura in that home crowd like atmosphere for Nakamura.
Renee thanked JBL for joining her and signed off.
Craig's Conclusion
Well my dear readers, it looks like one of our favorite shows may be turning a corner.  Gone is Daniel Bryan, maybe forever.  I hope not, but he made Talking Smack very good, sometimes great.  JBL is probably the best replacement, as I've said before.  He can be entertaining with his intelligence and wide net of wrestling knowledge and history.  As long as JBL is on TV in any way, he will be the voice of Vince McMahon, and that's not good. He used to be a great commentator who has been neutered without any constitution.  He has no rhyme or reason to say what he does, resulting in hollow words on deaf ears.  Renee is still very good, but was more robotic tonight instead being more herself.
The glaring weakness in this show was no live guests at the desk.  Dasha may be talented, but she doesn't get to show it.  I'm not sure why this week was different, but may have been due to the time difference being in London in WWE lore.
The Usos were short and sweet with their segment, but Renee and JBL didn't follow up their choice of not clubbing.  They should have pointed out the Usos are focused champions and won't be distracted during their title reign.
They did better for Mojo Rawley, though, pointing out his great energy (sorry Bruce) and what makes him a great, positive person to be around.  They omitted in-ring talent, though, but he is still developing and I can understand WWE choosing to focus on Mojo's great attitude and drive instead of his limited but improving ring work.
Dolph was in the main event interview spot and delivered.  He was better than he was on Smackdown with an improved delivery.  His word choices still gave a glimmer on his wrestling IQ not being the highest but gave us something to anticipate for his match with Nakamura in a way he hasn't done in a long time.  Renee calling Nakamura "The Artist Known As" is the point just before I lose my lunch, hoping there aren't any references to whom he resembles.  He has influences but is too unique to be compared to any single person or multiple people.
Everything else was just okay.  JBL had some neat off-wall references but Mauro Ranallo was directly but non-directly insulted again like last night's (5/8) "Bring it to the Table," though not as bad, when JBL said he's good at making controversy.  Renee and JBL have had betters shows before but, as Frank Zappa said, they all can't be zingers.  Overall, this feels like too much WWE speak, but not on the level of last night's "Bring it to the Table." It may be an illustration that Bryan truly did say whatever he wanted.  But, for the love of God, please keep Shane McMahon away from this show and let all storylines with him develop on Smackdown where he's more over.
---
NOW CHECK OUT LAST WEEK'S REPORT: 5/2 WWE Talking Smack Review: Styles is fired up, Shane updates Jericho's condition, Shane blames Sami for his loss, Owens asks Renee why she let a blind person cut her hair