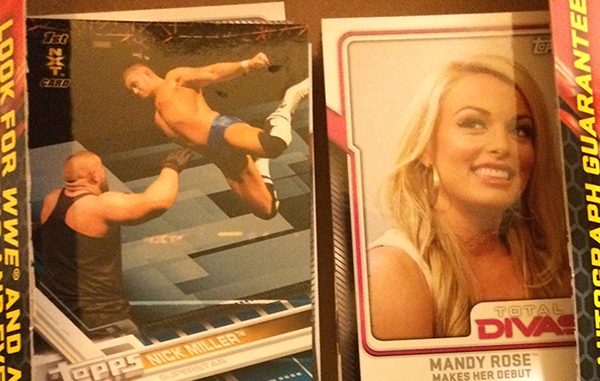 ---
SPOTLIGHTED PODCAST ALERT (YOUR ARTICLE BEGINS A FEW INCHES DOWN)...
---
2017 Topps WWE
Collectors are still buzzing over 2017 Topps WWE more than two weeks after its release, due in large part to the first autographed Undertaker cards since 2001. Many online retailers sold out of their preorders early, and prices of hobby boxes have increased from around $55 to as much as $75.
Like most Topps products, 2017 Topps WWE offers 24 packs per hobby box with two guaranteed hits (autographs or memorabilia cards). For the first time in a basic Topps wrestling product, however, one of the hits is guaranteed to be an autograph. The other hit could be a second autograph, a shirt relic, mat relic, commemorative belt relic or printing plate.
The new Topps WWE cards were released on May 3, and Jason Daniel McDevitt of New Market, Ala., opened a box from Champs Sports Cards in Huntsville the day they were released. One of his hits was an Undertaker Blue Autograph serial numbered to 50.
"I was shocked," McDevitt said. "I've been collecting for five years or so, maybe more, and it's the one hit I've been dreaming of. I couldn't breathe for like 30 seconds."
McDevitt noted that the Undertaker autograph is "going in my (personal collection) for sure and (I'm) putting it in my lockbox at the bank."
Basic autographs are serial numbered to 99, blue parallels to 50, silver to 25 and gold to 10. There is also a red parallel serial numbered 1/1 for each autograph. Most Undertaker autographs (basic, blue and silver) have been selling in the $300-$350 range, which is the highest sale price by far of mainstream wrestling cards in recent years.
Other notable autographs in 2017 Topps WWE include Goldberg, Bayley, Brock Lesnar, Eric Bischoff, Ric Flair and more. There are seven different triple autographs, with unique combinations like Goldberg/Lesnar/Bischoff and Judy Martin/Leilani Kai/Princess Victoria. There are also several autographed relics that feature signatures from wrestlers who don't appear in the basic autograph set, including Randy Orton and Shinsuke Nakamura.
Photo variations, which fall one per hobby case (eight boxes), were an unannounced surprise in Topps' latest offering. These cards, which are short printed and feature an alternate photo, have been a big part of Topps' basketball and football cards for several years, but this is the first time they've found their way into a wrestling product. For example, the basic Undertaker card shows him kneeling in his familiar pose. The short-printed photo variation shows Undertaker's silhouette with hands reaching up for him.
If you're looking for a box of 2017 Topps WWE, check with your local card shop, or look on eBay or reputable sites like blowoutcards.com or daveandadamscardworld.com. Retail versions are also available, including basic packs, $5 jumbo packs, $10 hanger packs and $20 blaster boxes, which guarantee one hit.
What's in the Box? Breaking open a hobby box of 2017 Topps WWE
Basic cards: 100 (full set)
Dupes: 22
Bronze parallels (1:2 packs): 12
Numbered parallels: 2 (Nick Miller Blue /99, Booker T Silver /25)
John Cena Tribute (1:6 packs): 4 of 10
Breaking Ground inserts (1:4 packs): 6 of 10
Stone Cold Podcast inserts (1:4 packs): 6 of 10
Total Divas inserts (1:2 packs): 12 of 20
Hits: 2 (Kofi Kingston Autograph /99, Kevin Owens SummerSlam Mat Relic /199)
NOW CHECK OUT THE PRIOR COLUMN: COLLECTIBLES COLUMN: Exclusive – The next Six Topps WWE Trading Card Products for 2017 including Women, Heritage, NXT, more
---
PWTorch Collectibles Specialist Michael Moore can be reached at michaelmoorewriter@gmail.com. Follow him on Twitter @MMooreWriter.