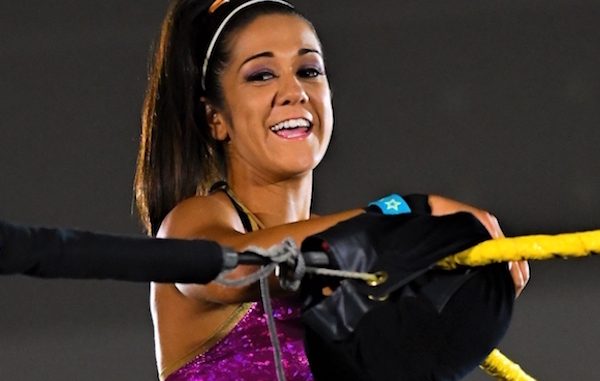 ---
SPOTLIGHTED PODCAST ALERT (YOUR ARTICLE BEGINS A FEW INCHES DOWN)...
---
RAW PREVIEW
MAY 22, 2017
GRAND RAPID, MICH. AT VAN ANDEL ARENA
By Joey Galizia (@RamJam89), PWTorch contributor
"A YARD FULL OF BOYS"
With Braun Strowman out with surgery, the big question on everyone's mind was who would challenge for the Universal Championship against The Beast at July's Great Balls of Fire. (That never gets easier to type.) Raw GM Kurt Angle decided to put all the worthy options for Lesnar into a Fatal-5 way at Extreme Rules to determine said challenger. Participants include the demon Finn Balor, architect Seth Rollins, destroyer Samoa Joe, Eater of Worlds Bray Wyatt, and the new owner of the yard Roman Reigns. (Yay nicknames!) Last week we received a small taste of things to come when Reigns defeated Balor (in a rematch that was just as fantastic as their first) and Rollins took on Wyatt for the first time in a singles matchup. Samoa Joe would interfere in the latter to lay another beating on Seth (giving him a DQ W) but would eat a Sister Abagail from Bray proving that there are no alliances in this situation. It's every man for himself. Expect the tide to shift from one guy to the next until the eventual showdown occurs.
"NOTHING'S MORE EXTREME THAN DISQUALIFICATION"
Two guys who will not be in the epic five-way are the Miz and Ambrose, and while they most CERTAINLY should have at least campaigned to be involved in the main event scene, there hatred for one another takes top priority. Ambrose was able to hold onto his Intercontinental championship last week after kicking the Awesome One right in the sack. Miz immediately confronted Angle and added a stipulation for their rematch at Extreme Rules: If Ambrose were to be DQ'd, he will lose the title. You read that right. At a PPV entitled EXTREME RULES…Dean no longer has his champions advantage. While that may be a theme for the psychology of the bout, Dean would be smart to get some aggression out before then.
"EXCEPT OF COURSE PUTTING SOMETHING ON A POLE"
I was certain I drank too much cough syrup when I found out the stipulation for Alexa Bliss vs. Bayley. Story is Bayley didn't immediately invoke her automatic rematch clause (same move she pulled in NXT) because she needed some time to decipher how to defeat the first ever Raw and SD women's champion. When the two started trading blows last week in Jersey Bliss turned up the heat, and destroyed the hugger with a kendo stick. So what do we get in return? A kendo stick on a pole matchup. Normally this is when I would say that SD has treated their women's division much better, but that would no longer be accurate either. I don't think I can say anything else on the matter. #SAVEusASUKA
"ASHES TO ASHES. GOLD…TO DUST."
-Jeff Hardy defeated Sheamus last week without getting any of his teeth knocked out! The Hardys and Sheamusaro are preparing to face off yet again for the belts so I suppose that means Matt and the Swiss-Superman go at it tonight?
-Alicia Fox and Noam Dar are a dream team. There sole purpose is to kill the dream of us enjoying a good show. Noam is on a winning streak and Alicia did score a pinfall victory over Sasha Banks so maybe I'm just hating. (YEAH IT'S ONLY ME.)
-The mayhem surrounding the Cruiserweight title has been just as hectic as anything else. Aries now has a knee injury and T.J. Perkins to worry about until he finally gets his hands on King Neville for the 3rd time at Extreme Rules. Fortunately, Jack Gallagher has made it his mission to protect A.A. until then. What a gentlemen.
-Goldust turned on R-Truth. WHY GOD WHY?! I WANT ANSWERS GOLDIE. AND SO DOES MICHIGAN.
Watching tonight? I'll probably be enjoying Takeover Chicago for the 10th time.
---
NOW CHECK OUT LAST WEEK'S ARTICLE: RAW PRIMER 5/15: The Miz defends against Dean Ambrose, could a new challenger for Brock be determined, Nia and Bliss, Seth-Joe, more