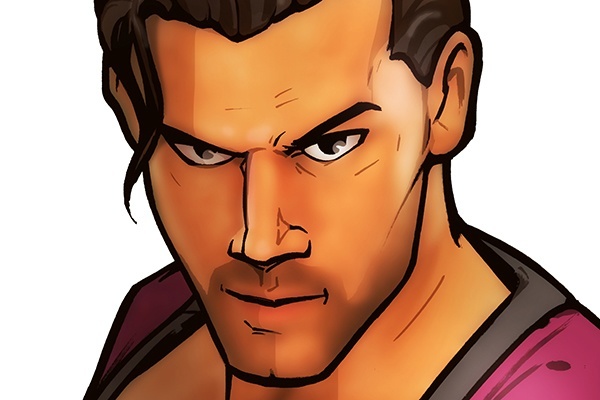 ---
SPOTLIGHTED PODCAST ALERT (YOUR ARTICLE BEGINS A FEW INCHES DOWN)...
---
SMACKDOWN HITS
Opening Talking Heads: This was a short, simple and easy way to introduce the show and hype a big match that was announced last week, namely the fatal five way #1 contender match for the Smackdown Women's Championship. We got to see short promos from each of the five wrestlers in the match talking about their chances to win. Some were better than others, but they were all fine at the worst. In other words, none were bad. It was different. It worked.
Highlight Reel: This is a minor Hit as it was sort of a Hit or Miss segment. In the end, it was just strong enough to get a Hit. I like the idea of Kevin Owens continuing to do the Highlight Reel for as long as Chris Jericho is gone. He will presumably be back at some point and this is a good way to keep that memory of what Owens did to his former best friend fresh. I liked the digs that Owens took at Jericho for inventing Money in the Bank, but never winning it. I don't like having Shinsuke Nakamura being in these long talking segments. It just isn't his strong suit, especially with his accent. He isn't the easiest person to understand even though he is fluent in English. He doesn't have to talk much to get over. But, it still sends a bad message when he starts to talk and gets interrupted right away. Baron Corbin was fine in his interruption. I liked how Owens was upset at another heel for interrupting his show. The physicality worked well as did the save by Sami Zayn in the end. It set up the big tag match for after the commercial break, so that worked too.
Nakamura & Zayn vs. Corbin & Owens: That tag match that followed was a good match. We didn't have to see as much selling from Nakamura as we have in his other main roster matches which is good. He should be set up from the start as being dominant and not a wrestler who sells as much as other wrestlers on his level. When he did get the hot tag from Zayn, he got a chance to show off his physical strong style with those stiff kicks and knees. His style is different from what many if not most American WWE fans are used to, so you have to give him these opportunities to show his style and why he is special. WWE also continues to hype a potential United States Title match between him and Owens which will be great down the line.
Usos and New Day: The Usos are getting stronger on the mic with their recent promos. They were good in running down the tag team division to set up The New Day to make their Smackdown debut (since the Superstar Shakeup). The New Day was really starting to grow stale on Raw. I was very sick of their act. The fact that they've been off tv for several weeks made their act actually fun again. It may not last, as eventually if they don't change things up, I will undoubtedly grow tired of them again. But, they had a fun promo and a good interaction with the Usos and it set up their Tag Team Championship match at Money in the Bank.
Women's Brawl: WWE did a nice job of selling the fact that Charlotte Flair and Becky Lynch hate The Welcoming Committee and vice-versa. They couldn't even let their match start before the huge brawl got underway and quickly got out of hand. In an actual match, it would have been every woman for herself. In a brawl like this, they played up the fact that Becky and Charlotte weren't trying to brawl with each other. Natalya, Carmella and Tamina weren't fighting each other either. It fit in with the storyline. It was physical. It was memorable. It was the type of thing that WWE would do with men in the past, but not necessarily with women, but why not? This all worked well to set up Shane McMahon to come out since there never was a match and set up the first ever Women's Money in the Bank ladder match. My only issue is that after a very serious brawl, Shane came dancing out and playing to the crowd which seemed tone deaf to me.
SMACKDOWN MISSES
Fashion Files: This bit has been Hit or Miss, but it was a huge Miss this week. This might have been the worst of these skits. It was a terrible way to set up Breezango's match later in the show with the Colons based on a silly pun. I'm not a big fan of Tyler Breeze's costume changes during the match. It is silly and I don't find it funny. They have a sense of humor and can be funny and they are talented wrestlers. However, sometimes like this they are trying too hard and failing.
Orton and Mahal: I did like some of Randy Orton's promo about losing the WWE Title to Jinder Mahal and addressing his rematch for the Title at MITB. I like the idea of a short and to the point promo. I did find Orton talked too much for saying he wasn't going to say much. It should have been a little shorter, but it wasn't too bad. He had some good things to say, but the emphasis on his family and the fact that their rematch is going to be in his home town points to him losing. I'm not even saying that's a bad thing as I'm not thrilled with the possibility of either of these guys being the WWE Champion right now. But, WWE's insistence on having stars lose in their home town (more later) is telegraphing the fact that Orton's going to lose. And while Orton's promo was mostly good, Jinder Mahal's was more of the same from him which is crap anti-USA boring stock heel footage. And while giving that stock promo about how America sucks, Mahal was of course making his roid rage facial expression, which is the only one he has.
Ziggler Beats Styles: I get the idea of wanting all six of the MITB participants feel strong going into the ladder match. But, Dolph Ziggler has been defined down so much that he doesn't feel worthy of being in the match at all, much less being kept strong by getting a clean win over AJ Styles. I can accept him being in the match just based on the fact that he has won it in the past despite being a loser at this point in his career. But, that doesn't mean you bring Styles down by having Ziggler get this win. Of course, Styles had to lose in his home town per WWE's official policy. Their match was good. But if you are going to go with Styles losing to Ziggler, at least have Ziggler cheat. I wouldn't like that much, but it would have been better.
NOW CHECK OUT LAST WEEK'S COLUMN: SMACKDOWN HITS & MISSES 5/23: Jinder's celebration, Corbin-Zayn beatdown, Breezango-Uso, Nakamura & Styles vs. Owens & Ziggler, Shane-Women
---
Jon Mezzera is PWTorch.com's WWE Hits & Misses Specialist, providing his point of view for Raw and Smackdown each week. Email him at jmezz_torch@yahoo.com. Act now and become my 68th Twitter follower@JonMezzera (pretty clever handle right?). Just be aware that I don't live tweet Raw, I don't tweet much about wrestling, and I don't tweet much at all.