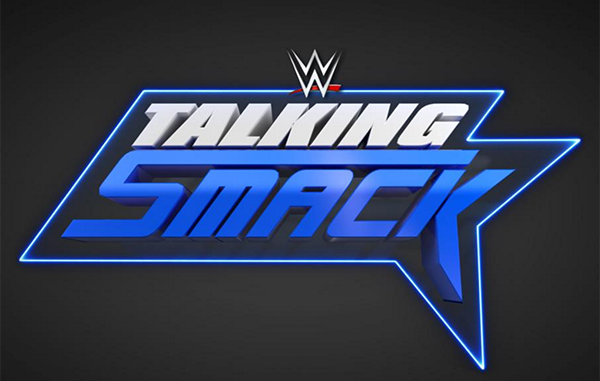 ---
SPOTLIGHTED PODCAST ALERT (YOUR ARTICLE BEGINS A FEW INCHES DOWN)...
---
TALKING SMACK REVIEW
MAY 30, 2017
AIRED ON WWE NETWORK
REPORT BY CRAIG ELBE (@CraigElbe), PWTORCH CONTRIBUTOR
Duration: 24 minutes, 26 seconds
Guests & Topics:
Dolph Promises His Momentum Will Propel Him to His Second Money in the Bank
The Five MITB Women Have Another Battle of Wits While Shane Warns Them of the Dangers
Plus, Talk of Randy Orton Thriving Under Pressure, New Day vs Usos at MITB, and Owens Vs Nakamura Next Week
Introduction:
Renee Young, for this edition of Talking Smack, was joined by the purveyor of history, Shane McMahon. She referenced Randy Orton's important words tonight regarding his championship re-match with Jinder Mahal in his hometown of St. Louis at Money in the Bank. Shane said Orton the pressure on himself by bringing up his family and other legends of the past, and that's how he likes it! Going for his 14th world title reign is also of historical note. Shane believes Orton will deliver under the extra pressure as he always has before. He said It will be an interesting dynamic when Orton and Jinder, the opportunity taker in this land, meet again.
Renee pivoted to their first guests.
First Guests: Becky Lynch, Charlotte Flair, Natalya, Carmella, James Ellsworth, and Tamina.
Renee welcomed the five ladies who were announced for the inaugural women's Money in the Bank match. And James Ellsworth. Shane politely dismissed Ellsworth as he wanted only the historically relevant people on the show. Plus, Ellsworth didn't even have microphone! Ellsworth left his his trademark without-a-chin facial expressions. Shane made sure it was okay with Carmella. Her vocal assurance didn't quite match with her face of surprise she hid from Shane. Daniel Bryan would have at least soothed Ellsworth by asking for a Big Hog dance.
Renee noted how Shane made history with his announcement of the first women's Money in the Bank match, and how intense it will be. Becky said making history is what they are all about since they started their journeys, regardless if she like any of the other women. Natalya interrupted, blatantly stating she would have won the scheduled match tonight to be no. 1 contender. Becky kept her theme going, concluding with whether they ae snakes or not.
Charlotte spoke up, saying she's beaten all four of them, so they should keep it down. Renee and Shane restored order and laughed at their simultaneous use of the word decorum. (Or they were both fed the word.) Renee noted Charlotte's proclivity for being in historical matches. Charlotte, while a tad afraid of the ladder match, knows what it's like to be hit many times with a kendo stick, and have a Hell in Cell cage descend and have her face bashed in it. Becky reminded Charlotte of the cage match she had, that it main evented a Smackdown (failing to mention her opponent Alexa Bliss). Charlotte admitted her mistake but said she main evented both Raw and Smackdown (but forgot to mention that Hell in a Cell pay-per-view) Natty got chatty and told Charlotte to get over herself, that she had also made history by being in the first women's table match.
Shane declared June 18th  is the day where history will be made, and asked each woman their thoughts on the Money in the Bank match itself. Looking at Natalya, he queried if there is any trepidation of a fear of heights or acrophobia. Natalya's intelligence was insulted! She did her Bret Hart line and stated her fearlessness as the leader of the welcoming committee. Carmella asked who made her the leader, Charlotte suggested Natalya's pig tails were tied too tightly. They both received a stern command from Natalya to shut up. Shane told Natalya she may become the best. She said she is the best and isn't afraid of anything. Carmella thought Natalya was trying to convince herself with those bold statements.
Shane added that none of the women have climbed a ladder that high, eliciting a fearful sounding sigh from Natalya (with a well-positioned microphone). Carmella insisted she isn't mad about being in that match, despite pinning women's champion Naomi twice. She will go into the match with bravery. Charlotte asked if Carmella thinks she is a serious threat. Natalya told Charlotte to let Carmella speak. Carmella said they all know what Charlotte has done and nobody's impressed. We caught a glimpse of a Charlotte laugh that was probably meant to not be seen on camera. Natalya said they're all sick of hearing about Charlotte's accomplishments. Carmella finished by saying out with the old, in with the new.  Becky said something to Carmella about being the Smackdown loser but was mostly inaudible from too many people talking at once. Charlotte said she feels ganged up on. While Renee was trying to ask Tamina her thoughts on the match, Charlotte and Becky were talking about A show and B show but was again inaudible from too many people talking. Order was restored again, Shane went to Tamina for her thoughts on the Money in the Bank match and if she has a fear of heights or any trepidation going into it. She glared at Shane, but Renee added the damage ladder matches have done to other people, naming the forced-to-retire-Edge. Tamina expressed her readiness and has no fear of heights. She added it's about time for this opportunity for women to make this history and is happy to be part of it. Becky said they've been climbing their way towards making history. While she doesn't like those snakes in the thistle, she is confident they will steal the show and she will win the briefcase.
Renee asked if the women have fantasized about how they'd cash in the contract, should they win it. Shane quipped it's a huge advantage and explained how so. Natalya said she's just ready to be the next women's champion because she's already the best and deserves it more than all the other women at the table. Charlotte said if she wins, but was mocked by the committee for not saying when. Collected, Charlotte said when she wins the Money in the Bank contract, she will be the first triple crown winner, stuttering on the word winner and getting more crap from the committee! Natalya said this is Smackdown is her turf, not Raw where it was Charlotte's turf and told her to run along and go home. Becky said she was the first Smackdown Women's Champion, and the first Women's Money in the Bank winner goes just perfect in that sentence. Charlotte reiterated she'll be the first triple crown winner but was caught laughing again.
Shane said this he granted them future problems with their health and well-being, I mean this MITB match, as reward for how the women's division has been on fire (Ugh). They are all wonderful athletes and he's proud to have them on Smackdown. He detailed how the ladder can be used during the match, and the production crew zoomed into each of their eyes for their reactions upon hearing what they surely already knew. He wished them luck and perpetrated an oxymoron by telling them to be safe. Renee agreed with Shane and thanked them all for being on the show.
Renee noted the hostility and multiple voices at once that exist when all those women are on the show. While she's is excited for the match of historical proportions, watching those type of matches isn't her favorite thing. (But you chose your spouse because?) Shane, having been in a ladder match, knows how hard it is on your body and they aren't fun.
Renee questioned Shane on the timing of having this first women's Money in the Bank match. It didn't hit Shane till he was in the ring as a witness to their tenacity and attitude toward one another while competing hard with each other adding they should have every opportunity the guys have. Renee gave final hype to that match, then plugged their sponsor, Rocket League.
After the women's stalemate and MITB announcement, Naomi doesn't have an opponent but Renee said they'll have to wait and see where the cards fall on that.
The New Day will face the Usos at Money in the Bank for the tag team titles. Footage was shown of the New Day's entrance tonight. Shane encouraged everyone to send memes of Renee doing the New Day dance from last week after she elected to not resurrect it today. She loves having the fun-loving team on Smackdown that were the longest reigning tag team champions in WWE. It will be interesting to see what they bring to the Usos, who have been on fire since they won the Smackdown tag team titles. Shane, per usual, won't predict anything. He wants to see how things unfold.
Renee welcomed a participant of the men's Money in the Bank match.
Second Guest: Dolph Ziggler
Shane congratulated Dolph on his win against A.J. Styles in a tremendous performance. Dolph said it was a long time coming and had to dig deep for that one. Plus, it was fun to disappoint A.J.'s hometown crowd. Shane offered no doubt about Dolph being a premier performer in WWE, but said it's when he wants to be. Renee offered a sigh for dramatics. Shane spoke of his fandom of Dolph, and evidence of him truly wanting to bring it was in his match with A.J. tonight that Shane punned as phenomenal. Shane asked what brought it out of Dolph tonight. Dolph, while always talking about his belief of his greatness, shamefully agreed with Shane. Sometimes he gets his head stuck in the clouds and takes his eye off the prize while wondering why he isn't the champion. Shane said the prize is on June 18th, Dolph agreed but said they were also on the prize of beating A.J. tonight, and he did. He's glad A.J. is there and embraces the competition. As he watches footage of himself pinning A.J., Dolph said he almost didn't believe it for a second, then realized his music was playing.
Shane brought up Dolph's status as then lone winner and successful cash-in competitor in the upcoming MITB match. Dolph also fed off the vocal pro-A.J. crowd and said again he loved sticking it to them! When Dolph cashed in his contract and won the title four years ago, he was also the same hard-working jerk who lost all time. He's looking forward to doing that again. A clip of that cash-in was shown. Dolph noted that, as a shooter, he hooked both legs when he covered Alberto Del Rio for the pin and title. Renee noted the night after WrestleMania (29) crowd. Dolph loves a hot crowd no matter if it's for him or not. That night, he had a game plan and had chills walking to the ring, despite not caring about a lot of things. He knew it was going to be big and, in classic fashion, almost lost the match. Wanting to best means not caring what the fans think and carrying a chip on your shoulder and delivering. He did just that on that night.
Shane asked Dolph for his firsthand knowledge of being in a MITB ladder match, in reference to the novice women. Dolph is afraid of heights, and cleaning gutters is bad enough. Adding that ladder to a ring that moves around with a Smackdown's five other top guys trying to get to the top scares the hell out of him. No one is ever the same after being in a match like that. His body remembers every ladder match he's been in with various limps and pains, along with having a briefcase or title slip through his fingertips. Dolph can't wait to come out on top after being in that match against the best that Smackdown offers. He loves Smackdown and feels like he's been building it since his first day in WWE.
Renee got curious what getting hit with a ladder feels like. Dolph joked it's as bad as drinking an old Diet Mountain Dew, it sucks! There's no way to prepare for it and the one guy who has briefly escaped your focus can blindside you with a ladder. It's top guys at the top of their games with weapons trying to be the man on the show. It can't be done by giving in to the pain incurred in that match.
Somehow, Dolph still has the MO of being one of the hardest working guys, when he feels like it (???). When he does that he knows he can be the best. He knows everyone is gunning for everybody and the title. Shinsuke Nakamura, for one, can catch you anywhere. Dolph knows people have been behind Nakamura and want him to win the match and will be singing his entrance music. Dolph is sick of it and wants that briefcase.
Renee wondered to Dolph if Nakamura will earn his extra attention. Lately he has been, Dolph replied, but had to put that out of mind once he found out he was going to face A.J. Styles tonight. The prospects of the briefcase can be elusive during the match itself, but going into the match with momentum is key. Not being the victor in many of his matches recently, Dolph realized this Money in the Bank contract can be just what he needs to get right back in the main event picture. The same was true when he won MITB in 2012. When he put everything on line beforehand, went for it, won the briefcase, and cashed in that contract, he's never heard anything like that crowd reaction in this era or wrestling in college. (He must have been at or watching Money in the Bank 2011 I suppose)
Renee said Dolph has a tall order to repeat that feat. Dolph asked who she is favoring in that match. She said him coincidentally! Dolph figured it's because Ambrose is on Raw, but she touted his previous experience and success. Plus, she figured she'd throw it his way since he asked. Dolph was touched by her picking him until she said that.  Renee insisted she meant it! Dolph feels he can do it though, that last time it was just about winning a couple big matches with some big mindsets and he did it. Becoming the man of the show means the target on your back is much bigger while you carry the brand as the main event guy that must deliver every night. He's looking forward to that.
Renee asked Dolph if he lives for those moments, that he always says he has a chip on his shoulder and wants to be that person with said target. Dolph loves it, and wants everything while still reaching for more. He laid the groundwork for Smackdown as the place A.J. Styles built. Tonight, he was just the better man against Styles. That is all it takes to win that MITB contract, cash it in at the right time, and become champion. (yup, just that easy) Renee agreed and congratulated Dolph on his victory tonight. Dolph said his mother will be proud and won't have to throw the remote at her TV tonight!
Shane said that's the Dolph Ziggler that won MITB in 2012, and is a different guy than he was just a few weeks ago. All it takes it just that little spark for the all-important momentum. Renee added that Dolph's talent combined with that attitude to move it forward creates a magical synergy that everybody has been looking for from him. On the other side, Shane pointed out Nakamura's momentum, and has a lot to prove to himself and everybody else. Then enter Kevin Owens, Sami Zayn, and Baron Corbin with their own unique elements. It's why the MITB match is one of Shane's favorite matches to watch. Renee hates it but loves it at the same time because she's afraid of those ladders!
She gave some hype to Kevin Owens vs Shinsuke Nakamura for the first time ever. Shane said the match has explosive elements, and loves what Nakamura has been doing. He can't discount what Owens has been doing as he's truly upped his game since coming to Smackdown. Renee got a typical "no" from Shane on a prediction, much to her dismay. The only thing he will predict is that he and Renee will be there next week. Renee agreed and singed off.
Craig's Conclusion
Talking Smack has evolved into what WWE wants us to think. Gone are the shoot elements from a Daniel Bryan who didn't care much about repercussions. It's my broken record, but for the sake of enjoying the show, I liked that we weren't battered too much with corporate speak. Shane had more energy and personality to his voice and demeanor, so that's a plus too.
The five women talking over each other though, huge negative. Charlotte may need more solo Talking Smack time as she was caught in various ways off guard that I noted in the review. She has so much talent, but her verbiage and ability to deliver others' words is her weakness. She has come a very long way in a short time but she's hit a bit of a plateau. I hope it doesn't affect her confidence because I'd sure love to cheer her progress as many years as I did for her father and every other long term great wrestler. Becky Lynch is becoming stale as I'd love to see her heel side, which I still predict will happen after Charlotte wins the title. If she turns on Charlotte at Money in the Bank, I won't complain either. Carmella was the only one who was great in this segment. She stayed true to her character and didn't stammer or seem lost. Tamina was great as well. She also stayed true to her character, which is mostly quiet stares and generally speaking when spoken to. She is still is a shaky talker, but will hopefully improve over time since coming back from a long injury and family death layoff. Natalya is just a robotic heel who is a true babyface that enjoys the hell out of what she becomes when that heel quarter is put into her coin accepting slot.
Dolph Ziggler is usually just okay to great on Talking Smack. He was a lot closer to great today but was a little erratic in conversation. The biggest example of that was he seemed to forget to be mad at Shane for calling him out on his leisurely approach of being great. It looked like it was set up for him to sneer at Shane when he was saying he's one of the hardest working guys when he feels like it. Was he trying to convey heelish agreement with Shane or not?
A big plus, especially for Dolph, is he spoke of the importance of winning matches and addressed his past of not winning. Having momentum of victories going into big matches was great to hear from the guy who only seemed to focus on stealing the show. I was a bit disappointed about Dolph not remembering C.M. Punk vs John Cena and that hotter crowd than his MITB cash-in, but wrestlers have been looking at their accomplishments with rose-tinted eyewear with narrow vision forever. Plus, he's a heel so that kinda fits if I try but I still have a memory!
A small negative is how likeable Dolph came across as a lead heel. I know WWE wants people to invest in their characters, but more consistency is better. Look at how much if an a*shole Kevin Owens is on Talking Smack! He amplifies it from what we see on Smackdown.
Another plus is not seeing any earpieces. Also, Natalya holding her neck and selling the table spot was nice to see but she seemed to do it when prompted and it didn't look natural.
Shane and Renee's banter between guests is, as I say every week, just what they want us to think. It's almost pointless to rip apart the content too much. The delivery, however is what I pick on. This show was middle of the road in that regard, as I said earlier, didn't beat us over the head. They sure made sure to mention June 18th as the date for Money in the Back many times though! They will have to do that so not to have people tune in on Sunday and get Raw's Extreme Rules while expecting Smackdown's Money in the Bank. Oh well, it's a sign of the times.
---
NOW CHECK OUT LAST WEEK'S REVIEW: 5/23 WWE Talking Smack Review: The New Day debut and Big E makes everything weird, Naomi tells more of her story