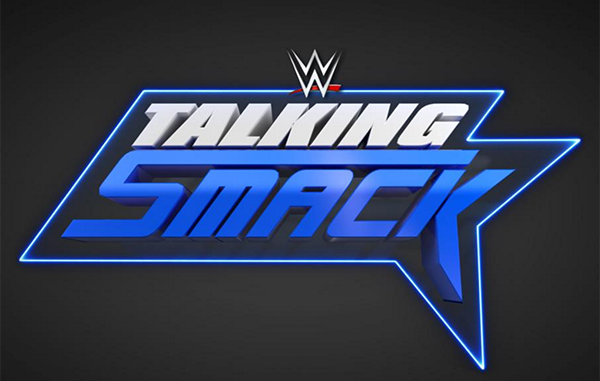 ---
SPOTLIGHTED PODCAST ALERT (YOUR ARTICLE BEGINS A FEW INCHES DOWN)...
---
TALKING SMACK REVIEW
JUNE 6, 2017
AIRED ON WWE NETWORK
REPORT BY CRAIG ELBE, PWTORCH CONTRIBUTOR
Duration: 24 minutes, 16 seconds
Renee Young and Shane McMahon drummed the desk as Renee greeted us and introduced Shane and herself. Shane got introduction envy, so Renee gave him permission to do it but he declined. Renee is just there to follow his lead as the Comish! They both noted his busy night.
Renee touched on Shinsuke Nakamura vs. Kevin Owens dream match, but focused on the destruction Baron Corbin left tonight. Footage was shown of Corbin hitting the End of Days on Nakamura following his win over Owens. Shane was impressed with that move and noted how big Corbin is compared to the also tall Nakamura. Renee recalled Corbin's relentless desire for many months to be in the main event picture. He's already there, added Shane, and in the main event Money in the Bank ladder match. In mid Shane thought, the first guest joined the discussion.
First Guest: Mojo Rawley
Renee welcomed Mojo, then Shane continued gushing about Corbin. Mojo held a serious face while Shane talked up how Corbin could win the MITB if he hits his End of Days on everybody in the match. Shane looked toward Mojo, getting a hand shake of gratitude from him.
Mojo thanked Shane for the opportunity tonight. Shane thought he looked good against Jinder Mahal, Renee was convinced he was going to pull off the victory. Renee rhetorically asked Mojo how he was doing. Shane dripped himself in sarcasm, telling Renee Mojo is just awesome! Renee detailed Mojo's momentum since winning the Andre the Giant Battle Royal, feeling bad that his loss tonight against Jinder may have put him farther behind.
Mojo then went full on cliché. He was thankful to Shane for the opportunity but didn't get the job done. He will go back to the drawing board and learn from this loss, study tape, beat himself up for inspiration and motivation, change his life, have a different gym routine starting tonight, and will emerge better within the Mojo Rawley realm. Renee offered the Singh Brothers' interference as an excuse, but Mojo wouldn't stoop that low. To him, they must be in the game plan while keeping your head on a swivel and be ready for the distractions. Unfortunately, it got the best of him and Mojo gave his hat off to Jinder, but was figurative as he kept his cap on. Mojo noticed a different Jinder since he beat him in their last match, soon after WrestleMania. Jinder is meaner, more aggressive and has the strength of India, one of the world's biggest nations. That makes his intangible difference apparent and necessary to adjust and adapt to.
Mojo not getting the job done tonight doesn't mean he won't in the future. Mojo promised not to start doubting himself, despite the trap it is after a loss. Essentially, it means he won't lose his mojo. With his track record, Mojo was aware he needs a punch in the mouth to proceed out of complacency. Losing a match with high stakes had Mojo upset, but he's glad it happened. He knows how he's going to jump back and will have more sleepless nights getting there.
An impressed Shane shook Mojo's hand again, proud of how Mojo manned up. Mojo again thanked Shane for the opportunity. Despite Renee's suggestion, Mojo will not follow Jinder's lead as a guy who elevated himself from being on the bottom. She failed to mention what exactly it was that Jinder did. I think she meant assembling a couple cronies to do the dirty work to help him win. Mojo answered no. The locker room is full of top talent from all walks of life around the world. When you get to the big dance like Smackdown, Mojo preached, you got to hang your hat on with what got you there. He's aware of his many shortcomings and is working on them. On the other side, Mojo touted his strengths that got him to Smackdown. Since winning at his first WrestleMania, Mojo can't let his loss tonight end him and change everything he does. This is life! Stepping back up after getting knock down after a loss is what Mojo is all about. It's what he means when he talks about staying hyped.
Amped up enough to remove his hat as a visual demonstration, Mojo is upset he lost but owned it and will use it for inspiration as he beats himself up about it. Shane pointed out Mojo's improved cardio, and that he looks forward to seeing more of Mojo in the future.
Renee loved Mojo's attitude. It's a breath of fresh air from those that only make excuses. Shane also loved Mojo's hunger and humility.
As soon as Renee said New Day, Shane invited Renee dance by joining him and his cornball chair dancing. She only did the New Day clap.
The lack of ring rust from the New Day was pointed out by Renee. Shane wasn't surprised, the New Day is well oiled and efficient. (Wait, isn't this the man who never watched Raw, where New Day came from? Being a stickler sucks!) Shane also thought the Colons looked good tonight. Renee praised Smackdown's tag team division. The addition of the New Day has Renee looking forward to them facing tag champs the Usos at Money in the Bank. It is a matchup of arguably the two best tag teams in WWE. Shane preferred to wait to see the match before he endorses her statement.
Renee brought up Shane's appearance on Stone Cold Steve Austin's podcast. He enjoyed the walk down memory lane with Austin while in Los Angeles recently. Renee was curious about the Stone Cold Studio. It was different, Shane simply replied. She asked how hot the seat was, then realized is accustomed to working under pressure. Shane again simply replied with he always is under pressure.
Their next guest also made an unintroduced entrance.
Second Guest: Lana
Renee welcomed Lana to the land of opportunity, congratulating her on her upcoming title match against Naomi. Keeping her Russian accent because she's not on Total Divas, Lana thanked Shane for the title match at Money in the Bank. She put over Naomi as brave but warned her about getting what she wished for. Lana hoped Naomi is sleeping with her title, and used a Naomi word to describe what she'll do to her. Lana will snatch Naomi bald, then snatch her title! Renee correctly remembered Naomi's promise to snatch Lana bald.
Lana credited Naomi with her incredible athleticism. She has been watching and studying Naomi a lot, as well as the other women. Lana declared she will become the first Women's Ravishing Champion, of All-Time (?).  Making history in her singles match debut, in a title match, and becoming the Ravishing Women's Champion at the historic Money in the Bank pay-per-view is what Lana is focused on.
Renee chose to get real with Lana. Lana looked at Renee with focus, not offended. Renee told Lana it's one thing to talk about having opportunities, but it's another to step in the ring in a championship match against the most athletic female in WWE. Pressed about her preparation for it, Lana told Renee she is training a lot. She is nervous to be in the ring with one of the most athletic people, not just women, in WWE. For her training, Lana has sought out the best trainers, coaches, everything. Naomi hasn't faced anyone like her, or as ravishing.
Lana wants to bring the Women's Evolution (she forgot the R before evolution) to new heights. There are many talented women there already, offering the gimmick tag lines of Charlotte, Becky Lynch, Natalya, Carmella, and Tamina. But nobody is as ravishing as she is, and she wants to continue making history.
Lana's interference in the six women tag team match was shown. Renee asked if that's a tactic she'll continue with. Confused by the question, Shane made it simple for Lana. He said she got Naomi so mad after Lana interfering in the match that saw her get pinned by Tamina. Naomi demanded Shane that she told him to put her in a match with Lana with her title on the line. Shane stood by his earlier statement of Lana not deserving a title match, but Naomi insisted. But, Shane finished, Lana made an opportunity for herself and wished her the best of luck vs Naomi.
Lana disagreed with Shane, that he's being a little naïve. He doesn't understand she has had doubters her whole life, and will prove him wrong. Growing up in Russia, Lana used to live in a small pathetic village, emphasizing how pathetic it was. The population was 10,000 people, and they all told her she wasn't going to become anything or leave her village. Look at her now, Lana boasted. She's the most ravishing WWE Superstar of all-time (paging Rick Rude).
For people to doubt her, to say she's not athletic or this or that, or become a star. Now look at her! Lana respects Shane's opinion, but believes in herself and knows she will prove him wrong, along with all her doubters and haters. Renee coined the phrase Hater-ade. Shane went with that, and tried to say something but Lana interrupted to repeat how ravishing (is a cue card stuck or did the guy fall asleep?) she is and will become the first Ravishing WWE Women's Champion. She's excited to make history and become the face of Smackdown, taking it to new heights. She's actually excited for Shane and Renee too, saying they are #blessed.
Renee told Lana it was great having her there on Smackdown and congratulated her on getting a title match. Lana said it was great for Renee to have her on the show, and happy that Smackdown will be more ravishing. Renee unconvincingly said she is too, but smiling through it! She and Shane thanked Lana for being on the show as Lana left on the imaginary cloud she brought with her from Russia.
Shane held a big smile as Renee talked about Lana's confidence. Maybe he saw the sleepy cue card guy holding up the word ravishing. Renee prodded Shane about putting Lana in a title match. Shane delegated to Naomi's desires to have that match with her title on the line. He's not discounting anything Lana is doing, but she didn't let him finish what he was saying. He told Renee it must be a woman thing! Renee remembered Shane shushing her last week. Shane still feels bad about that.
Shane clarified Lana doesn't deserve a title opportunity, as there are more deserving women for one. Case in point, they are all in the first ever women's MITB match. Renee excitedly imagined the MITB winner facing Lana as champion! She gave some hype to the Money in the Bank event on June 18th and said it will be ravishing. I need to watch some Rick Rude promos and matches to restore greatness and poise to the word ravishing.
Renee forgot what Tyler Breeze was wearing during the Fashion Files. Shane did too, then Renee remembered it's a man romper. Shane seemed embarrassed to be in the same room that word was spoken in! Renee suspected Shane has one due to living in fashionable New York. He tongue in cheek promised he'd wear a romper at Money in the Bank or on Talking Smack. I sure hope he's as kidding as I want him to be. That's not the kind of personality he's lacking or needs to show off.
We were rescued by the next guest.
Third Guest: A.J. Styles
A.J. asked what they were talking about. Shane said about him wearing a male romper.
A.J. went right into how he and Shane accomplished a lot at WrestleMania, but it will all go back to square one if Shane dons a romper. Renee said it could be for Shane's weekends.
Renee brought up how A.J. lost to Dolph Ziggler last week but beat him this week and how that may help going into Money in the Bank. A.J. admitted losing to Dolph last week, even though it was maybe a cheap shot. A winner finds a way to win even if it's not the right way. A.J. knows all about that, and got his win back tonight. All three watch the end of the match when A.J. hit the Styles Clash on Dolph. Shane said that move does not feel good and handed it to A.J. for winning tonight.
Shane asked A.J. how his momentum is going into MITB. Ladder matches are no stranger to A.J., but the Money in the Bank ladder match is. He's unsure how to navigate around the other guys to get the briefcase but will research how past guys have done it. However, it's obviously easier said than done. A.J. saw Corbin's cheap shot on Nakamura. He wasn't impressed, anybody can do that. Jumping people from behind is what Corbin does, but isn't worried about him as long as he stays aware enough to fend him off. Otherwise it will be trouble for him.
Shane described the MITB match and environment as chaotic. A.J. agreed, that more people in the match increases the difficulty. It's just about finding that moment where you can get up the ladder quick enough to get the briefcase. The idea may be simple, A.J. said, but it's not when you're in there trying to get the briefcase. Otherwise more people would be winning MITB.
Having your head on a swivel in the MITB match is crucial, Shane said. A ladder used as a weapon is another consideration for A.J. Falling off a ladder is another, Shane added, among many other variables.
Dean Ambrose's appetite for pain must have gotten Renee curious enough to ask the guys what it's like getting hit with a ladder. Predictably, they said it sucks. Renee is freaked out by those matches and doesn't like watching them. A.J. was excited but aware of the pain that lies ahead upon hearing he would be in the MITB match.
Dolph's MITB match experience, for A.J., puts him ahead of the rest that haven't been in one. A.J. reiterated his research will show him something he can use it the match. Playing possum is another possible strategy, according to Shane, as well as using the opponents as weapons. Another tactic A.J. thought of is figuring out who want s to fight who, and Nakamura would probably love to take out Corbin. Then Sami may want to fight Owens. Who knows! Being reactive in the ring is very important and very tough, said Shane, earning agreement from A.J.
If A.J. wins MITB, cashing in that night will depend on how he feels after the match. More importantly, winners find a way to win. He would need to find the right time to cash in the contract, especially on a suffering champion after a grueling match, and it's been done before. Shane added suspense to the event with the possibility of the cash-in occurring that night!
Renee gave final hype to the MITB match at the pay-per-view of the same name on June 18th. A.J. asked if their mugs had anything in it. Shane showed him the mystery liquid and drank some with a satisfied face! Renee thanked A.J. for being on the show, plugged Rocket League then signed off as Shane drummed on the desk for a perfect bookend to how the show started.
Craig's Conclusion
I'll make this short and sweet. This show was about as bad as it can get. Mojo and Lana were SO overly scripted and repetitive and full of clichés. Even A.J. Styles was less than stellar, but he was just making obvious observations instead of sounding like a robot. Isn't Lana an actress? She must be rusty as she was rather lost multiple times here. Mojo sounded like he was stuck in the NFL talking mode. I hope it was merely a fun backstage bet how many clichés he could rattle off.
Ok, I get it. Shane must be unbiased. But how he continues to gush about people when they are breaking the rules as he reflects on Smackdown happenings here on Talking Smack is utterly repulsive, ridiculous, and superlatively insulting. Heels need heat and he's an authority figure! If my name is Baron Corbin, I'd be super pissed about this episode and let someone know who can affect change.
The continued lack of visible earpieces is great, unless cue cards are being used. It strikes me as a possibility when the guest is the sole focus of the camera shot.
---
NOW CHECK OUT LAST WEEK'S REPORT: 5/30 WWE Talking Smack Review: Becky, Charlotte, Natalya, Tamina, Carmella, Ellsworth, Ziggler, Shane, Renee