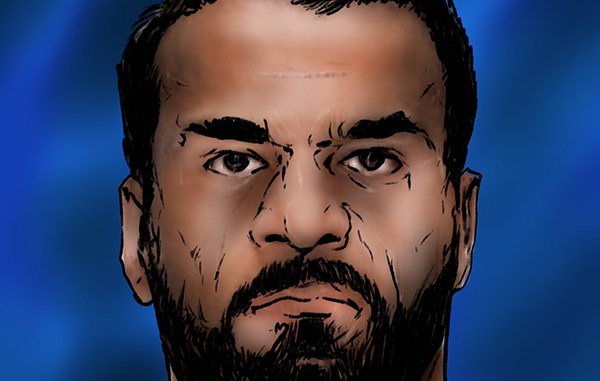 ---
SPOTLIGHTED PODCAST ALERT (YOUR ARTICLE BEGINS A FEW INCHES DOWN)...
---
SMACKDOWN HITS
Styles Wins: This is a very minor Hit for the fact that A.J. Styles got his win back after the stupid loss he took to Dolph Ziggler last week. But, the match at only seven minutes with half of that on the commercial break wasn't Hit-worthy. And, I'm only happy that Styles got the win since he took the loss last week.
Nakamura vs. Owens: This is another minor Hit. I was torn between wanting to see a 20 minute epic great match that I know we can get from Shinsuka Nakamura and Kevin Owens, and wanting to see Nakamura getting nothing but strong dominating wins. It would have been better to not book this match at all. He couldn't squash Owens who needs to be protected as both the United States Champion and as one of the Money in the Bank participants. But, they couldn't have Nakamura sell as much as he did against Dolph Ziggler at the last PPV, because they had to make Nakamura look stronger. So, we ended up somewhere in the middle with a 10 minute match where Nakamura dominated more than he did against Ziggler, but selling more than he would in a squash to establish him with the larger audience. So, what we saw between them was good. If this had been a PPV match, a culmination of a big feud, then I would not have been happy with the length. But, it did make Nakamura look strong in getting that clean win. Of course, then he got beat up afterwards by Baron Corbin who is my pick to win MITB.
SMACKDOWN MISSES
Opening Segment: This was one of the worst segments in recent memory. I tweeted about it Tuesday night and jokingly said that it seemed like Shane McMahon was either drunk, or self medicating or something. He was way off. He stumbled over his words. He repeated himself. He called Tamina a "two time Superstar" and then corrected himself that she is a "2nd generation Superstar." He used the phrase "in your clutches" about the MITB briefcase more than once. That's not something people say. That's something that writers write a character to say because it is a nice poetic visual. That's not something you would say in conversation twice, for sure. I bet he was only scripted to say it once, but was having trouble remembering his lines and threw it out a second time. The women weren't any better. Charlotte's speech pattern, cadence and tone are starting to grate on me. And then you get Natalya saying "you steal from your father" and then Lynch tells her "you steal from your uncle." And then the exchange between Naomi and Lana was horrible. WWE clearly underestimated how much the horny male fan base wants to see Lana do anything. Naomi came across like the heel for laughing at her. Everyone including the heel Natalya laughed at her too plus Becky and Charlotte pretended they were smoking weed to show how nuts Lana is. But, she has just as many qualifications to be in a title match that Jinder Mahal had. I liked how WWE started off this push for the women's MITB match last week, but this was terrible. The tag match that followed was just ok. It wasn't a Miss, but not a Hit either. And ultimately it leads to another undeserving wrestler (and I use that term loosely) getting a title shot at a PPV. And Lana will probably win for the same reason Mahal won, which is that you don't put someone undeserving in a title match just to have them lose.
Fashion Files: I said last week that I was concerned that while I enjoyed The New Day since they felt fresh after being off TV for several weeks, that their act would once again get stale pretty quickly. It did. Having them playing a role in Breezango's Fashion Files was not a good move. There were a few funny moments here and there, but not enough. It was silly. It went on far too long. It is hard to take New Day seriously as it is, but how can I take them seriously, when they are going to Tyler Breeze and Fandango for a scouting report on the Smackdown Tag Team Champions The Usos? It was just ridiculous.
Jinder Mahal: He is going to remain a Miss until he proves me wrong. A rudimentary 4 minute match where he has to get the Singh Brothers to help him and then rake the eyes to beat Mojo Rawley isn't going to do the trick. On a side note, at some point WWE absolutely HAS to have a heel get disqualified for raking the eyes otherwise it doesn't feel like cheating since nobody has ever lost because they did that. The problem is that Mahal as a performer isn't a deserving Champion. And the character wasn't a deserving challenger and thus not a deserving Champion either. So neither the real person from a behind-the-scenes stand point, nor the character from a kayfabe stand point feel like a real WWE Champion. And this match and the poor promo that followed didn't help from either stand point.
"The Artist": WWE is not doing a good job with Shinsuke Nakamura since calling him up from NXT. I don't like the Artist monicker for him. It is like every wrestler has to have a nick name in quotes before his real name. The Artist is playing into Nakamura's charisma, but ignoring his bad ass strong style ass kicking which is going to ultimately help him get over with the fans and make him stand out from the rest of the roster. The video package that WWE put on with an artist painting Nakamura's portrait was fine. I just don't like the artist persona. It feels forced and takes away from the perception that he is an ass kicker in the ring. His opponents should be afraid of having their heads kneed off and who has ever been afraid of an artist?
---
NOW CHECK OUT LAST WEEK'S COLUMN: WWE SMACKDOWN HITS & MISSES 5/30: Return of New Day, Fashion Files, Jinder Mahal, Orton, Highlight Reel with Owens, Ziggler beats Styles
---
Jon Mezzera is PWTorch.com's WWE Hits & Misses Specialist, providing his point of view for Raw and Smackdown each week. Email him at jmezz_torch@yahoo.com. Act now and become my 68th Twitter follower@JonMezzera (pretty clever handle right?). Just be aware that I don't live tweet Raw, I don't tweet much about wrestling, and I don't tweet much at all.