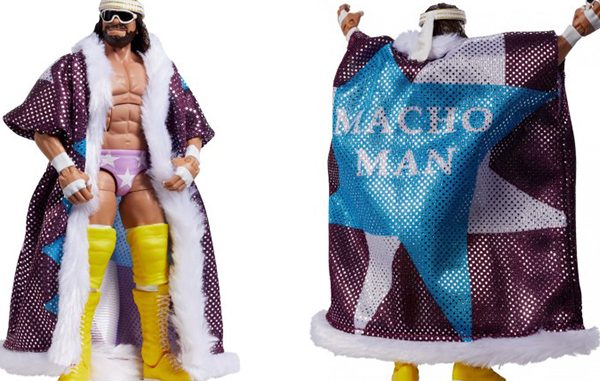 ---
SPOTLIGHTED PODCAST ALERT (YOUR ARTICLE BEGINS A FEW INCHES DOWN)...
---
Randy Savage was a major part of WWF toy lines from LJN and Hasbro in the 1980s and 1990s, and arguably an even bigger part in WCW toy lines from 1995 to 2000. Then he disappeared for more than a decade.
Jakks Pacific made WWF/WWE action figures from 1996 to 2009, but never once produced a toy of the "Macho Man." That finally changed in 2011, when Mattel included Savage in its WWE Legends Series 5 set. Since then, Mattel has produced dozens of figures of Savage that span most of his career. A new Mattel WWE Defining Moments action figure of Randy Savage was released just days ago, which captures the "Macho Man" in his WrestleMania III attire and has drawn rave reviews from fans and collectors.
"The overall production of the figure is great," said Jef Toon, cohost of the Fully Poseable Wrestling Figure Podcast. "The robe is spot on; the packaging with his studded robe design in the back is also terrific. One other thing I really like is the photo they have on the side of the package of 'Macho' with the (Intercontinental) belt."
Toy companies have been making Randy Savage toys for more than 30 years – many of which are great, a few of which are awful and some of which are … well … just weird. Here's a look at 10 memorable "Macho Man" toys.
The Best
The Worst
Hasbro WWF Series 5. Hasbro didn't miss very often when it came to its WWF toy line, but this stinker was certainly a miss. The figure has Savage in a green cowboy hat and a hideous white and yellow jacket, with hard plastic fringe that looks more like wings. It wasn't a very good time for Savage, as Vince McMahon was trying to push him out of the ring and into the commentary booth. It's just a bad figure overall.
OSFTM WCW Tag Team Wrestlers. In 1997, The Original San Francisco Toy Makers (OSFTM) company produced a Hulk Hogan/Randy Savage two-pack to capitalize on the popularity of the New World Order. Unfortunately, the figures were just repaints of older figures. Savage's bright yellow gear was replaced with black and white, and all of Hogan's attire was painted black with a simple white NWO logo. What makes this two-pack even worse is that the packaging uses stock photos of babyface Hogan and Savage from 1995. Even the bios on the back are several years old and don't even mention the NWO.
Toy Biz WCW Bruisers. In 1999, after his run in the NWO was over, Savage returned to WCW with a new look. He was dressed all in black with slicked back hair, and accompanied by Gorgeous George. Toy Fair made quite a hideous figure of this incarnation of the "Macho Man" that looked more like "Hunchback" Randy Savage. Mattel offered up a much better version of this figure earlier this year in the Walmart-exclusive Then Now Forever line.
The Weirdest
Playmates Teenage Mutant Ninja Turtles Ninja Superstars Series 1. Did you ever wonder what the Ninja Turtles would look like as pro wrestlers? No? That's OK, Playmates has the answer anyway. In late 2016, the company released a set of four TMNT/WWE action figures, including Michelangelo as "Macho Man." He's dressed in Savage's usual trunks and boots combo, along with sunglasses, a headband and that purple "Macho Man" shirt. This isn't Savage's worst figure; heck, it's better than the majority of his WCW toys.
NOW CHECK OUT THE PRIOR COLUMN: COLLECTIBLES COLUMN: Are Collectors Buying Jinder Mahal as a Top Star?
---
PWTorch Collectibles Specialist Michael Moore can be reached at michaelmoorewriter@gmail.com. Follow him on Twitter @MMooreWriter.