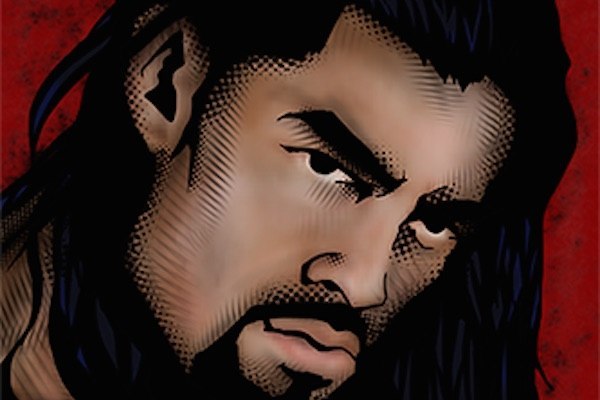 ---
SPOTLIGHTED PODCAST ALERT (YOUR ARTICLE BEGINS A FEW INCHES DOWN)...
---
Roman Reigns is one of the most divisive and talked about WWE performers in history. The company makes desperate play after desperate play to make him their number one star – thus far to no avail. How do they do it? What do they do?
I'm Tom Colohue and this is the Monday Night Reigns-o-meter.
---
Monday Night Reigns-o-meter
So, awkwardly, Roman Reigns didn't appear on this instalment of Monday Night Raw. That's great and all, you know? The appearance of Brock Lesnar means that you don't need top draws like Roman Reigns, Finn Balor, or Bayley to get a good rating. Instead, room was given to Samoa Joe. That was great.
A lot of stuff happened after that. Miz and Ambrose are still feuding, which is great, you know? It's only been a six month feud. Six months isn't a long time.
It's a really long time, isn't it? I miss Roman Reigns.
Bayley had an interview! She really needs to beat up The Miz and Maryse or something. If they bring up Asuka purely to job to Bayley I'm going to going to lose it.
Where's Roman?
Ah, there he is. A video about him. Reigns is making a massive announcement! That better be a setup for Strowman to come out and shout "I'm not finished with you!" in those gorgeous sing-song tones before all the up beating. All the up beating.
Oh, two promo packages. Nice. Austin Aries might have a big package, but Roman has two because he's a big dog, apparently.
I'm really reaching here, aren't I? Let's go to WWE's YouTube channel and get the usual videos, shall we?
Clickety-clickety-clack. Clickety-clickety where the hell is Roman?
Frowny face emoji, seriously.
But this is a good thing. Last week I conducted a poll on Roman Reigns and was surprised by how positive the results were.
Question for today's Reignsometer. Are you pro or anti @WWERomanReigns right now?

— Tom Colohue (@Colohue) June 6, 2017
Yes, I expected an overwhelming negative response, but that isn't really overwhelming, is it? It's just plain negative.
The mood is changing when it comes to Roman Reigns, so taking him off of TV for a week might actually be a good move. The same can be said of Finn Balor. We've been effectively strangled by Raw's top five stars taking up so much airtime while only going up against each other. Now that Samoa Joe has emerged as the top contender, this is a perfect time to give everyone time to breathe. Worried that the rating will suffer? Brock Lesnar. We open with Lesnar and finish with the Hardys. Those are big draw names. Alexa Bliss is starting to draw a crowd too.
Raw's getting some pretty big names, isn't it? You don't need Roman Reigns every week. I mean, people are actively upset that Finn Balor wasn't there last week and still did not appear this week. On the other side, people are annoyed at Shinsuke Nakamura's overexposure.
So obviously we're all going to miss Roman, terribly. Am I right?
---
NOW CHECK OUT LAST WEEK'S COLUMN: MONDAY NIGHT REIGNS-O-METER #21: Tracking Roman Reigns's ability to beat the odds and come out on top
---