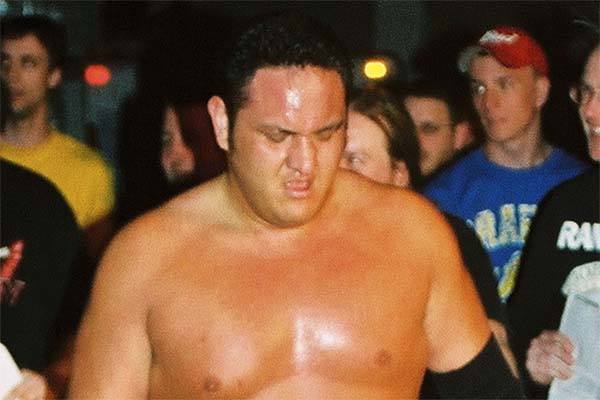 ---
SPOTLIGHTED PODCAST ALERT (YOUR ARTICLE BEGINS A FEW INCHES DOWN)...
---
RISING STAR OF OF THE WEEK: Samoa Joe
See? Now this is how things are supposed to work around here: Joe gets Rising Star of Extreme Rules last week and now he casually chokes his way to the front of the line again on Raw. Wow, what a segment. So different from the sterility of your normal, heavily scripted "everybody waits their turn to talk" segments. You have Joe making demands (and acting) like he's on the same level as Lesnar, then you have the Beast's advocate respectfully enter the ring and praise Joe only to get blacked out off mic for his efforts. So much attention to detail, it's moments like these that help build to a headliner that Joe vs. Lesnar should, could and (probably) will be.
HONORABLE MENTIONS
Corey Graves: Graves has already established himself as a refreshing voice to the much maligned trio of Raw's way-beyond-sell-date commentary team, but this whole text messaging angl gives an additional layer of intrigue to his character. Is he a facilitator to these attacks on Enzo & Cass? A channel of goodwill? Just someone people like to tell things to? What's definite is his ability to pull any angle in this tangled web of Raw mystery off.
Bayley: A little tongue in cheek with this one. At this point, the more Bayley doesn't appear on television, the more she doesn't use social media, and the more Cole, Booker & Graves talk up her impromptu disappearance from Raw, the better it for her long-term shelf life. What level of the shelf that she'll be able to be placed on at this point remains to be seen, but certainly a necessary move if they have any hopes in her rehabilitation. A real (real) small step in the right direction with plenty more to go.
FADING STAR OF WEEK: Anderson & Gallows
While Finn and A.J. have found top of the card billing after their respective NJPW exits, their Bullet Club compatriots haven't had as generous of a path. Vince"s carelessness and inconsistency when it comes to booking tag teams out-muscles any type of charisma that a duo can bring to the wrestling product, and if you've seen Southpaw Regional Wrestling, Anderson & Gallows absolutely have charisma. It's unfortunate that we see them job out in two minutes to Enzo & Show. Tex Fergusson & Chad 2 Badd deserve a little more love than that.
DISHONORABLE MENTIONS
Naomi: Besides Becky Lynch, who was the babyface here? Lana returns to an expected positive reaction, only for her heat to be squelched by tossing a temper tantrum mere minutes later at the seemingly forced barbs by Naomi, who was channeling the likability of JBL in that opening segment. Say what you will, but she was a straight-up bully. Even with Charlotte on the roster, this division needs to be resuscitated and having these women act Kardashian catty is not the way to do it.
Seth Rollins: Sure, Seth closes out Raw in the ring with Joe, but are we really excited for a feud with Bray Wyatt? Based on crowd reactions it seems Seth is finding some footing as a face, but to cultivate that, he needs to be in a hot feud. Bray Wyatt talking in circles that never add up to anything is not the way to do that. Him being framed as friends with a likable babyface could be his best course of action, but besides Finn (and maybe Dean) that's hard to come by.
---
NOW CHECK OUT LAST WEEK'S COLUMN: RISING STAR & FADING STAR: Samoa Joe, Bayley, Hardy Boyz, Cesaro & Sheamus, Dean Ambrose, Austin Aries