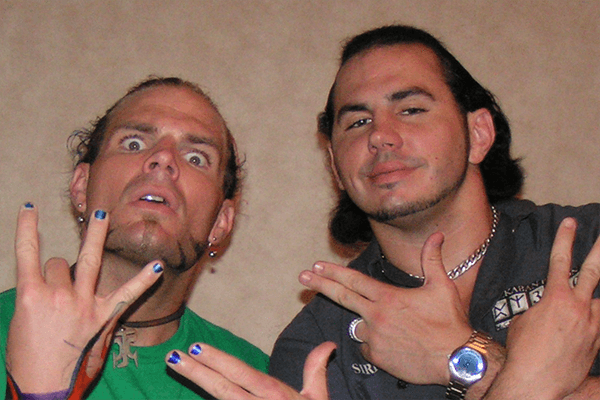 ---
SPOTLIGHTED PODCAST ALERT (YOUR ARTICLE BEGINS A FEW INCHES DOWN)...
---
RAW HITS
Lesnar – Joe: I was disappointed in this opening segment from Raw, but it was still good enough to get a Hit. I just expected more after that great start last week when Samoa Joe choked out Paul Heyman. This was the time for Brock Lesnar to talk. He should have grabbed the mic from Heyman halfway through the promo and cut his own short promo challenging Joe. Lesnar can talk. That being said, while I would have gone in a slightly different direction, the direction WWE went was still good. The promo was strong. The way Joe initiated the brawl worked well. The brawl itself was physical and intense without giving away too much physicality between Lesnar and Joe, so it was another strong step in the build to their Universal Title match.
Ambrose vs. Sampson: This was a Minor Hit of a match for some solid-to-good wrestling action before The Miz and Maryse got involved. It gave another tainted win to Elias Sampson over Dean Ambrose which at least gets him some momentum and some crowd heat. It furthered the Miz vs. Ambrose feud, but that's not a great feud that needs to be furthered. Sampson has had a pretty good introduction so far.
Main Event Hype: I loved the fact that the two-out-of-three falls WWE Raw Tag Team Championship match was the main event of Raw. WWE did a great job of hyping that match throughout the show and making it seem like a big deal. It is something easy that they don't do enough of for some reason. They announced the match early in the show and talked about it throughout. We got interviews from both the Hardys and Cesaro & Sheamus. They also had a nice video package showing the history of their feud going back to the Hardy's surprise return at WrestleMania. It was well done.
RAW MISSES
Alicia Fox: This didn't work for me. It was slightly amusing for about 10 seconds, but then it just went on and on and on with Alicia Fox on the phone video chatting with Noam Dar. The idea probably worked better on paper than in action. Part of the problem here is that after last week's 205 Live, they should have actually moved on from this storyline like Cedric Alexander said they were. That was enough. We didn't need to see a rematch here and the goofiness with Fox on the phone didn't help anyone.
Wyatt – Rollins: For all the long speeches and hocus pocus, this was a largely forgettable segment. It started off which a forgettable promo from Bray Wyatt. He was interrupted by Seth Rollins who gave an ok promo. Part of the problem is just having Wyatt standing there while Rollins talks about him for a few minutes. It is a boring format that WWE uses far too often. I'm not a fan of the magic powers for Wyatt to disappear from the ring and appear seconds later on the big screen.
Tozawa and the Titus Brand: After finally finishing off The Brian Kendrick to end their feud, I felt that Akira Tozawa was the logical next challenger to Neville for the Cruiserweight Championship. WWE does seem to be going in that direction, noting the tweet from Titus O'Neil claiming that Tozawa will be the next Cruiserweight Champ which was acknowledged by Neville himself. However, having Tozawa suddenly mixed up with O'Neil trying to recruit him to the Titus Brand instantly takes away Tozawa's credibility. The association with the Titus Brand has done nothing for Apollo Crews or Kalisto. It is so clearly bottom of the card silliness that it defines Tozawa down as being the bottom of the card. So then Neville, who has been so great as the Champion, will also be defined down if he gets mixed up in the silliness too.
Women's Segment: This wasn't as bad as that terrible women's segment on last week's Smackdown, but it was bad. None of the women shined here. You had the unbelievable moment when Nia Jax didn't know what Alexa Bliss said about her last week to Dana Brooke and Mickie James. Much of this segment was based on those two babyfaces trying to convince Jax of what we all saw Bliss say about her last week. Emma then came out to announce that she was back. I didn't realize she was gone. Sasha Banks added some star power to the segment which was needed at that point, but she was last seen dancing with Rich Swann as part of a meaningless mixed tag match. So she wasn't exactly coming off of a hot angle before coming out here. So, this didn't work for me. The match that followed was ok.
Bayley Interview: I guess trying to get Bayley back to basics is a good idea, but I'm not sure that this is the cure for whatever is ailing her. I liked the line when she said that she knows she isn't going to beat anyone in the ring with a hug. I didn't really like any of the other lines too much. WWE has bungled Bayley for pretty much all of 2017. It is has been bad. She talked in this interview about just being herself, but she wasn't herself after winning the Women's Title with the help of Sasha Banks. So, her statements about always being herself didn't ring true in this case. Maybe this will be the start of something that will turn her around. I hope so. But, it wasn't a great start. And that creepy hug with Corey Graves at the end wasn't good either.
The Bear: I know the live audience ate this up, but I didn't. The bear was so obviously much taller than Dean Ambrose that it was not believable that Miz would actually think that the bear was Ambrose. This terrible attempt at humor isn't helping what was already a stale feud for the Intercontinental Championship. I wish even as a babyface that Ambrose would get back to some of that menacing character that he had in The Shield, and not this goofiness. A little goofiness for him mixed in with the menacing aspect to his character could work. But, this isn't working. And I don't understand why the match wasn't thrown out when Ambrose who wasn't in the match beat up someone in the match in front of the referee. And why was Rhyno ok with Ambrose in a bear suit beating up Heath Slater? This made him look like a terrible teammate.
Tag Title Match: While I loved the hype for the main event, the main event failed to deliver. WWE did a two-out-of-three falls match and didn't come away with a clear winner. The first fall happened way too quickly to be believable which often happens in these matches. I just don't believe that if this were a single fall match that Jeff Hardy would have lost like that to Sheamus. The action after the break was solid, but nothing special. The second fall also seemed to come too quickly, but it wasn't nearly as bad. And then we end with a brawl on the outside of the ring and a double count out. I was hoping that Kurt Angle would come out and restart the match in sudden death at that point, but instead the show ended. It was a let down. I really have no problem with the effort put on by the Hardys or Cesaro & Sheamus. My problem was with how the match was booked. And I'm concerned that this will somehow escalate into another best of 7 series or something.
---
NOW CHECK OUT LAST WEEK'S COLUMN: WWE RAW HITS & MISSES: Bray vs. Roman, Joe-Heyman segment, Enzo & Cass mystery, Joe vs. Rollins, Miz celebration
---
For another view from the original Hitlist author, compare Jason Powell's views to mine by visiting ProWrestling.net's "Hitlist" section HERE.
---
Jon Mezzera is PWTorch.com's WWE Hits & Misses Specialist, providing his point of view for Raw and Smackdown each week. Email him at jmezz_torch@yahoo.com. Act now and become my 68th Twitter follower@JonMezzera (pretty clever handle right?). Just be aware that I don't live tweet Raw, I don't tweet much about wrestling, and I don't tweet much at all.