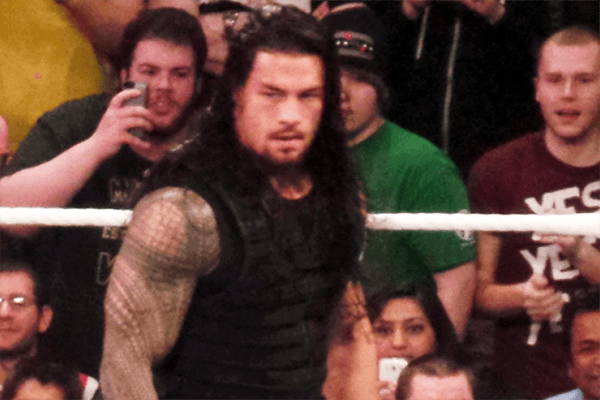 ---
SPOTLIGHTED PODCAST ALERT (YOUR ARTICLE BEGINS A FEW INCHES DOWN)...
---
Roman Reigns is one of the most divisive and talked about WWE performers in history. The company makes desperate play after desperate play to make him their number one star – thus far to no avail. How do they do it? What do they do?
I'm Tom Colohue and this is the Monday Night Reigns-o-Meter.
---
Monday Night Reigns-o-Meter – Great Balls of Fire Omnibus Edition
Lately, a lot of props have been given to the Roman Reigns-Braun Strowman feud for the simple reason that we're all basically just watching two massive guys beating the hell out of each other. Who doesn't enjoy watching two guys beating the hell out of each other? Some of the most infamous wrestling matches of all time have involved two guys beating the hell out of each other. It's basically all that wrestling is.
Now, in addition to very much enjoying the glorious carnage, there is a debate raging. Did Roman Reigns go too far in essentially trying to murder Braun Strowman?
You'll note that, when Braun Strowman did basically the same thing to Roman Reigns, there was no debate. At the time, everyone thought that was awesome. It's what made Braun Strowman such an immensely popular figure. What was the difference? Strowman was a face attacking a heel and should thus be applauded in the same way that Steve Austin dropping Triple H's car should be applauded. Meanwhile, Roman Reigns is a heel attacking a proud, innocent babyface.
The fundamentals of the supposed "double turn" are instantly flawed. So many people want to see a Roman Reigns heel turn that they missed the Roman Reigns heel turn.
What Great Balls of Fire provided more than anything else was a throwback to the good old Attitude Era. That part of the wrestling chronology where people genuinely destroyed each other in the name of entertainment. That part that everybody loved, Matt Hardy's exploded face and all.
Roman Reigns has always been remarkably consistent in that there is no remorse. He did not regret attacking Triple H at TLC. He did not regret fighting Dean Ambrose at Survivor Series. He did not regret interrupting Rusev and Lana's vow renewal. The number one character trait for Roman Reigns is that he simply does not care.
So how would they play it the next night on Raw? Would he still leave gaps in his promo for people to boo him? Would he still show disregard for his equals, and dismiss his betters? For the love of all that is good and pure, would he still swagger down to the ring, dripping, snarling, and just being that sexy-faced machine we all love?
Most of us love.
Some of us love.
Okay, I love. Probably his mother loves, too.
Roman and Strowman got the opening video package for Raw, as well as a major recap package half way through the show. It looks like it's all about Roman, but in reality a lot more focus is put on Braun Strowman's unstoppable monster act. For as long as Braun Strowman has that beard, he might just be the ultimate survivor. Commentary really puts this over, drilling it home to the crowd. Nobody really mentions that Reigns lost the match. That's not important now, after all.
As you might expect, the "Strowman update" quickly turns into a Roman Reigns love in. Also a Brock Lesnar love in. And a Samoa Joe love in. Kurt Angle's there too, getting a lot of love. Oh, I nearly forgot Paul Heyman! Love that guy.
There's a minor continuity error. After Roman declared himself number 1 contender, Kurt Angle apparently forgot that that was a thing. How dare he. Thankfully, Roman comes out quickly in this segment to correct him, getting what I believe is the most mixed reaction he's had in a long time. There were a lot of cheers in there. It came very close to being a positive reaction. His murderous intent, as usual, is really making him popular.
Reigns and Lesnar get up close and romantic. Roman starts talking and a massive wave of boos suddenly stopped to listen to the man speak. He rips on the former Attitude Era stars (technically incorrect in the case of Brock Lesnar) in a way that makes me very excited.
The crowd is hot as hell for this. Roman's scripted barbs mix nicely with his brutal style. I also quite like that he quieted his own chant.
Lesnar eschews Heyman. He eschews PG in a way that gives Angle an awesome expression of "oh my word, why did I take this job?" For a while it's like two men looking in a mirror.
And then there was Joe. The Joe from Samoa that people actually like, especially after his Great Balls of Fire. This has a very real feel to this promo. While Joe and Lesnar hit their verbal jousts, Roman stalks them both, pacing in the background.
Here's the point where I take a moment to mark out and just enjoy seeing Kurt Angle squashed between two extremely angry men who really want to fight and who are clearly going off script a lot.
Sorry, three men. I forgot about Roman for a minute there. Oops, Joe remembered that Roman lost.
Oh, that was a good one from Roman. Can this please just never end?
Kurt Angle announces a match for next week so that Braun Strowman has something to interfere in and then it all goes quiet. If this does end up as a triple threat match, the crowd is way behind it.
Roman doesn't appear for the rest of the night. He doesn't have to. His work is done. This is the guy who couldn't cut a promo, right? That guy is hot as all hell right now.
Odds Counter
– Braun Strowman
– His own inflated ego
– Brock Lesnar
– Samoa Joe
– Paul Heyman
Did Roman Reigns beat the odds?
No, but also kind of yes.
Sold that furious internal rage well though, didn't he?
---
Like what you're reading? Looking for more? Help me hit 500 followers by #summerslam by hitting that follow, retweet or like button here:
Like what you're reading? Looking for more? Help me hit 500 followers by #summerslam by hitting that follow, retweet or like button. Thanks!

— Tom Colohue (@Colohue) June 27, 2017
Thanks!
---
NOW CHECK OUT LAST WEEK'S COLUMN: MONDAY NIGHT REIGNS-O-METER #25: Tracking Roman Reigns's ability to beat the odds and come out on top
---