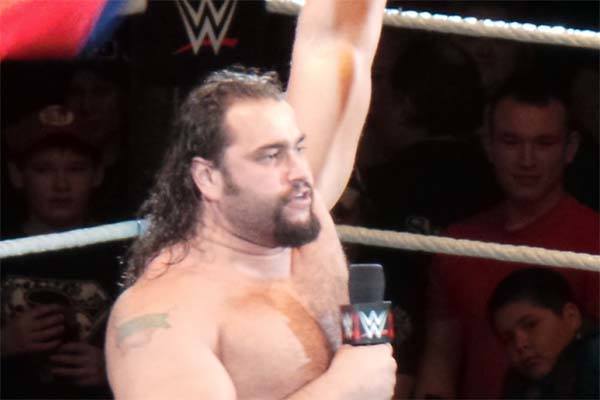 ---
SPOTLIGHTED PODCAST ALERT (YOUR ARTICLE BEGINS A FEW INCHES DOWN)...
---
SMACKDOWN PRIMER
JULY 11, 2017
SAN ANTONIO, TEX. AT AT&T CENTER
By Joey Galizia (@RamJam89), PWTORCH SPECIALIST
"NOBODY MAN ENOUGH TO FEEL THE PAIN"
Since their clash at Backlash A.J. Styles and Kevin Owen's disdain for one another has only grown. Styles would emerge victorious in a battle royal making him the #1 contender for K.O.'s United States championship, and more than likely that match would have taken place at SD's next PPV Battleground.
SWERVE. The match already took place at an untelevised house show this past week at "DA MSG AKA DA GARDEN BAY BAY." (Dusty voice.) While 99.9% of the time a title doesn't change hands at such events, this was that ever rare exception as the Phenomenal One would defeat the Face of America and capture his second major title since arriving in the WWE. A.J. is already preparing for K.O.'s guaranteed rematch, but he has been lobbying to GM Daniel Bryan to make Owens earn said rematch. Interesting to see where they take all of this mayhem tonight.
"RED CARPET, FAKE CHAMPION"
While I admit that I was never a fan of putting the WWE Championship onto Jinder Mahal's shoulder, I complimented the WWE nonstop for giving the guy the opportunity even if it was just a ploy to do business in India. However, the reality of the situation is that Jinder has been relatively absent from the blue brand, and even when he is there it's the same tired promo's and the same dull response. Not only that, but Jinder has been trapped in a conflict with the Randy Orton for nearly three full months now, and while their matches have been fairly entertaining, the program is not as exciting as they should/could be. Orton has been granted one more shot at the Maharaja at Battleground, only this time they will square off inside the Punjabi Prison. Until then, expect more of the same until they prove me wrong.
"A WOLF HUNTS, AN ARTIST DRAWS BLOOD"
One thing that is guaranteed for tonight is "Mr. Money in the Bank" Baron Corbin squaring off against the "King of Strong Style" Shinsuke Nakamura. Shinsuke has been keeping a close eye on Corbin and is still pretty pissed off about getting blindsided during his entrance at MITB. (He's not the only one upset about that.) Corbin meanwhile has been using his briefcase to tease a cash-in at any moment, but his cockiness is never outmatched by his desire to hurt people. This should be a hard-hitting and brutal showcase, but unfortunately for Corbin, all things end with a knee to the face. #teamKINSHASA
"AMERICA, THE LAND OF REPERCUSSIONS"
-It's a great time of the year when John Cena returns. However, it didn't take long for someone to stand toe-to-toe with the Cenation leader. The Bulgarian Brute also made his return, and put down the America that Big Match John loves so much. If you know Cena, then you know he doesn't remain silent when someone criticizes the ole red, white, and blue. The two will reignite their once epic rivalry for a flag match at Battleground. What happens between them tonight though? Well I guess you'll have to tune in and find out.
-The Usos may not have won the battle of spitting bars, but they are still the tag team champions. Meanwhile the Unicorn train continues to gain momentum and a matchup between two members of each team will probably face off tonight in San Antonio.
-Naomi continues to embarrass Lana inside the ring, but now the ravishing Russian has the powerful Tamina in her corner. And if that wasn't bad enough, Carmella is still lurking around with her MITB briefcase, putting pressure on the WWE's only remaining babyface champion.
-Nothing can drive a wedge between the Fashion Police, as tonight they will continue the case of which two UGO's destroyed their offices. The same cannot be said about the Hype Bros unfortunately, because Mojo eliminated Ryder in the Battle Royal, and Mr. Woo Woo isn't too pleased.
-Tonight on 205 Cedric Alexander and Noam Dar will FINALLY put a nail in the coffin of this NEVER ENDING love triangle involving Aliciaaaaaaaa Foxxxxx. The matchup: I Quit. However, if the feud continues past this week's show, I will be saying those very words myself.
Two more episodes until Battleground and a lot of material to catch us up on. Interested?
---
NOW CHECK OUT LAST WEEK'S COLUMN: SMACKDOWN PRIMER 7/4: "Free Agent" John Cena's big big announcement, will Kevin Owens have Fourth of July spirit, Rap Battle with Usos-New Day