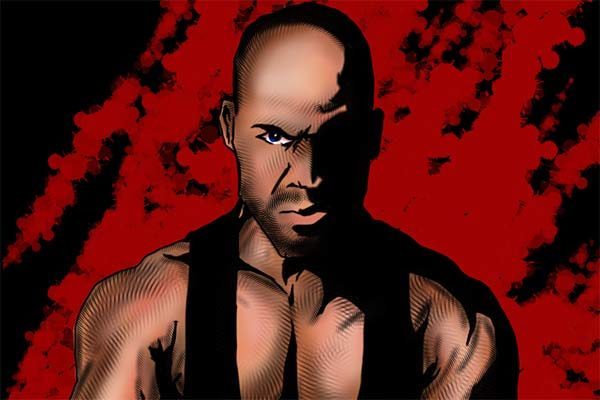 ---
SPOTLIGHTED PODCAST ALERT (YOUR ARTICLE BEGINS A FEW INCHES DOWN)...
---
RAW PREVIEW
JULY 17, 2017
NASHVILLE, TENN. AT BRIDGESTONE ARENA
By Joey Galizia (@RamJam89), PWTorch contributor
"SUPERMAN PUNCH IV: THE DESTROYER EDITION"
After a very climatic altercation between Roman Reigns, Brock Lesnar, and Samoa Joe, the WWE Universe was left nowhere closer to determining who would be the Beast's next challenger at Summerslam. Tonight the Big Dawg will go one-on-one once again with the Submission Machine, a man he has YET to defeat. Don't forget about Braun Strowman either, who not only survived a murder attempt on his life, but hasn't been talking to anyone about it. Unfortunately, Lesnar will not be in attendance in Nashville this evening, but that shouldn't stop you from witnessing another massive showdown between the Samoans.
"SCANDAL: NOW STREAMING ON HULU AND ABC
If you've yet to watch Kurt Angle's "24 special" on the WWE Network, (for an undisclosed monthly price), you are doing yourself a great disservice. Because of Angle's background as an Olympian the episode plays out like an ESPN "30 for 30,"and will tear away at your heartstrings. (Speaking of "30 for 30," the Ric Flair one SHOULD be released sometime this summer.) Angle's years of drug and alcohol abuse could have been the end for a weaker individual, but Angle's fighting spirit and strong support from his wife and loved ones helped him battle back to being the champion we remember. So who is it that could be trying to blackmail one of the most popular personas in the business currently? Speculation was that it could be Dixie Carter, but even WWE's dumbest creative would have to realize what a terrible idea that would be. (We hope.) Corey Graves has been heavily involved in this storyline as well, but will his allegiance to Kurt make him a target? The full answer comes tonight. (Directly after Raw of course because the SOB's like making us wait.)
"WHERE HAVE ALL THE GOOD MEN GONE?"
-After a failed attempt to reclaim his Intercontinental Championship from The Miz, Dean Ambrose unexpectedly saved his former Shield-mate Seth Rollins from a possible beatdown last week in Houston. Ambrose certainly hasn't forgiven Seth for the ultimate betrayal back in 2014, but Seth has seen the error of his past mistakes, especially since returning from injury. Ambrose plans on opening the show tonight to get something off his chest, and we can only hope that it's Dean returning to his psychotic mayhem that made him a star in the first place.
-For the first time in months there is a spark of interest in the women's scene. Alexa Bliss may have escaped from Sasha Banks at GBOF, but Summerslam is shaping up to be a multi-woman affair, one that puts the odds heavily against the champ. Sasha has defeated her on multiple occasions, and now even Bayley has a pinfall victory over her. Will Nia Jax throw her name into the hat as well? Probably, considering Summerslam is expected to be a 4 hour show, there's no better way to get all the names on the card.
-For the first time since they won the tag titles at Extreme Rules, Cesaro and Sheamus can take a breath. They survived their epic encounters with the Hardys and currently have no contenders to worry about. Meanwhile, Matt and Jeff are fighting multiple battles at once. The Club scored a win over them last week, and post match the Revival made their return to further BREAK the Hardys down. All of this on top of their twitter/courtroom fiasco with Anthem and man I can't wait for the boys to get some well deserved time off.
-Big Show returned last week to stress his dislike for Big Cass, and everything that Cass has done to Enzo. The two giants traded blows before Cass retreated like the SAWT dude he actually is. With all that beef, god knows this one isn't over yet.
-Goldust may be done with R-Truth, but is the Golden Age prepared to make one more run at gold?
-Bray Wyatt has come up on the positive side of a feud against Seth Rollins. Seth looks like he may be transitioning into a conflict with The Miz, but where does that leave the Eater of Worlds? Perhaps he reignites his dislike of the demon they call Finn Balor? Your guess is as good as mine.
Five weeks until the biggest show of the summer and there is still a great deal of uncertainty. I'll be watching just to see what shenanigans they make Angle jump through. Will you?
---
NOW CHECK OUT LAST WEEK'S ARTICLE: RAW PRIMER 7/10: Great Balls of Fire Fallout including Brock Lesnar-Samoa Joe, Banks-Bliss, Roman-Braun, Big Cass-Enzo