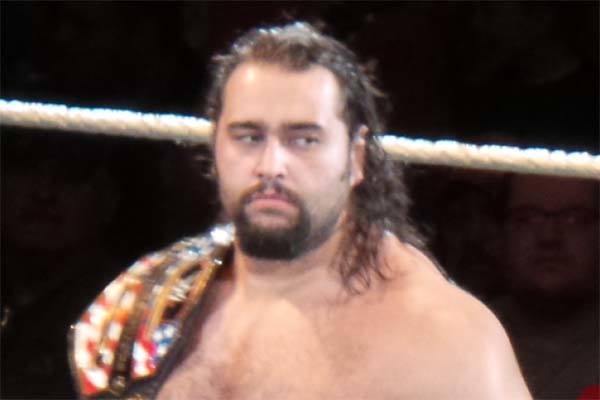 ---
SPOTLIGHTED PODCAST ALERT (YOUR ARTICLE BEGINS A FEW INCHES DOWN)...
---
Wake the pets and call the neighbors, it's time for our exclusive WWE Network/pseudo pay-per-view projections!
DISCLAIMER: Projections are based on what the columnist would do if he were booking this event, instead of Paul "NXT" Levesque, Runjin Singh, Ryan Ward and WWE Chairman Vincent Kennedy Trump McMahon. Projections are not predictions, because this is the column where everything's made up and the points don't matter. This preview has been sealed in a mayonnaise jar on Funk & Wagnall's porch since noon today. Some of our departing contestants will receive Glade Aerosol Summer Beauties. Make your home a fresher place to be with Glade Aerosol, available in fifteen fresh scents. Pat McNeill's wardrobe provided by After Six. This is only an exhibition. This is not a competition. Please, please, no wagering. This lineup is based on the best available information as of this writing. These predictions are based on what the columnist would do if he had creative control over WWE, except for the part where he names Raw pay-per-views after .38 Special songs. (Join us in October for "WWE Caught Up In You".)
Before we preview tonight's show, let's get to this month's edition of the Wrestling History Lesson, because that's why many of you clicked here in the first place. Twenty years ago, on July 12th, 1997, the World Wrestling Federation presented WWF Shotgun Saturday Night (pretaped) from Edmonton, Alberta. The main event saw WWF Intercontinental Champion Owen Hart wrestle Flash Funk. Jim Ross and James E. Cornette had the call.
What was happening in World Wrestling Entertainment fifteen years ago? I'm glad you asked! On July 20th, 2002, Worrld Wrestling Entertainment presented an episode of "WWE Velocity" (pretaped) from Wilkes-Barre, Pennsylvania. In the opening match, we saw Shannon Moore against former United States Champion Hugh Morrus. Michael Cole & Marc Loyd had the call. (Good luck finding this on WWE Network. Or…anywhere else.)
Getting lonesome for WWE Main Event? We have you covered. From last week's episode, it's Lince Dorado battling TJ Perkins. Vic Joseph & Corey Graves have the call.
Tom Phillips, Byron Saxton & John "NotaBully" Layfield will be announcing the show. Renee Young and Some Guy With A Wrestling Podcast will be doing the Kickoff Show. (I hope it's Mike Chiari. That kid has moxie.) Dasha Fuentes will be backstage, explaining to everyone that she isn't Cathy Kelley. On with the program!
Tye Dillinger vs. Aiden English (Kickoff Match): It's "Dillinger-English II: Electric Boogaloo", the long awaited rematch from Backlash. Projection: Dillinger wins with the Tye Breaker in a short match. Again. Some more.
Breezango Mystery: I would have Breezango's attackers as the team of British Strong Style aka Pete Dunne & Trent Seven. They're under contract, and it's not like creative has anything else for the UK guys to do at the moment.
Sami Zayn vs. Mike Kanellis (w/ Maria Kanellis): We already saw Mike Kanellis defeat Sam Zayn on Smackdown Live last week. Would it make more sense to have Big Mike go 2-0, or to have Underdog From The Taxi Stand get his win back? Projection? Mr. K wins with the Power of Love. Sami hasn't hit rock bottom yet. When he does, it might be time to put the New Quebecers together. Stay tuned.
Becky Lynch vs. Charlotte Flair vs. Lana Rusev vs. Natalya Kidd vs. Tamina Snuka (Five Way Elimination Match): We're doing this again, huh? Actually, that's not fair. We have Lana in Carmella's spot. That makes it a totally different match. Projection? Becky gets triple teamed and defeated by the Welcoming Committee first, so Charlotte has to fight her way through all three heels to get her title shot at SummerSlam. She does. We're getting Charlotte vs. Baszler or Charlotte vs. Ronda at WrestleMania, so it's time for the queen to start going over.
Shinsuke Nakamura vs. Baron Corbin: Baron Corbin is Mister Money In The Bank. Shinsuke Nakamura is the Japanese rock star wrestler who dresses like Michael Jackson. I know who's the priority here. Projection? Corbin hits Nakamura with a ball peen hammer he found under the ring to get the victory. Nakamura gets to avenge his defeat at SummerSlam (I guess).
Jey Uso & Jimmy Uso vs. The New Day (WWE Smackdown Tag Team Titles): I don't know how WWE intends to top the epic 4th of July Battle Rap, but we're sure going to try. These five were having an excellent match last month before the twist ending. Projection? Jey Uso whacks Xavier Woods with a championship title belt. Xavier his Jey back with his trombone, but referee Charles Robinson catches him in the act, and the champs win by disqualifcation.
AJ Styles vs. Kevin Owens (WWE United States Title): AJ Styles captured the United States Title sixteen days ago at Madison Square Garden. Boy, I can't wait to see Styles get his revenge on Kevin Owens for preventing him from wrestling John Cena… That IS what the feud's about, right? Projection? AJ & Big Match Kev tear the house down before Styles wins with the Phenomenal Forearm.
John Cena vs. Comrade Alexander Rusev (Flag Match): Judging by the lineups for the next Smackdown overseas tour, the ex-champ is only going to be around for a few months. So we probably won't have an extended feud between Johnny Jorts and the Bulgarian Bear. That makes this easier to project. Projection? A lengthy match where Cena powers out of the Accolade and wins cleanly with an F5. Sorry, Rusev.
Jinder Mahal vs. Randy Orton (WWE World Heavyweight Title – Punjabi Prison Match): We've had two Punjabi Prison matches in WWE history. The first one had Big Show as a last minute replacement for Great Khali, and that was bad. The second was Batista vs. Great Khali, which turned out okay. I have a feeling we'll end up on the "okay" side of things tonight. Projection? Orton starts scaling the outside cage, but is blocked from going over the top by the Bollywood Singhers. When that doesn't work, Dolph Ziggler runs out to distract Orton, allowing Mahal to escape the Prison first. Jinder Mahal beats Randy Orton for a third time. Three strikes and the Viper's out.
Why would Ziggler attack Orton? Because Dolph's a jerk, and he's tired of being overlooked. Don't overthink it.
Aftermath: WWE SummerSlam is up in four weeks. We hope everyone's ready to see Jinder Mahal defending the WWE Title against John Cena, and for Randy Orton to massacre Dolph Ziggler.
Also, don't forget to join me and Greg Parks on PWTorchLivecast.com after Battleground for our "Wrestling Night In America" postgame show. (515) 605-9345.
Pat McNeill of Greenville, South Carolina has been a PWTorch Columnist since 2001. He likes the St. Louis Cardinals to beat the Chicago Cubs in tonight's baseball game. You know, if gambling were legal.