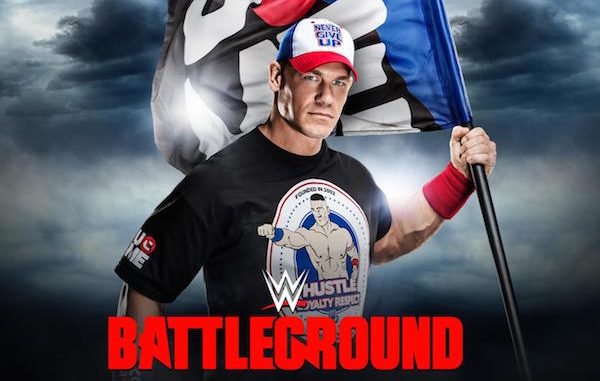 ---
SPOTLIGHTED PODCAST ALERT (YOUR ARTICLE BEGINS A FEW INCHES DOWN)...
---
Follow Tom Colohue on Facebook and @Colohue for updates.
---
So it's possible, even likely, that I'm going to get all of these wrong.
1. Tye Dillinger vs. Aiden English (Pre-show)
Winner: Tye Dillinger
I know, I should be giving my usual pre-prediction analysis there but let's be frank, we saw this match on a PPV pre-show with exactly the same lack of build a couple of months ago and I can't see anything changing, so there you go.
2. Shinsuke Nakamura vs. Baron Corbin
They're not going to stall Nakamura's momentum now, and Corbin just won Money in the Bank, so he's set for a major losing streak until he finally cashes in. Given how naturally hardcore Corbin is we could see a DQ finish leading this feud to hold over into a Summerslam bout but either way I can't see past a Nakamura win.
Winner: Shinsuke Nakamura
3. The Usos vs. The New Day (Smackdown Tag Team Championships)
Seen it. Done it. Excited to see it again. Momentum might have stalled since the rap battle and all the awesome that ensued, but these 2 teams know how to get it on and I for one am excited to see it.
Downside? Between the 2 of then, they are the most exciting teams on Smackdown, so what exactly are we looking at for Summerslam? You could add Breezango and make it a tag team triple threat, which I would genuinely love to see, but Breezango are going to get rolled over by another team in the same night, so maybe it'll be that other team? Or a tag team four way. I honestly wouldn't mind that. Switch it up a bit, Smackdown.
If it's just these teams for Summerslam, New Day should win the belts or they have no legitimacy for a rematch. This Usos title run has been great though, and other teams are rising to real prominence, so I'm sticking with a mass team party for Summerslam.
Winner: The Usos
4. John Cena vs. Rusev (Flag Match)
Until about 2 weeks ago I was absolutely determined that John Cena was going to lay down for Rusev for once. One huge shock, a slap in the patriotism and a massive push for Rusev all in one night. It's not like Cena doesn't owe him one.
But let's be fair, Cena vs. Mahal at Summerslam would be a big draw match now, with Cena taking the title while his days are numbered and claiming that record overall.
Thing is, I still don't quite see it. Why? Because Cena's a free agent now, and free agents should not hold title belts. I don't want to see another Cena run when you have people like Owens, Styles, Nakamura, Zayn, Corbin, the list goes on and on. At least on the other side Lesnar is using the belt to put people like Joe over, even in defeat.
So I'm going to take the risk and stick with my gut on this one.
Winner: Rusev
5. Charlotte Flair vs. Becky Lynch vs. Lana vs. Tamina vs. Natalya
The audience seems to be incredibly divided over this one. The most popular names so far are Charlotte and Lana. I definitely do not see Lana getting another title shot, and certainly she isn't the big name that is necessary when going into a Summerslam card. Lynch isn't likely to line up against Naomi because the dynamic is all wrong. If they're trying to get a babyface over they don't put her against the biggest babyface on the roster.
Pretty much since Wrestlemania I've believed that Natalya would win the women's title at Summerslam. The lack of action for Naomi suggests she's carrying injuries so I don't think she's going to hold it much longer. She is over but her reign has been something of a misnomer. Natalya is a strong heel and currently has everyone set up against her, including Carmella. For me, it's the best story to tell.
Winner: Natalya
6. AJ Styles vs. Kevin Owens (US Championship)
I suspect that the most telling thing here is AJ Styles winning the belt in a house show. They wanted him to have a big moment but didn't want to let him beat Kevin Owens on a PPV, either before or after. To me, that says it all.
Kevin Owens has been eating a lot of pins recently. I was expecting him to come out of this feud elevated but his whole time on Smackdown has felt like a constant downward slope. Styles can afford to take losses. He's huge. Owens isn't quite there yet and needs a little leg up. This match should be it.
This also then lines Owens up to ultimately lose the title to someone like Chad Gable, who is ideally placed to take that title back down to the midcard where it should be and where it can elevate talent who aren't already main event level.
Winner: Kevin Owens
7. Sami Zayn vs. Mike Kinellis
Don't bury debutants.
Winner: Mike Kinellis
8. Breezango vs. … Rowan and Harper
Now, I recently mentioned this on Twitter to a moderately popular podcaster account. I wish I hadn't because about 5 hours later it was absolutely everywhere. I've mentioned before that I think Harper and Rowan are going into the tag team division. My basis for this was that they do not appear on the Smackdown opening video, so WWE are waiting for them to have a picture together as a tag team.
A lot of people have decried this as a bad idea for the pair but I completely disagree. Harper has a much raised profile now. Whoever it is is undoubtedly going to beat Breezango, who could afford to lose every match as long as Fashion Files is running and haven't actually had a match since the last PPV. Harper and Rowan could take that win and waltz straight into the tag title scene for that four way tag title match I talked about earlier.
I think it's the best move for everyone involved to be honest. I hope to see it.
Winner: Rowan and Harper
9. Jinder Mahal vs. Randy Orton (Punjabi Prison WWE Championship)
Yes, I have caved. This whole time I've been waiting for Orton to get the belt back and this whole time it hasn't happened, so why would it happen now when there's no time to develop a new feud heading into Summerslam?
This feud has been awful, but it has legitimised Mahal in a big way. Over time he has become anything but a jobber. But can we just knock him down to US title level at least? He'd be a great opponent for Gable, Dillinger, Rawley again. Eurgh.
Anyway, Randy Orton's contract has a fair bit of time off in it, so he's not winning the belt. He'll get his Summerslam feud out of the way and then probably be off TV for a while. Mahal's taking it into Summerslam against, erm, someone. I don't know.
I know, I know, it's going to be Cena. Smackdown honestly hasn't been bad recently, it's just that this feud is an absolute chore.
Jinder Mahal
I'll see you for another live Twitter session during Battleground 2017.
---
CHECK OUT THE PREVIOUS COLUMN: WWE GREAT BALLS OF FIRE PREDICTIONS – Tom Gets It Wrong: Lesnar-Joe, Miz-Dean, Bray-Seth, Reigns-Braun
---