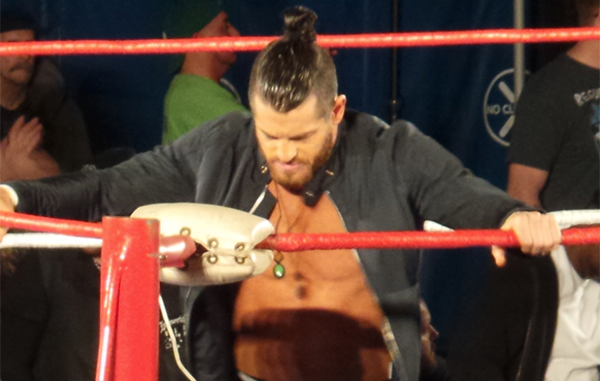 ---
SPOTLIGHTED PODCAST ALERT (YOUR ARTICLE BEGINS A FEW INCHES DOWN)...
---
HITS
Destination X Hype: It's refreshing to see any wrestling company promote a televised event and match three weeks in advance. This was not always the case. GFW has been as guilty of hot-shotting big matches and storylines as WWE in recent years. With the lack of pay-per-views in this era, they need to have occasional big events to build to. If they can get around to promoting a few more matches next week, they may succeed in making Destination X feel like an important show.
Richards vs. Ishimori: The Super X Cup tournament continues to be a good way to spend TV time. Davey Richards and Taiji Ishimori put on an entertaining nine minute match filled with great athleticism. I haven't read any spoilers, so I'm not sure how Richards' career will end in GFW on-air, but if this is it, it's a bit disappointing of a way to go out. It would be a shame if there was no final one-on-one match with Eddie Edwards, or at least some form of closure to the character.
OVE's Vignette: GFW continues its streak of producing entertaining vignettes before debuting wrestlers premiere. No idea what they have planned for OVE, but that's part of the fun. They look like a mix between Sean O'Haire, Rellik, and Kevin Thorn. Why not?
Rosemary vs. Sienna: An entertaining, hard-hitting 16 minute Knockouts hardcore match. Rosemary was especially impressive with the crazy AK47 bump off the ring apron, and the cool visual of her reverse tarantula in the crowd. Women matches rarely got this much time in the past. Even the historic Awesome Kong vs. Gail Kim Impact main event match in 2008 only went seven minutes. This is a huge improvement and is hopefully a sign of things to come. It's too bad this match wasn't given the main event, instead of the ungodly trainwreck that did take that spot.
MISSES
Sydal's Push: Matt Sydal running out to attack Lashley, then quickly hitting him with a Shooting Star Press should have been a star-making moment (as much as one can in GFW at this point in time), but the crowd didn't seem to care in the slightest. Sydal is a nice addition to the roster, he's just vastly over-pushed. Someone like Dezmond Xavier would feel far fresher in this role. Also, someone on the production team needs to spend their weekend getting Sydal a new theme song!
The Proposal: It sure was nice of Jeff Jarrett to let his old pal Vince Russo come back for the night and write this segment. At least that's what it felt like. There was a Crash TV-like rushed marriage proposal, flat comedy, the needless addition of extra mid-carders with Allie and Braxton Sutter, which basically betrayed their characters (why would Allie be happy for Laurel Van Ness? And why would Braxton care that she cares?), and in the end, it all went nowhere. What's the payoff here, Grado vs. Kongo Kong? Kong should have been protected for a potential showdown with Bobby Lashley someday, not doing bad comedy. As an aside, does someone want to check on Mahabli Shera? He hasn't been seen since the India tapings.
A Step Back With Lee: It looked like the company was trying to finally get Trevor Lee over as a serious competitor in the X Division. It looked like. Briefly. Unfortunately, Lee is back to doing comedy, and apparently he's scared to face the 45-year-old Octagoncito who has basically wrestled three televised matches ever on Impact. Yep. It's a running theme for the past 15 years, but this company continues never thinking long-term and somehow keeps making aggressively stupid booking decisions on a weekly basis.
The Gauntlet Match: Completely idiotic. There are few things more destructive in all of wrestling than the gauntlet match. Impact just ran through three matches in one night and made LAX look like children in the process. It wasn't just that El Patron won 3-on-1, there was constant interference where they kept on beating him behind the ref's back. It didn't matter, he's just that indestructible. Then at the end of the match, The Veterans of War ran out to even the odds. So what now, a tag match of LAX vs. El Patron and VOW? What the hell for? He just beat them all by himself! Again, GFW needs to think about their future. As just stated, this is a massive 15 year problem! Here's the thing, Alberto El Patron isn't cool. He's a guy who isn't connecting in a meaningful way, his "Si! Si! Si!" is a rip-off of Daniel Bryan's catchphrase, he's constantly in the news for trouble with Paige and his former employer, and on-air he hangs out all the time with his masked brother and father. Also, considering those two were kidnapped last week, why did they show up to the Impact Zone again? That's just asking for it. On the other hand, LAX is (or was) a cool act and are far edgier than anything WWE has on their television shows. That's exactly what they should be aiming for, not a former League of Nations member squashing an entire promising stable by himself. Truly one of the dumbest things the company has done all year on-air.
---
NOW CHECK OUT LAST WEEK'S COLUMN: GFW IMPACT HITS & MISSES: Alberto, Karen, Grado and Laurel, Drago, Bruce Prichard, Matt Sydal