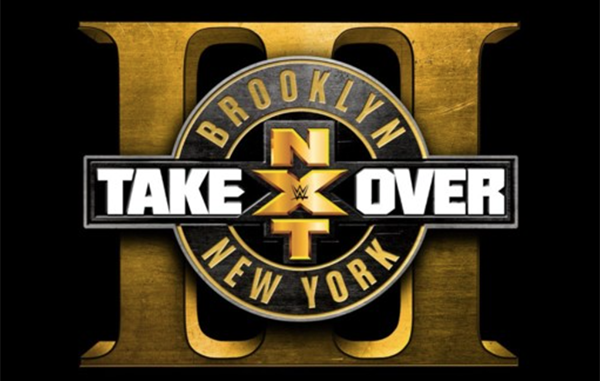 ---
SPOTLIGHTED PODCAST ALERT (YOUR ARTICLE BEGINS A FEW INCHES DOWN)...
---
NXT is going into the latest of the Brooklyn specials with a continued renewal of focus on strong characters, and I find myself pretty amped for a show that I think has at least a few toss-ups, which isn't always the norm for Takeover. All five matches intrigue on paper, and even the tag title match – which far from guarantees a continuation of great NXT Tag Title matches on TakeOver – intrigues as a storyline.
We do have some unfortunate cuts from the card; Roderick Strong, for all his pushing of late, is absent; Kassius Ohno continues to be the guy far up the card who's an afterthought at Takeover time, and I'm a little surprised we don't have The Velveteen Dream here, although if you're not going to have him go over a major star, it's just as well to sit him out and have him complain about it later. No Way Jose is also on the sidelines – not that this is a Takeover rarity.
NXT Championship: Drew McIntyre vs. Bobby Roode (Champion)
It doesn't seem all that long ago that we were talking about how bare the cupboards in NXT were going to look when Shinsuke Nakamura headed north, but the top of the card in NXT actually hasn't seemed this loaded in a while; for much of the reigns of Balor, Joe and Nakamura, it's not like there were multiple threats to the title, so I think we're in a good place regardless of who holds this belt.
Drew's storyline heading to a title match was simple but effective. I like that he brought up that he was once the "Chosen One" and wasn't able to warrant that moniker as time went on. A little bit of truth in mic time always goes a long way, and it's easy to buy what Drew is selling because we know it to be true. McIntyre undoubtedly grew exponentially as a worker during his time off, and carries himself like a star, rather than coming off as a pretender who's desperately looking to be taken seriously; sometimes this ability can't be learned, but somehow, McIntyre put it together.
Roode, as a heel champion, continues to be booked expertly. The too-loud cheers he receives have ebbed somewhat as Roode continues to be the heel who doesn't give fans what he wants, and more importantly, faces babyface challengers that the fanbase is latching onto. For me, the biggest question mark in this match is whether Roderick Strong is able to keep himself at bay; we saw Strong demanding satisfaction a couple of weeks ago backstage as Regal claimed his hands were tied. Will Strong interfere because he can't help himself? I think Strong almost has to appear for his character's sake, and for that reason, I assume Roode retains and goes on to Aleister Black before too long.
NXT Women's Championship: Ember Moon vs. Asuka (Champion)
I appear on a podcast, Wrestling Jabronis, where the big question of this match was whether to treat their previous TakeOver tangle as the first match of this feud, or to treat this one as a new feud, as the first one featured a mildly heelish Asuka whereas this one has seen Asuka being far more heelish. To me this is an interesting question. If this is a restart and we consider this match #1, I think Asuka wins to finally send Ember into a flying rage, but if it's a continuation, I honestly think this is where Ember finally wrests the title away from Asuka, and Asuka gets her rematch at another TakeOver before taking some time off as she prepares to spend some years on the main roster.
I actually think Ember benefited a little from getting hurt when she did, cold though this may sound, as the team was able to keep heat on her and make her a more sympathetic figure because she wasn't even able to prove herself while she sat on the sidelines. Ember has improved as a talker – there are still strides to make, but she's starting to convince me – and is still an in-ring dynamo. Asuka's loss has to seem like a big deal, and I'd hazard to say this is the matchup that can make that happen. I always blow it by predicting an Asuka loss, but this really might be the time.
NXT Tag Team Championship Match: SANitY vs. The Authors of Pain (Champions)
As previously stated, it's going to take a miracle here to continue framing the tag title match as the possible show-stealer, though variation is good, and this is as far an opponent from #DIY as it comes. The burn on this left a lot to be desired, as Killian Dain and Alexander Wolfe simply appeared on the ramp a couple of times to display that they wanted the titles, but I nonetheless think that the crowd is going to get into this wacky heel-heel matchup while probably favoring SANitY, what with them essentially being the lovable losers of NXT, who keep their heat by being weird as a way of trying to distract from the fact that they almost never win as a unit.
This match, though it could be a guilty pleasure, feels a lot like a placeholder, and I doubt highly that the potential rub from beating AoP is going to be given to a heel team. Dain has received a few singles matches on TV in semi-recent weeks, and I suspect his singles push will continue after this failure to take the titles.
Aleister Black vs. Hideo Itami
Itami's issue with Kassius Ohno seemed more TakeOver-ready than this match, but instead that issue was blown off on TV (temporarily; I assume Ohno isn't finished with Itami) in order to keep the red-hot Aleister Black from missing the card. I continue to be blown away by the reactions for a guy who gets no mic time; Black's in-ring charisma has been so strong that he hasn't needed any. It'll be interesting to see how long they can get away with having a top babyface who doesn't speak.
Hideo Itami's turn has been done very well, and I think hearkens back to old-school wrestling where an effective heel turn happened over the course of weeks, which is much more believable to me than a swerve moment. Itami does the condescending thing very well, and this match should be fun, as Black isn't the kind of character that's going to take Itami's crap laying down.
Neither of these men seem particularly primed for a loss, but Black hasn't had a single one and I doubt this changes as he works his way up to a title match, so I'll stick with him here.
Johnny Gargano vs. Andrade Almas
While this match will be excellent between the ropes and I'd say is likely to open the show, as a booking experiment it came together quickly (which is no surprise given that Gargano's natural opponent is still out with an injury). Like the match above, neither seems to be in a great position to lose a match. Gargano's got to be hot for his blowoff with Tomasso Ciampa, and if Almas can't win matches with the new valet at his side, then when will he ever?
If ever I felt like a match existed as a farewell to the NXT, it's this one. We've seen final character tweaks – like the addition of Zelina Vega in Almas's corner – just as characters were going to head up to the main roster, and if Almas loses this match, I think there's a good chance he's going to appear on SmackDown before long (not that I have inside info, but it seems a better fit for him). If Almas isn't heading north, I think he should probably win this match and stay at least lukewarm before someone beats him in his final NXT appearance.
Who Else?
Roderick Strong will get a good match filmed for the following episode of NXT, but I really suspect he'll be on the show proper. Other than that, I can't see any obvious suspects for matches to appear on the show unannounced. Pete Dunne could also appear – maybe against a guy like Mark Andrews – but who knows the plan for these guys? I could also see a couple of the women from the Mae Young tournament getting a moment to hype that show – which debuts in the week after.
Predictions
Ember finally gets the Women's Title while the other heels retain, and Black and Almas win their matches. Like I stated at the outset, this isn't going to be like recent shows where I correctly predicted every match; I have very little confidence in a lot of these, which is what I like to see in a TakeOver special – particularly one that's part of a Big Four weekend. Enjoy the show, and I'll go over an individual's progress in the week or two after.