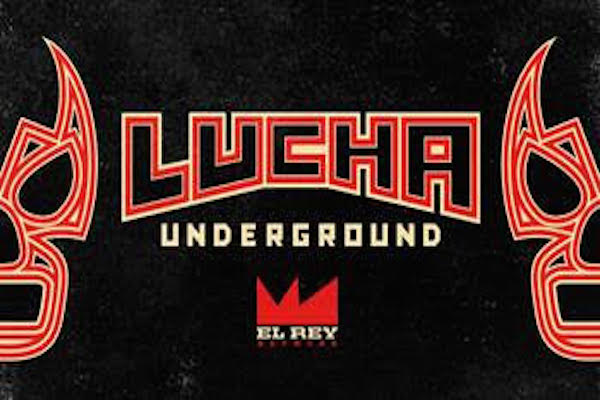 ---
SPOTLIGHTED PODCAST ALERT (YOUR ARTICLE BEGINS A FEW INCHES DOWN)...
---
LUCHA UNDERGROUND TV REPORT – "Havoc Running Wild"
AUGUST 30, 2017 (Season 3, Ep. 33)
TAPED IN LOS ANGELES, CALIF.
AIRED ON E REY NETWORK
REPORT BY JOEL DEHNEL, PWTORCH CONTRIBUTOR
-The show opened with recaps of Matanza-Dario, Fenix-Marty Martinez, Veneno-Ryan, Havoc-Madness and Mundo-Mysterio.
-Dario met with Matanza. Dario said he thought he knew best, but he was wrong. He said he understands that Matanza was meant to protect him. He said that Mysterio humiliated the entire Cueto legacy and now he must pay. He said he will give Matanza Rey in 2 weeks in the main event. He told him he had to destroy Mysterio for the family.
-Title Card
Announcers: Vampiro welcomed the audience to the show. Vampiro said there will be four nights of Ultima Lucha Tres which will be headlined by Prince Puma and Johnny Mundo. Striker threw to Santos in the ring.
In ring: Santos introduced Madness followed by Sagrada.
[JD's Reax: I just noticed that Sagrada's entrance music is the theme to the Comedy Central show "Nathan for You."]
1 – SON OF MADNESS vs. MASCARITA SAGRADA
Madness stomped on Sagrada. Madness taunted him and hit a back breaker. Sagrada came back with a DDT and tried an inside cradle. Madness fell to the outside. Madness tripped Sagrada then reentered the ring. Madness hit a brain buster back in the ring for the win.
WINNER: Son o Madness at 2:13.
Post match: Havoc attacked Madness following the match. Dario called for Security to stop this havoc and madness. Paul London carried off Sagrada. Dario then told Havoc and Sagrada they will fight each other tonight for an Aztec medallion in a Boyle Heights Biker Brawl.
[Break]
In ring: Santos introduced Marty Martinez who was standing directly behind
Santos. Also in the ring was Argenis.
[Break]
2 – MARTY 'THE MOTH' MARTINEZ (w/Mariposa) vs. ARGENIS
Marty clubbed Argenis then hit him with a big boot. Argenis came back with a dive to the outside. Marty ought back and they brawled up into the stands. Mariposa attacked Argenis while the referee was distracted. Marty continued the onslaught in the ring. Argenis continued to bleed with his mask busted open. Argenis hit a neck breaker. Marty stopped him and drove his knees into Argenis' face for the win.
WINNER: Argenis at 5:03.
Post match: Marty ripped off Argenis' mask. Mariposa grabbed the mic rom Santos and handed it to Marty. Marty asked Santos if she liked him taking the mask off of Argenis. He threw it at her and said this isn't the mask he wanted. He said he's gonna get Fenix's Mask at Ultima Lucha Tres. Fenix then attack Marty from behind, he then took out Mariposa. Santos handed the mic and Fenix said it would be his mask vs. Marty's hair at Ultima Lucha.
[Break]
In ring: Santos introduced Joey Ryan followed by Sexy Star.
3 – JOEY RYAN vs. SEXY STAR
Star attacked Ryan to begin. She hit a DDT and went for a cover.Star hit a neck scissor then slapped Ryan. Ryan slammed Star to the ground. Taya came running down to the ring holding a sign that said Go Sexy Star! Ryan hit a body slam of the distraction. Star fought back and tossed Ryan across the ring several times. Star then hit the three amigos and went for a cover. Star then jumped off the ring apron and onto Taya. Ryan hit a super kick back in the ring for the win.
WINNER: Ryan at 4:47.
Post match: Cortez Castro came out and Beat Ryan with a Singapore cane.
[Break]
Dario's office: Castro came into confront Dario about Mr. Cisco. Dario said next week he will fight Ryan in a street fight next week. Dario said he would even make it for a medallion. Castro accepted his challenge then broke his cane of his knee.
In ring: Santos introduced Son of Madness followed by Son of Havoc.
[Break]
4 – SON OF HAVOC vs. SON OF MADNESS – Boyle Height Biker Brawl for an Aztec medallion
Havoc leaped onto Madness. Madness tossed Havoc to the outside then jumped onto him. Madness tried to his Havoc with a trash can, but Havoc dodged it then hit Madness. They continued their brawl into the stands. They continued the brawl on the outside going back and forth. Eventually the action got back into the ring. Havoc tossed Madness back to the outside. Havoc leaped onto him launching Madness into the bleachers. Havoc went on a full on assault landing a cross body and sanding moonsault. Madness came back with a neck breaker. They traded kicks back and forth. Madness then brought a garbage can into the ring and hit a death valley driver. Madness dug into a tool box and grabbed a hammer. Havoc dodged the attack then hit Madness with a beer bottle followed by a shooting star press for the win.
WINNER: Son of Havoc at 13:07 to win an Aztec medallion.
FINAL THOUGHTS: Ultima Lucha is shaping up nicely. Many of the feuds were developed earlier in the season and are now being made in Ultima Lucha matches. I still think four nights of Ultima Lucha is far too much, but as of now it looks like they will have worthy matches to fill out the card.
---
NOW CHECK OUT LAST WEEK'S REPORT: 8/23 Lucha Underground TV Report: Johnny Mundo vs. Rey Mysterio for LU Title, Prince Puma vs. Pentagon Dark, The Cueto Cup