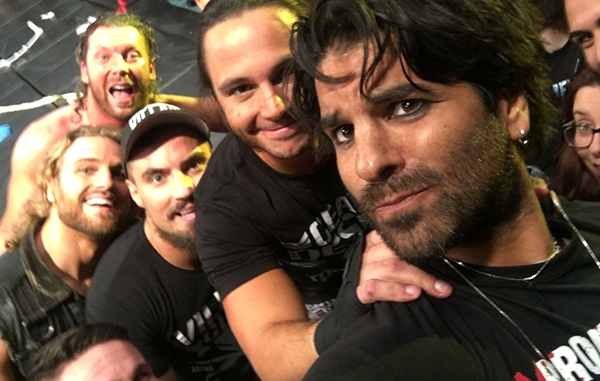 ---
SPOTLIGHTED PODCAST ALERT (YOUR ARTICLE BEGINS A FEW INCHES DOWN)...
---
RADICAN'S "ROH GLOBAL WARS 2017: CHICAGO" PPV REPORT
OCT. 14, 2017
CHICAGO, ILL.
AIRED LIVE ON FITE.TV
The show opened with Ian Riccaboni and B.J. Whitmer hyping the show in front of the stage. It looked like they were facing away from the ring, which isn't a commentary position I've seen before in ROH. The entrance looked great and the new graphics for each wrestler were a major improvement over what has been used in the past.
ROH World Champion Cody Rhodes made a surprise entrance. He cut a promo and said a tweet had gotten under his skin. He was talking about a tweet that Roman Reigns made saying Cody wasn't the biggest draw in wrestling. Cody basically cut down Reigns the same way Cena did in the build to their match at No Mercy referencing his failed drug test and hiding a gut under his vest. Cody brought a masked fan into the ring and said he was going to film a live episode of Being the Elite. The fans posed for a selfie with Cody. He then unmasked and it was Dalton Castle returning from a fake injury. Castle put the boots to Cody and the fans reacted strongly to the segment. Cody ended up bailing to the back.
(1) Best Friends (Chuck Taylor & Trent) vs. SIlas Young & Beer City Bruiser. This was a fine opening match. I feel like Taylor and Trent deserve a better spot than this on the shot. The Best Friends gimmick feels like something that has been done elsewhere in the past, but it's fine for ROH. It just doesn't feel like the best way to use these two. Taylor just completed a great storyline in PWG that culminated with him winning the PWG World Championship and Trent is going to enter the heavyweight division in NJPW. This was a fine way to begin the show. Taylor hit sole food on Young and went to bounce off the ropes, but Bruiser hit him with his keg. Young then hit misery on Taylor to get the win.
Winners: Silas Young & Beer City Bruiser
Star rating: (**¼) – The match was fine, but this was another example of how weak Delirious is as a booker. Young is coming off his biggest win ever after having beaten Lethal in a last man standing match at ROH's "Death Before Dishonor XV" PPV last month. On this show he's relegated to a forgettable opening tag match.
(2) Marty Scurll vs. Hiromu Takahashi (w/Daryl). The problem I had at the beginning of the match was the announcers didn't hammer home that Scurll recently punked Takahashi at NJPW's "King of Pro Wrestling" PPV on Oct. 9. Scurll snapped Takahashi's fingers apart as he was trying to line himself up to be Will Ospreay's first challenger for the IWGP Jr. Hvt. Championship. This should have been all about revenge, but they did some comedy spots involving Daryl. Once Takahashi and Scurll moved beyond the comedy spots, this turned out quite well. ROH has suddenly become "woke" when it comes to how they are being perceived by fans in their relationship with NJPW, so we got some Info Wars style numbers from Riccaboni that stated ROH was winning the all-time ROH vs. NJPW series 52-51-1. Both of these wrestlers are considered NJPW talent by most fans. Scurll is over because of the Bullet Club gimmick and Being the Elite association and Takahashi is a core member of the NJPW roster. To count Scurll's win over Takahashi as a win for ROH is a bit of a stretch, so you see where these numbers are being spun. Also, Scurll is the #1 contender to the IWGP Jr. Hvt. Championship and ROH killed all his heat during his run as ROH World TV Champion before he joined Bullet Club, so I consider him a NJPW talent more than an ROH creation.
The match heated up after the antics with Daryl. They had some great back and forth exchanges. Scurll kicked out of the time bomb at one point for a big pop from the fans. He eventually finished off Takahashi with the chicken wing.
Winner: Marty Scurll
Star rating: (***½) – There was some comedy mixed in, but overall this was a hot match with an invested crowd. It would have played out even better if they had pushed the Takahashi revenge angle that started at the King of Pro Wrestling PPV.
(3) The Addiction (Christopher Daniels & Frankie Kazarian) vs. KUSHIDA & Cheeseburger. This was fine for what it was. It was clear Daniels and Kazarian were going to go over. They did some comedy with KUSHIDA and Cheeseburger blocking a stereo sunset flip attempt from The Addiction before they locked in stereo cross-arm breakers. The Addiction eventually got the win with celebrity rehab on Cheeseburger.
Winners: Christopher Daniels & Frankie Kazarian
Star rating: (**) – This seemed like a waste of KUSHIDA on a stage like this. He's one of the best performers in NJPW.
Kazarian was going to put Cheeseburger through a table after the match, but Bully Ray made the save and slammed Kazarian through the table. Bully then cut his fourth straight fake retirement promo. He actually was really good here and laid it on thick. He went as far to bring a child into the ring. He told the child that he represents all of the fans that have supported him over the years. He then thanked the child. I was expecting Jay Briscoe to come out here, but he never did. Bully gave the child a piece of the broken table and thanked the fans before leaving. I don't believe he was able to draw a please don't go chant, but this was well done even though I'm not a fan of a concussion retirement angle in 2017.
(4) Bullet Club (ROH World Champion Cody Rhodes & The Young Bucks Matt & Nick Jackson & Hangman Page) vs. Search & Destroy (ROH World Tag Team Champions MCMG Alex Shelley & Chris Sabin & Jay White & Jonathan Gresham). This was a coming out party for Page in this match, as he had some fantastic sprints of offense. At one point he hit a standing crazy dropkick/moonsault combination. At one point Bullet Club got a four way sharpshooter spot going on their opponents that fired up the crowd. Page hit a SSP to spike a Meltzer driver on the floor at one point, but it came off as a light spike. I've never been a big fan of his SSP shoulder tackle off the apron and this variation of it didn't look great either. At one point, Gresham was hitting chops on all four members of Bullet Club and he was all by himself in the ring. He then did a crotch chop and told them to suck it only to eat a triple superkick from Cody and The Young Bucks. Page eventually finished Gresham off with the rite of passage for the win. This was a ton of fun and the crowd ate it up from beginning to end. It was eventually billed as the main event, but obviously they changed plans and put Kenny Omega vs. YOSHI-HASHI in that spot.
Winners: Adam Page & Matt Jackson & Nick Jackson & Cody Rhodes
Star rating: (***¾) – This was a sprint from start to finish. One aspect they could have focused more on here was The Young Bucks looking to get back in the ROH World Tag Team Title picture after losing to MCMG on the last PPV, but that angle wasn't played up much and this was more about Page continuing to grow his profile in ROH.
The show went to intermission. This would be a good spot for them to air a WOH match or a match from a previous show on the tour instead of just airing a graphic on the screen for 15 minutes.
(5) The Dawgs (Rhett Titus & Will Ferrara) vs. Justin Pusser & Brian Johnson (w/Miss Jasmine). This is a match I would not allow on a major show like this under any circumstances. Pusser and Johnson aren't quite ready for prime time yet and do not look even close to major league. Titus and Ferrara are doing a gimmick where they come off like Enzo Amore's annoying distant cousins. Titus and Ferrara won the match in short order.
Winners: Rhett Titus & Will Ferrara
After the match, Jay Briscoe came out and ran off Titus and Ferrara. He then yelled at Johnson and Pusser as they were helped to the back for not wiping their feet before entering his ring. In a strange twist of events, Jay did not address Bully Ray. Instead, he talked about Mark Briscoe suffering an injury and said he wants to get The Briscoes back together once Mark heals his elbow.
Shane Taylor came out to no reaction. The announcers mentioned he's been a bodyguard for hire of sorts in recent months in ROH. He said you get a big payday when you step in the ring against Suzuki Gun. He then said he was going to cash in and added himself to the upcoming tag match. The crowd didn't react at all to Taylor's promo. He said ROH officials had made him Kenny King and Jay Lethal's partner.
(6) Shane Taylor & Jay Lethal & ROH World TV Champion Kenny King vs. Suzuki Gun (NEVER Openweight Champion Minoru Suzuki & IWGP Hvt. Tag Team Champions Lance Archer & Davey Boy Smith Jr.) The crowd ate up Suzuki's entrance. This match was designed to get Taylor over, but he didn't come off well in this match and his gear looked extremely minor league. The highlight of the match was some big chop exchanges between Lethal and Suzuki. Suzuki was great smiling and telling Lethal to bring it during a strike exchange. Suzuki eventually ended up booting Lethal right through the ropes to the floor. Taylor managed to fend off Suzuki's sleeper/Gotch piledriver combination several times, but Suzuki finally cinched in the choke. He then delayed the finish by lifting up Taylor in position for the Gotch piledriver and he held it for several seconds as referee Paul Turner sold shock before hitting the move.
After the match, Suzuki gun went after several attendants and the ref.
Winners: Minoru Suzuki & Lance Archer & Davey Boy Smith Jr.
Star rating: (**¾) – This was a solid match. Taylor didn't come off great despite ROH trying to spotlight him as a big deal in terms of putting up a fight before falling short to Suzuki. Another disappointment was that Delirious chose to push Kenny King to the background here after he beat KUSHIDA in a fantastic match at "Death Before Dishonor XV" last month to capture the ROH World TV Title. The key with someone like King is in the follow up and having King on the losing side of a tag match isn't a great way to protect him.
(7) Toru Yano vs. Colt Cabana. Cabana got a big pop. He got a hug from Marty DeRosa at ringside before getting into the ring. Yano threw some water at him once he got into the ring. Both men exchanged their respective DVDs before the match began. Yano tossed Cabana's DVD to the floor. Cabana went to get the DVD, but he got rolled up from behind for a 2 count. Cabana tossed Yano's DVD out of the ring. He then rolled up Yano for a near fall. Both men went to the floor to get their DVDs. Yano sold his to a fan for $40 yen. Cabana gave his DVD away to a fan. Yano grabbed a turnbuckle pad and ripped it off. Cabana refused to come back into the ring until Yano put it down. Cabana got the pad and Yano ducked a pad shot and ripped off another pad and they had a turnbuckle pad duel. Cabana knocked the pad out of Yano's hand and he begged off. Cabana teased giving him a turnbuckle pad to even the odds, but then he blasted Yano with the other pad. Yano tried to grab the ref and hit a low blow, but Cabana avoided it. Yano and Cabana pushed the ref back and forth to each other. Yano finally shoved the ref to the side and shrugged. Cabana went to check on the ref, but Yano nailed him with a low blow for a visual pin with the ref down. Yano taped Cabana's hands together. He charged at Cabana, but ate an elbow. Cabana then got a leverage pin for the win.
Cabana wanted a handshake, but Yano backed out of it.
WInner: Colt Cabana
Star rating: (**¼) – This was fine for a comedy match, but they should have turned down the comedy elements on the other matches in the card if they were going to out this match on late.
(8) IWGP Jr. Hvt. Champion Will Ospreay vs. Flip Godon in a Non-Title match. Ospreay did some comedy early. He kept scratching Gordon and acted liked he was a cat. He got Gordon in a submission and plugged his merchandise website. Flip did a fakeout step-up dive and flipped back into the ring. He eventually hit a kick from the apron to the floor. He then yelled too sweet before hitting a moonsault to the floor on Ospreay. Flip did a lot of unnecessary flipping while on offense. He hit a standing moonsault on one leg for a 2 count. Ospreay fired back with a flipping handspring kick off the ropes and both men were down as the fans fired up. Ospreay went on the attack and hit a crazy twisting corkscrew press for a 2 count. Ospreay sent Gordon to the floor and hit a space flying tiger driver. They went at it on the apron and Gordon sent Ospreay to the floor with a big kick. He then hit an insane double jump moonsault to the floor. WOW!!! Gordon hit a big combinations of high flying moves capped by a springboard moonsault off the second turnbuckle for a near fall. Ospreay took a big kick up top from Gordon. They went back and forth and Ospreay hit a big springboard stunner, but Gordon fired right back with a springboard stunner of his own and both men were down. WOW! That was insane!! The fans chanted this is awesome as both men struggled to get to their feet. Ospreay got the better of a big strike exchange. Gordon blocked the Os-cutter and hit a springboard sling blade. He then hit a 450 off the top for another near fall! The fans chanted fight forever. Gordon missed a kneeling 450, but landed on his feet. Ospreay hung Gordon up on the top rope and nailed him with a SSP! WOW! Ospreay made the covered, but Gordon kicked out! Ospreay hit the Robinson special and then hit the Os-cutter for the win.
Winner: Will Ospreay
Star rating: (****) – This was a star making performance for Gordon, who went hold for hold and move for move with Ospreay. This was a great contest between an up and coming high flyer like Gordon and an established veteran in Ospreay. The key here will be in the follow up. Will ROH forget about Gordon, will he get lost in the shuffle, or will he get the call to NJPW. It's certainly a possibility given how competitive the match was. Riccaboni and Whitmer had a great call for this match as well and really sold the drama of Gordon possibly getting the biggest win of his life.
After the match, both men bowed to each other and hugged.
YOSHI-HASHI was out first for the main event. This is his first time in the U.S. The fans didn't give him much of a reaction. IWGP U.S. Champion Kenny Omega was out next. He did not have the title with him. He got a huge pop. Omega also forgot his belt during G1. Omega was wearing a Brandt t shirt. The fans showered him with streamers once he got into the ring.
(9) IWGP U.S. Champion Kenny Omega vs. YOSHI-HASHI. We have an all NJPW main event here. Omega offered a clean break against the ropes. HASHI then teased a clean break, but hit a big chop. Omega stared into the camera and sold shock. I hope Kevin Dunn isn't watching. Omega paint brushed HASHI and slapped him across the face. HASHI fired back and hit a huge running chop in the corner. He then hit the headhunter off the ropes for a 2 count. The action spilled to the floor and HASHI went to work on Omega. Omega fired back and hit his Finlay roll/springboard moonsault off the guardrail combination. Omega smiled into the camera again before hitting the moonsault. Omega is wearing his main events tights. He grabbed a table out from under the ring and balanced against the guardrail. HASHI managed to counter Omega's attempt to suplex him into the table and he hit a suplex of his own. They ended up back in the ring. Both men exchanged big chops. Omega countered a bulldog and hit a leaping leg drop for a 2 count. Omega dominated the action, but HASHI mounted a comeback and sent Omega into the corner with a hurricanrana. HASHI hit a modified codebreaker and a superkick. He then spun Omega into a neck breaker for a 2 count.
They went to another chop exchange, but Omega hit a standing frankensteiner that sent HASHI to the floor. Omega set up for and hit rise of the Terminator. The fans fired up HUGE when Omega connected with the dive. Omega sold his knee after landing. Omega teased putting HASHI back into the ring, but then pointed at the table. Omega lifted up HASHI and hit a running powerbomb through the table. The ref admonished Omega, but did not DQ him. Omega hit a big neck breaker over his knee, but HASHI kicked out! Omega blocked a lariat and hit a V trigger, but HASHI got right up and hit a western lariat! Omega countered him and hit a snap dragon. Omega set up for the one-winged angel, but HASHI countered it into a DDT! HASHI hit a running double knee strike. He then powerbombed Omega and floated over him into a pinning combination for a 2 count. Omega ended up backing HASHI into the ref, who spilled to the floor. Does every ROH show have to have a ref bump in a big match? Bullet Club came out and put the boots to HASHI. Omega stumbled to his feet and told the Young Bucks and Scurll he wanted a fair fight. He stopped them from attacking HASHI. Omega then called for the 10 boots spot. The fans chanted 10 boots. Cody and Page ran down to set up the 10 boots spot. Omega grabbed HASHI, but HASHI countered him and hit a back cracker.
Bullet Club appeared to be stuck in the corner. CHAOS ran down to the ring alongside Flip Gordon. CHAOS set up 10 boots in the opposite corner. Omega countered HASHI and tried to run him into the Bullet Club 10 boots. They went back and forth exchanging blows. Omega finally shoved HASHI into the BUllet Club 10 boots and the CHAOS 10 boots. Omega then hit a Dr. bomb on HASHI. The ref ran into the ring and made the cover, but HASHI kicked out. Omega hit a big V trigger and then hit the one-winged angel, but Yano dragged the ref to the floor. Trent got into the ring with the ref on the outside and hit the dude buster. The fans booed him. Page then hit a big lariat on Trent. Bullet Club and CHAOS went back and forth inside the ring. Ospreay wiped out Cody with the Os-cutter. He then hit a big step-up SSP to wipe out Bullet Club. Nick then wiped out Gordon with a 450 through the table. HASHI went for a swanton, but Omega got his knees up. Omega hit a big V trigger. He then got HASHI up and hit the one-winged angel for the win.
Winner: Kenny Omega to retain the IWGP U.S. Championship
Star rating: (***½) – Omega didn't have his belt with him and this felt like a watered down title defense given that the fans didn't care much about HASHI. The action was really good, but they added a lot of bells and whistles to get the fans into the action building to the finish. ROH could have really promoted HASHI as a threat to Omega and mentioned that he beat Omega during G1 in 2016, but they decided to not bring any of their NJPW history into the equation.
Cody got on the mic and asked the fans if they remembered when wrestling was cool in the 90s. He said wrestling was now cooler than ever. The fans applauded. Cody thanked NJPW. He then said they should thank the man that carries NJPW on its back. He then gave Omega a big introduction.
Omega got on the mic as the fans clapped the Terminator theme. He thanked the fans. He said he would not sell merch to impolite people, but everyone was polite on this day. Omega said he's not a full-time member of the ROH roster. He said he represents NJPW by contract only. He said what he represents is Bullet Club and Being the Elite. He said everyone that clicks like and subscribe is part of Being the Elite. Omega said he loves disparaging remarks on their YouTube page. He said HASHI tried hard, but there's a difference between trying hard and being a tryhard. Omega said he was tired and hat jet lag. Omega went to hit his catch phrase, but Matt stopped him and said this is the last night of the Global Wars tour.
He said they should take a Bullet Club selfie. Nobody had a phone on them. Matt looked down Kenny's pants, but he didn't have a phone. Matt said somebody should have a phone to take a selfie. They panned to the crowd and Jimmy Jacobs was in the phone holding up a phone. The fans applauded once they realized it was Jacobs! WOW! A big Jimmy Jacobs chant broke out. Jacobs then took a selfie with Bullet Club.
Riccaboni said this was a shocking ending to the tour. Nick got on the mic and said, "Sorry we got your ass fired, Jimmy." Well, it was more than the Bullet Club selfie that got him fired, but I digress. Omega got back on the mic and coughed dramatically. He then set the crowd up to say FTR. Matt said he's a good Christian boy and they should say the whole thing. The fans then said F–k the Revival. Omega then hit his catch phrase to close the show as the fans applauded.
Overall score: (7.5) – This was a very good show. It felt bloated at times and dragged in some spots. A tighter show that didn't go close to four hours would be optimal for iPPVs, as there was definitely some filler on this show that ROH could have cut out.
The show featured a number of good matches up and down the card. ROH spinning the NJPW vs. ROH head-to-head record is an interesting development. ROH booker Delirious seems to have a hard time following up on big moments for talent trying to advance up the card. Kenny King won the ROH TV Title, but was an afterthought on the losing side of a six man tag on this show. Silas Young got a huge win over Jay Lethal on the last show to blow off their feud. He got the win on this show in a forgettable opening tag match.
The way the Bully Ray vs. Jay Briscoe angle has played out is confusing. Bully Ray cut fake retirement promos on all of the shows on the Global Wars tour. It seemed like it would actually go somewhere and result in a confrontation with Jay Briscoe, but that didn't happen. Jay Briscoe came out and said he wanted to get back to being a tag team with his brother Mark once he returns from injury.
The show had a star making performance from Flip Gordon, who took new IWGP Jr. Hvt. Champion Will Ospreay to the limit in an outstanding semi-main event. Gordon lost the non-title encounter, but the key will be is Delirious capable or willing to follow up on it. The other option is NJPW stepping in and getting behind Gordon to challenge Ospreay for the title at some point in the future.
The main event between Omega and HASHI for the U.S. Title was good, but the fans didn't care about HASHI. The booking of the match seemed to be designed to cover for this, as CHAOS and Bullet Club did a run in to provide some smoke and mirrors to fire up the crowd before they went to the finish. The Jacobs selfie to end the show was a great get for ROH, which has really struggled to draw in the hardcore fan base despite hosting acts like The Young Bucks, Marty Scurll, and Cody Rhodes under contract.
Overall, this was a strong show in front of ROH's second biggest crowd ever. The Chicago crowd was hot for most of the show and provided a great atmosphere. The commentary and production were great. It feels like ROH could be so much more than they are and they showed glimpses of that potential on this night.
You can purchase this show on VOD on ROHWrestling.com or FITE.TV.
***
Contact Sean at pwtorchsean@gmail.com. Follow Sean on twitter HERE. Follow and like Radican's Wrestling Community Facebook.com HERE