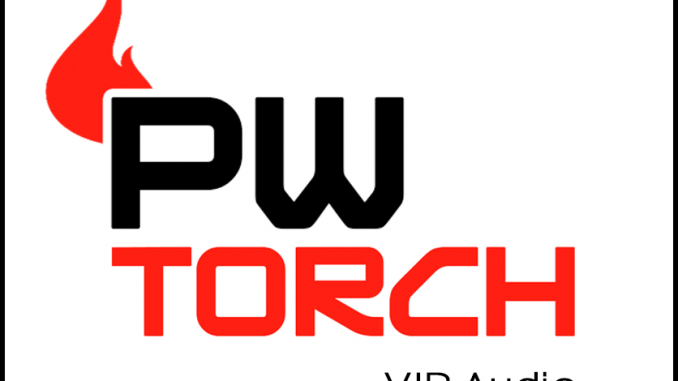 ---
SPOTLIGHTED PODCAST ALERT (YOUR ARTICLE BEGINS A FEW INCHES DOWN)...
---
Thanks for your interest in a PWTorch VIP membership!
For a very limited time, get
10 DAYS FREE

to try a PWTorch VIP subscription. No further obligation. No catch.
---
SUMMARY OF VIP-EXCLUSIVE BENEFITS
Every month, over 70 VIP-exclusive podcasts + over 25 PWTorch Livecasts with plugs & ads removed exclusively for VIP members + The Wade Keller Pro Wrestling Podcast (sometimes with exclusive VIP Overrun content) – usually over 120 podcasts per month in total.
VIP Podcast RSS feeds compatible with iTunes and popular podcast apps on iPhone and Android, broken into categories, themes, show titles, or a single catch-all feed for all shows.
An ad-free version of PWTorch.com plus exclusive VIP bonus content and VIP archive access, all mobile-friendly.
Unmatched library of 1,500+ newsletters, 1,000s of articles, and 1,000s of hours of podcasts dating back 30 years with special sections with curated highlights of key topics, subjects, and themes.
---
VIP MEMBERSHIP PRICING
•PAYMENT METHOD: We accept payment via Pay Pal, the world's largest online and totally secure payment processing service, with over 173 million users worldwide. With Pay Pal, we never see your credit card information; only Pay Pal does.
•VIP MEMBERSHIP OPTIONS: We offer monthly, three-month, and one-year subscriptions, which auto-renew at the end of each term unless you cancel first.
LOWEST RATE: $8.25 per month (billed $99 annually, save $21 per year!).
GREAT VALUE: $9.16 per month (billed $27.50 every three months, save $10 per year!).
REGULAR LOW MONTHLY RATE: $10 (billed once a month, cancel anytime).
Prices are the same worldwide. We have subscribers in dozens of countries around the world! We'd love to add you as a satisfied customer.
TESTIMONIALS: Let VIP members tell you what they love about their membership by checking out our Testimonials Page.
Or read on for our Mission Statement and then expanded details on VIP benefits…
---
MISSION STATEMENT
Our mission is to provide our VIP members with the most comprehensive, hard-hitting, engaging, informed stream of immersive podcasts and articles covering pro wrestling from the top independent team of pro wrestling journalists and analysts you'll find anywhere.
We aim to make pro wrestling more enjoyable for fans who outgrow being blindly loyal to pro wrestling or any particular brand, but still have a passion and curiosity for where the pro wrestling industry goes from here – tracking not just what's happening, but seeking answers to why it's happening. Also, we utilize our experience and sources to cut through the daily barrage of false reports and the "click bait" backstage gossip to find out what's real and true and put it in context.
Although most PWTorch VIP members still watch pro wrestling regularly, some don't watch much pro wrestling anymore, but instead follow it through our podcasts and articles/newsletters. Most utilize our service to be more engaged than ever with even more viewing of pro wrestling shows (current and historical), watching and then listening to and reading our analysis afterward.
We are journalists, we are independent analysts, and we are forever students of the game, working passionately to help you understand pro wrestling better and enjoy it on a different level than most fans by never stopping our own journey to learn and inquire and decipher everything going on in this fascinating genre.
We are independent. We are unattached to and uncompromised by any affiliation with a pro wrestling company or dependence on cooperation with the companies we cover, so you can trust what we're saying isn't hindered by conflicts of interest or fear of losing a current or future job in the industry. There's less hedging than you'll find elsewhere, no "fanboy" blind loyalty, and no holding back. But we are also committed to fairness and exploring all sides of decisions that are made by promoters and wrestlers.
Our VIP members don't fit any single demographic. We have subscribers who are younger than 18 and older than 80, men and women who call more than two dozen countries home. That said, VIP members tend to be longtime fans who are looking for a higher level of analysis than just hearing or reading "super fans" express what they like or don't like about what they are watching, who crave analysis from people who are as passionate as they are, but bring a level of experience and insight to covering pro wrestling not typically found on free websites or many fan-hosted or celebrity-hosted podcasts. Join us!
---
DETAILS ON VIP BENEFITS
VIP-EXCLUSIVE PODCASTS
NOTE: VIP podcasts are compatible with popular podcast apps on iPhone and Android devices, plus iTunes. VIP Podcasts can also be be streamed directly from our mobile site or desktop site.
•The Daily Wade Keller Hotline: In addition to the Wade Keller Pro Wrestling Podcast on Podcast One, PWTorch founder & editor Wade Keller records a solo update (typically 15-25 minutes) seven days a week, with a look at the latest breaking news, reviews of TV shows (start-to-finish analysis of Raw and Smackdown each week, along with others), and Ask the Editor mailbag editions. Pro Wrestling Torch was founded in 1987 by current editor Wade Keller, a National Pro Wrestling Hall of Fame Journalist and frequest guest on the Steve Austin Show and now host of his own show, The Wade Keller Pro Wrestling Podcast, on the number one podcast network in the world, Podcast One. He has been interviewed on dozens of radio stations (WFAN, NPR) and by dozens of newspapers over the last several decades as a trusted independent wrestling analyst. He hosted his own pro wrestling radio show on KFAN in the early 1990s. He hosted the "Ultimate Insiders" DVD series including long-form sitdown interviews with Matt & Jeff Hardy and Vince Russo & Ed Ferrara.
•The Bruce Mitchell Audio Show hosted by Wade Keller: The second-longest running weekly podcast on any subject anywhere features PWTorch senior columnist Bruce Mitchell. Currently, usually 2-3 times a week they discuss the events of the week for a total of two hours, including a session answering the Bruce Mitchell Mailbag., plus in-depth obituaries, book reviews, DVD reviews with unmatched historical perspective from one of pro wrestling's foremost historians.
•The Fix with Todd Martin hosted by Wade Keller: Veteran pro wrestling analyst, L.A. Times MMA blogger, and Sherdog contributor Todd Martin talks current events for around two hours every mid-week, plus reviews the latest pro wrestling book releases, with his strong point of view on all topics that VIP members value.
•Post-PPV Roundtables: Immediately after each WWE PPV event and occasional other live events, Wade hosts a one hour discussion with a mix PWTorch staff and contributors, usually including Bruce Mitchell and Todd Martin. It becomes available just over an hour after the PPV events conclude.
•Retro Radio Shows: PWTorch exclusively features pro wrestling talk from the pre-podcast era (known as "radio"!) Every Thursday night a new episode, not heard since it originally aired in the 1990s or early 2000s, is added of John Arezzi's New York-based "Pro Wrestling Spotlight," Jim Valley's "Total Chaos" radio show out of Portland, Oregon, or Wade Keller's "Pro Wrestling Focus" radio show from KFAN in the Minneapolis/St. Paul area.
•PWTorch Livecasts with Plugs & Ads Removed: Six weekly episodes of the PWTorch Livecast per week are added to the PWTorch VIP website and VIP podcast feed every week, and VIP member experience them with ads and plugs edited out. Show includes Pat McNeill & Greg Parks hosting "Wrestling Night in America" on Sundays, Michael Grocke & Co. hosting "MMA Talk for Pro Wrestling Fans" on Mondays, Jim Valley's "Wrestling Road Stories" on Wednesdays, Mike McMahon & Andrew Soucek's "Post-Impact" show, "Best of PWTorch Livecast" every Friday, and Rich Fann's "Deep Dive" on Saturdays.
•Wade Keller Pro Wrestling Podcasts: Wade's four-days-a-week Podcast One show, for the convenience of VIP members, is also included on the main VIP Audio Feed that you'll subscribe to as part of your membership and posted on the PWTorch VIP ad-free website.
•Other VIP-Exclusive Podcasts…
Special VIP Aftershows featuring overflow and bonus content after select episodes of the Wade Keller Pro Wrestling Podcast, PWTorch Livecast, and the East Coast Cast.
The Wayback Playback with Pat McNeill & Jim Valley providing alternative commentary for a wrestling event from years ago, sometimes as far back as the 1980s, but also the 1990s and more recent years
Sean Radican Wrestling Community audio shows delving deep into the indy scene, New Japan, and other alternatives to WWE, plus DVD release reviews.
Sean Radican's "WWE Future Past" podcast where he and a guest look at two up-and-coming prospects who might some day work fro WWE and a look back at the indy career of a current WWE wrestler.
Occasional stand-alone exclusive interviews conducted by Keller or other PWTorch staff.
VIP EXCLUSIVE NEWSLETTER & ARTICLES
•Over 1,500 Back Issues of Pro Wrestling Torch Weekly Newsletter: The Pro Wrestling Torch Newsletter is where it all started back in the fall of 1987. When you become a VIP member, you gain instant access to over 1,500 issues of the PWTorch Newsletter online in PDF and/or All-Text formats dating back to the late 1980s. New issues are added in both PDF & All-Text versions every Saturday morning from 20 years ago that week.
•New PWTorch Newsletters: New editions of the 12 page PWTorch Newsletter in both PDF and All-Text formats are posted every week, usually Wednesdays. Each newsletter features Keller's Raw, Smackdown, and PPV reports along with other TV reports on some weeks including NXT. Also, VIP-exclusive PPV Roundtable Reviews from the staff, columns every week from a mix of contributors including Bruce Mitchell and Greg Parks, Keller's Cover Story and End Notes, select Ringside Beat live event reports, the Torch Newswire, and more.
•VIP-Exclusive Articles: The Ad-free PWTorch VIP website features text article versions of the VIP-exclusive articles and columns from each week's new PWTorch Newsletter including Keller's Cover Stories, Keller's End Notes, Columnists, PPV Roundtables, and more, plus other bonus VIP-exclusive content.
ARCHIVES
•30 Years of Pro Wrestling Torch Newsletter back issues: Over 1,500 issues packed with insider backstage info, in-depth analysis of the top stories each week, decades of live event correspondent reports, Keller's TV and PPV reports dating back to the 1980s with stars ratings on pro wrestling's historically biggest matches, PPV Roundtable Reviews, Torch Talk interviews, our exclusive columns, and more.
•Library of Thousands of Hours of Podcasts: Thousands of VIP exclusive podcasts dating back to 2004, a searchable library of PWTorch Livecast episodes (post-Raw, post-PPV, Flagships, interviews, more) dating back to 2009, and the entire library of all Wade Keller Pro Wrestling Podcast One shows (dating back to summer 2017), plus libraries of dozens of episodes of retro radio shows and Torch Talk interviews.
•Special VIP Sections: On the PWTorch VIP website, access our VIP Special Sections including comprehensive collections of articles and podcasts on WrestleMania, Royal Rumble, Summerslam, Ex-WWE Creative Team interviews, and more. Plus a curated list from 15 years of Bruce Mitchell Audio Shows listed by themes and topics.
•Ad-Free Search of VIP Website: Enter keywords and get search returns with lists of articles AND audio shows available in our PWTorch archives on key topics such as "WrestleMania" or "Bobby Heenan" or "NWA" or "Starrcade" or "Vince McMahon."
AD-FREE MOBILE & DESKTOP SITE
•Ad-Free Dedicated VIP Website (Mobile & Laptop/Desktop): Get access to all PWTorch.com content in a VIP-exclusive ad-free environment, plus ad-free access to PWTorch VIP exclusive content, all ad-free on our lightning fast clutter-free VIP mobile site and desktop/laptop responsible site. We offer instructions on three quick steps to add a home page button for the VIP website to your phone's home screen for a virtual app experience with full access to all VIP content.
---