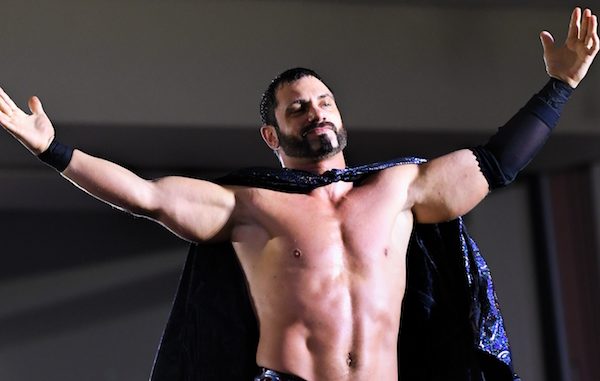 ---
SPOTLIGHTED PODCAST ALERT (YOUR ARTICLE BEGINS A FEW INCHES DOWN)...
---
HITS
Wrestling!: Last week's episode of Impact was heavily wrestling based. That was due to it being billed as a pseudo-pay-per-view-type event. Thankfully, this week's edition followed that trend. With the match totals combined, we got about 45 minutes worth of action. Take out commercials, entrances, video packages, etc. and that's a solid number. This is an encouraging sign that Don Callis and Scott D'Amore will focus more around in-ring content and less on lengthy, meandering promos.
KM vs. Bobby Lashley: I'd harped a few times in the misses section over the past year that KM deserves better. It finally looks like management is giving him a chance. While he still lost to Lashley, he put up a 12 minute fight, hit an impressive dive, and looked like he belonged.
Aries Returns: With the impending departures of EC III and Bobby Lashley, Impact badly needed some star power. The crowd was excited to see Austin Aries back in the fold and he should make the main event scene more interesting for a bit. I just wish it would have played out differently…
Lee and Konley: I'm still not sold on Trevor Lee and Caleb Konley as a duo, but their rebooted effort as a tag team was encouraging to see. A feud with LAX should also help out both of their careers quite a bit. While I'd love to see Lee in the main event scene right now, his character has been so lackluster (all on creative) that he may need some time to rehab his act a bit first. Plus, Impact finally has three official tag teams, that's 33% more than last week!
New Stuff: New intro, new ring, new music, new ring ropes (so long ugly neon green!). All small, but positive improvements.
Brian Cage Vignette: Good stuff from the production team. While online fans know the mystery man is Brian Cage, the video still looked cool and provided a nice tease for when he'll actually show up on TV.
Overall Show: Not a homerun of an episode, but the promotion finally took a few steps in the right direction. There wasn't anything embarrassing, no terrible comedy, and we got to see a few new faces to spice things up. It's still way too soon to know if this latest creative team can deliver the goods but it was a nice improvement over the past few months of TV.
MISSES
Commentary (of course): Terrible, though not quite as terrible as usual. Jeremy Borash sounded like he was at least half paying attention this week, which is a huge improvement. Still. It was bad. Check out the lousy call/enthusiasm for Aries' return as proof.
Fallah Bahh: Impact might have something with Fallah Bahh but they never let the poor guy win! The crowd was into him at the Ontario tapings, and yet they booked him to lose to Matt Sydal in the opener of the new era. Unless he's a headache behind the scenes it's odd that creative won't try to actually do actually something with him.
Aries Wins the Title: As someone who has watched TNA since 2002 and somehow (strangely) often enjoyed it more than WWE, I hated to see Kurt Angle beat Samoa Joe in his first match. I hated Team 3D going over America's Most Wanted. I hated Rob Van Dam pinning A.J. Styles for the world title. I'm not a fan of Aries beating Eli Drake either. Putting the title on Double A a month or two from now? Sure, go for it. But a beaten down Aries suddenly recovering and decisively putting away Drake once again sent the message that WWE experience matters more. If Daniel Bryan or C.M. Punk came into the promotion, yes, absolutely give them the belt night one! Aries isn't that guy. He may have had a good run in TNA/Impact but he came up short three times against Neville in a lackluster feud and then was gone. The new creative team wanted to create a buzz but they didn't have to do it at the expense of one of their best homegrown talents. Also, I don't think that banana thing is as over or as clever as Aries thinks it is.
---
NOW CHECK OUT THE PREVIOUS COLUMN: IMPACT HITS & MISSES 1/25: Final Grand Championship match produces its best match, Van Ness vs. Allie, everyone looks dumb in cage