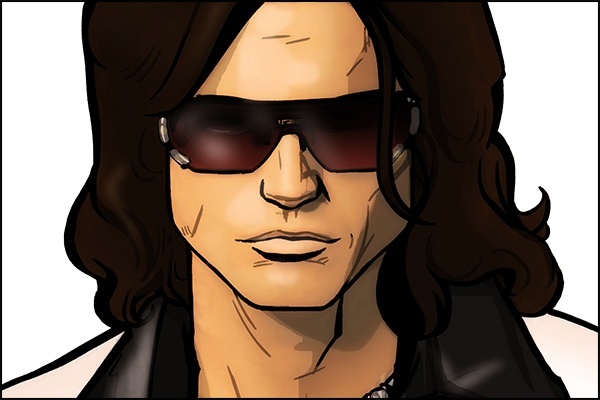 ---
SPOTLIGHTED PODCAST ALERT (YOUR ARTICLE BEGINS A FEW INCHES DOWN)...
---
HITS
The Main Event: An entertaining match. That's about all I have to say about it, I guess. Johnny Impact and EC III worked hard and delivered a couple of nice nearfalls. The problem is Carter is leaving the promotion, Impact stinks as a babyface (more below!), and Tyrus leaving his friend didn't mean anything since they just reunited last week. I would also much, MUCH rather have seen Impact (the promotion, not the stupid last name of a wrestler) have EC III put over someone else on the way out. Roll the dice and have Fallah Bahh or Desmond Xavier go over on him clean. Impact (the wrestler, not the poorly run promotion) didn't need the win to enhance his credibility. He also looked dumb for putting his No. 1 contendership on the line in the first place.
Cage's Squash: Another fun star vs. complete jobber match. Last week's was a little more smoothly, but I like the approach they're taking with Brian Cage. Honestly, give us MONTHS of these squashes before having him even move onto the regular midcard roster. It worked wonders for Braun Strowman, Nia Jax, and even that Ryback dude.
MISSES
Impact's Luggage: Johnny Impact is such a tool. He's completely oblivious to how dorky and conceited he comes across on TV. One of the first segments of the show had him arriving to the arena, being driven in by an employee on a golf car, and dragging his wheeled luggage alongside him. It. Looked. Stupid. He then hopped out of it like he was in an action film. This persona works fantastic as a heel in Lucha Underground. This does not work as a lead babyface on Impact. How can Don Callis and Scott D'Amore look at that footage after it's shot and go "yeah! This guy is awesome!"?
Tag Match: Trevor Lee shouldn't be pushed as a huge dork. Let's start out with that. Second, non-title matches are stupid. You're only giving us a match, so you can then give us the exact same match again. There's literally three teams in the entire company, meaning they can just book a title match because of that reason alone. Also, a miss goes to the announce team who tried to play up Lee as a modern day David Koresh. Not that I found the comparison offensive, but Lee's entire cult consists of ONE GUY.
Trash Can Attack!: Alberto Del Rio attacked Moose with a garbage can off the top rope. A plastic one. Moose sold it like he'd been hit with a hammer. If I was Moose, I'd be pissed off at Patron afterwards for making me sell that garbage. My Impact Livecast co-host Mike McMahon could hit me full blast with a plastic garbage can and I'd be mildly annoyed, not knocked out cold.
Non-Impact Zone Matches: Much like SmackDown's sudden fetish of putting words on the screen when people talk, I hate these. The announcers have to pretend they don't know the finish to the match, when minutes at a time are edited out, revealing they're very much not "live" in any sense. You can never get into the flow of the fights, because they can fast-forward at any moment. They also look awful. I would love to chat with Callis and D'Amore and ask them why they think putting terrible looking half matches on TV is a productive use of anyone's time.
Grandma Jenny: Did Impact go to the same talent agency where they hired Claire Lynch? Just kidding, Lynch played Olive Oil at Universal Studios. Grandma Jenny perhaps is Olive Oil's mom from the theme park? She didn't look like anyone's grandma. She couldn't act. And no babyface on the roster cared that TWO MEN WERE ABOUT TO BEAT UP AN INNOCENT OLDER WOMAN?!?!? Dumb. Not funny. Also, Jimmy Jacobs just isn't clicking yet in Impact. And all of this for the return of Abyss, a character they haven't treated as a serious threat in about eight years?
OVE vs. Moose & Edwards: The former tag team champs (and one of three actual tag teams in the company, as mentioned) lost cleanly to a makeshift tag team cleanly. So let's run through this angle. Chapter 1: OVE kidnaps Bobby Lashley for no reason. We have no idea what happened to him. Chapter 2: Lashley defeats the group's leader cleanly and Eddie Edwards saves him for no reason. Chapter 3: Lashley and Edwards win their tag match and the heels don't get their heat back. Sounds like the end of a really bad story.
FINAL THOUGHTS
Welp, after last week's solid effort I'm worried. I rated this a 5/10 on the Livecast, but in retrospect I'm going 4/10. I just can't get into a show with terrible looking half-matches, bad comedy, potential stars treated as jokes and jobbers, and a mediocre commentary team.
---
NOW CHECK OUT THE FULL TV REPORT: MCMAHON'S IMPACT WRESTLING REPORT (2/22): ECIII vs. Impact for the No. 1 contendership, OVE vs. Edwards/Lashley, El Patron vs. Moose