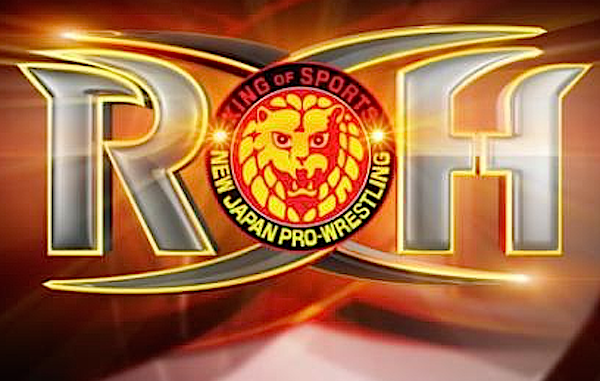 ---
SPOTLIGHTED PODCAST ALERT (YOUR ARTICLE BEGINS A FEW INCHES DOWN)...
---
HONOR RISING JAPAN 2018: NIGHT TWO
FEB. 24, 2018
TOKYO, JAPAN
AIRED LIVE ON NJPW WORLD
(1) The Beer City Bruiser vs. Toa Henare. Bruiser looked good here. He ended up picking up the win with a frog splash.
Winner: The Beer City Bruiser
(2) Jay Lethal & Juice Robinson & David Finlay vs. Bullet Club (Yujiro Takahashi & Chase Owens & Hikuleo). Hikuleo took a combination of moves from Lethal, Robinson, and Finlay capped by hail to the king, which was good for the win.
Winners: Jay Lethal & David Finlay & Juice Robinson
(3) Ryusuke Taguchi & Flip Gordon vs. L.I.J. (Hiromu Takahashi & BUSHI). The fans were excited to see Gordon. Gordon teased a step-up dive to the floor and waved at Takahashi. He then moonsaulted back into the ring and posed for the fans, but BUSHI wiped him out for behind. Takahashi dragged Gordon through the crowd to work him over. Gordon got worked over for a long period of time until Taniguchi got the tag and ran wild. He went to work on BUSHI and grabbed the ankle lock, but BUSHI flipped him off of him. Gordon got the tag and sent Takahashi to the floor. He then wiped him out with a big flip dive and landed on his feet. Gordon missed a 450, but landed on his feet. He went back and forth with Takahashi before catching him with a springboard sling blade for a 2 count. Taguchi went for a flying hip attack on BUSHI. He missed and crashed and burned to the floor. Takahashi and BUSHI went after Gordon. He tried to go at it alone, but took a double superkick. BUSHI wiped out Taguchi with a big suicide dive. Takahashi wiped out Gordon with a Blu-ray into the corner. He went for the time bomb, but Gordon rolled him up for a near fall. BUSHI and Takahashi eventually hit a doomsday MX for the win!
Winners: BUSHI & Hiromu Takahashi
Star rating: (**½) – Gordon got a nice little showcase here, but they kept the match short.
(4) NEVER Openweight Six Man Tag Team Champions Bullet club (Tama Tonga & Tanga Loa & Bad Luck Fale) vs. Jushin Liger & Cheeseburger & Delirious. GOD ended up isolating Cheeseburger and they finished him with gorilla warfare for the win.
Winners: Tama Tonga & Tanga Loa & Bad Luck Fale – This was fine.
(5) The Hung Bucks (ROH Six Man Tag Team Champions Matt Jackson & Nick Jackson & Hangman Page) vs. CHAOS (Chuck Taylor & IWGP U.S. Champion Jay White & YOSHI-HASHI) in a Non-title Six Man Tag match. Page is next in line for a shot at White's title. The fans started a big chant for The Young Bucks before the match began. The fans chanted back and forth for Taylor and The Young Bucks as Taylor and Nick started the match. Page and White went at it a short time later. Page got cut off and CHAOS began working him over. PAge mountea comeback and hit a dropkick/moonsault combo on HASHI and White. The action broke down and The Hung Bucks stood tall with Page working over White inside the ring. White took a combination of moves from The Hung Bucks and the fans fired up. White eventually cut off Matt with a DDT. Page took a beating from HASHI, but finally cut him off with the slingshot lariat. Nick and Taylor tagged into the match. Taylor fended off The Young Buck and got a half crab on Nick. He let go and put one of Matt, but Nick nailed him with a superkick to break it up. The Young Bucks fired back on Taylor and HASHI and wiped them out with a pair of superkicks.
They built up to Page and White going at it inside the ring. White wiped him out with an elbow. He then took out Matt and Nick when they tried to get involved in the action. Page fired back and tossed White into a buckle bomb/double kick combo in the corner with The Young Bucks! WOW! The fans chanted for Page and White with both men slow to resume battle. Page set up for a last rites double stuff piledriver on White from The Young Bucks, but it got broken up. Page walked right into a flatliner from White when he went for the slingshot clothesline. He had White set up for the blade runner, but The Young Bucks wiped him out with a double superkick. Page then hit the rite of passage for the win! WOW!
Winners: Hangman Page & Matt Jackson & Nick Jackson
Star rating: (***¾) – This was a really good back and forth match. Page gets a big win over White to set him up for his upcoming U.S. Title shot.
Page got a chair after the match and used it on Taylor and HASHI. He went to use it on White, but The Young Bucks stopped him. The Young Bucks left and Page got a chair from Kitamura. He then hit the rite of passage on the chair! White held up the U.S Title over White.
The Beer City Bruiser came out and said he had promised his wife he'd come back from Japan with gold before the ROH World Title match could begin.. He said Goto had cheated the night before and tried to insert himself into the match. He brawled with Castle and they were pulled apart. Castle got on the mic and and said he wanted Bruiser in the match.
(6) ROH World Champion Dalton Castle (w/The Boys) vs. Beretta vs. The Beer City Bruiser in a Three-Way match. Beretta is wrestling in this match was an arm injury. HIs shoulder and elbow are both taped up. Trent and Castle worked together early on the outside, but Bruiser wiped them both out. Castle fired back on Bruiser and hit a dive to the floor, but Trent wiped out him and Bruiser with a chair. Lethal was in on commentary and said he would face whoever won this match at ROH's 16th Anniversary Show and beat them. Trent set up Bruiser in a chair on the floor and nailed him with a running dropkick off the apron. Kelly said Trent had a torn bicep and a tear in his right pec. Bruiser took control and punched Castle to the floor before going after Beretta in the ring. He dominated the action for a long period of time. Bruiser went up top for a potential moonsault to the floor on Trent, but Castle cut him off and sent him flying to the floor. The action dragged and Trent ran into the ring and wiped out Castle, but Bruiser wiped him out a short time later and went up top as the fans fired up. Trent cut Bruiser off. Castle came up top with Trent to help him out for a double superplex attempt. They hit it and the fans fired up as Bruiser rolled to the apron. A holy s–t chant rang out in the building.
Bruiser caught Trent with a DVD on the apron a short time later. He then did the Cactus clothesline and both he and Castle went over the top to the floor and everyone was down. Bruiser went up top, but missed a frog splash on Trent. Trent hit a shining wizard ot the back of his head and hit a piledriver. He made the cover, but Bruiser kicked out at the last second. Castle missed a charge in the corner and flew to the floor. Bruiser wiped out Trent with a sick kick and hit the frog splash and Trent kicked out! WOW! Castle suddenly ran into the ring and wiped out Bruiser, who had Trent on wobbly legs. Castle went for the bang a rang, but Trent countered it into a pinning combination for a 2 count! WOW! Castle eventually hit a deadlift German on Bruiser for the win.
Winner: Dalton Castle to retain the ROH World Championship
Star rating: (***½) – This was a very good match. It dragged a little during the early going, but Trent was really good selling his injuries down the stretch as they headed towards the finish.
(7) Golden Lovers (Kota Ibushi & Kenny Omega) vs. Bullet Club (Marty Scurll & Cody). Cody came out with tights that said leader on the leg. Scurll told Kenny he had left him behind. He asked Kota which side is he on. Kenny got the tag from Ibushi and tried to go after Cody, but he ran away. Omega went at it with Scurll, but he ended up jumping right over him and he wiped out Cody with a springboard splash into the crowd. Cody fired back on the floor and Scurll wiped him out with a superkick from the apron to the floor. Cody tagged himself in and went after a worn down Omega.Omega fired back and tagged in Cody. They hit Cody with their big combination of moves capped by the Kitaru crusher. They set up for the cross slash, but Scurll and Cody dragged them off the turnbuckles! Marty and Scurll hit a combination of moves on Ibushi. Scurll held up Ibushi for a springboard double axe handle and both men were down. Ibushi got isolated and Scurll went after his arm. Ibushi finally cut off Cody and made the hot tag to Kenny, who ran wild.
Scurll tagged in and went at it with Omega. Ibushi suddenly sprung to the top turnbuckle and nailed Scurll with a missile dropkick. Omega and Ibushi hit a new tandem version of you cant escape with a running SSP from Ibushi, a springboard moonsault from Omega, and another moonsault from Ibushi for a near fall. They went for the golden trigger, but Cody dragged Ibushi to the floor! Scurll snapped Omega's fingers apart. Cody pulled up the mat on the floor and went for a powerbomb, but Ibushi got out of it. Cody tripped Ibushi on the apron and set up for cross Rhodes, but Omega nailed Cody with a V trigger for the save! Scurll got his umbrella, but Omega cut him off and went for the one winged angel. Scurll hit Omega with his umbrella and hit cross rhodes for a near fall and the fans went nuts for Omega. Scurll got the chicken wing on Omega. Cody put a trailer hitch on Ibushi. Omega finally got to his feet and he did a senton onto Cody with Scurll on his back to save Ibushi! WOW! The fans rang out with another golden lovers chant.
Cody and Omega went at it in the middle of the ring. Omega hit a big V trigger, but Scurll made the save and hit hit fakeout superkick to the leg. Ibushi then wiped out Scurll. Ibushi and Scurll went back and forth and Scurll wiped out Ibushi with a lariat! Ibushi took the doomsday dropkick, but landed on his feet. Omega nad Ibushi hit a flurry of offense. Omega tossed Cody into a HUGE German from Ibushi and the fans went nuts again. Omega and Ibushi set up and hit the cross slash and the fans lost their minds and chanted for the Golden Lovers! Ibushi got wiped out and Cody told Scurll to stand Ibushi up for a kiss. The fans booed and Scurll seemed confused. Ibushi fought off Scurll, but Cody planted a kiss on Ibushi. Ibushi slowly rose up and looked pissed. He nailed Cody with a hard chop and a powerbomb. Scurll went for a quick rollup, but Ibushi kicked out! Omega tossed Scurll into a roundhouse kick. They then hit the golden trigger on Scurll for the win! WOW!
Winners: Kenny Omega & Kota Ibushi
Star rating: (****1/2) – Amazing tag match. Cody was such a jerk in this match and he even made Scurll question him late when he wanted him to hold Ibushi for a kiss. After not connecting on the cross slash or the golden trigger earlier in the match, the Golden Lovers managed to connect on them both late in the match.
Cody told Kelly the kiss was all worth it. He said once you go Cody… Cody then left the announce table.
Omega got the mic and cut a promo in Japanese for the fans. A big Golden Lovers chant rang out. Omega then spoke in English and said this had been one of the best weekends of his life. Omega said after four years in wrestling and eight years in NJPW, the Golden Lovers are back together. Omega said he had reached his peak in 2017. He said his dream to become the best tag team with Ibushi was going to come true. He said they are the best tag team in the world. I can't argue with that.
The Young Bucks came down to ringside to a big pop. Omega said whether it's ROH and Matt grabbed the mic from him. Matt said he doesn't have a problem with The Golden Lovers. Matt said he had a problem with Omega saying The Golden Lovers are the best tag team in world. He said they are not the best tag team in the world. Matt said The Young Bucks are the best tag team in the world. A Young Bucks chant started from the fans. Matt said from this day forward, his brother and him had decided to move up to the heavyweight tag team division. The fans applauded. He said what that means is see you around to Omega. He handed the mic to Omega, who asked them what was going on. The Young Bucks left. Omega spoke in Japanese again about The Young Bucks and the fans gasped and laughed at his words. He seemed to call a match between the two teams a dream match and the fans applauded. Ibushi got on the mic and the fans applauded at his words. Omega concluded the promo and said goodbye and goodnight…bang!
They went backstage to the press conference. Omega said they made a couple of mistakes, but they still won. Omega said Cody was manipulative and acting like an evil WWE reject. He said Matt and Nick were like brothers to him. He said he's sorry and they put him in a bad situation. He said he believes they are the best and if The Young Bucks think they're the best they have no choice but to prove themselves. Ibushi also spoke some words in Japanese for The Young Bucks. Omega said they tried a bunch of new moves and it was fun. Omega said he wants to show they are the best in the world. He said he didn't give a f— about whether or not they had titles. He said he wanted to prove that they are the best.
***
Contact Sean at pwtorchsean@gmail.com. Follow Sean on twitter HERE. Follow and like Radican's Wrestling Community Facebook.com HERE