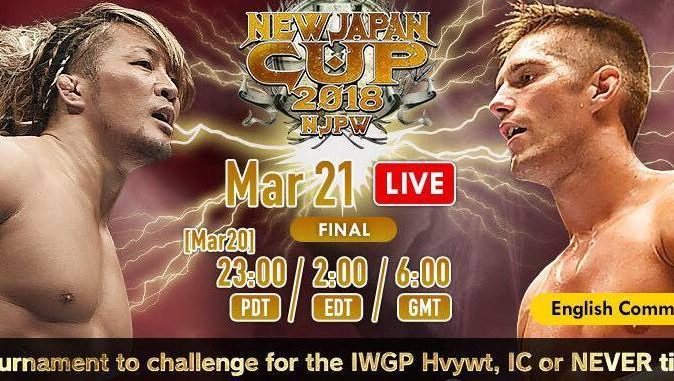 ---
SPOTLIGHTED PODCAST ALERT (YOUR ARTICLE BEGINS A FEW INCHES DOWN)...
---
RADICAN'S NJPW "NJPW CUP 2018 FINALS" BIG MATCH SPOTLIGHT
ZACK SABRE JR. vs. HIROSHI TANAHASHI – 2018 NJPW CUP FINALS
MARCH 20, 2018
NAGAOKA, JAPAN
BY SEAN RADICAN, TORCH COLUMNIST
AIRED LIVE ON NJPW WORLD
ZACK SABRE JR. vs. HIROSHI TANAHASHI – 2018 NJPW CUP FINALS
Commentators: Kevin Kelly, Don Callis, and Juice Robinson
Taka Michinoku introduced Sabre. He asked the fans who was going to win and they shouted Tanahashi. Michinoku listed all the wrestlers that had submitted to Sabre in the tournament. Sabre flipped his collar and flipped off the fans at the same time as he was being introduced. Michinoku concluded by saying just tap out before telling Tanahashi to get down to the ring. Sabre and Tanahashi are tied 1-1 in their previous singles matches in NJPW. The announcers talked about how Sabre would challenge Okada at Genesis if he wins, but they weren't sure who Tanahashi would challenge if he wins the match. Sabre went after Tanahashi's arm during the early going. They came to a stalemate and went at it again. Sabre worked over Tanahashi's arm and then went after his leg when Tanahashi tried to get his foot on the bottom rope. He began to tie Tanahashi up, but both men rolled into the ropes. Tanahashi really worked a side headlock on Sabre. Sabre tried to escape and Tanahashi eventually hit a modified side Russian leg sweep. Sabre feigned pain and grabbed an arm submission out of nowhere on Tanahashi's bad arm. Tanahashi managed to get to the ropes. Sabre went after Tanahashi's arm and leg, but he couldn't keep him away from the ropes and he showed frustration. Sabre got Tanahashi down and really began cranking on Tanahashi's arm. He then tied up both of Tanahashi's arms, but he managed to get his foot on the bottom rope. That looked PAINFUL! WOW!
Sabre worked over Tanahashi's wrist, but he fired back with several punches to the gut to free himself. Tanahashi finally caught Sabre with a forearm off the ropes and both men were down with the fans chanting for Tanahashi. Sabre got his boot up in the corner and Tanahashi caught it. Sabre then got the octopus hold suddenly and the fans gasped. Tanahashi continued to hold Sabre's leg and eventually he dragon screwed his way out of the hold. WOW! They went back and forth countering each other in the abdominal stretch. Tanahashi finally got a pump-handle and dumped Sabre down to the mat. Sabre floated around Tanahashi a short time later and got a triangle. Tanahashi stood up while still in the triangle. He stomped on Sabre's head and began going for the cloverleaf. Tanahashi escaped the triangle and got the cloverleaf! Sabre screamed and almost got to eth ropes, but Tanahashi dragged him back to the middle. Sabre managed to counter him and went for a cross-arm breaker. Sabre went after one of Tanahashi's fingers, which is illegal, so Sabre had to let go of it. Tanahashi suddenly got out of it and hit a short dragon screw and the fans fired up with a big Tanahashi chant. Tanahashi went up top and hit a standing high fly flow to the floor! WOW! Sabre sent Tanahashi over the ropes. He tried to skin the cat and Sabre just waited before grabbing a leg submission.
Sabre began taunting Tanahashi with some light kicks. Tanahashi got upset. He blocked a kick, but Sabre jumped onto him. Tanahashi dumped him off and hit three twist and shouts for a near fall! WOW! Tanahashi went up top slowly and sold his leg. He went for a standing high fly flow, but Sabre caught his leg and grabbed a heel hook. Tanahashi struggled, but managed to get to the ropes. Sabre went for a PK, but Tanahashi caught his leg. Sabre slipped out of a dragon screw and floated over into a bridging pinning combination for a near fall. A short time later, Sabre got his double wrist clutch pinning combination for a near fall. Tanahashi kicked out and Sabre went right into a PK for a near fall! WOW! Sabre blocked a dragon suplex attempt and went to run off the ropes, but Tanahashi caught him with a sling blade for a 2 count. He went for a dragon suplex and connected with a bridge for another near fall. He hobbled going up top, but he hit a high fly flow to the back! WOW! Tanahashi favored his leg and went up top again! He came off the top, but Sabre got out of the way! ARE YOU KIDDING ME! Tanahashi landed on his knee and grabbed it right away. Tanahashi blocked an Okana roll and got a bridining pin for a near fall. Sabre kicked out and immediately went after Tanahashi's legs. Sabre dragged Tanahashi to the middle of the ring while maintaining the hold and got orienteering with napalm death, which is a double leg submission with Sabre stretching one leg around his shoulders while pushing the other leg the opposite way with his legs. Tanahashi ended up tapping out. WOW!
Winner: Zack Sabre Jr. to win the 2018 NJPW Cup
Star rating: (****¾)
Sabre has now beaten Naito, Ibushi, SANADA, and Tanahashi to win the tournament. Sabre won every single match without interference from Suzuki-Gun.
After the match, Michinoku got on the mic and talked up Sabre as the NJPW Cup winner. He asked Sabre what he wants next. Sabre pondered the question in a mocking manner. He said, "I want Okada." The fans applauded. Michinoku told Okada to come over here. Okada came out with Gedo and walked down to the ring. A big Okada chant rang out in the building. Kelly said they would meet in April at Sumo Hall. Michinoku was going to tell Okada to just tap out, but Gedo took the mic from him. He said they would meet at Sakura Genesis. Michinoku cut of Gedo from hitting his signature line. Okada held up the IWGP Hvt. Championship and walked away. Sabre told Okada he would tap out in 2 weeks. Michinoku told Okada just to tap out. He then told him to take a walk. Sabre stood next to the NJPW Cup with his RPW belts over his shoulder. Michinoku concluded by saying, "He is Zack Sabre Jr.!" Confetti came down from the rafters as Sabre stood in the ring.
Radican's Analysis: Tanahashi never got on track in this match. This was a star making tournament for Sabre. He beat Naito, Ibushi, SANADA, and Tanahashi in the same tournament. He was dominant and showed off his incredible technical wrestling skills each and every time he was in the ring with some of the biggest names in NJPW.
Tanahashi had been on a roll in the tournament. He had even walked the line of going into heelish territory while beating Juice Robinson to advance to the finals of the tournament. Tanahashi had cut promos backstage indicating he was becoming a better version of himself, but that came to an end on this night, as Sabre dominated him for most of the match and had an answer for almost all of his signature offense.
What more can I say about Sabre? After this tournament, he's a main event star. He made Tanahashi tap out after 34 minutes of action and did it in impressive fashion with his incredible new double leg submission that he's dubbed orienteering with napalm death. Sabre has been someone I've always enjoyed watching, but he's on another level right now and he's a real threat to Okada's IWGP Hvt. Championship at Sakura Genesis on April 1 in Sumo Hall.
***
Contact Sean at pwtorchsean@gmail.com. Follow Sean on twitter HERE. Follow and like Radican's Wrestling Community Facebook.com HERE