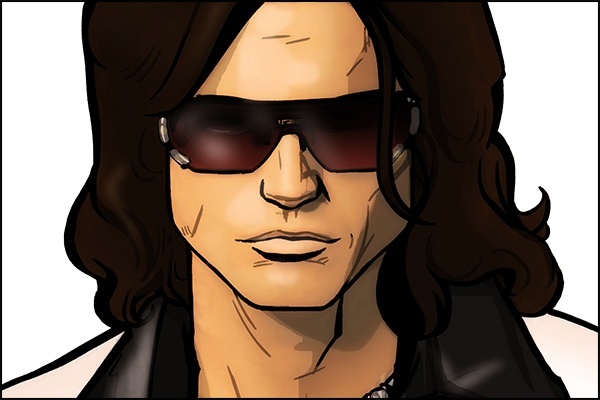 ---
SPOTLIGHTED PODCAST ALERT (YOUR ARTICLE BEGINS A FEW INCHES DOWN)...
---
IMPACT HITS
Impact and Kong: Johnny Impact did a great job of carrying Kongo Kong to his best Impact match (uh…the show, not the wrestler. Can he change that already?) to date. It wasn't spectacular but it made the company's latest monster look remorseless for shattering his opponent's face at the behest of his manager. If Kong showed a bit more intensity in the ring, he could possibly be cast as an occasional main-eventer. A few more matches with Impact should help out with that. Something I can't help but wonder is, with so much TV time devoted to this storyline, why didn't they save this match for the pay-per-view?
Jacobs and Kong Video: Finally Impact has attempted to explain the strange pairing of Jimmy Jacobs and Kongo Kong! Jacobs has sadly been incredibly underwhelming so far in the promotion and before this show, Kong didn't really feel like a killer. This video was a good start, though, in actually making them feel like a cohesive unit. I also enjoyed the production team really playing up how Kong beating Abyss was a major feat. Even though Abyss has largely been cast as an easily beatable midcarder the past few years, you still want to play off the company's lengthy history to make Kong's win mean more.
The Clubhouse: Almost everything LAX has done over the past year has been a hit. This was no exception. Konnan continues to do a stellar job in every segment that he's in and I'm strangely looking forward to the group's match with Eli Drake and Scott Steiner.
D-Ray 3000 Mentioned: Props to K.M. for bringing up my favorite jobber in TNA history. Wait…D-Ray is only 35? It's well past time for another run!
IMPACT MISSES:
Mixed Tag: When booking matches on the go home show to a pay-per-view, the management team at Impact should be asking themselves "how will this get people more excited to order the show?" Still wondering on this one. Su Yung sold way too much in the match to Kiera Hogan, who had fallen off the face of the earth after her brief program with Laurel Van Ness. Neither Braxton Sutter or Fallah Bahh has a match scheduled for Redemption, so adding them in the mix also didn't make a lot of sense. Yung would have been better served squashing another enhancement talent for the night. Side note: as much as Bahh is connecting with the audience, he should be limited to a single "No! No! No!" per match. Otherwise he's going to run that thing into the ground fast.
GWN: I know Impact was put in a bad spot due to them recently releasing Alberto El Patron. I'm assuming he had been in a segment that would have aired on this show. Just to note: I feel no sympathy for them whatsoever since it was foolish to give him a pay-per-view main event spot in the first place. Anyway, because of his absence, they needed to eat up some lost time. To help with that, they aired a crazy long GWN match. According to my stopwatch, it went 7:57 (I'm probably a few seconds off). How did watching Raw's General Manager beat one of Raw's newest wrestlers help promote Redemption in any way? I know they have budget issues, so flying in wrestlers to film new material may have not been any easy thing to do. But couldn't they have asked guys like OVE to cut selfie promos to hype their matches and aired those instead? PLUS, Kurt Angle beating Bobby Roode was a crappy moment in the company's history. Don't remind people of it! They built up Roode as a hardworking family man for months, only to have him lose to the old guard in a mediocre match at their biggest pay-per-view of the year. Everything about this was terrible.
The Main Event: Weird. I don't know exactly why, but I have this strange feeling that I watched this match not too long ago. And now, I'm going to see these three again on Sunday and have to pay to do so? In the words of Bahh, "No! No! No!"
DJZ: Happy to see DJZ finally return to the company. But if you watched Impact, it would seem I'm the only one. The man has a fascinating story to tell. He's a former X Division Champion, he hasn't been in the promotion in over a year, he nearly had to retire due to a serious injury, and his first match back is in a six-way that Brian Cage is almost a sure thing to win. You can count the Twitch show as DJZ's return to the company if you want, but at that event they didn't bother to hype him up either. Couldn't they have let him cut a 30 second promo? Poor guy deserves better.
Lack of Original Content: Loading up a show with video packages isn't always a bad thing as it serves as a final sales pitch, but man, did this episode drag. For fans who watched the Twitch stream, they got less than 15 minutes worth of new wrestling matches. And none of those did even a decent job of promoting Redemption. As of now, Kong and Impact don't have a match on the show, the tag match had its issues as listed above, and K.M. and Brian Cage aren't facing off at the event either. All in all, this was a poor go-home episode that didn't leave me any more excited to essentially pay four times the price of WrestleMania to see Redemption. Hopefully the trimmed down taping schedules will help alleviate pacing issues in the future…until they hire back El Patron in a few months and he ruins another major show.