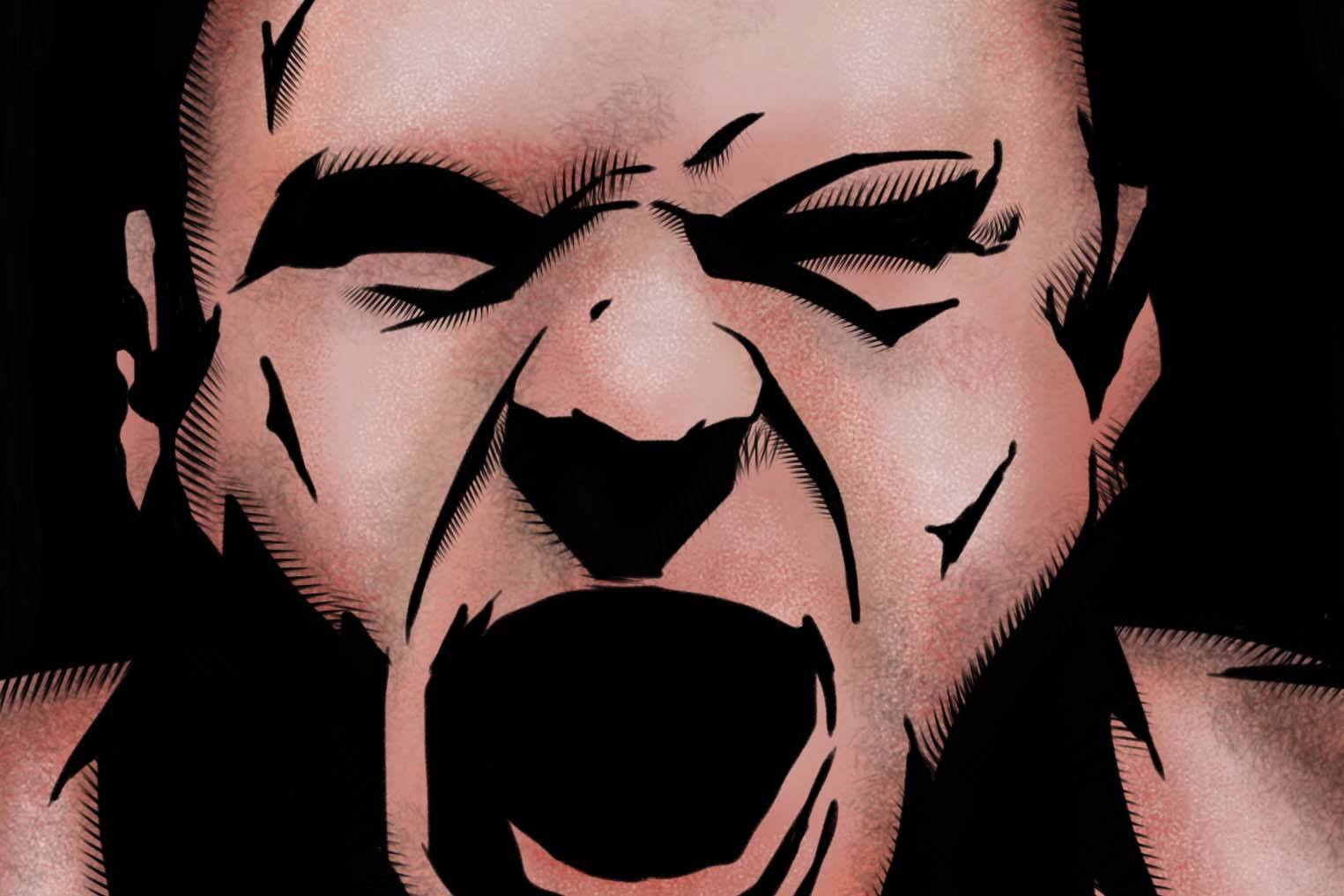 ---
SPOTLIGHTED PODCAST ALERT (YOUR ARTICLE BEGINS A FEW INCHES DOWN)...
---
REIGNS AND LESNAR ARE A DUD…
Recap: After a video package eulogizing Bruno Sammartino, the show opened with Paul Heyman and Brock Lesnar in the ring. Heyman was gloating about Brock's WrestleMania victory. He reminded the crowd of Lesnar's prior victories over the Undertaker (to books) and John Cena (to cheers). He again reminded the crowd that he offers predictions, not spoilers. During the promo, Lesnar pointed to his elbow, an allusion to busting Roman open during their match. Heyman stated that Brock doesn't gloat, he just conquers, leaving the gloating to Heyman.
Roman Reigns interrupted Heyman's promo, entering to boos. He entered the ring, guaranteed that he'd be returning to the US with the Universal Title, and left. The segment then ended.
Evaluation: Heyman attempted to emphasize the size of Lesnar's contract extension payment to get heat, however it didn't seem to elicit much crowd reaction at all.
During the promo, the camera panned to a small section of fans cheering for Roman. I would assume this was intended to portray the crowd as being behind Roman, however the section cheering was so small that it had the opposite effect. It made him look worse than if the camera had simply remained focused on the ring.
Overall, this segment went really poorly. The crowd didn't seem to care much one way or the other. They mostly seemed tired of both Brock and Roman.
Forecast: Over the past seven days, I've become increasingly skeptical of what I once considered a certaintly, that Roman Reigns will win the title in Saudi Arabia.
Last week's Raw barely promoted Reigns vs. Lesnar at all. Most of the focus was on Reigns' Backlash matchup with Samoa Joe.
This week's Raw did lead off the show with a segment promoting the match, but it wasn't written to be anything special. Worse than that, the segment fell completely flat with the fans. They seemed completely apathetic.
The coveted top of the third hour slot in this week's go home show went to Kevin Owens and Sami Zayn vs. Bobby Lashley and Braun Strowman, not Roman Reigns or Brock Lesnar.
Most of the advertising I've seen for the Saudi event, both tonight and otherwise, has focused on Rusev's casket match with the Undertaker rather than the Universal Title.
Brock Lesnar is not yet in the USADA pool, meaning he cannot take a UFC fight for at least six months.
If Lesnar holds the Universal Title until Summer Slam, from WWE's perspective they get an added bonus of erasing CM Punk's record for longest modern title reign from the books.
With all of these factors in play, I put the chances of Roman Reigns winning the title at only 50%. I think there is a legitimate chance that Brock's extension (length still undisclosed) runs through Summer Slam.
THE SAMI & KEVIN SHOW…
Recap: Sami Zayn and Kevin Owens have taken over the talk show slot vacated by the Miz with the Sami and Kevin Show, apparently greenlit by Stephanie McMahon. Their first guest was Kurt Angle, who they provided a lawn chair for a sit down interview.
Kevin Owens emphasized that Stephanie McMahon regularly emasculates Kurt Angle. He and Owens said they know about toxic work environments from their time on SmackDown. They also stated that since Stephanie hired them despite Owens' prior attack on her father, she must either really appreciate their talent or really hate Kurt Angle.
Angle responded that he wouldn't blame her for hating him, considering he got Ronda Rousey out from under her thumb and was responsible for her arm injury.
Zayn feigned forgetting whether Kurt had 5 or 6 children, noting that he had forgotten about Jason Jordan, just as Kurt had forgotten about him for years.
Angle then closed the segment by reminding the two that they'd be facing him, Daniel Bryan, and Chris Jericho in the Greatest Royal Rumble Match. He also set a tag match for Owens and Zayn against Bobby Lashley and Braun Strowman.
The match took place in the coveted top of the third hour slot. The crowd popped when Strowman ran wild on Owens and Zayn, hitting shoulder tackles, lariats, and a drop kick. He then tagged in Lashley for a stalling one handed vertical suplex to Zayn, followed by another tag to Strowman who ended the match with a running powerslam.
Evaluation: The talk show segment was good, as it sets up multiple spots between Owens, Zayn, Angle, Bryan, and Jericho during Friday's event.
The crowd seemed to love the tag match. It was the most popular match of the night. The pops for Strowman were expected, but I was glad to see some of it rub off on Bobby Lashley. He got a huge pop for the stalling suplex.
Forecast: Based on the storyline history and talent level of the guys involved, the spots between Owens, Zayn, Angle, Byran, and Jericho will likely be the most memorable of the 50-man Rumble (along with the expected Bryan-Miz spot). I'm glad WWE set this up, as it would be easy for a match that by necessity will have so much "filler" to be boring.
MCINTIRE MAKES A MORE FORMAL DEBUT…
Recap: Dolph Ziggler and Drew McIntire had a match with Titus Worldwide. Titus got the better of Ziggler to start the match, however the tide turned once McIntire tagged in. The match then ended quickly with a victory for the heels.
After the match, Ziggler cut a typical Ziggler heel promo, yelling about McIntire being the first guy to finally have his back. McIntire then cut a solid promo, accusing the locker room of having gone soft and lacking fire. He stated most of the guys backstage were just there to collect checks.
Evaluation: McIntire looked strong in the ring tonight. The combination Zig Zag-Claymore is an impressive tag team move.
McIntire's promo was strong, but came across more face than heel. The crowd gave it a positive reaction.
Forecast: Tonight's match seems to indicate that Ziggler and McIntire will be in the Raw tag team picture, at least for a while.
The content of McIntire's promo indicates to me that when the tag team splits McIntire will come out of the split as a face, using his conflict with Dolph to get over.
RANDOM THOUGHTS…
Chad Gable is one of my favorites on the roster, and I'm usually disappointed as to how he is utilized. Hopefully tonight's victory over former WWE Champion Jinder Mahal will set him up for a decent run as a singles competitor….
Tonight's beating by Baron Corbin on No Way Jose seemed to validate my prediction that he'd be used as enhancement talent….
Tonight's finish to the ten woman tag match seems to indicate a feud between Ronda Rousey and Natalya against Alexa Bliss and Mickie James. Another tag feud isn't a bad idea while Ronda acclimates to WWE. It may eventually set up a singles feud between Ronda and Natalya….
---
NOW CHECK OUT LAST WEEK'S COLUMN: TOP 3 DEVELOPMENTS – RAW 4/16: Superstar Shakeup, Jeff Hardy is the New US Champ, Owens & Zayn Debut, Reigns is Booed Worse than Ever
---
AND CHECK OUT THE WADE KELLER PRO WRESTLING POST-SHOW DISCUSSING THIS EPISODE OF RAW: