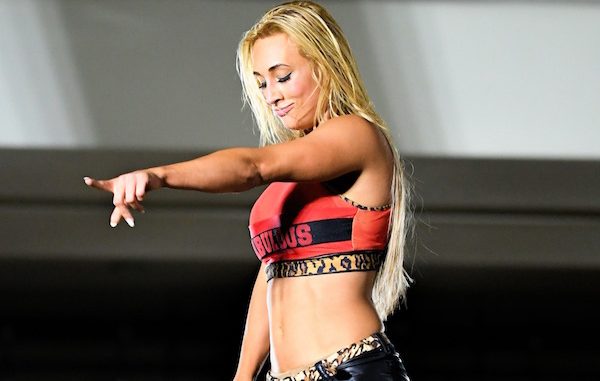 ---
SPOTLIGHTED PODCAST ALERT (YOUR ARTICLE BEGINS A FEW INCHES DOWN)...
---
A Triangle Between Miz, Cass, and Bryan…
Recap: The show opened with a Miz TV segment. Miz predicted winning the Intercontinental Title for a record-tying ninth time on Friday. He then introduced the moment that the "world has been waiting for," his confrontation with Daniel Bryan.
Before Bryan came down the ramp, Miz again recapped the birth of his daughter, claiming that his desire to be a better man for his daughter caused all of his anger for Bryan to melt away. He said he was surprised that the same didn't occur when Bryan's daughter was born, stating it may be evidence that Bryan's father-daughter bond isn't as strong, and that unlike Miz, fatherhood hadn't turned Bryan into a better man. He challenged Bryan that if he still wanted to punch Miz in the face, he should come down the ramp and do it.
The fans cheered for Bryan to appear, but instead of Daniel Bryan, Big Cass came down the ramp to a surprised look from Miz. Cass indicated that since Miz didn't have a guest after Bryan's no-show, Miz should interview him instead. Cass expressed jealousy that Bryan's return from injury had overshadowed his own return from injury.
Miz told Cass that he didn't need his help with Daniel Bryan, to which Cass replied that everything wasn't about Miz.
Cass stated that Bryan looked like he should be laying kitchen tile or a collecting garbage, and mocked the fans for buying into Bryan's inspirational speeches. Cass recounted that he himself was small until he was 16, and that he was bullied. He claimed to have gotten revenge once he grew to seven feet tall. Cass said that Bryan reminded him of himself when he was small, and that he hated him for it. He stated he had more value than Bryan because he is tall and good looking.
After the segment ended, the camera went backstage where it was shown that Bryan had been jumped.
Late in the show, Renee saw Bryan leaving the trainer's room. Bryan seemed to assume that the attack was from Cass, although he did say he was blindsided from behind. Bryan then let her know that Paige ad set a match between Cass and Bryan for Backlash.
Evaluation: I haven't been much of a fan of Cass in the past, but I must admit that his promo tonight was good. He looked comfortable on the mic.
Miz was good as always. I like that they aren't just throwing Miz and Cass together in a predictable way, but rather drawing it out to keep us guessing for a while.
Forecast: Most prognosticators this past week have seemed to believe that Cass would end up as a sidekick for the Miz. I'm not so sure. I think that the introduction of Cass into this angle was simply to get Bryan a one-match feud for the rapidly approaching Backlash before moving into a longer building program with the Miz.
CARMELLA'S FIRST DEFENSE IS SET…
Recap: Carmella came to the ring for the contract signing for her rematch with Charlotte Flair, hosted by Renee. Before Renee could proceed, Carmella cut her off, complaining that Renee had introduced the champion before the challenger. She then reminded the crowd that none of them would ever know what it is like to be a champion.
Carmella went on to recap last week's Mellabration, lamenting the fans' disrespect at not giving her a standing ovation. She then replayed last week's highlight reel, demanding that this time the fans stand and giver her such an ovation. After the first replay, upset that she still did not get a standing ovation, she again replayed the reel, threatening to continue to do so until the fans gave her the reaction she deserves.
The second replay was interrupted by Charlotte Flair. Despite Renee's pleading, Carmella initially refused to take a seat, instead prancing and gloating. Finally, Carmella did sit across from a stone-faced Charlotte Flair, who signed the contract and, after Carmella signed, smashed her into the table before flipping it over.
Evaluation: Carmella had amazing heat tonight. She has mastered the art of annoying the fans on the mic. Forcing them to watch her reel on replay until she got a standing ovation was genius.
I am very much enjoying this title run.
Forecast: While Carmella may not be the best worker on the roster, she is arguably the best overall heel. She reminds me of a female version of the Miz (although she actually has better heat than he does right now). I'm enjoying the level of heat she's getting, so I hope she retains at Backlash to let this play out for a while.
Reassembling Bullet/Balor/"The" Club
Recap: Early in the show, Renee caught AJ Styles backstage, who happily informed her that he, Andrerson, and Gallows would be taking on Shinsuke Nakamura and Rusev Day in the main event.
Renee later knocked on the door to Shunsuke's locker room, but the door was answered by Aiden English who informed her that he wouldn't be doing any interviews.
During ring introductions, Tom Phillips referred to the faces as "the Club". Shinsuke debuted a new version of this theme which was a more rock-oriented version of the original.
Nakamura scored the pin to win the match for the heels. As soon as the match ended, however, AJ attacked Shunsuke. Shinsuke fought off the attack with his now patented low blow, and then lined up AJ for the Kinshasa. At the last moment, Anderson jumped in the way, eating the Kinshasa on behalf of AJ.
Nakamura then hit Anderson with another Kinshasa, while AJ (still incapacitated from the low blow) was forced to watch.
Evaluation: Nakamura has been a much better heel than face on the main roster. As a face, he was nothing special. As a heel, he is conniving. This was evident tonight as he forced an incapacitated AJ to watch as he took out his loyal friend.
As Corey Graves mentioned, Nakamura's new theme music seemed designed specifically to make it difficult to sing along. It seemed to accomplish that goal, which is a good thing for a heel.
Forecast: With Gallows and Anderson separated from Finn Balor, WWE seems to have shifted from promoting the "Balor Club" version of Bullet Club to the "The Club" version with AJ Styles. When the two were on Raw, WWE directly capitalized on the popularity of Bullet Club merchandise by marketing an "OG BC" shirt (which admittedly looked very cool despite being a knockoff). I would expect merchandise for the AJ Styles version of The Club as well.
Hopefully keeping Gallows and Anderson with AJ can bring them credibility that they were missing as a Raw comedy act.
I would expect AJ to retain the title in Saudi Arabia with the feud continuing afterwards, as after the disappointing the fans at WrestleMania I doubt WWE wants the classic match of this feud to take place on a Friday afternoon when most fans are at work.
RANDOM THOUGHTS…
It says a lot about WWE's philosophy that Zelina Vega's comment that Andrade Almas doesn't care about "representing the brand" is considered a heel promo….
The distraction finish with Naomi made the Usos again look weak in opposition to the Bludgeon Brothers, despite their finally eking out a win….
NOW CHECK OUT LAST WEEK'S COLUMN: TOP 3 DEVELOPMENTS – SMACKDOWN 4/17: More Superstar Shakeup, Bryan's Next Feuds, the US Title Returns