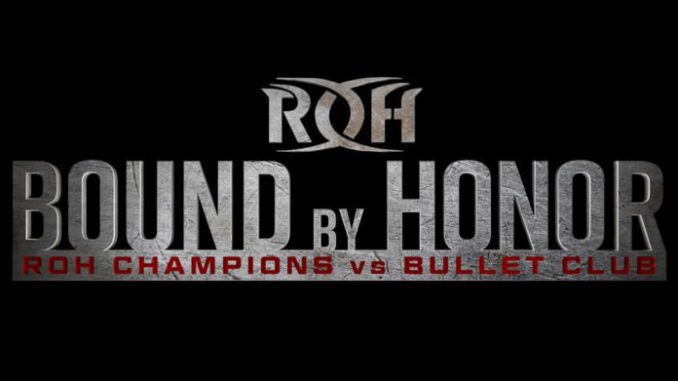 ---
SPOTLIGHTED PODCAST ALERT (YOUR ARTICLE BEGINS A FEW INCHES DOWN)...
---
ROH BOUND BY HONOR
APRIL 28, 2018
LAKELAND, FL AT RP FUNDING CENTER
AIRED ON ROH HONOR CLUB
REPORT BY HARLEY R. PAGEOT, PWTORCH CONTRIBUTOR
Commentary: Ian Riccaboni, Colt Cabana
(1) COAST 2 COAST (LSG & Shaheem Ali) vs. MOTOR CITY MACHINE GUNS (Alex Shelley & Chris Sabin)
The Machine Guns threatened to call it quits as a team if they lost last night to The Briscoes, which they did, so their future is unclear as of now.   Shelley and Ali started for their teams with some evenly-matched chain wrestling.  They both tagged out.  LSG caught Sabin with an arm drag and Sabin ended up returning the favor, following with a hip toss.  C2C hit some nice double-team moves on Sabin and then Shelley.  Dueling kicks from the Guns to LSG and then Ali from the apron.  Sabin hit a suicide dive that took out both men.  "Motor City" chant from the crowd.  Missile dropkick from Sabin into a flatliner from Shelley on Ali.  Dream Sequence but LSG broke up the pin.  Ali avoided a superkick which led to Sabin taking out Shelley and LSG tagging in.  LSG was a house of fire on both Guns.  Ali with a flip over the ropes onto the Guns on the floor.  LSG then flipped off the top rope, taking out all three men.  Shelley prevented a coast to coast on Sabin.  LSG prevented Skull & Bones.  Ali rolled up Sabin.
WINNERS:  Coast 2 Coast in 9:31.
-Shelley walked off in a huff without the code of honor.  Sabin lingered to slap their hands before following.
(Pageot's Perspective:  Another significant win for Coast 2 Coast.  They might be the number three team in the division now behind the Bucks and the Briscoes.  That said, they still feel like they're in the building phase.  They were a little slow tonight at points but they're making an effort to add double team moves to their arsenal and solidify themselves as a well-rounded tag team.  The future is bright.)
(2) SERPENTICO vs. CHEESEBURGER
We were scheduled to get this match last night but Bully Ray crashed the show and beat up Serpentico and low blowed Burger before things could begin.  Riccaboni and Cabana laughed about Burger having the size advantage for once.  Dueling arm drags to start.  Flying headscissor from Burger.  Dropkick from Serpentico.  Slingshot cutter on Burger for two.  Burger with some forearms and a drop toehold into the corner.  Springboard senton got Burger a two count.  High knee from Serpentico and superkick.  Death valley driver for two.  Burger called for the shotei but Bully Ray showed up again and low blowed him from behind again.
WINNER:  No contest in 4:59.
-"Do you know who I am?"  Flip Gordon charged the ring and unloaded with rights.  Ray shoved him back and Gordon hit a superkick.  Gordon went for a springboard move into the ring but Ray bailed from the ring.  He paced ringside with a steel chair before slamming it down and leaving.  Riccaboni questioned if Ray was still ROH Enforcer and, if so, how that makes any sense.
(Pageot's Perspective:  Bully Ray vs. Future Of Honor continues.  I think we all saw that finish coming.  The sooner we get a resolution to his role in ROH and officially move him from authority figure back to wrestler the better.  Ray vs. Gordon could be interesting but none of these other teased matches are exactly barn burners.)
-The Dawgs (Rhett Titus & Will Ferrara) crashed the commentary table.  They encouraged us to go on social media to hear exclusive post-match interviews between The Dawgs and the winners of tonight's matches.
(3) MATT TAVEN (w/TK O'Ryan & Vinny Marseglia) vs. JOSH "THE GOODS" WOODS vs. BEER CITY BRUISER vs. KENNY KING
Woods is replacing Shane Taylor, who was originally advertised for this match.  Woods defeated Taylor in singles action last night so I suppose that would be the in-story reasoning.  Woods and King worked together against the heels early on.  King went for a corkscrew flip on Taven but Taven pulled Woods into his path instead and followed with a flip onto both men.  Bruiser followed with a cannonball.  He stared down O'Ryan and his baseball bat.  Woods kneed Bruiser off the apron and he fell backwards onto Taven and King.  Woods tossed Taven across the ringside area and hit a knee on King.  In the ring he unloaded on Bruiser.  King with a blockbuster on Bruiser.  Taven with his running knee to Bruiser and a Boston crab but Woods broke it up with a knee and a sit-out power bomb.  King with a spinebuster to Woods.  Taven kicked King off the top rope and hit a frog-splash on Woods but Bruiser broke up the pin with a frog-splash of his own.  Woods gave Bruiser a German suplex from the middle rope that led to the Tower of Doom.  Woods hit running knees on everyone.  Marseglia provided a distraction and Taven rolled up Woods with his feet on the ropes and O'Ryan holding his feet steady for support.
WINNER:  Matt Taven in 7:32.
(Pageot's Perspective:  Woods looked the strongest throughout the match, which I thought was related to last night's victory and a rebuilding effort, but it seems like it was more about protecting him in defeat here.  Taven has a world title shot on May 9 in Lowell so his winning was logical.  Not a bad match.  I've had issues with the ROH product lately but none of them are related to the actual in-ring talent or work of the wrestlers on the roster.)
-The Kingdom took mics after the match.  O'Ryan encouraged Taven to go take a break and watch the Boston Celtics kick some ass.  Taven left and O'Ryan talked about the Kingdom conspiracy.  They still had possession of the six-man titles that they stole from SoCal Uncensored at Supercard Of Honor.  They repeated their claim that they never rightfully lost the titles.
(4) ROH WORLD SIX-MAN TAG TEAM CHAMPIONS THE ADDICTION (Christopher Daniels & Frankie Kazarian) vs. THE KINGDOM (TK O'Ryan & Vinny Marseglia)
As soon as the bell rang Daniels and Kaz bailed to ringside and grabbed their belts from the timekeeper's table.  They looked to take off to the back but The Kingdom stopped them and they brawled.  With the four men battling in the ring, Taven scurried back to the ring, scooped up all the belts, and ran off to the back with them.  Marseglia disappeared under the ring and came back out with his red balloons and ax.  Kaz popped a balloon with his hands.  Daniels saved Kaz.  Power slam from O'Ryan on Kaz.  All four heels bickered with referee Todd Sinclair and insisted on his punishing the other team for their cheap tactics.  Daniels and Marseglia exchanged chops at ringside.  Kaz and O'Ryan faced off with a chair and a bat in the ring.  They both pulled the Eddie Guerrero special, slamming their weapons on the mat and taking a bump to pretend the other attacked them.  Sinclair checked on them both, realized they were both faking, and tossed their weapons in a fit of rage.
The Kingdom worked over Daniels and bit him behind Sinclair's back.  Kaz finally tagged in and took out both men.  He went for a roll-up on O'Ryan, Sinclair told him he wasn't legal, so Kaz grabbed Marseglia and hit a northern lights suplex on him while still holding O'Ryan.  They kicked out at two.  Slingshot cutter to Marseglia.  Flip sequence with everyone taking out everyone on the floor.  Spinebuster and headbutt combo to Daniels.  Angel's Wings from Daniels to Marseglia but Kaz was the legal man on the floor.  Low blow from O'Ryan to Daniels behind Sinclair's back.  Taven ran out with his walking stick but Scorpio Sky appeared and yanked him off the apron.  They fought on the ramp while The Addiction hit Celebrity Rehab on O'Ryan.
WINNERS:  The Addiction in 12:28.
(Pageot's Perspective:  Lots of fun and shenanigans to make up for the fact that fans had no rooting interest in either heel team.  The feud will definitely continue toward a six-man tag title match.  It would seem SoCal will be playing the faces there since The Kingdom are the ones who stole their titles and Daniels and Kaz are the respected veterans.  The commentators reminded us of the "Daniels and Kaz will be fired after Final Battle in December" story that's in play.  I still presume this is a retirement story to cap off the illustrious careers of Daniels and Kaz but we should get a better sense as we head into the fall.  Are all the low blows setting up a new faction between Bully Ray, Shinsuke Nakamura, and The Kingdom??  Probably not.)
-Sky cut a promo on the hellhole swamp that is Lakeland, Florida, putting over beautiful southern California instead.  He sent Daniels and Kaz to the back where he had champagne waiting for them.  He took some shots at Flip Gordon.
(5) ROH WORLD SIX-MAN TAG TEAM CHAMPION SCORPIO SKY vs. FLIP GORDON
Sky tried for a cheap shot while Gordon got the streamer treatment but he saw it coming.  Loud "Flip" chant early on.  Sky dominated the first six minutes with boots, headlocks, and a body scissors.  Gordon came back with a springboard dropkick and a shotgun dropkick, followed by a running dropkick.  Springboard spear got him two.  Double stomp to Gordon's back.  Neckbreaker for two.  Samoan pop and standing shooting star press from Gordon but Sky caught him and turned it into a dragon sleeper.  Star-Spangled Stunner.
WINNER:  Flip Gordon in 10:03.
-As Gordon posed on the ropes in celebration Bully Ray low blowed him from behind.  Today is Gordon's one-year anniversary of quitting his day job and becoming a full-time wrestler.  Ray vowed to make him regret it.
(Pageot's Perspective:  A nice showcase for two of the biggest "new" ROH stars of 2018.  These two will be big players in ROH in the next few years barring NXT signing Gordon sooner than later.  Sky's affiliation with the veterans Daniels & Kaz reminds me of Hangman Page starting out with The Decade.  And look at where he is now.)
-Intermission.  Our intermission match was Will Ospreay & Volador Jr. vs. Jay White & Dragon Lee from Supercard Of Honor XI one year ago in the same city as tonight.
-Kelly Klein joined commentary for the Women Of Honor match.
(6) AVA STORIE vs. DEONNA PURRAZZO
Storie shook on the code of honor but yanked Purrazzo in for a knee to the gut.  Storie was on offense for most of the first four minutes.  Storie got a two-count off a small package.  Purrazzo with a German suplex.  Fujiwara armbar as Klein ran down to ringside but she was too late to provide a distraction as Storie tapped.
WINNER:  Deonna Purrazzo in 5:39.
-Klein immediately attacked Purrazzo and hit a fireman's carry slam.
(Pageot's Perspective:  Not a lot to the match.  Purrazzo can be great when she's in the ring with the right competition but she hasn't had that opportunity lately.  The standout in-ring talents from the WOH tournament would have to be Tenille Dashwood and the Stardom competitors, all of whom have been AWOL since the tournament ended.)
-Hangman Page made his entrance for his match against Punishment Martinez.  Martinez hit him in the back with a steel chair while Page walked down the ramp.  Martinez was dressed in street clothes with no intention of wrestling.  South of Heaven chokelsam on Page through the timekeeper's table.  Martinez immediately left and Page was coughing up blood while the referees attended to him.  Riccaboni and Cabana were very unimpressed with Martinez's behavior and his decision to cost us a big match tonight.  They wondered if this was related to Cody defeating Martinez last night.
-Jay Lethal took a mic before his match.  His originally scheduled opponent was Josh Woods but Woods and Taylor had their spots on the card swapped sometime before we went on the air tonight.  Lethal said today was a very special day for him.  The fans chanted "Rusev Day."  "Actually, tomorrow's my birthday," Lethal said.  "Happy birthday" chant from the crowd.  Lethal said a friend of his was in town and asked if he could stop by.  "Woo" chants from the crowd.  Lethal told him he could of course be his special guest.  Lethal said his friendship is one of the highest honors of his life.  "Some would consider him to be wrestling royalty."  A member of his guest's family was solely responsible for Lethal becoming a professional wrestler.  He introduced "The Genius" Lanny Poffo!
Poffo took a mic and said nobody in the wrestling business has kept his brother (Randy Savage)'s memory alive like Lethal has.  Poffo said he had a special birthday present on behalf of Macho Madness.  He brought out a pair of classic Macho Man sunglasses.  Lethal looked like he was tearing up.  He slid them on and instantly transformed into Black Machismo.  "They fit great," he said in his Randy Savage voice.  Still in Black Machismo mode he asked Poffo to recite his classic Macho Man poem.  Lethal posed while Poffo recited the poem and Lethal concluded it with an "Oooh yeahhhh!"  The fans stood and applauded.
Shane Taylor made his entrance.  He threatened to knock the glasses of Lethal's face.  "Lanny, with no due respect, I heard those poems when I was a kid and they sucked then and suck now."  He asked Lethal why he was celebrating this old dude.  He accused Poffo of riding his brother's coat-tails.  Lethal called for a ref and went after Taylor.
(7) "BLACK MACHISMO" JAY LETHAL (w/Lanny Poffo) vs. SHANE TAYLOR
Taylor hit a leg drop on Lethal on the apron at the four-minute mark.  Taylor hit a standing splash but pulled Lethal up at two to stop the ref's count.  Cabana was flabbergasted that Taylor would make such a stupid mistake in passing up an opportunity to pin one of the all-time ROH greats.  Taylor looked for his right hand knockout but Lethal avoided it and hit an enziguiri.  After struggling to lift the big man, Lethal hit a big suplex in the middle of the ring to probably the loudest pop of the night.  He followed with his trio of suicide dives onto Taylor on the floor, driving him into the guardrail.  Taylor got a boot up to prevent Hail To The King so Lethal locked in the figure four instead.  Taylor grabbed the bottom rope.  Knee to the face and sit-out power bomb from Taylor for two.  Lethal avoided a second rope splash.  Lethal Injection!  But there was one thing left to do.  Hail To The King.
WINNER:  Jay Lethal in 11:19.
-"Pomp And Circumstance", Savage's famous entrance music, played in celebration.  Lethal and Poffo posed amidst a cascade of streamers.
(Pageot's Perspective:  A very memorable surprise and fun segment.  This is the highlight of the night so far.  Anyone even passingly familiar with Lethal's career knows how much Savage meant to him and you could tell he was genuinely thrilled to share the ring with Poffo and channel his old Black Machismo character even if it was just for one night.  It was also clear that Poffo was solely there out of genuine respect and friendship for Lethal.)
-Dalton Castle cut a short promo backstage before the main event.
(8) ROH WORLD CHAMPION DALTON CASTLE (w/The Boys), ROH WORLD TELEVISION CHAMPION SILAS YOUNG, & ROH WORLD TAG TEAM CHAMPIONS THE BRISCOES (Jay Briscoe & Mark Briscoe) vs. BULLET CLUB (Cody, Marty Scurll, Matt Jackson, & Nick Jackson w/Burnard The Business Bear) – ELIMINATION MATCH
Castle's right hand was heavily bandaged due to Scurll breaking it at Supercard Of Honor.  Scurll is #1 contender to Castle's title while the Young Bucks are #1 contenders to the Briscoes' titles.  Castle and Scurll began.  Cody blind-tagged himself in to boos.  "You're not Kenny" chant directed at Cody.  Hip toss to Cody and Castle glared at Scurll.  Gutwrench suplex and a tag to his old rival Young.  Young with chops and a suplex on Cody.  Cody with a delayed vertical suplex of his own.  Scurll asked for the tag.  Cody held the ropes for him to enter but Scurll ran around and slid under the bottom rope instead.  Jay Briscoe saved Young from having his fingers cracked.  Matt Jackson tagged in and Mark and Nick jumped into the fray too.  The tag teams threw hands.  Riccaboni said The Briscoes are 7-4 vs. the Bucks in the past.  The Bucks double-teamed Yong and Castle.  Quadruple kicks to Castle seated in the corner from all BC members.  Jay kicked Matt between the legs while Mark distracted the referee.  The Briscoes tried to double suplex Matt which led to everyone else grabbing on and the BC quartet suplexing all the champions at the same time.  Flip sequence with people taking turns flying onto everyone else on the floor.  Matt and Mark ended up in the ring.  Two boots in the corner with Cody and Nick.  Then three boots with Cody, Nick, and Scurll.  Four boots with Cody, Scurll, and both of Nick's feet.  "Six boots" chant from the crowd.  Six boots attempt with both of Cody's, Nick's, and Scurll's feet but Jay threw a steel chair at Matt to stop it.
Jay Briscoe was disqualified at 12:58.
Jay took out Burnard with a massive steel chair shot.  Matt dropkicked him through the ropes.  Mark rolled up Matt from behind.
Matt Jackson was pinned by Mark Briscoe at 13:45.
Burnard was helped to the back by medical staff.  Castle and Cody became your legal men.  Young tagged in and beat down Cody.  Young and Mark worked together to beat on Cody behind the ref's back.  Cody got his knees up on an elbow drop attempt.  Hot tag to Nick.  House of fire on the heels.  Superkick to Castle on the apron.  Superkick to Mark.  Suicide dive to Young.  450 splash to Mark.
Mark Briscoe was pinned by Nick Jackson at 19:20.
Young immediately clubbed Nick from behind.  Nick took Misery and kicked out at four, too late.
Nick Jackson was pinned by Silas Young at 20:37.
Scurll and Young threw hands.  Cabana pointed out that Scurll and Cody seemed reluctant to tag each other all night.  Scurll countered Misery into a chicken-wing and Young tapped.
Silas Young tapped out to Marty Scurll at 22:27.
Your world champion Dalton Castle was left alone against Cody and Scurll.  The BC duo hugged and surrounded the champ.  He gave a finger to Scurll with his one good hand.  Cody with a body slam and tag to Scurll.  They teamed up to give a Boston crab with one leg each.  They hugged again.  Cody chased The Boys around the ring and threw Castle into the guardrail.  Cody came in but Castle fired up against both men.  Back body drop to Scurll.  Scurll was going to break Castle's bad hand again but Cody pulled Castle away and hit CrossRhodes instead.  Scurll got pissed off at Cody and yelled at him while Cody told him to cover.  By the time Scurll finally went for the pin Castle kicked out.  Castle ducked a Beautiful Disaster kick and Cody took out Scurll.  Cody dumped to the floor and Bang-A-Rang on Scurll.
Marty Scurll was pinned by Dalton Castle at 29:08.
Cody immediately grabbed Castle from behind and pinned him.
WINNERS:  Bullet Club in 29:15.
-Castle and Cody had a stare down mid-ring amidst a flow of streamers.  Scurll intercepted and bickered with both of them.  Castle left and Cody tried to celebrate the victory but Scurll was too upset with him to raise their hands together.
(Pageot's Perspective:  Obviously the match of the night.  The elimination format kept things interesting and was definitely a step up from a traditional one-fall finish.  The tension between Cody and Scurll is new and intriguing.  Riccaboni and Cabana reminded us that Scurll earned a world title shot by winning Defy Or Deny but Cody still hasn't received his rematch after losing the title at Final Battle four months ago.  This would definitely seem to be teasing a triple threat match.  What a difference a bit of storytelling makes to events like this.)
---
Find Harley on Twitter @talkinghonor and listen to the round-table PWTorch Livecast "Talking Honor" every Tuesday.