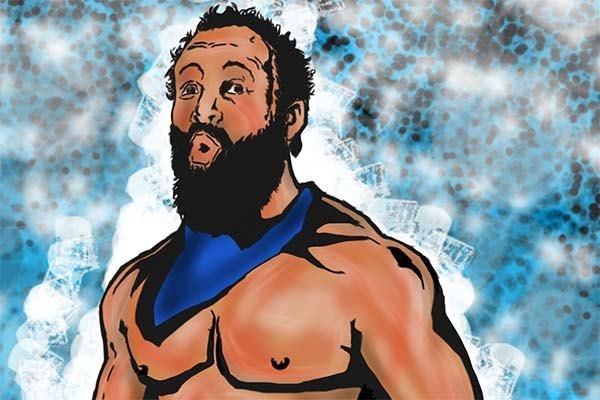 ---
SPOTLIGHTED PODCAST ALERT (YOUR ARTICLE BEGINS A FEW INCHES DOWN)...
---
HITS
Undisputed Era's Promo:  Fresh off their victories at NXT Takeover: New Orleans (Adam Cole winning the North American Championship and Undisputed retaining the NXT Tag Team titles and winning the Dusty Rhodes Tag Team Classic), the Undisputed Era came out to address the crowd in victorious fashion.  Adam Cole spoke first and had somewhat of a new swagger to him, reminiscent of his ROH days, probably because he finally won a championship.  Bobby Fish then spoke, and even though he did not participate in the tournament and has been out of action, he had every right to do so as he has been instrumental in the stable's success (much to the disappointment of one fan who yelled out, "you did nothing, damn it", which was hilarious).  Throughout his NXT run, Fish has been delivering fire promos and this one did not disappoint.  Now it was Roderick Strong's turn, the person that everyone wanted to hear from.  His promo was probably the best one as he answered the question of why he joined the stable in the first place.  He stated that it was because he knew that Pete Dunne would eventually turn on him and all that Dunne cared about was the U.K. Championship, so he decided to take matters into his own hands and not to wait for that moment.  Also, he wanted to be apart of a winning team and why fight it, as it was easier to join.  It was a great heel promo that gave reason for his decision and definitely drew some heat.  Kyle O'Reilly did a good job at wrapping it all together and told everyone that NXT is theirs to dominate.  This was excellent to see because it now seems like all of the pieces are coming together for the UE to be a formidable stable, one that isn't just talking, but actually backing it all up while holding gold.
Adam Cole vs. Oney Lorcan: After their promo, Adam Cole asked the rest of the UE to go to the back and relax while he wipes the floor with Oney Lorcan, straight dismissing him as a not worthy opponent.  It was a good match as Cole was very cocky and crafty, and the crowd seemed to eat it up.  In addition, the match was very well paced as each competitor shined.  Lorcan was very good as he dealt out some vicious European uppercuts, but soon O'Reilly and Strong came out to distract the referee.  While that was going on, Cole hit Lorcan with the Shinning Wizard for the win.  The crew continued to beat down Lorcan until Danny Burch came out to try and help but the numbers game proved to be too strong to overcome.  This just added to the sentiment of the UE being an unstoppable force that cannot be reckoned with, at least for the moment.
Johnny Gargano vs. Aleister Black:  Unfortunately this match never got started as Johnny Gargano was blindsided by Tomasso Ciampa.  Even though he tried to fight back, Gargano was subdued by a low blow to where he was never able to recover.  Ciampa hit Gargano with a hard knee and put him through a table off stage.  This seemed reminiscent of when Ciampa first attacked Gargano but this time more sinister.  Gargano had to be transported to the back as he showed his fighting spirit of not wanting to stay down.  As the stretcher rolled back stage and onto the truck, Ciampa was watching all the while that added to the dramatic effect of his psychotic ways.  It will be interesting to see where they go from here with this feud as we thought it was all over, but knowing NXT, they're going to take it to another level.
Aleister Black vs. Eric Young (NXT Championship):  As Gargano was being carted off to the hospital, Aleister Black happened to be walking by and saw what went down.  He then went to the ring to call out Tomasso Ciampa, but it was SaNITy that answered the call.  Eric Young stepped to Black and was given an impromptu championship match.  During the match, both had great grapple locks on each other.  Young showed his in the ring skills as a savvy veteran while Black was his hard-hitting self with numerous vicious strikes.  In the end, it was Black picking up the win with the Black Mass.  The rest of SaNITy tried to ambush Black but were met with Black Masses as well.  This will more than likely be the last time we see SaNITy making an appearance on the NXT stage as they have been called up to SmackDown Live, but you never know.  Another thing we don't know is what role will Black play in the feud of Gangano and Ciampa?  We see that he was upset about the attack, so will he try to avenge Gargano by facing Ciampa, we will just have to wait and see.
MISSES
Heavy Machinery vs. Tino Sabbatelli & Riddick Moss:  Honestly, how many times were we going to see these two teams face each other?  It seems like every other week for the past couple of months these two teams have battled to where this feud wasn't really going anywhere.  Its not that either team is terrible as both (more so Heavy Machinery) are entertaining, but it just seems redundant at this point.  The only interesting thing to happen in this match was the long awaited breakup between Sabbatelli and Moss to happen, which it did when Sabbatelli left his partner mid match.  The let down about this was that it took too long for this to happen.  If it had happened earlier on in this feud, it might have had more of an impact. Now it is just an afterthought as Heavy Machinery did away with Moss and seemed to be onto their next feud with the War Raiders as they called them out at the end of the match.
---
NOW CHECK OUT LAST WEEK'S COLUMN: NXT HITS & MISSES 4/18: Ricochet vs. Fabian Aichner, Lars Sullivan vs. Killian Dane, Zelina Vega vs. Candice LaRae