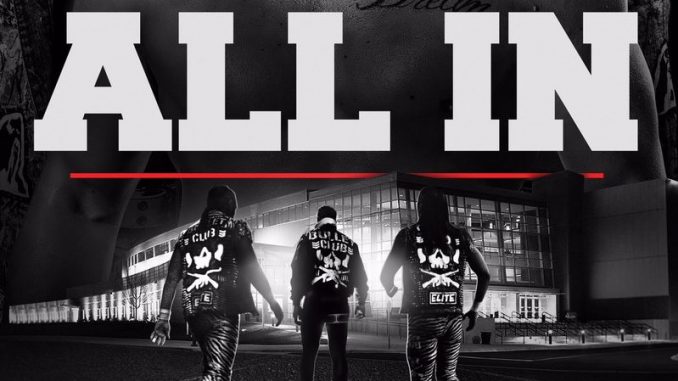 ---
SPOTLIGHTED PODCAST ALERT (YOUR ARTICLE BEGINS A FEW INCHES DOWN)...
---
RADICAN'S "ALL IN: ZERO HOUR" TV REPORT
SEPT, 1, 2018
CHICAGO, ILL
AIRED LIVE ON WGN AMERICA
BY SEAN RADICAN, TORCH COLUMNIST
Commentators: Ian Riccaboni, Excalibur, and Don Callis.
The show began with a look at the stage. The Bullet Club logo was up surrounded by All in logos. Being The Elite played and Cody came out with The Young Bucks to a HUGE pop. Cody's mic was scratchy and he welcomed everyone to All In. Matt asked if the fans if they wanted pyro. No pyro went off and Cody asked Matt if he paid the pyro guy. They teased pyro again and this time pyro went off and then lots of smoke was blown into the air. Fire then shot out from the stage. Nick said every show should have a cameo from a random wrestling legend. Matt did L.O.D.'s catchphrase and Animal came out on a bike to a pop. Matt asked the fans if they like free merch. He called out Hot Topic and Pro Wrestling Tees to shoot some shirts into the crowd.
Commercial break: They went to a Pro Wrestling Tees commercial with Colt Cabana and Joey Ryan.
S.C.U. came out to face The Briscoes. Scorpio Sky got on the mic and said this is the worst town he's ever seen. Frankie Kazarian then got on the mic and said they're part of history. He said they are part of a revolution. He said tonight they are all in. Kazarian asked for a S.C.U. on three and he got one. The Briscoes were out next. The venue looks really good with nice staging. It's not quite WWE level, but better than what ROH usually does with their staging. The Briscoes came out with the ROH World Tag Team Titles.
(1) S.C.U. (Frankie Kazarian & Scorpio Sky) vs. ROH World Tag Team Champions The Briscoes (Mark & Jay Briscoe) in a Non-Title match. The announcers said that there's going to be more than 15 men in the Over the Budget Battle Royal pre-show main event. Riccaboni teased as many as 30 men and women. The opening bell rang and the fans started an All In chant. Jay knocked Sky off the apron and The Briscoes went after Kazarian right after the bell rang. The fans booed. S.C.U. fired back and wiped out both of the Briscoes. Mark got isolated as Kazarian and Sky tagged in and out to work him over. Jay provided a distraction on Sky and eventually wiped him out with a big clothesline. Sky got isolated and worked over. Sky tried to fight back, but he got cut off. The fans booed as Jay worked a headlock and then fired up behind Sky. Sky fired back and hit a hurricanrana on Jay. Mark tried to prevent him from tagging out, but he fended him off and tagged in Kazarian, who ran wild. Kazarian got a near fall on both Briscoes with an Okana roll, northern lights suplex combination on both Briscoes.The action picked up and Sky wiped out The Briscoes with a huge flip dive over the top to the floor. Kazarian and Sky both hit ace crushers on The Briscoes and then applied stereo dragon sleepers, but The Briscoes got out of it by raking their eyes.
Kazarian and Jay ended up alone in the ring going at it. Mark nailed Kazarian from the apron and Briscoe sent him packing to the floor. Mark hit Kazarian with a blockbuster off the apron to the floor. He rolled Kazarian back into the ring for a neck breaker. Jay made the cover, but only got a 2 count. The announcers mentioned Sky was down and out on the floor. The Briscoes hit Redneck Boogie on Kazarian, but he kicked out at the last second. They set up for an avalanche Redneck Boogie on Kazarian, but Sky made the save. S.C.U. hit a Rock Bottom/lung blower combination on Mark for a near fall. Jay recovered and saved Mark. Jay hit the Jay-driller on Kazarian and Mark hit a Froggy Bow, but Sky made the save! WOW! The fans chanted S.C.U. The Briscoes had Kazarian isolated for the Doomsday device, but he turned it into a powerslam for the win. WOW! At the same time Sky ran into the ring and drop kicked Mark. What a finish!
WINNERS: Frankie Kazarian & Scorpio Sky at 15:25
Star rating: (***1/2) – The match had some slow spots early, but it was really good down the stretch and leading into the finish.
(Commercial break)
Alicia Atout was shown backstage interviewing Kenny Omega. She was shown getting low to make Omega look big. Omega said Pentagon was once TNA Hvt. Champion. Omega said he's the IWGP Hvt. Champion. Omega said they wanted to give fans this dream match. Omega said he doesn't know if he's ready for this match, but he is. Omega said he wanted to make this a match for the ages. He was asked if he's nervous about facing Pentagon Jr. for the first time. Omega said he knows all about Pentagon. Omega said he gets his nerves from being in front of 10,000 people here and more watching at home. Omega said he wanted to make sure today is a day everyone remembers. Omega then hit his catch phrase.
(Commercial break)
(2) Over Budget Battle Royal – Winner gets shot at the ROH World Championship. Several wrestlers were shown outside of the ring. Dalton Castle joined the commentary booth. A graphic was shown with Jay Lethal and a bunch of silhouettes. Bully Ray made his way down to ringside and powerbombed El Chico through a table at ringside. Trent wiped BUlly out with a dive. Jordynne Grace then wiped out Trent with a dive. Ethan Page wiped her out with a dive. Colt Cabana wiped out a bunch of people with a quebrada to the floor and the fans popped. Tommy Dreamer and Billy gun set up for a double dive, but they ended up just jumping down to the floor and throwing punches. Moose hit punches on almost everyone in the match and the fans chanted his name, but a group of wrestlers cut him off. Moose almost got eliminated by a bunch of people, but he managed to stay on the apron. Marco Stunt eliminated him with a dropkick. Brandon Cutler got tossed out by Brian Cage. Punishment Martinez eliminated Trent and Chuck Taylor. Rocky Romero ran wild around the ring with clothesline and almost every corner, but Cage cut him off with a discus clothesline and tossed him over the top top to the floor to eliminate him. Cheeseburger ran wild, but Cage eventually cut him off and tossed him over the top to the floor to eliminate him. Martinez and Cage began exchanging blows in the middle of the ring.They traded hurricanranas.They went back and forth for choke slams, but Hurricane Helms got involved and chokeslammed Martinez and Cage. Helms and Page traded blows on the apron. Page eliminated Helms with a kick to the head, but Cabana eliminated Page with the flying apple. Dreamer tossed a trashcan into the ring that was loaded with weapons. Dreamer went to town on several people with the plunder. Dreamer hit the flip, flop, and fly on Martinez for a pop. He followed up with the Spicoli Driver, but Bully nailed him with a trash can shot and tossed him out of the ring.
Austin Gunn worked over Jimmy Jacobs, but Jacobs grabbed his crotch and tore his hand away. OUCH. Jacobs hit the five knuckle shuffle on Austin Gunn. He did the suck it crotch chop and went for the pedigree, but Billy Gunn broke it up. Jacobs kissed Billy Gunn. Gunn told him to suck this bitch and tossed him out of the ring to eliminate him. Martinez and Gunn went at it. Austin Gunn eventually came out of nowhere to eliminate Martinez. Austin hugged his father, but Bully nailed him with a lid and tossed him out of the ring to eliminate him.
Brian Cage lifted Billy Gunn over his head and tossed him out of the ring. Stunt hit a sick lung blower on Cage, but Bully Ray immediately tossed him out of the ring. It came down to Grace, Cage, Ray, and Cabana. Grace lifted up Cage and squatted him! Cage slipped out and hit Grace with a buckle bomb. Grace got Cage up and powerbombed him! She then clotheslined Cage over the top to the floor to eliminate him. WOW! Grace stood up to Bully Ray and the fans fired up. Ray teased a chop and raked her eyes. He placed her on the top turnbuckle, but Grace shoved him off. Cabana then held up Bully's legs for what's up! Grace was going to eliminate Ray, but he countered her and tossed her over the top to the floor to eliminate her.
It came down to Ray and Cabana. Ray missed a senton off the second turnbuckle. Cabana got a chair and went after Ray with it. He went to toss Ray out, but Ray countered him and eliminated him. They thought Ray had won, but El Chico recovered on the outside and eliminated Ray. El Chico unmasked and it was Flip Gordon!
WINNER: Flip Gordon at 17:05 to win a shot at the ROH World Championship on the PPV against Jay Lethal
Star rating: (**¾) – There were some highlights and a lot of chaos in this one. The finish told the right story with Flip Gordon tricking his way onto the main card by dressing up as El Chico and getting revenge on Bully Ray.
(Commercial break)
They came back from break and Riccaboni did the final pitch to order All In on PPV. Riccaboni plugged the card as the top of the hour neared to end the show.
Contact Sean at radicansean@pwtorch.com and follow him on twitter @sr_torch