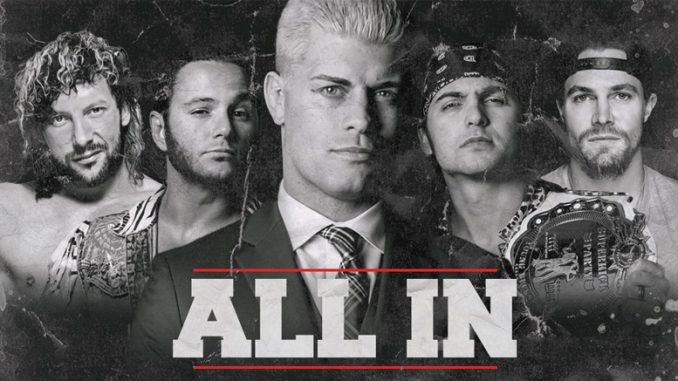 ---
SPOTLIGHTED PODCAST ALERT (YOUR ARTICLE BEGINS A FEW INCHES DOWN)...
---
RADICAN'S "ALL IN" PPV REPORT
SEPT. 1, 2018
CHICAGO, ILL
AIRED LIVE ON PPV, FITE TV, AND HONOR CLUB
(1) Matt Cross vs MJF. Good opener. MJF got to show off his heel persona. Cross won with a SSP.
WINNER: Matt Cross
Star rating: (**3/4)
Sean Mooney interviewed NWA World Champion Nick Aldis backstage. This looked much more professional than the footage of Kenny Omega being interviewed during the pre-show on WGN.
Jerry Lynn was introduced by Bobby Cruise as the ref for Christopher Daniels vs. Stephen Amell. Amell came out with Josh Seggara from Arrow to the Bullet Club theme. Christopher Daniels was out next with Frankie Kazarian and Scorpio Sky.
(2) Stephen Amell (w/Josh Seggara) vs. Christopher Daniels (w/S.C.U). John Mayer was shown in the crowd. Daniels dominated early, but Amell mounted a comeback and hit a coast to coast dropkick that really fired up the crowd. Daniels fired back and hit the BME, but didn't get all of it and Amell kicked out at 2. Daniels set up Amell for a superplex through a table on the floor, but Amell pushed him off. Daniels ended up on the table. Amell went for an elbow drop off the top to the floor, but Daniels got out of the way! WOW! The fans chanted broken arrow. Lynn stopped his count and tossed Daniels and then Amell into the ring and the fans fired up.
Daniels yelled at Lynn, who got a chant from the crowd. Lynn took his ref shirt off and they shoved each other. Lynn shoved Daniels into a rollup from Amell for a 2 count. Amell took a beating from Daniels. He staggered to his feet and flipped Daniels off. Amell countered Angels Wings into a pinning combination for a near fall. Daniels then hit the BME for the win.
WINNER: Christopher Daniels
Star rating: (***1/2)- Amell is a little rough around the edges, but he put on a great performance considering his experience level.
After the match, Amell shook hands with Daniels and raised his hand. Riccaboni said he'd like to see Amell in ROH.
Mandy Leon and Tennille Dashwood joined the commentary table.
Britt Baker came out to Adam Cole's ROH music, which was a cool touch before the four-way women's match.
(3) Britt Baker vs. Chelsea Green vs. Madison Rayne vs. Tessa Blanchard – Four Way Tornado match. Blanchard hugged Tully Blanchard and Magnum T.A. as she came down to the ring. Tessa gorilla pressed Madison over the top to the floor onto Baker and Green! WOW! Green followed up with a big dive to wipe out Baker and Blanchard. Green hit Zack Ryder's running kick in the corner to a big pop. They built up to a big spot and Baker hit the Magnum on Tessa and Green. She went for the cover on Green, but she kicked out at the last second! The action continued at a rapid pace and Green hit a destroyer on Blanchard for near fall. Tessa hit the hammerlock DDT and Baker dove in for the save, but the ref said it wasn't made in time.
WINNER: Tessa Blanchard
Star rating: (***1/4)
El Chico and Fat Ass Masa were shown at ringside. Bret Tarring joined the commentary booth. He called Cody's first match in OVW. He did he knows both men very well.
Cody Rhodes and Nick Aldis both had a fight team accompanying them to the ring. Brandi Rhodes, Tommy Dreamer, and DDP accompanied Cody to the ring amongst several others. Tim Storm, Jeff Jarrett, and Shawn Daivari accompanied Aldis to the ring.
(4) NWA World Champion Nick Aldis vs. Cody Rhodes (w/Brandi Rhodes). Earl Hebner is the ref. Hebner got on the mic said he's known both men for many years. He said may the best man win and take the 10 pounds of gold. The opening bell rang and the fans really fired up. Aldis and Rhodes looked out at the crowd as they fired up even more. Aldis and Rhodes shook hands and the match was on. The fans were solidly behind Cody. Aldis got the upper hand and worked over Cody for a long period of time. Cody fired back and hit the Goldust punch. Both men then hit lariats at the same time and were down. Cody hit a superkick and went for Cross-Rhodes, but Aldis blocked it. Both men then hit cross body's at the same time. Aldis rolled to the floor and Cody went for his signature step up dive, but Aldis blocked it with a big elbow to the head.
Cody was down on the outside and it looked like he was out. DDP ran down to ringside to check on him. Hebner abandoned the count. Shawn Daivari ran down and shoved DDP. He then shoved the ref, but DDP nailed him with a Diamond Cutter. DDP went back to the floor to check on Cody. He got sent to the back and Cody came up busted open. Aldis tossed him into the ring and began working on the cut. Cody mounted a comeback and hit a powerslam for a 2 count. Cody went for a moonsault, but Aldis got out of the way. Aldis then hit a fallaway slam off the second turnbuckle. Aldis went up top and hit a splash for a 2 count.
Cody applied a figure 4 on Aldis. Aldis's shoulders went down to the mat and Cody got a pair of 2 counts. Aldis eventually rolled himself and Cody into the ropes. They went to the floor and Aldis hit a running powerslam on Cody. Cody set up for an Alabama Slam back inside the ring, but he couldn't hit it. He sold his back and then fired up and hit a big Alabama Slam. Cody set up for the Disaster Kick, but Aldis got out of the way. Aldis hit a powerbomb and held on and applied a Texas Cloverleaf. Aldis sat down on the hold in the middle of the ring. Brandi urged Cody to get to the ropes and he did. The fans fired up big time! Wow! Brandi gave Cody a pep talk and Aldis dragged Cody away from her and hit a high angle piledriver on him.
Brandi got into the ring as Aldis went up top. She climbed on top of Cody and blocked the elbow drop from Aldis. The fans booed as Brandi sold big time. The fans chanted Ass—- at Aldis. He covered Cody for a 2 count. Cody suddenly popped up and surprised Aldis with the disaster kick. He then hit Cross-Rhodes for a near fall! WOW!! They went back and forth exchanging counters. Aldis went for a sunset flip and Cody sat down on it for the three count. The fans exploded in applause when Cody won. What a moment for Cody!
Cody smiled and began to cry. He was handed the NWA World Championship. Brandi got into the ring with a Cody and hugged him. Cody stood and raised the belt. Wow!
Cody was joined by his fight team in the ring. Brandi put the belt around his shirt. The announcers said Cody would head to the NWA 70th Anniversary Show.
Cody pumped the crowd up as they cheered.
WINNER: Cody Rhodes to become the new NWA World Championship
Star rating: (****) – This surpassed all my expectations. This was a very old school style of match fitting of the NWA lineage right into the finish. The crowd reaction to the finish was a great nod to the Bret Hart vs. British Bulldog match at SummerSlam 1992.
They showed a video recapping Hangman Page killing Joey Ryan on Being the Elite. Page was woken up backstage having bad dreams about Ryan by Nick Jackson. Page attacked Jackson, but he realized what he was doing and he let go of him and walked away.
(5) Joey Janela (w/Penelope Ford) vs. Hangman Page in a Chicago Street Fight. The announcers said Page had confessed to killing Joey Ryan at the press conference yesterday. Page sent Janela to the floor early and nailed him win a dive. Janela fired back with a dive of his own while flipping the bird. Callis said he liked Janela's dive on commentary. Page fired back and hit his signature moonsault to the floor. WOW! Page brought a chair into the ring and lifted Janela up before tossing him over his head through the chair. Janela tossed Page into a Cracker Barrel barrel at ringside. Janela then jumped off the Cracker Barrel to nail Page with a big flip senton!
Janela rolled the barrel at Page, but he jumped over it. Janela went to charge at Page, but he came over the barricade with a buckshot lariat. Page set up a table near the barricade. He then dragged Janela up top for a suplex through the table. Janela fought out of it and hit a Blu-Ray into the turnbuckles. He then made the cover for a 2 count. Janela went to the floor and used the Cracker Barrel to set up a ladder between the apron and the ring. Janela put Page on the ladder and went up top. Page popped up and cut him off up top. Page lifted Janela up and hit a burning hammer on Janela onto the ladder. The ladder also hit Janela on the way down. Page got a garbage bag and teased suffocating Janela back inside the ring. Ford ran into the ring and jumped on Page's back. He shrugged her off and Ford slapped him across the face. Page tried to hit her, but she flipped out of it and hit a stunner! WOW! She then wiped out Page with elbow drop off the top to the floor.
Janela got a running start at the top of the entrance ramp and wiped out Page with a clothesline. Janela grabbed a table and set it up in the entranceway. Janela got help from Ford and set up two tables. Page fired up and hit Janela with a superkick. He then powerbombed Janela off the ramp through a table. Janela went flying and only connected with one of the tables. Page dragged Janela back to the ring and hit the buckshot lariat. Page then connected with the Rite of Passage, but Ford made the save! Ford picked up one of the bags in the ring. Page grabbed it from her and his boot fell out! The fans chanted boots. Ford went to grab the boots, but Page hit her with a kick. Janela then nailed Page with a superkick for a near fall.
Janela went to the floor and got a new ladder from under the ring. He put it into the ring. Janela then tossed a table into the ring. Page was on the table and he popped up and cut Janela off up top. Page got the phone he killed Joey Ryan with and nailed Janela with it several times. He then hit the Rite of Passage off the top of the ladder through the table.
WINNER: Adam Page
Star rating: (****) – This was crazy and ridiculous at times, but it perfectly fit Page's BTE storyline. Janela took some crazy bumps in this match.
The lights went out after the match. A video showed Joey Ryan's penis rising as he was down on the bed where Page killed him. A bunch of men dressed like penis's came out a la the Undertaker's Druids. Joey Ryan then came out and made his way through the penis's lining the entranceway. Joey Ryan made his way to the ring as Page sold shock. Ryan posed on the ropes. Page sold shock as Ryan oiled himself up. Ryan made Page grab his groin and he hit the Penis-plex. He then put his lollipop in Page's mouth. The penis's then carried Page away to the back. The fans chanted rest in penis at Page.
Jay Lethal was shown warming up backstage. Someone handed him Macho Man glasses and he started acting like Macho Man. He had been having visions of his Macho man gimmick on BTE.
Flip Gordon came out first with Brandi Rhodes. Macho Man's music played and Lethal came out with Lanny Poffo. Cary Silkin held up the ROH World Championship before the match started. Lethal did the Mega Powers handshake with Poffo before the match began. He then did the same with Gordon. The announcers mentioned Lethal was wearing one of Macho Man's actual ring jackets that Poffo had given him.
(6) ROH World Champion "Black Machismo" Jay Lethal vs. Flip Gordon (w/Brandi Rhodes). Lethal kept thinking Brandi was Elizabeth during the early going. He chased her and put her on his shoulders. Brandi slapped him and Lethal snapped back into the moment and acted like he didn't know where he was. Gordon sent Lethal to the floor and hit two suicide dives. Gordon then went over the top with a flip dive and it looked like he caught his foot on the top rope, but Lethal managed to catch him. Gordon followed up with an inverted frog splash for a 2 count. They went back and forth and Gordon caught Lethal with a standing moonsault for a 2 count.
Gordon hit a jumping knee and a falcon arrow for a near fall and the fans chanted for Gordon. Gordon went for a springboard, but Lethal caught him with a torture rack. He then hit a Finlay Roll. Poffo got up on the apron and sent Lethal back into Black Machismo mode. Lethal hit Hail to the King. He went up too again and hit it a second time. Lethal went up top a third time and hit a third Hail to the King, but Gordon kicked out at 2 and then fired up like Ultimate Warrior. Lethal sold frustrations as Gordon did the Hogan comeback. Gordon hit the big boot and set up for the leg drop, but Lethal popped up. Gordon did a sick evade and hit a Star Spangled Slingblade. He went up top, but missed a double stomp. Gordon hit a tornado twisting splash a short time later for a near fall! WOW! The fans chanted for Flip.
Gordon put Lethal up top and went for a hurricanrana. Lethal blocked it and eventually hit a cutter off the top. Lethal then hit the Lethal Injection for the win.
WINNER: Jay Lethal to retain the ROH World Championship
Star rating: (***1/2) – This was a fun match that followed up on Lethal's BTE storyline. Gordon looked good here in coming up short against Lethal. This was a nice conclusion to his BTE storyline as well.
Gordon didn't let go of the handshake from Lethal after the match. Gordon dragged Lethal back and gave him a hug. Bully Ray was shown running down to the ring to attack Lethal and Gordon. He took forever to get there, but he wiped them out. Poffo got into the ring and Bully kicked him in the balls. Bully set up a table, but Cabana ran down to make the save. The fans chanted for Cabana. Lethal and Gordon lifted Ray up and gave him to Cabana for a Shield style powerbomb through the table. A big chant for Colt Cabana started as he went to leave the ring.
(7) Penta El Zero. vs. IWGP World Hvt. Champion Kenny Omega – Non-Title match. Omega got some pyro for his entrance. The fans fired up and clapped in beat to Rise of the Terminator. Pentagon tried to do his Cero Miedo hand gesture, but Omega cut him off and they were off to the races. Pentagon hit a sick lung blower on Omega. He set up for a dive, but Omega got into the ring and hit a rana. Omega set up for Rise of the Terminator, but Pentagon hit him with a sling blade. He then wiped out Kenny with a big flip dive. Pentagon continued to control the action for a long period of time. Omega began to favor his leg. Omega fired back and sent Pentagon to the floor. Omega set up for a springboard and almost slipped, but he righted himself and hit the dive. Omega hit a cross-legged neck breaker on Pentagon for a 2 count a short time later.
They went back and forth and Omega hit a snap dragon suplex. He set up for the One-Winged Angel, but Pentagon turned it into a lung blower for a near fall! Both men were slow to get up and the fans fired up. Omega fired back and hit a DVD into a pinning combination for a 2 count. Omega set up behind Pentagon in the corner and hit a HUGE V-Ttrigger. Pentagon fired back and hung Omega upside down in the corner. He followed up with a double stomp for a 2 count. Omega hit a V-Trigger and Pentagon did his hang gesture. Omega hit another V-Trigger and Pentagon did it again, so Omega hit a stuffed powerbomb and a huge V-Trigger for a near fall! WOW! Both men went for their finishers and Pentagon hit a pump handle half Nelson driver for a near fall! They ended up on the apron. Pentagon blocked a V-Trigger and hit Fear Factor on the apron! ARE YOU KIDDING ME?! He tossed him into the ring and made the cover, but Omega kicked out! Omega slipped out of a Fear Factor and hit one of his own for a near fall! Omega hit a V-Trigger. He went for the One-Winged Angel, but Pentagon slipped out and hit the his signature arm breaker! WOW!! Pentagon then hit Fear Factor, but he didn't hook the leg and Omega kicked out at the very last second! WOW!!
The fans went nuts and chanted All In. Pentagon grabbed Omega and hit his hang gesture. They went back and forth and Omega hit a snap poison hurricanrana. Omega hit a V-Trigger and then he hit the One-Winged Angel for the win. Omega had a hard time holding Pentagon's leg to make the pin after having his arm snapped backwards.
WINNER: Kenny Omega
Star rating: (****1/2) – Tremendous match and a star making performance on a grand stage for Pentagon. Vince McMahon must be sweating to sign him after seeing this match.
The lights went out after the match. The announcers acted like it was a technical error. The lights came back on and Pentagon got up, but it was Chris Jericho dressed like Pentagon! WOW!!! He hit two code breakers on Omega and told him he'd see him on the Jericho cruise after unmasking. Jericho attacked Callis on his way to the back.
Tiger Hattori was out to a big pop to ref Marty Scurll vs. Kazuchika Okada.
Marty Scurll was shown backstage. He was mocked by the music executive fingers that ran him down for being a junior. Scurll broke one of the pointing fingers. He then broke the other pointing finger and smiled.
Marty Scurll came out first. Kazuchika Okada came out next in his Rainmaker gear. He posed in the top of the ramp and Okada Bucks flew around behind him. The announcers said Okada wasn't wearing a t-shirt and didn't have balloons because he was taking this match seriously.
(8) Marty Scurll vs. Kazuchika Okada. Scurll stayed one step ahead of Okada during the early going until he got caught with a suplex. Scurll fired back and hit a flurry of offense capped by a suicide dive. Scurll set up Okada's arm and stomped down on it a short time later. Okada mounted a comeback and began working over Scurll. Okada focused on Scurll's head and neck. The fans chanted for both men and Okada hit his 52 Fake-out kick to Okada's leg. The fans got a big chant going for Scurll. He went for The Graduation, but Okada blocked it and hit a flurry of offense capped by a DDT for a 2 count.
They went back and forth and Scurll landed a brainbuster for a big pop! Okada blocked a powerbomb attempt. Scurll favored his back and fired up on the ropes, but Okada countered him with an air raid crash for a 2 count. Okada went up top, but Scurll cut him off with an uppercut. They battled up top and Okada hit some big blows, but Scurll wouldn't go down. Scurll finally hit a superplex and the fans applauded. Scurll hit a high stack powerbomb a short time later for a near fall and the fans applauded. They went back and forth and Okada hit the John Woo dropkick that sent Scurll into the corner. He followed up with a big missile dropkick for a near fall. Scurll countered a tombstone and went for one of his own. Okada then countered it into a tombstone and hit the Rainmaker pose. Okada made the 205 hand gesture as he set up for the Rainmaker, but Scurll grabbed his fingers and snapped them apart.
Okada went for the Rainmaker, but Scurll countered it into the Chicken wing. Scurll had a hard time locking his arms and Okada freed himself, but Scurll popped up and applied the Chicken Wing again! Okada rolled through on top of Scurll and for a 2 count. Scurll slipped out of a tombstone and shoved Okada into the ref. Okada went for a Rainmaker, but Scurll blocked it with his umbrella. He then hit Okada with the Umbrella and hit a Rainmaker for a super close near fall! Wow! Scurll went for the chicken wing, but Okada countered it and hit the Rainmaker and both men were down!
Scurll told Okada to bring it from his knees. Okada punched him and Scurll got up and told him to bring it. Scurll spit in Okada's face and slapped him. He told Okada to bring it, but Okada hit a discus Rainmaker and then a sick traditional Rainmaker for the win
WINNER: Kazuchika Okada
Star rating: (****) – This was really good. Scurll proved he can go with heavyweights and although this match had a lull during the early stages, it got really good late.
Rey Mysterio came out last for his team dressed like Wolverine. The Young Bucks and Kota Ibushi came out next with some fire.
(9) The Golden Elite (Matt Jackson & Nick Jackson & Kota Ibushi) vs. Bandido & Rey Mysterio & Rey Fenix. I won't try to recap all the moves in this match. Matt and Bandido had a crazy exchange and Bandido wiped him out with a crazy dive. Fénix got the tag and ran wild on The Young Bucks. Ibushi and Mysterio tagged in and the fans went nuts!! They had a great exchange and came to a stalemate. Ibushi caught Mysterio with a kick and tagged in Matt, but Mysterio caught him with a DDT. Ibushi and Bandido went at it. They went back and forth and Ibushi caught him with a kick and then a moonsault into a double knee strike that the cameras didn't get a good shot of. Nick got the tag and ran wild on Fenix and Bandido. Nick and Ibushi then hit a pair of crazy dives to the floor. Mysterio then hit an inside out springboard moonsault a short time later to wipe out everyone! WOW! Fenix then hit a sick twisting splash to the floor. Bandido then went up top and hit a corkscrew dive to the floor to wipe out The Golden Elite. This was an incredible sequence.
Matt wiped out Bandido with a cannonball senton off the stage a short time later! The Young Bucks tossed Bandido to Ibushi for a German suplex for a near fall. Bandido avoided a triple superkick and hit triple hurricanrana. Mysterio got the hot tag and ran wild. Matt blocked the 619 and Rey was set up for a double Meltzer driver, but Fenix made the save. Matt took the 619 and a big combination of moves. Mysterio came off the top with a frog splash as Ibushi and Nick were wiped out by Bandido and Fenix with dives. Rey made the cover, but Matt kicked out at the last second! Bandido hit Matt with a back flipping blockbuster, but Nick made the save! Mysterio ate a double superkick and so did Fenix. The Golden Elite hit a triple More Bang for Your Buck on Bandido, but Fenix made the save. The Young Bucks then hit The Meltzer Driver on Bandido for the win. Wow!
WINNERS: Matt Jackson & Nick Jackson & Kota Ibushi
Star rating: (****) – This was really good, but they were running up against the PPV time ending and it was short.
The show abruptly before Riccaboni could complete his sign off.
Overall score: (9.0) – This was an amazing show and it was historical. I wasn't sure what to expect out of the show going in, but nearly every match delivered in a big way. The production was a little rough here and there with some missed camera shots and graphic errors at times, but the show had a big budget look to it with the staging and the way the building was set up.
The most memorable match was Cody Rhodes beating Nick Aldis for the NWA Championship in an old school classic with some great callbacks to Dusty Rhodes vs. Rick Flair and Davey Boy Smith Jr. vs Bret Hart. Seeing the emotion in the building when the bell rang for this match was incredible and Cody's post match reaction to winning the title and the celebration was great as will. Kudos to Billy Corgan and Dave Lagana for making the NWA Championship mean something once again with fantastic modernized storytelling.
Joey Janela vs. Hangman Page was a crazy brawl. Janela lived up to his reputation for this style of match taking some insane bumps. The post-match stuff with Joey Ryan coming back from the dead to pay off the Being the Elite angle was a spectacle.
Kenny Omega vs. Penta El Zero M was a crazy back and forth contest that saw both guys go all out. They had the best match of the night and Pentagon likes got introduced to a ton of new fans in the process. Chris Jericho showing up after the match dressed like Pentagon was an awesome surprise.
Marty Scurll vs. Kazuchika Okada told the story of Scurll being able to go with the best in the world despite being a junior. The match took awhile to get going, but it got great late and Scurll pulled through with a great performance against of Okada even in defeat.
The main event felt rushed but The Golden Elite vs. Rey Mysterio & Bandido & Rey Fenix March was a ton of fun and you got almost all of the high-flying you could expect.
All in All, this was a historical night that will be remembered for years to come. The Young Bucks and Cody Rhodes did something truly special by putting this show on independently and drawing such a huge crowd. ROH has already upped the stakes selling out MSG, so the question is what will Cody and The Young Bucks do next?
Contact Sean at radicansean@pwtorch.com and follow him on Twitter @sr_torch.