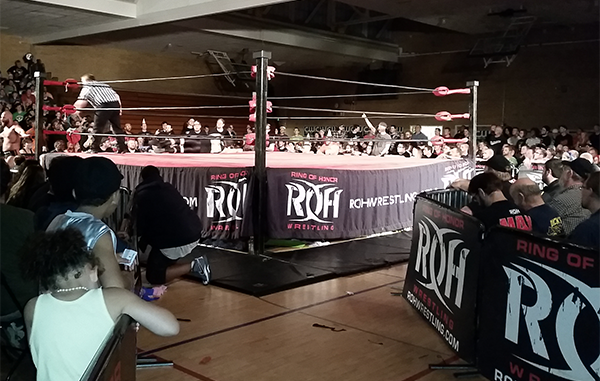 ---
SPOTLIGHTED PODCAST ALERT (YOUR ARTICLE BEGINS A FEW INCHES DOWN)...
---
ROH GLOBAL WARS ON-SITE REPORT
NOVEMBER 7, 2018
LEWISTON, MAINE AT ANDROSCOGGIN BANK COLISÉE
AIRED ON ROH HONOR CLUB
REPORT BY BRANDON LECLAIR, PWTORCH CORRESPONDENT
I wanted to send over some notes from the first night of the ROH Global Wars tour last night in Lewiston, Maine to provide some in-person perspective.
---
FOR FULL RESULTS: 11/7 ROH GLOBAL WARS report: Live coverage of L.I.J. vs. Lethal, Kushida, Sabin, & Gresham, The Young Bucks vs. Bully Ray & Silas Young
---
-Last night's Global Wars opener marked ROH's first visit ever to the state of Maine. It's a little hard to believe, being a promotion based primarily in the Northeast, that they've never made their way up here.
-They opted to book the Androscoggin Bank Colisee, a respectably sized hockey arena located in the central part of the state. WWE has visited this venue a few times in the past, most recently in December of 2015. They nearly sold out that event with a full house configuration (the arena seats about 4,500). ROH opted for a half-house configuration and the results were less impressive. The floor was predominantly full, but the bowl surrounding the ring was largely empty. No section appeared to be more than 50 percent full. To their credit, though, the floor seats were the most expensive, so it's encouraging that they were able to fill those with relative ease.
-Doors opened two hours prior to bell-time, and, to my surprise, a large portion of the audience showed up well in advance. The "meet and greet" ticket line was healthily full for the first hour, and the attending members of The Elite enjoyed long lines from the moment they arrived to the moment they returned backstage. I opted not to purchase any autographs/photos, but I did observe Cody, Brandi, Adam Page, and The Young Bucks interacting with fans and all of them seemed to be appreciative, warm, and excited to be there. Interesting to note: The last time I was in this building was for WWE, and both Cody (as Stardust) and Brandi (as the ring announcer) were on the show.
-ROH's presentation was striking. I'm a long-time casual follower of their product (and New Japan's product), but this was actually my first time experiencing them live. Their production values rival, if not slightly surpasses that of WWE's house show set-up. The building was extremely well lit, the sound was clear, and the event came off as a big-league affair, save one major malfunction – a pair of power outages. I'm not sure whether this was on ROH or the Colisee, but the lights to the building cut out during the event on more than one occasion. The crowd wound up lighting the ring with their cellphones and the wrestlers continued on. It was a cool moment that really shined a spotlight (no pun intended) on the sense of community and kinship felt among wrestling fans and promotions like ROH. It almost added to the show in a way.
-The crowd was rowdy and engaged throughout the entire card. Maine certainly has a collection of hardcore wrestling fans (as evidenced by the success of upstart promotion, Limitless Wrestling), but they seem to hardly show their faces at WWE events. There were very few kids in attendance. Instead, it was a collection of men and women (many, actually!) who were very familiar with both ROH and New Japan, and were eager to participate in the promotion's traditions. The atmosphere was far superior to anything I've experienced in the last decade or more at WWE house shows in the state.
-My friends and I sat front row ringside and paid $90 plus service fees, making it comparable to WWE house shows in the area. Important to note, ROH, unlike WWE, drops the prices of their ringside seats with each row you move back. I love this strategy, and wish it were something WWE would consider adopting. There is a huge difference between Row 1 and Row 2, and so on. I felt incredibly satisfied for the price I paid.
-I find it apt to compare the experience of attending a show like this versus a WWE house show. Granted, Global Wars was streamed for Honor Club members, but, for all intents and purposes, it was a smaller scale, house show-like event. In 2018, I find that the majority of experiencing a WWE house show in person is just to see wrestlers up close. The wrestling isn't particularly notable or memorable. I don't fault WWE or its talent for that, given their immense and grueling tour schedule. ROH felt dramatically different. No wrestler took any glaring risk, but the effort was certainly a notch or two above WWE's house show output. The action felt a little more consequential and certainly featured a bit more variety. It was refreshing, having been to so many WWE house shows in recent years that just felt identical, save for a few changes in characters. Major kudos to ROH for that, as it made for a memorable and enjoyable first experience.
-The crowd was, as anticipated, most into the members of The Elite. Everyone on the card received, at minimum, respectful reactions. The crowd seemed familiar with nearly everyone on the event and were visibly excited to see some of the top-end NJPW talent.
Biggest Pops:
1. The Young Bucks
2. Cody
3. Tesuya Naito
4. Flip Gordon
5. So Cal Uncensored
Most Heat:
1. The Kingdom
2. Bully Ray
Overall, an extremely fun show. Though I'm not sure they'll return any time soon, my experience definitely increases the likelihood that I'd be willing to do a little bit of traveling to see a bigger ROH event in the future.
---
NOW CHECK OUT THIS REPORT: 11/5 WWE Raw On-Site Report: Notes on what happened off-camera including after Raw ended, crowd responses, Main Event match results, Crown Jewel reactions, top cheers