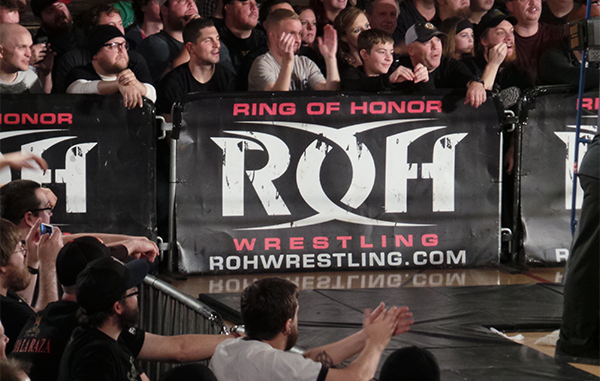 ---
SPOTLIGHTED PODCAST ALERT (YOUR ARTICLE BEGINS A FEW INCHES DOWN)...
---
The following is the latest in a new series of weekly in-depth articles exclusive to PWTorch which will help put in perspective major wrestling promotions with a weekly overview, looking at news and roster developments, results, future line-ups, social media activity, key interviews, plus a timely commentary at the end. We will be featuring similar features on other promotions each week and each will be updated weekly.
---
•Top Stories of the Week
For the second week in a row, a majority of ROH news has been in-ring related.
ROH Television this week set up a major – and most likely final – PPV match featuring the Young Bucks. SoCal Uncensored will take on The Briscoes and The Young Bucks in a Ladder War Match at Final Battle.
In kind of weird news, that is barely news… Per wrestlinginc.com, Silas Young was in the crowd Monday night at Raw's taping in Milwaukee, Wis. The fact that he was in the crowd and not backstage seems odd. More to come on this story in the weeks ahead.
The remainder of the Final Battle PPV have taken shape in leaks for TV tapings, as well as announcements made by ROH.
---
•Live Event Results
There were no Live Events this week for ROH.
---
•Upcoming Major Show: ROH Final Battle
ROH Final Battle
December 15, 2018 (8:00pm)
New York, NY The Manhattan Center's Hammerstein Ballroom
Eight matches have either been confirmed by ROH in some capacity, or have essential been confirmed via live audience reports from TV tapings. More matches could be confirmed, as with all wrestling shows, the card is subject to change.
Sumie Sake (c) vs. Madison Rayne vs. Karen Q vs. Kelly Klein in a Four Corner Survival Match for the WOH World Championship
Matt Taven vs. Dalton Castle
Bully Ray vs. Flip Gordon in an I Quit match
Jonathan Gresham vs. Zack Sabre Jr.
Christopher Daniels vs. Marty Scurll
Jeff Cobb (c) vs. Adam Page for the ROH World Television Championship
SoCal Uncensored (Frankie Kazarian and Scorpio Sky) (c) vs The Briscoes (Jay Briscoe and Mark Briscoe) vs. The Young Bucks (Matt Jackson and Nick Jackson) in Ladder War VII for the ROH World Tag-Team Championship
Jay Lethal (c) vs. Cody for the ROH World Chapionship
---
•Upcoming Events
Final Battle Fallout (TV Tapping) 12/15/18 in Philadelphia, Pa. at the 2300 Arena.
Saturday Night At Center Stage (TV Tapping) 1/12/19 in Atlanta, Ga. at Center Stage.
Honor Reigns Supreme (Live event streamed on HonorClub) 1/13/19 in Concord, N.C. at Cabarrus Arena.
Road to G1 Supercard (Live event streamed on HonorClub) 1/24/19 in Dallas, Tex. at Gilley's Dallas.
Road to G1 Supercard (Live event streamed on HonorClub) 1/25/19 in Houston, Tex. at NRG Arena
Road to G1 Supercard (Live event streamed on HonorClub) 1/26/19 in San Antonio, Tex. at the Austin Highway Event Center.
Bound By Honor (International TV taping) 2/9/19 in Lakeland, Fla. at the RP Funding Arena.
Bound By Honor (Live event streamed on HonorClub) 2/10/19 in Miami, Fla. at the Watsco Center.
ROH 17th Anniversary PPV (Pay-Per-View Event) 3/15/19 in Las Vegas, Nev. at Sam's Town Live.
ROH 17th Anniversary TV Taping (International TV Taping) 3/16/19 in Las Vegas, Nev. at Sam's Town Live.
G1 Supercard (Pay-Per-View Event) 4/6/19 in New york, N.Y. at Madison Square Garden.
All current live events are located on ROHWrestling.com
---
•Latest TV Highlights: 11/25/18 ROH Wrestling
ROH TV Results
Nov. 25, 2018
Taped in Pittsburgh, PA at Stage AE
Airing on Sinclair Networks and ROHWrestling.com
The episode opens with Matt Taven and TK O'Ryan entering the arena to The Kingdom's theme with no sign of Vinny Marseglia. The Boys then entered the area sans Dalton Castle. Taven then essential challenged the Boys to a handicap match, Taven struck Brent with the "real" ROH World Title.
Matt Taven Def. The Boys (Brandon and Brent) at 4:45
Next is a pre-recorded interview with Cody talking his ROH premiere at Final Battle 16' and losing the World Title at Final Battle 17'
Jonathan Gresham is in the ring and challenges all the great technical wrestlers in the world. Zack Sabre Jr. appears on the screen and accepts his challenge.
Next was a mildly BTE segment showing Christopher Daniels getting Kaz and Sky new contracts with ROH, but said he would figure something out on his own contract.
Kelly Klein Def. Jenny Rose at 6:10 to get the final spot in the WOH four-way match at Final Battle
A video package showing the dominance of Jeff Cobb is shown, with Adam Page saying he is impressed. But he can be just as impressive.
The Young Bucks and The Briscoes' match ended in a Double Count-out at 13:15. SoCal Uncensored came out and made the Tag-Team title match at Final Battle Ladder War VII featuring all three teams.
Click this link to read our full report PWTorch.com
---
•ROH In The Media
It was again another slow week for ROH wrestlers in the podcast/Media world. As always BTE had a new episode this week. Take my advice and give it a watch. It was a great episode.
Wade Keller was on Sam Roberts' podcast this week. The two didn't talk ROH per se, but Sam and Wade always have great chemistry. Please go give that a listen as well as Wade's Friday podcast weekly.
Also, if for some reason you are not listening to Talking Honor with Harley and Emily then you are really doing yourself a disservice. The two do a great job recapping the week that was in ROH and giving their unique perspective on the company.
Check out PWPodcasts.com for a detailed recap of these and more podcasts.
---
•LATEST "TALKING HONOR" PWTORCH LIVECAST COVERING ROH
"Ladder War VII." This week Harley R. Pageot and Emily Fear discuss the announcement of SCU vs. The Young Bucks vs. The Briscoes in Ladder War VII, outline why they think Christopher Daniels is retiring, look at what is likely the complete Final Battle card, and explain why filming segments outside of the arena can be so beneficial.
-On Tune In Radio 
HERE
-On Apple Podcasts 
HERE
-Or
 search "PWTorch" or "Pro Wrestling Torch"
 on your podcast app of choice
---
•Social Media Scene
Below is this week's round-up of social media posts from ROH personalities.
ROH in Vegas, In March. That Vacation almost plans itself.
#HonorClub presales are LIVE for #ROH17th Anniversary Weekend!

Fri Mar 15- Live PPV
Sat Mar 16- TV Taping

Buy the Weekend Package and receive 50% off Night 2! pic.twitter.com/H0N4S3IGGj

— ROH Wrestling (@ringofhonor) November 28, 2018
Both are not in Super Smash Bros. So I guess I see the resemblance.
— Chuck Taylor (@SexyChuckieT) November 28, 2018
I have a hot take on this match in the closing commentary.
.@TheJonGresham vs @zacksabrejr at #FinalBattle!

Fri Dec 14 – 8pm ET – @TheHammerstein – #ROHNYC

LIVE on PPV, FREE for #HonorClub VIP, 50% off for HonorClub Standard

Order Now: https://t.co/gfglt9W0Mg pic.twitter.com/YcVmvqn7GN

— ROH Wrestling (@ringofhonor) November 28, 2018
I hope that's not Smokin' Joe Frazier
https://twitter.com/TheFlipGordon/status/1067623171522813954
Am I the only one that wants a grinch gimmick with these two?
https://twitter.com/DeonnaPurrazzo/status/1067527138914394112
---
•Closing Commentary
Above I attached a tweet about the match between Jonathan Gresham and Zack Sabre Jr. I have some thoughts on this "dream match."
Full disclosure, I am not a fan of technical wrestling. If I was, I would be following college wrestling and olympic Greco-Roman wrestling more closely. My Twitter handle is listed below; feel free to let me know how wrong I am.
What is my problem with technical wrestling? To me it is disingenuous and sometimes disrespectful to the fans and other performers. I am sure most people who read that last sentence will think I am some uncultured wrestling fan. Isn't that a problem? Isn't that like judging someone's taste in music or movies in a negative fashion, simply because they do not align with yours? I feel the same about types of wrestling.
I have a very strong opinion about the gatekeeping culture in the IWC. This forum is not the place to lay out all my thoughts on the matter. Overall, I think all wrestling should be celebrated, and if you do not like a certain type of wrestling or a specific wrestler, that's cool. But, it is never right to attack someone for what they find entertaining. Also, why not try to discuss ways to make the thing you don't like better? Two weeks ago I discussed how I am currently not feeling The Kingdom. But, Instead of being like, "Get this trash off my TV," I offered ways that the group could be taken to make them more interesting. As a result, I am looking at the group with a renewed opinion and open mind as a result.
Tyler has been a wrestling fan for 20 years (a handful of years he was a lapsed fan – 2003-'08, mainly), He's from Columbus, Ohio. Check him out on Twitter @ringoftyler and check out his podcast @tandbwrestling.
---
NOW CHECK OUT OTHER WEEKLY OVERVIEWS HERE.
OR JUMP TO LAST WEEK'S WWE OVERVIEW: WEEKLY OVERVIEW – ROH (thru 11/22): Top stories of week, major show lineups, live event results, schedule of live events, noteworthy social media posts, more