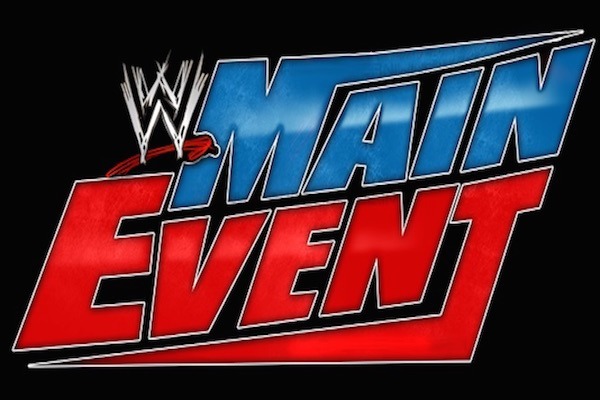 ---
SPOTLIGHTED PODCAST ALERT (YOUR ARTICLE BEGINS A FEW INCHES DOWN)...
---
WWE MAIN EVENT #322, HULU STREAMING TV
NOVEMBER 28, 2018
REPORT BY MIKE MEYERS, PWTORCH CONTRIBUTOR
Announcers:  Nigel McGuinness, Vic Joseph (Percy Watson out on assignment)
REASONS TO WATCH…
– The Ascension & Tyler Breeze are a superb odd couple.
– How loud can Titus get a Main Event crowd?
(1) TITUS O'NEIL vs. MOJO RAWLEY
As Vic explained that this would be a "strength vs. strength match up," the wrestlers tied up and barreled around the ring, against the ropes, and into a corner. Rawley got the upper hand and backed away from the corner at the ref's order. Rawley missed a clothesline, then took a big shoulder block from O'Neil. O'Neil lifted Rawley up against the ropes and landed a loud overhand chop to his chest. Two more chops followed, each one garnering a good crowd reaction. Rawley staggered out from one corner and into another, wincing.
O'Neil charged the corner but collided with the turnbuckle as Rawley dodged, then Rawley knocked the stunned O'Neil to the mat. With O'Neil prone in the corner, Rawley delivered multiple kicks, then drove his shoulder repeatedly into O'Neil's midsection as he stood up.  Rawley whipped O'Neil into a short clothesline into a pin and a two-count.
Rawley maneuvered O'Neil again into a corner and landed a front kick and attempted a snap mare, but O'Neil blocked the attempt. To punish this resistance, Rawley buried knee lifts into O'Neil's gut before tossing him to the mat. Rawley slowly approached O'Neil, and stopped to posture to the crowd and angrily ask, "What's up?" The crowd responded with a healthy dose of boos. Rawley locked on a chin lock, and the crowd quickly began to clap for O'Neil, who got to his feet and bodyslammed Rawley.
O'Neil was catching his breath in the corner when Rawley charged in, but O'Neil detected the movement and planted a reverse elbow to Rawley. Rawley went to the well again, charging in without a plan, and this time O'Neil got the big boot up, again deflecting Rawley to the center of the ring. Rawley turned again toward O'Neil in the corner, but now O'Neil went on the offense and ran from the corner to clothesline Rawley to the canvas once and twice. As Rawley crawled to the corner, O'Neil shouted "Get up!" to the crowd, who responded in kind. O'Neil landed a big splash in the corner, followed by another big boot. This was good for a two-count.
O'Neil whipped Rawley into the ropes and telegraphed a back body drop, so Rawley hit the brakes and kicked O'Neil's chest. Rawley charged at O'Neil, but O'Neil intercepted and delivered Clash of the Titus (a sit down power bomb) and pinned for the three-count.
WINNER:  Titus O'Neil by pinfall.
(Meyers' Analysis:  Not a good match, but it definitely summoned good reactions from the crowd – better than most Main Event matches. Perhaps the fans were excited to see the night kick off with two very large athletes squaring off. Also, O'Neil is qualified to draw a positive reaction out of an energized crowd who hasn't yet been worn down by four hours of programming.)
-Main Event recap session:
Recap of Corbin, McIntyre, and Lashley destroying Strowman from Raw
Replay of Corbin in-ring promo regarding his match against Strowman at upcoming PPV TLC
Replay of Balor vs. Corbin (and his eventual partner McIntyre) from Raw
Styles in-ring promo responding to Bryan's tactics to win his championship, featuring the term "hyperbed chamber," from Smackdown
---
CHECK OUT THIS WEEK'S FLAGSHIP EDITION OF THE WADE KELLER PRO WRESTLING PODCAST
PWTorch editor Wade Keller presents the Thursday Flagship edition of the Wade Keller Pro Wrestling Podcast with guest cohost Jason Powell from the Pro Wrestling Boom Podcast and ProWrestling.net. They talk about All Elite Wrestling's prospects and how it'll affect ROH, Impact, NJPW, NXT, plus ROH's Final Battle PPV line-up and how ROH is set-up for 2019 with so many top stars departing and additions that could make up some of the losses.
-On Tune In Radio HERE
-On Apple Podcasts HERE
-Or search "Wade Keller" on your podcast app of choice.
---
(2) TYLER BREEZE & THE ASCENSION vs. ZACK RYDER & B-TEAM
During B-Team's entrance, Vic prompted Nigel to join in on the duo's sing-song theme music. Nigel halfheartedly spoke the lyrics, purposely out of time.  Dallas started off against Viktor. The men exchanged some good-looking wrestling holds before Dallas bounced himself off the ropes and shoulder blocked Viktor to the mat. While Viktor recovered, Dallas tried in vain to restart the B-Team chant from their entrance, but to no avail. Viktor took that opportunity to land his fist into Dallas' midsection, and then  threw him into his team's corner to land kicks and more punches. The ref backed Viktor away from Dallas, and Dallas landed shots on Konnor and Breeze on the apron before escaping to the center of the ring.
All six wrestlers found themselves momentarily in the ring before it was stripped back down again to Dallas and Viktor. Dallas kicked Viktor down into the corner, then tagged in Ryder who signaled for the boot against Viktor, but as he charged, Konnor appeared at ringside and pulled his partner out of harm's way. As the Ascension recovered at ringside, Ryder landed a double drop kick from the ring  between the bottom and middle ropes, knocking the Ascension to the floor. Ryder rolled Viktor back into the ring, and as Ryder followed, Konnor grabbed Ryder's foot. Ryder looked back toward Konnor, allowing Viktor to charge and knock Ryder to the floor from the apron.
After the commercial break, Viktor had the upper hand on Ryder, delivering a Garvin-esque series of stomps. Viktor dropped a fist to Ryder's head, then pinned for a two-count. Viktor tagged Breeze in and out, merely to use him as a missile to whip into Ryder's midsection. Viktor pinned for another two-count. Konnor tagged in and pinned Ryder two more times for two more two-counts before laying in a chin lock.   Viktor and Breeze could be seen talking in their corner, in character, and one has to wonder what was being discussed after Breeze was used as a weapon and tossed aside.
Konnor aggressively tagged Breeze in, then out, to lift him into a suplex position and drop him belly-first across the prone Ryder. Weapon Breeze rolled lifelessly out of the ring as Konnor pinned Ryder for a two-count. Vic said, "This isn't so much a tag team as it is throwing Breeze around!" Viktor tagged back in and after a few kicks pinned Ryder for another two-count. Viktor locked in a violent side headlock while Dallas started another lame B-Team chant. Ryder got to his feet and escaped the hold with a jawbreaker, but Viktor drove him backward into the Ascension's corner and repeatedly drove his shoulder into Ryder's gut.
Viktor slapped Breeze's chest to tag him in, and Breeze sheepishly entered the ring. When Viktor attempted another quick tag on Breeze, Breeze dodged and decided to wrestle Ryder in the more traditional sense. From the apron, the Ascension shouted, "Breeze, what are you doing!? I was gonna use you!" Good stuff. Breeze set up to suplex Ryder, but Ryder reversed and converted into a Rude Awakening against Breeze. Nigel indicated that Breeze made a big mistake by not listening to his tag team partners. The legal men crawled to their corners, and in tagged Axel and Viktor.
Axel laid out Viktor with a clothesline before knocking Konnor off the apron. Axel, shades of his father, whipped Viktor into a corner, planted a reverse elbow, and snap mared him to the canvas to set up the low-angle running neck snap. Axel screamed at the crowd and started another B-Team chant. Axel drove Viktor's head into the mat and pinned, but Konnor broke up the pin and fired Axel through the ropes shoulder-first into the ring post. Ryder entered to assist, but Konnor scooped him up onto his shoulder and moved toward the ropes to take out the trash. Dallas finally entered again and saved Ryder by dragging him off of Konnor's shoulder by his ankle. Ryder clotheslined Konnor over the top rope, and tumbled with him over the rope to ringside. Viktor knocked Dallas out of the ring and delivered a European uppercut to Axel in the corner. Viktor tagged Breeze in, and the teammates actually combined to whip Axel against the far ropes.
On the rebound, Axel stopped and kicked Breeze in the chest, then threw Viktor through the ropes to ringside. Axel reclined in the corner, but when Breeze charged at him he got the boot up to knock him back toward the center. Dallas climbed back onto the apron and tagged himself in and entered the ring. Breeze had a big swing and miss with a clothesline, allowing Dallas to elevate Breeze into the belly-to-back neck breaker, with the assist going to Axel who had re-entered the ring for the finishing maneuver and three-count. Axel performed "the floss" during the in-ring celebration.
WINNERS:  Zack Ryder & B-Team by pinfall.
(Meyers' Analysis:  A brief but very entertaining six-man tag match.  The odd-couple pairing of Breeze with the Ascension was played out perfectly, and the threesome managed to tell their own story within the confines of this match. I get the impression that Axel's scream to the crowd after performing one of his dad's signature moves might be the result of a legitimate rush, and I don't blame him for feeling that way. The right team won in a way that made sense. Nicely done.)
SHOW SCORE (0-10): 8.4
FINAL THOUGHTS: Match #1 is a throwaway unless you have particular interest in how fleetingly loud a crowd can get during a Main Event match. Match #2, at the outset, seemed like a random assortment of talent, but the wrestlers made the most of it. Check it out.
---
CHECK OUT LAST WEEK'S REPORT: 11/21 WWE Main Event Report: Nigel all-in with favoritism for Alicia Fox in match vs. Ember Moon, Crews with impressive feat of strength vs. Jinder Mahal